Detroit Tigers: Who Will Come Up Big Down the Stretch?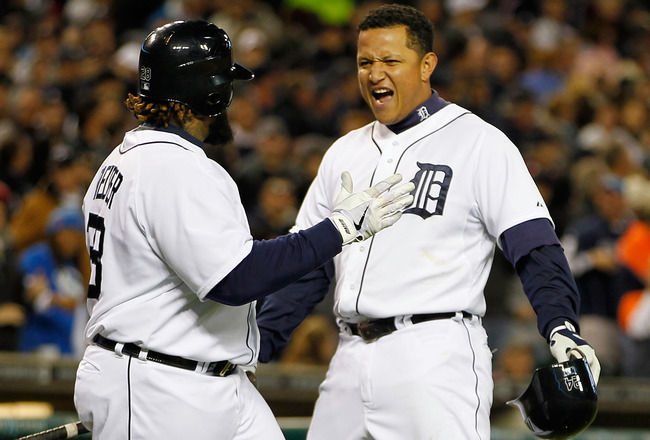 Gregory Shamus/Getty Images
After the Detroit Tigers lost to the Chicago White Sox on Monday night, they fell three games back in the American League Central Division, and with 16 games left in the 2012 regular season, things looked grim.
The Tigers welcomed the Oakland Athletics to Comerica Park on Tuesday for the first of a 10-game homestand and took their anger out on the A's to the tune of a 12-2 beat down.
Detroit has a tough road ahead in the last two weeks of the season, and will need several players to play their best baseball of the season.
It will take every player on the Tigers roster to step their game up in order to overcome Chicago's three-game lead with just 15 games to go.
Here are the 10 players who will come up big for the Tigers down the stretch:
Austin Jackson
Jonathan Daniel/Getty Images
If it wasn't for the heroism of Miguel Cabrera, most of the storylines in 2012 would probably be focused on Austin Jackson.
As the team's leadoff hitter, Jackson sets the wheels in motion for guys like Miguel Cabrera and Prince Fielder.
The 25-year-old has career-highs in average with .307, home runs with 14 and RBI with 61. Playing in his third full year with the Tigers, Jackson has cemented himself as one of the best leadoff hitters in the AL, and possibly the best center fielder in baseball.
The Tigers realized just how valuable Jackson is when he went on the disabled list in mid-May with an abdomen injury that kept him out for 21 games. During that stretch, Detroit went 8-13, and upon his return, the Tigers went 7-2 in his first nine games back.
Jackson has remained consistent all season and, after striking out 181 times last season, changed his approach at the plate and is hitting for more contact this year, cutting his strikeouts to 123 thus far.
Jackson will be a huge part of the Tigers' run at the division title, and Detroit won't go anywhere if Jackson doesn't perform.
Al Alburquerque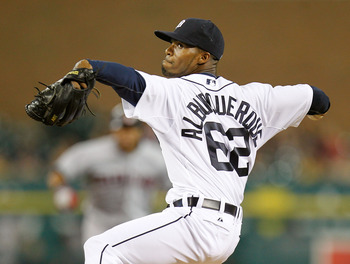 Gregory Shamus/Getty Images
Reliever Al Alburquerque sat out most of this season after having surgery on his throwing elbow.
The 26-year-old went 6-1 with a 1.87 ERA in 41 games last season and was expected to have a huge role in the Tigers' bullpen, but was reduced to a spectator role for most the year with his injury.
Upon his return, Alburquerque picked up where he left off, throwing 4.1 innings in three appearances this season, without giving up a hit.
Alburquerque will have to continue his stellar performance in the last two weeks of the season, probably making four to five more appearances, helping out a bullpen that has been largely inconsistent all season.
Quintin Berry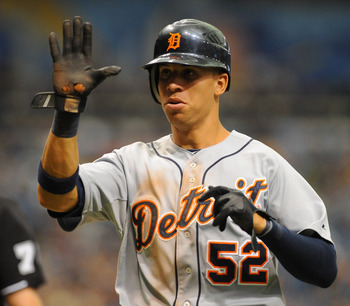 Al Messerschmidt/Getty Images
There are several different ways Quintin Berry can make an impact for the Tigers in the last 15 games of the season.
In a pennant race, it always seems like a key stolen base or clutch pinch-hit can make a huge difference.
The 27-year-old rookie is one of those unique players who doesn't need a lot of playing time to make his presence felt.
Berry is the fastest player on the Tigers roster and has been called on to pinch-run, or pinch-hit several times this season. Berry can be counted on to sacrifice bunt or bunt for a base hit, make a big play in the outfield and hit to all fields, wreaking havoc on the basepaths.
He has a .272 average in his first year in the Majors, and he also leads the team in steals with 19 and can contribute for the Tigers in a starting role, as well as off the bench.
Avisail Garcia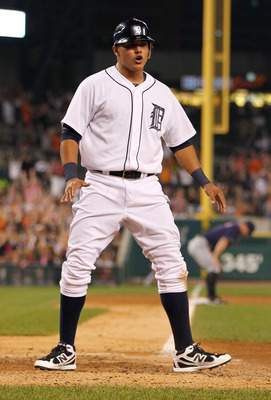 Gregory Shamus/Getty Images
Perhaps the most unlikely candidate on this list is Avisail Garcia, who spent most of this season playing for the Single-A Lakeland Flying Tigers.
Garcia was promoted to Double-A Erie for the second half of the season and, after combining to hit .299 with 14 home runs and 58 RBI's at both levels, the 21-year-old made the cut as one of the players for the September call-ups.
The Tigers 2007 amateur free-agent signee has impressed so far, hitting .333 with a .319 on-base percentage and an RBI in his first 12 Major League games.
Garcia will see more playing time in the last two weeks and will continue to produce, giving the organization a glimpse of the future.
Justin Verlander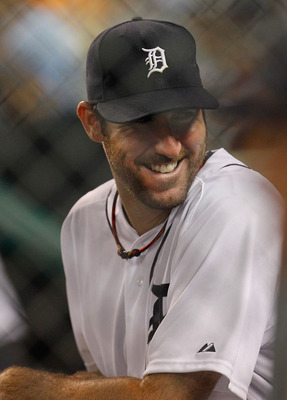 Gregory Shamus/Getty Images
In the last few years, the Tigers have gone as far as Justin Verlander has taken them.
This season, the 29-year-old ace picked up where he left off from his MVP performance from 2011, but amid rumors of an affair with supermodel Kate Upton, Verlander has fallen on hard times lately, with just two wins in his last seven starts.
By anyone else's standards, Verlander's 2.82 ERA would be phenomenal, but for Verlander it's simply not good enough.
Verlander will find a way to put the off-field drama behind him, and focus on the three starts he has left in the regular season.
If Verlander doesn't perform to his own immortal standards, the Tigers are toast.
Brennan Boesch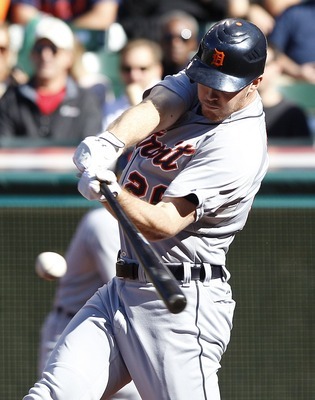 David Maxwell/Getty Images
Brennan Boesch was in the midst of a breakout year in 2011, before the 27-year-old outfielder went down with a thumb injury that kept him sidelined for the last month of the season.
Returning 100 percent healthy this season, Boesch was expected to pick up where he left off from last season, but has grossly underachieved in 2012.
Boesch is hitting .244 with 12 home runs and 54 RBI in 129 games this season. With Boesch's future playing-time on the line, something needs to click with him in the last two weeks, and he'll need to show the Tigers they can count on him for years to come.
I expect him to come up with a few big hits down the stretch and help the Tigers make a run at the postseason.
Delmon Young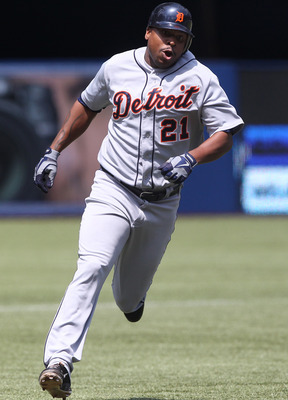 Tom Szczerbowski/Getty Images
Despite an extremely poor start to the season and off-field issues that have been highly publicized, Delmon Young has proved to be a valuable asset for the Tigers down the stretch.
Young was terrible, frankly, to start this season, hitting .242 with one home run and five RBI in his 66 at-bats in April. He muddled through most the year with a mediocre average and substandard power numbers.
But Young has come on strong lately, raising his average to his current mark of .270 with 17 home runs and 67 RBI.
Young has come up with several big hits lately, boasting a .281 average with 46 RBI when hitting with runners in scoring position, and he's hitting .301 with two outs this season.
The 27-year-old had a couple huge home runs in the 2011 postseason, and if he wants to have a chance at postseason heroism this year, Young will need to earn several more clutch hits and help the Tigers rack up several wins in a hurry.
Jose Valverde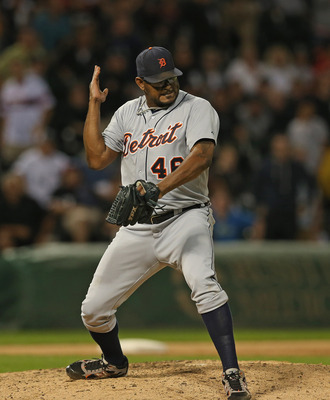 Jonathan Daniel/Getty Images
Jose Valverde has shown glimpses of the 2011 version of himself, but, as a whole, the Tigers' zany closer has had a disappointing season thus far.
After saving a team record 49 consecutive games last season with a 2.24 ERA, Valverde has an ERA of 3.37 this year, with five blown saves in 36 chances.
Valverde's bad season was foreshadowed when he blew a save against the Boston Red Sox on Opening Day. Valverde earned the win in the Tigers opener, but his poor performance was a sign of things to come.
The right-hander is coming off his worst appearance of the season on Sunday, giving up two earned runs on three hits in just 1/3 of an inning, blowing his fifth save of the year and suffering his third loss of the season.
No one hates losing more than Papa Grande, and his poor performance earlier this week will fuel his resurgence in the last two weeks of the season.
Don't expect another letdown from the Big Potato this season.
Prince Fielder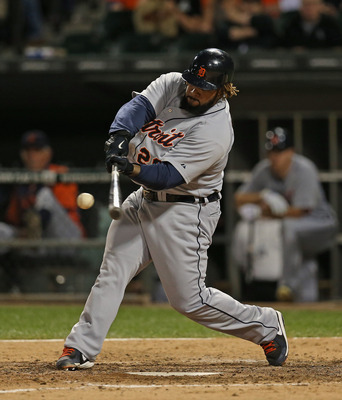 Jonathan Daniel/Getty Images
Prince Fielder is on pace to hit for the best average of his career and has been consistent for the Tigers all season.
The 28-year-old has never hit .300 in his seven-year career, but is hitting .305 this season and has tallied 100 RBI for the fifth time in his career.
Fielder has shown he's not just a home run hitter this season.
The 275-pounder plays as hard as he can every day, and has even legged out seven infield hits season. He will do whatever it takes to win and sets an example for the rest of his team
For his enormous standards, Fielder has had a down-year in power numbers with 27 home runs and 100 RBI, but he's done so many other things for the Tigers. He's hit the ball the opposite way, earned infield hits and given the team a much-needed shot of energy on the field and in the clubhouse.
Miguel Cabrera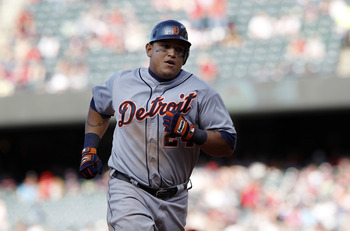 David Maxwell/Getty Images
Miguel Cabrera has been the Tigers' most valuable player all season and is in contention to win the AL MVP, as well as the league's triple crown.
Cabrera put his latest stamp on his MVP resume on Tuesday by blasting two home runs, including a grand slam, and earning six RBI in the Tigers win over the Athletics.
Cabrera leads the AL with a .333 average and 129 RBI and trails only Texas Rangers' Josh Hamilton by two home runs for the AL lead with 40 long balls this season.
The Tigers slugger is inching realistically close to winning the first triple crown since Carl Yastrzemski won it in 1967.
The 29-year-old has put the Tigers on his back all year and won't let up anytime soon. He makes everyone on his team better and will continue to threaten for the triple crown in the last two weeks, doing everything he can to win his first career MVP.
Keep Reading

Detroit Tigers: Like this team?