Georgia Football: Grading All 22 Starters from the Florida Atlantic Game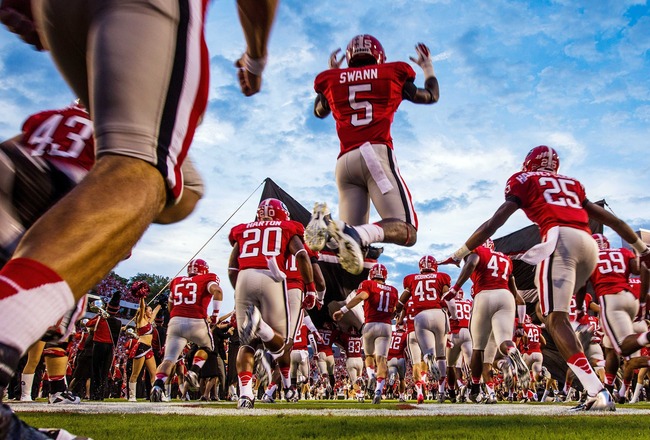 Daniel Shirey-US PRESSWIRE
The Georgia Bulldogs welcomed the Florida Atlantic Owls to Athens on Saturday for what was essentially another tune-up game before the Dawgs go into the meat of their SEC schedule.
After another somewhat shaky start, the Bulldogs locked it down in the second half and came away with a decisive win.
Here are grades for all 22 starters—plus a few subs that had great games against the Owls.
Quarterback Aaron Murray
Daniel Shirey-US PRESSWIRE
Grade—A-
Murray played lights out Saturday against the Owls. His stats speak for themselves—14-of-19 passing for 342 yards, two touchdowns and an interception.
What really stood out in this game for Murray was his accuracy on deep throws. With the exception of a very good pass breakup on a well thrown ball, Murray completed every deep pass down the field.
Murray also showed his ability to run the football, a skill that often gets overlooked. He had a nice gain on a designed quarterback draw in the third quarter and also punched it in for two touchdowns on the goal line.
The Offensive Line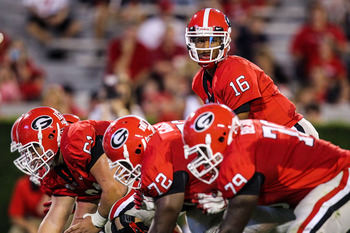 Daniel Shirey-US PRESSWIRE
Grade—A
The offensive line looked great in this game, as evidenced by the 100-yard performances from freshmen running backs Keith Marshall and Todd Gurley. The line consistently got a good push and opened up nice holes for the backs, although the Owls' defensive line is admittedly undersized.
Pass protection was also excellent in this game. Murray wasn't sacked once and had plenty of time to throw all night.
Another great sign was the unit's discipline before the snap. After five false starts last week against Missouri, the line was not flagged for any this week against FAU.
Running Back Todd Gurley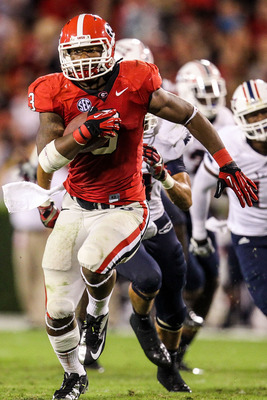 Daniel Shirey-US PRESSWIRE
Grade—A
It was another outstanding night for true freshman Todd Gurley in Athens on Saturday. In his second 100-yard rushing game of the season, Gurley continued to impress with his combination of speed and power.
Gurley often bounces off tackles at the line of scrimmage and racks up huge yards after contact. And once he finds a seam, Gurley turns on his track-star speed and is nearly impossible to catch.
Running Back Keith Marshall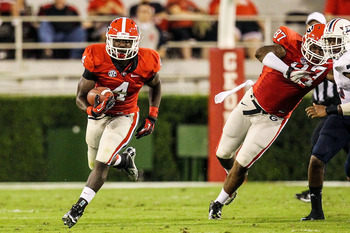 Daniel Shirey-US PRESSWIRE
Grade—A
Todd Gurley isn't the only true freshman opening eyes in the Georgia running game this season. Fellow North Carolina native Keith Marshall also lit it up on Saturday night for the Bulldogs.
Marshall finished the game with 104 yards on 10 carries. He would have had even more if a long run in the third quarter hadn't been called back due to a holding penalty.
Displaying a great combination of speed and shiftiness, Marshall showed why he was such a highly touted recruit in his third collegiate game.
Wide Receiver Michael Bennett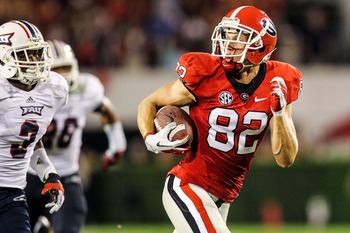 Daniel Shirey-US PRESSWIRE
Grade—A
Although he had a huge game last week against Missouri, Bennett did struggle with some drops in that contest.
He seems to have worked that out in practice this week. Bennett was like a vacuum cleaner out there against the Owls, sucking up every ball thrown his way.
The Dawgs' leading receiver on the night, Bennett finished with 110 yards and a touchdown on only four catches.
Bennett also continued to be valuable as a blocker, springing some very nice runs off of strong blocks downfield.
Wide Receiver Marlon Brown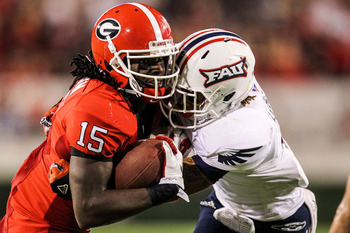 Daniel Shirey-US PRESSWIRE
Grade—B
Brown didn't put up the same kind of numbers as he did last week against Missouri, but still had a very productive night against the Owls.
Brown finished the game with three catches for 44 yards.
Wide Receiver Tavarres King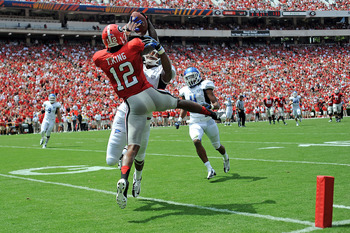 Kevin Liles-US PRESSWIRE
Grade—B
Like Brown, King didn't have eye-popping numbers, but was very productive when Murray did throw his way.
King finished the night with 2 catches for 53 yards—one being a near touchdown that set up Georgia on the FAU one-yard line.
Tight End Arthur Lynch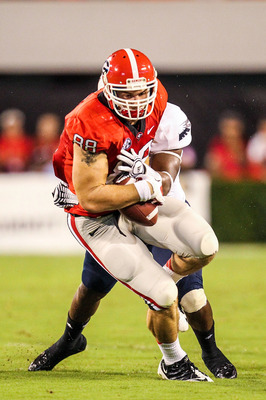 Daniel Shirey-US PRESSWIRE
Grade—B-
Georgia finally started targeting Lynch in the passing game. For the most part, he did not disappoint.
Lynch finished the game with three catches for 73 yards and a touchdown.
His performance certainly would have merited an A if not for a lost fumble in the first quarter that set up an FAU touchdown.
Nose Tackle John Jenkins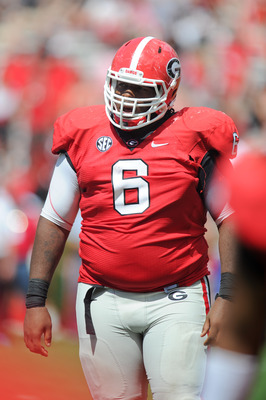 Kevin Liles-US PRESSWIRE
Grade—B-
Jenkins only tallied one tackle on the night, but—as usual—made his presence felt in the middle of the line, eating up blocks and allowing the linebackers to come up and make plays.
Like the rest of the line, Jenkins did get bottled up at times and allowed a couple of big holes for the Owls' running backs.
Defensive End Abry Jones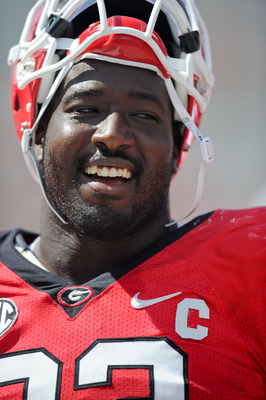 Kevin Liles-US PRESSWIRE
Grade—C
Jones only tallied three tackles against the Owls. He was also on the right side when the Owls opened up a huge hole that allowed speedy Damian Fortner to come through the defense untouched to the end zone in the first quarter.
Defensive End Cornelius Washington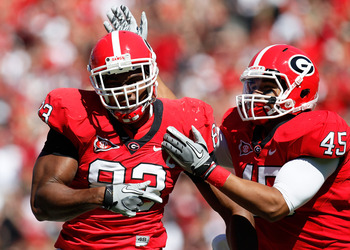 Kevin C. Cox/Getty Images
Grade—C
Washington didn't get on the stat sheet with any tackles against the Owls. However, he did get into the backfield a few times and got some decent pressure on FAU quarterback Graham Wilbert.
Outside Linebacker Jordan Jenkins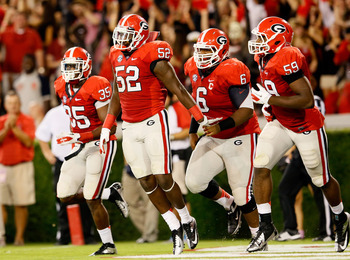 Kevin C. Cox/Getty Images
Grade—B-
With head coach Mark Richt resting all-everything Jarvis Jones against the Owls, Jenkins got the start at OLB Saturday. He finished the game with a respectable four tackles and looked solid against the Owls in his first collegiate start.
Outside Linebacker Chase Vasser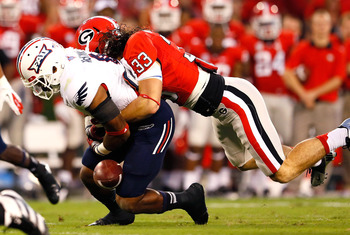 Kevin C. Cox/Getty Images
Grade—A
Returning from his two-game suspension to start the season, Vasser didn't look at all rusty against the Owls.
Vasser finished the night with two tackles for loss, seven total tackles and a forced fumble that set up a Georgia touchdown.
Inside Linebacker Michael Gilliard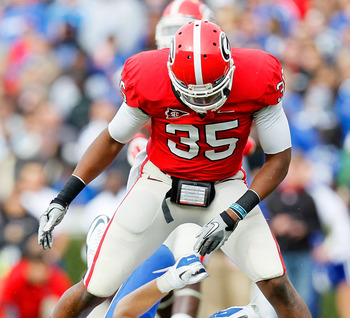 Kevin C. Cox/Getty Images
Grade—B+
Gilliard, once again, had a very good showing for the Bulldogs this week. He finished the night with nine tackles and was making plays all over the field for the Dawgs' defense.
Inside Linebacker Amarlo Herrera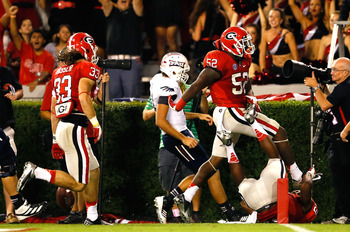 Kevin C. Cox/Getty Images
Grade—A-
Herrera turned in another great night for the Dawgs, tallying seven total tackles against the Owls.
However, Herrera's shining moment in this game came in the third quarter when he returned an interception 35 yards for a touchdown.
Nickle Cornerback/Punt Returner Damian Swann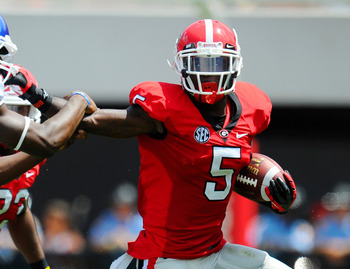 Dale Zanine-US PRESSWIRE
Grade—C
Swann tallied four tackles against the Owls, but didn't have the ball thrown his way much in this game.
He also muffed a fair catch that cost the Bulldogs about 15 yards of field position.
Cornerback/Wide Receiver Malcolm Mitchell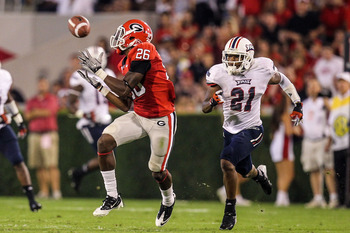 Daniel Shirey-US PRESSWIRE
Grade—B+
Mitchell continues to impress at cornerback. Against FAU, he had one tackle and a very nice pass breakup. He jumped a route on the play and looked like he may have had a chance for an interception.
Seeing his first reps on offense, Mitchell also caught one pass Saturday—but it was a big one, going for 49 yards.
It certainly looks like Mitchell is going to be a force on both sides of the ball as the season wears on.
Cornerback Sanders Commings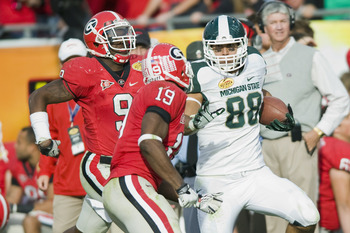 Jeff Griffith-US PRESSWIRE
Grade—B-
Like Vasser, Commings made his season debut for the Bulldogs after serving a suspension for the first two games.
Commings had a nice return, tallying four tackles and one pass defended for the Dawgs.
Cornerback Branden Smith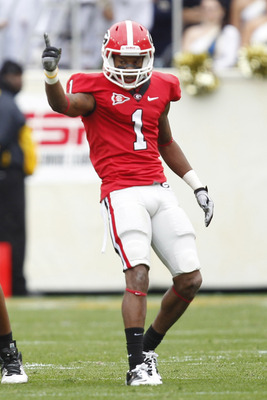 Josh D. Weiss-US PRESSWIRE
Grade—C
Smith had an average game—two tackles and a pass defended.
Not to necessarily call out Smith, but the entire Georgia secondary seemed out of position in the first half and gave up some big pass plays to the Owls. They'll have to shore that up headed into league play.
Safety Shawn Williams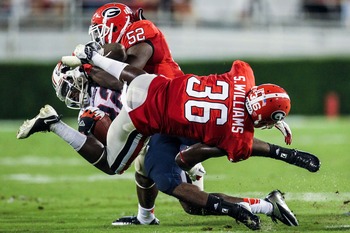 Daniel Shirey-US PRESSWIRE
Grade—B
Williams was all over the field for the Dawgs Saturday night, leading the team with 12 total tackles. He also had a pass breakup and a huge hit on kick coverage.
If not for one lapse—letting William Dukes get behind him for a huge gain to the Georgia one-yard line, setting up an FAU touchdown—Williams would have received an easy A.
Keep Reading

Georgia Bulldogs Football: Like this team?