5 Reasons the New York Yankees Offense Is Not Built for October Success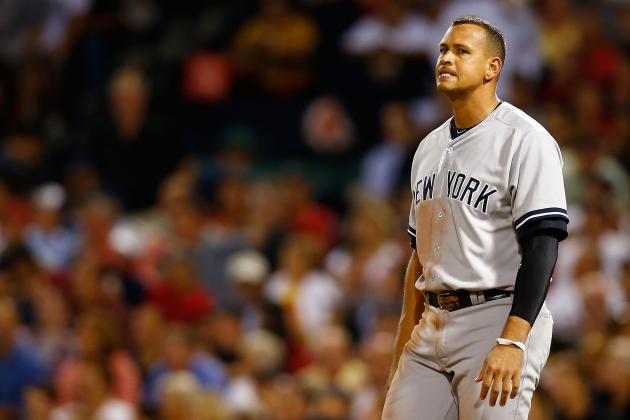 Jared Wickerham/Getty Images

The New York Yankees are currently holding onto first place in the AL East for dear life. With a few more clutch games like the previous two, they should be able to make it to the playoffs.
But that's where the real test begins. The Yankees have enough to get into the playoffs, but the question is: Do they have enough to succeed there?
Right now, the answer is no. Everyone knows their pitching is suspect. It has been for some years now. People thought this year would be different when it first started, but here in September we're seeing the same old Yankee pitching troubles.
Despite not having elite pitching, the Yankees have always managed to get by with a little help from their offense. The Yankees aren't called the Bronx Bombers for nothing. Lineups in years past featured several 100-plus RBI guys and many with double-digit home runs.
This year, it's a different story. The Yankees offense has had struggles for the entire season. And yet, they're second in runs scored and first in slugging percentage.
The Yankees offense might be good enough to get them into the playoffs. It's just not good enough to get them far into the playoffs.
Begin Slideshow

»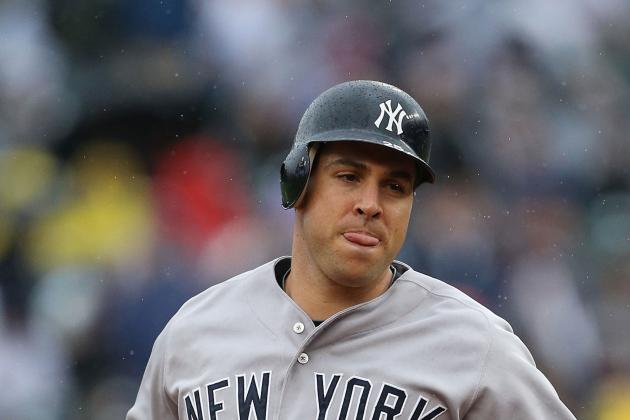 Leon Halip/Getty Images

Injuries have plagued the lineup the entire year. First Brett Gardner, then Mark Teixeira, then Alex Rodriguez and now Mark Teixeira again. Then there's Derek Jeter and Curtis Granderson, who are currently playing through their injuries.
The Yankees have relied on platoons in the absence of their star players. They're slowly starting to get their players back, but the injuries still affect them in some way.
A-Rod came back from the DL, but the injuries he's sustained in past years as well as this year has affected his power. He's no longer a 40-plus home-run hitter. At best, he's a doubles hitter now.
Then there's Mark Teixeira, who got hurt again when he came back. You can see the pain in Jeter's face when he steps out of the box as he adjusts his weight because of his ankle.
It's hard enough to hit a baseball that's coming toward you at speeds over 90 mph. It's even harder when you're worried about your injuries or compensating for them.
In the playoffs, everyone needs to be at their best. When several members of the team are out with injuries or playing hurt, the chances for that team to succeed are slim.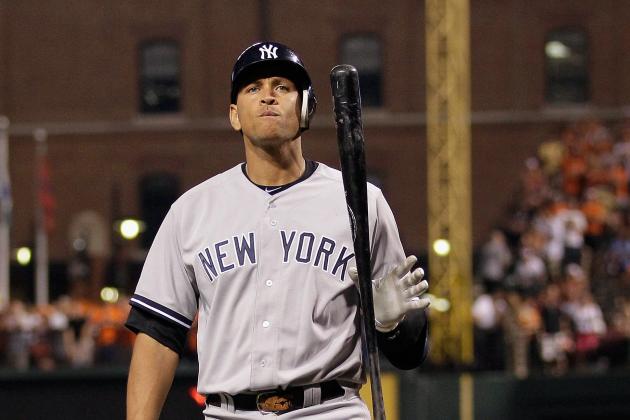 Rob Carr/Getty Images

It's no secret that the Yankees are an old team.
Seven of the hitters in the regular lineup are over 30 years old. Their outfield could sport a 40-year-old and an 38-year-old on any given day.
The left side of their infield is 75 years old. That's not exactly an age I want to see when it comes to the shortstop and third base position.
With the exception of Derek Jeter and Mariano Rivera, older players are just not as good as younger ones. They're more prone to injuries, fatigue and a decrease in their overall production.
Older players bring experience and wisdom to a team, but no one wants to field a team filled entirely with players over 35 years old. The Yankees are pretty close to doing that.
Alex Rodriguez, Raul Ibanez, Ichiro Suzuki, Curtis Granderson and Mark Teixeira—and, if we're including the bench, Andruw Jones and Eric Chavez—have seen better years. This team would've been good back in 2000, but it's 2012.
Baseball isn't kind to the older players. Their bat speed drops and injuries tend to occur more often. Now the Yankees could very well surprise everyone with their elderly lineup. It's just not likely to happen.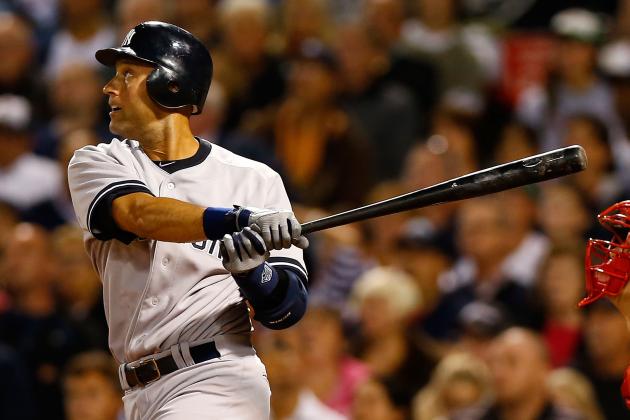 Jared Wickerham/Getty Images

Speaking of older players, Derek Jeter is leading the team in batting average and hits at the age of 38.
I say good for him, proving critics wrong that he's done and washed up. I say bad for the Yankees that they need to rely on a 38-year-old to get them into the playoffs and even win the championship.
Championship teams rarely have players over the age of 38 as their best hitter. And yet, here are the Yankees attempting to do just that.
Sure, Robinson Cano might technically be the best hitter the Yankees have, but for this season, Jeter's outplaying Cano. Jeter's the one who gets the clutch hits. He's the one who the Yankees and their fans depend on to get them that game-winning run.
The rest of their lineup isn't hitting over .300. In fact, most of them are hitting below .270. With Jeter leading the team in hits and average, the team is going to rely on him to get the hits that the other guys can't.
While Jeter is doing a good job so far, it remains to be seen if age will catch up to him in the playoffs.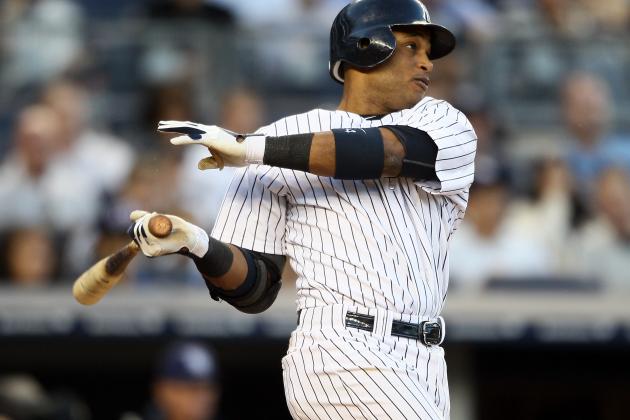 Elsa/Getty Images

For years, the Yankees have relied on Alex Rodriguez to be their cleanup hitter. He was the guy with the most power. He was the guy who the other pitcher absolutely did not want to pitch to at all.
These were the days when A-Rod was crushing 40-plus homers and driving in 130-plus runs. Now he's just trying to hit a double with a broken hand.
A-Rod was lifted off being the cleanup hitter earlier this season. The Yankees have also tried Robinson Cano and Mark Teixeira, but the results haven't been the same.
Cano has been better at the cleanup spot than the others. In fact, as the cleanup hitter, he's batting .311/.385/.588 with 18 homers and 50 RBI. But when you look at his RISP numbers, .231/.362/.366 with four homers and 38 RBI, you see that he's not exactly the most intimidating hitter to bat there.
A cleanup hitter with low RISP numbers is barely a cleanup hitter at all. By hitting in that spot in the lineup, the team is saying this is our best hitter, you should fear him when he's at the plate with the game on the line.
Cano is a great hitter. He's just not great in RISP situations. Because of that, Yankees won't be able to fully capitalize on those situations and score runs when they need to.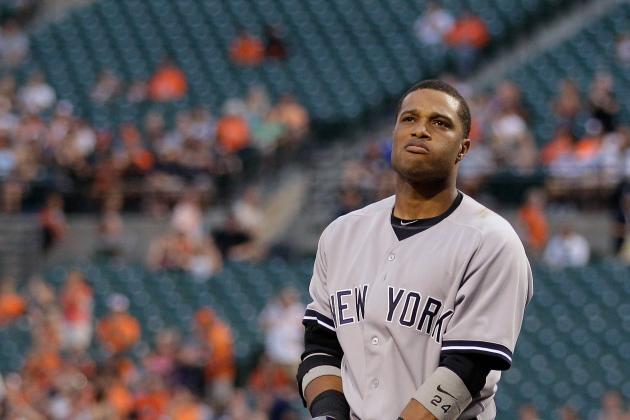 Rob Carr/Getty Images

This has been something that's followed the Yankees the entire season. It was back in May when this problem first came to surface, when the Yankees were losing all those games.
When they started to win games, the problem was still there, but it wasn't in the spotlight anymore. After all, nobody cares how they win, as long as they win. But now, with the Yankees struggling to hold onto first place, their RISP troubles are being brought to the forefront again.
Their losses over the last two weeks have reminded people that the Yankees can't hit with runners in scoring position. Every time someone gets on second, he seems to be stranded there.
That's not going to cut it in the playoffs. Every run counts. Leaving a guy on second is one of the worst things to do in the playoffs as a hitter. Clutch hits in RISP situations are what win games in the playoffs.
Everyone says it's pitching, and that's true, but clutch hitting is just as important. In a pitcher's duel where no runs have been given up yet, the first team to bat the runner in from second is going to have a huge advantage over the other.
In those close, well-pitched games, one run can be the difference between going on to the next round or going home. Missed opportunities are a hitter's biggest regret in close games.
The Yankees need to figure out a way to drive that runner in, otherwise they're going to have a tough time in the playoffs.