Miami Football: Winners and Losers from the Week 4 Game vs. Bethune-Cookman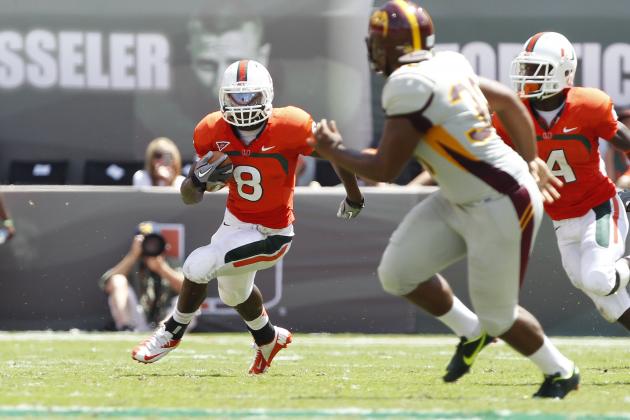 Joel Auerbach/Getty Images

The Miami Hurricanes allowed 42 points per game going into Saturday's showdown versus the Bethune-Cookman Wildcats. The Hurricanes were finally able to shut someone down, beating the Wildcats, 38-10.
Although the score ended up being one-sided, it truly wasn't. For the second straight year, the Wildcats took a 7-0 lead in the first quarter.
Unlike last year, the lead didn't last long, as on the ensuing kick-off, freshman Duke Johnson returned the kick 95 yards for a touchdown.
Miami would go on to put up 31 more points, but it was far from a blowout.
Here are the Hurricane winners and losers from Saturday.
Begin Slideshow

»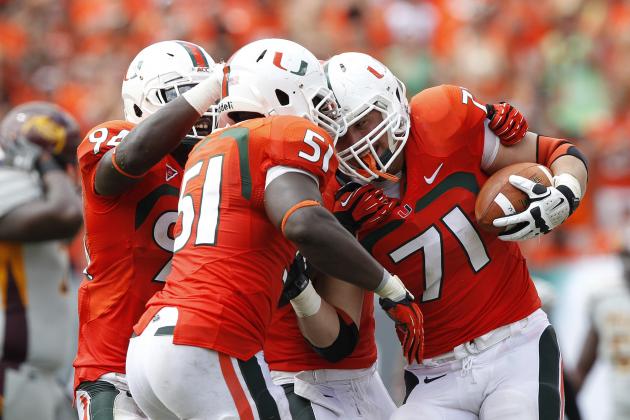 Joel Auerbach/Getty Images

For the third straight game, the Hurricanes defensive line was less than stellar. In fact, they were out-classed and out-coached, again.
The Hurricanes gave up 355 total yards of total offense to the Wildcats. For those keeping track, the Hurricanes have now given up 1,390 total yards in three games.
The main problem once again was the defensive line which allowed 233 yards rushing to the Wildcats. To put that in perspective, the previous week, South Carolina State held the Wildcats to just 167 yards on the ground.
The defensive line was getting pushed around, much like they have been all season long. I honestly cannot imagine what is going to happen to the defense when they play Georgia Tech this weekend and its triple-option offense.
The bright spot for the defensive line was Shayon Green (see next slide) and the fact that they got more than one sack (three total).
Robert Mayer-US PRESSWIRE

If I were to ask the Hurricane fans who they thought was the best defensive lineman on the team is, you would probably hear the name Anthony Chickillo. Before the season started, that would have been my vote as well.
The real answer though has been redshirt junior, Shayon Green. Green continued his solid play and has been the only consistent defensive lineman the Hurricanes have had all season.
Against the Wildcats, Green finished with eight tackles, the most on the team. He is actually leading the team in tackles with 31 so far this season.
Although he is a bit undersized (6'3", 265 pounds), he has tremendous strength and quickness. He is head and shoulders above anyone else right now on the defensive line.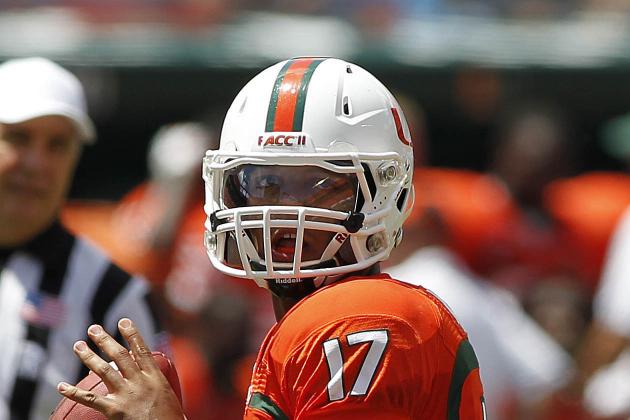 Robert Mayer-US PRESSWIRE

Before Saturday's game, Miami quarterback Stephen Morris was having a solid season completing 68 percent of his passes. Against the lesser Wildcats, Morris completed just 57 percent of his passes.
It wasn't just the numbers that bothered me; it was how far he was off. Morris continued to miss wide-open players all game long and when he did spot them, he would either throw it too high or too short.
Miami can not afford Morris to perform like he did on Saturday. With as bad as the defense is, the Hurricanes will need to count on Morris to keep them in games.
If Morris, or even backup quarterback Ryan Williams, fails to provide a true passing game, Miami will not win six games this season.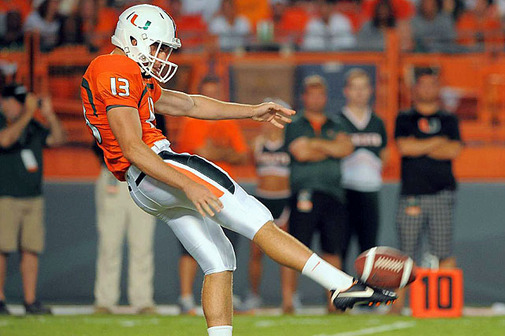 You can laugh all you want, but there are two reasons why I have a punter as a "winner" from Saturday's game.
One, the Hurricanes haven't had much to brag about this season (besides Duke Johnson) and two, punter Dalton Botts can flat out kick the ball.
There is a reason why he was a preseason All-ACC pick this season. Botts had four punts on Saturday averaging over 43 yards per punt. Out of those four punts, three of them were downed inside the 20.
Botts is averaging 42 yards per punt so far this season and is honestly one of the most consistent players on the Hurricanes roster.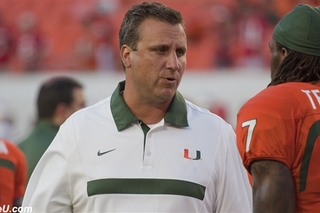 To be honest, I am so tired of the Jedd Fisch's vanilla offense and Mark D'Onofrio's outcoached defense.
First, let's take a look at the offense. The Hurricanes have loads of talented playmakers on this side of the ball, not just Duke Johnson either. Rashawn Scott and Phillip Dorsett are extremely quick and have terrific field vision.
So what does offensive coordinator Fisch call—swing passes and passes down the middle. I cannot understand why Fisch doesn't throw deeper passes?
I understand that their best wide receiver, Allen Hurns, was out due to injury, but Scott and Dorsett have the ability to be deep threats, if used appropriately.
I also hate the fact that Fisch doesn't get the tight ends more involved. Dyron Dye and Clive Walford had a total of three receptions for 18 yards—that won't get it done. Fisch needs to find a way to get the tight ends the ball at least eight or nine times a game. If he can do that, it will open up those deep opportunities.
The defensive side is the same old story. Coach D'Onofrio has absolutely no answer in stopping opposing offenses. You can't tell me that there aren't other schemes that the defense can run to utilize their playmakers.
Yes, I know Miami only gave up 10 points, but it's the amount of yards that is very concerning. Every single team Miami has played completely destroyed every the Hurricanes' defense line.
I honestly believe that Miami may need to go to a 2-5-4 scheme on defense—much like the Tar Heels' run now. Obviously the four linemen that Miami has on the field now haven't been able to get the job down.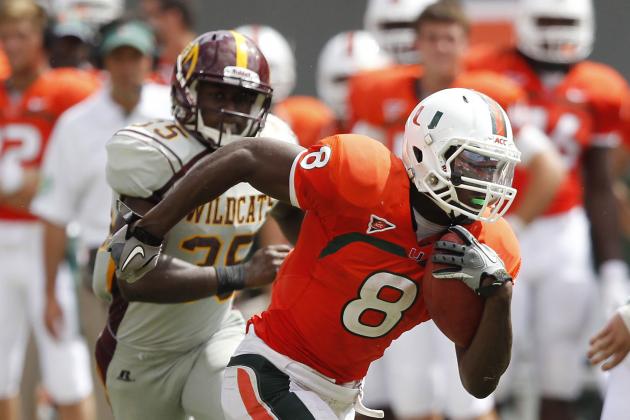 Joel Auerbach/Getty Images

There really isn't much more I can say about true freshman running back, Duke Johnson, that hasn't already been said.
Johnson is the real deal and he proved why he is one of the most electric players in the entire country finishing with four touchdowns and 246 all-purpose yards on Saturday.
He scored three different ways—one on a 95-yard kickoff, two on runs and another receiving. Johnson finished with 94 rushing yards on 14 carries, 57 yards receiving on three receptions and the 95-yard kick0off return.
If it weren't for Duke, the Hurricanes could possibly be 0-3 on the season.