WWE Night of Champions 2012: Sheamus' Brogue Kick Banned, Other Scary Finishers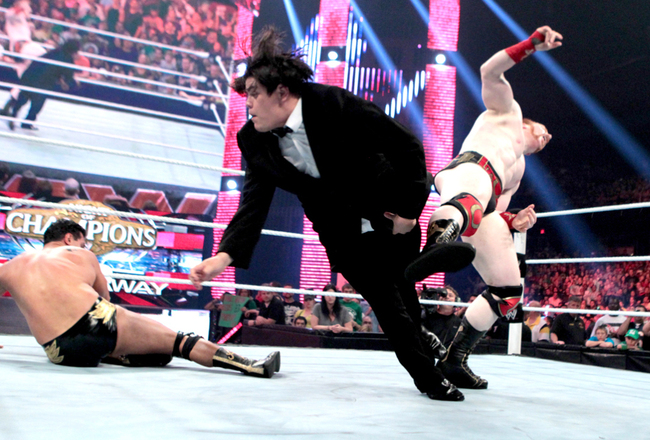 From WWE.com

One of the most prominent storylines at WWE Night of Champions is the banning of Sheamus' Brogue Kick, which will figure to be the story of his world championship match against Alberto Del Rio as Sheamus struggles to refrain from using his potent figure.
The caveat of Sheamus' (kayfabe) dangerous finisher being prohibited is reminiscent of some of the scarier finishers in pro wrestling history, some of which were banned in real life.
Tombstone Piledriver
The Undertaker's famed finisher involves the WWE's phenom dropping an opponent on his head as the Undertaker goes to his knees.
The finisher is a modification of the iconic piledriver, and the Undertaker's version is just as dangerous.
When the Undertaker returned in 2000 as "The American Badass" he did so without his trusty finisher as the Undertaker put opponents away with a power bomb he called the Last Ride. Many believed that the WWE was taking precautions with the Tombstone; however, the Undertaker once again began using the Tombstone Piledriver upon returning as the Deadman at WrestleMania XX.
GTS
While the finisher looks impressive, CM Punk's GTS has been known for a high botch rate, with Punk often accidentally striking opponents with stiff knees to the jaw.
The most notable occurrence of this miscue came in a match against Rey Mysterio where the Lucha legend took a knee right to the nose.
Owen Hart's Inverted Piledriver
Owen Hart didn't have enough time to develop this finisher after he almost paralyzed Stone Cold Steve Austin at SummerSlam '97.
Hart's version of the always-dangerous pile driver involved the late wrestling legend sitting out as he dropped his opponent on their head from the Tombstone position, causing more impact.
Shane McMahon's Flying Elbow
Shane McMahon defies fear with his highlight reel of flying elbows as he has jumped off of everything from the top rope to the top of a scaffold.
Despite being a non-wrestler, McMahon attempted flying elbow feats that many trained performers wouldn't dare consider.
Psycho Driver
No matter what version of the Psycho Driver, they are all equally dangerous. You'll risk a neck injury just looking at them.
Shooting Star Press
The Shooting Star Press is rarely botched by those who have consistently used it as a finisher, namely Evan Bourne and Billy Kidman. However, that does not take away from the fact that it is the epitome of a high-risk maneuver, with that risk involving serious injuries to the neck.
Piledriver
The Piledriver, made famous by Jerry Lawler, is the origin of many of the most dangerous finishers, and the maneuver itself has been banned from the WWE for the most part due to the risk associated with one of pro wrestling's oldest moves.
Can the WWE survive without John Cena? Watch Big Nasty and Justin LaBar debate this hot topic now and follow Big Nasty on Twitter @ThisIsNasty.
Keep Reading