Ring of Honor Review (9/1/12): Titus and Haas, Team SCUM Advance in Tag Tourney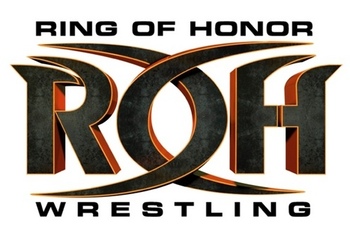 Photo courtesy of rohwrestling.com
Ring of Honor has been on a roll since Boiling Point.
As bad as that event was, ROH roared back with three straight excellent episodes. As the old adage goes, "One is a fluke. Two is a coincidence. Three is a pattern."
I'm not sure what that makes four.
This week's Ring of Honor Wrestling was yet another solid show that advanced the stories set to be told at Death Before Dishonor X.
Thumbs Down: Did You Forget How Much Kenny King Sucks?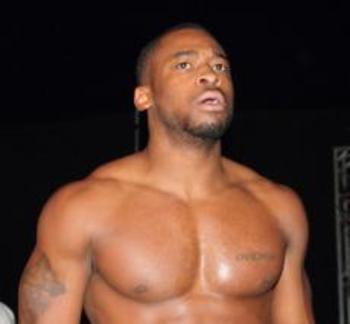 Photo courtesy of rohwrestling.com
Last week on Ring of Honor…
Kenny King betrayed you! Personally, somehow!
Just in case you forgot all this from two weeks ago, Ring of Honor gave us a reminder to start off the show.
I like Kenny King a lot, but I can understand Ring of Honor's sour grapes.
Thumbs Up: Called It!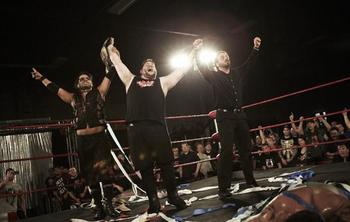 Photo courtesy of rohwrestling.com
Last week, Charlie Haas and Rhett Titus joined forces, hoping to capture the ROH Tag Team Championships so that they could fight over them later. This freed up space for one more team to enter the tournament.
Team SCUM (Jimmy Jacobs and Steve Corino) was the logical choice to fill that vacancy.
It came with a catch, though. To enter the tournament, SCUM had to put their Ring of Honor careers on the line. If they lose in the tournament, they are fired.
I love the drama this adds to the story. It makes perfect sense for Cornette too.
Certainly, Cornette would not want to give Team SCUM an opportunity to capture another title. However, if there's a chance to rid ROH of two-thirds of Team SCUM and isolate Kevin Steen in the process, he has to take it.
The only negative I can see is that it almost guarantees that SCUM will win the tournament.
Personally, I'll be happy as long as whatever they decide keeps Corino from commentary.
Thumbs Down: The Bravado Brothers vs. Team SCUM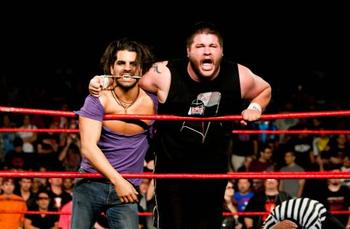 Photo courtesy of rohwrestling.com
Team SCUM's first career-threatening match pit them against Lancelot and Harlem, the Bravado Brothers.
The match was nothing special. Neither Jacobs nor Corino are much to talk about if there is no blood or weapons involved.
SCUM spent most of the match wearing down Lancelot as the dominating heels.
Harlem caught fire after he was tagged in, but there was never any doubt as to who was going to win.
Team SCUM picked up the win off of a Steve Corino backdrop driver.
Overall, this was a predictable and uninspiring start to the show.
Thumbs Up: Warning Shot
Photo courtesy of rohwrestling.com
After the match, the Guardians of Truth attacked Corino and Jacobs, which in turn brought out Kevin Steen. As the five men brawled, Rhino stormed in and Gored Steen.
Last week, Rhino was legitimized when he split Eddie Edwards in half.
This week, they made Rhino a viable threat to a world champion who has all the momentum in the world on his side.
Thumbs Up: Ooooh Yeah!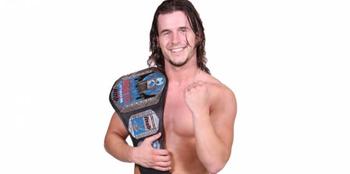 Photo courtesy of rohwrestling.com
In Inside Ring of Honor, Adam Cole cut a promo promising victory over Michael Elgin next week on Ring of Honor Wrestling and then Mike Mondo at Death Before Dishonor.
One thing I love about Ring of Honor promos is that they always seem to be addressed directly at an opponent.
I'm far too young to have been around for Hulk Hogan or the Macho Man, but there's something nostalgic about it nonetheless.
So when Adam Cole starts by saying, "Michael Elgin…," I can't help but imagine Randy Savage standing next to Mean Gene.
Or JD cutting a promo on Scrubs, promising to probe Dr. Cox and give him a physical he "ain't never gonna forget!"
Thumbs Down: I'm Glad He Got That Gore in Earlier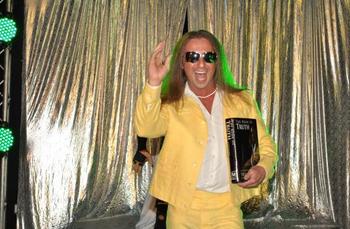 Photo courtesy of rohwrestling.com
It was a good decision to put Rhino with Truth Martini. Rhino is a terrifying physical presence, but seems far more vulnerable when he speaks. It becomes apparent that he can be outsmarted.
When speaking, Rhino seems to concentrate far more on holding his breath and turning red than he does on forming coherent thoughts.
His promo this week was a jumble of threats that sort of flowed into one another in a bizarre, surreal sort of way.
I think what I'm saying is that Rhino's promo was a Salvador Dali painting, where the words and ideas appear familiar, but oddly out of reach at the same time.
In other news, I'm not very good at describing art.
Thumbs Down: Still with the Chaw?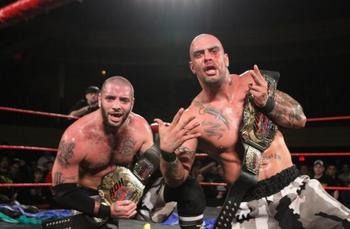 Photo courtesy of rohwrestling.com
To close Inside Ring of Honor, the Briscoes threatened to defeat the wild card entry they are set to face in the first round.
First off, Jay, we've been over this. Ditch the chaw.
Secondly, are you really cutting a promo on BLK-OUT, a regional tag team?
The Briscoes are the closest thing to John Cena in Ring of Honor and they get the wild-card team in the first round?
I hope that match lasts three minutes so we can move on to other things.
Thumbs Up: Jay Lethal vs. Matt Taven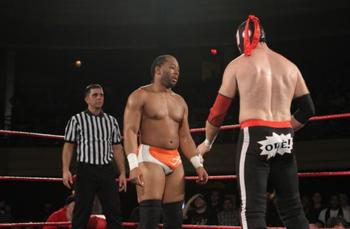 Photo courtesy of rohwrestling.com
Thumbs waaaaaaaay up.
Before his match with Matt Taven, Jay Lethal told everyone that he asked Jim Cornette why he hasn't gotten a shot at Kevin Steen's ROH Championship. Cornette's reply was that Lethal can't beat Kevin Steen because Lethal doesn't have a killer instinct.
As soon as Matt Taven came out for the Code of Honor, Lethal kicked him square between the legs. The referee looked on, confused, before Lethal planted him with a Lethal Combination.
I'm a slow burn sort of guy, but there's something to be said for someone just snapping.
Lethal has gone through so much over the last year.
He had a great run with the Television Championship. He barely lost an ROH Championship match against Davey Richards due to outside interference. He developed a mean streak to win his feud with Tommaso Ciampa.
After doing all of that and still being told he can't beat Steen, it's perfectly reasonable for Lethal to be frustrated.
Hopefully, Lethal gets a shot at Steen soon. We know Steen will win, but Lethal has earned an opportunity and will certainly give us an incredible match.
Thumbs Down: When Did ROH Become Raw?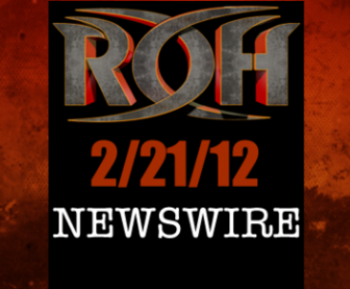 Photo courtesy of rohwrestling.com
The worst thing about the new three-hour Raw has to be the constant video recaps.
This week, ROH spent five of their 50 minutes of weekly programming recapping why Rhett Titus and Charlie Haas are tagging together.
It happened last week. We don't need a recap.
Thumbs Up: Guardians of Truth vs. Charlie Haas and Rhett Titus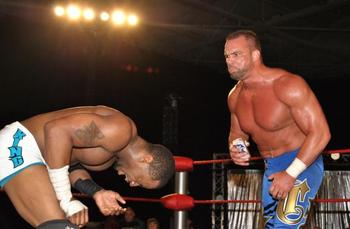 Photo courtesy of rohwrestling.com
It's easy to criticize "odd couple" tag teams, but there are some great storytelling possibilities when rivals tag together.
Charlie Haas began by unceremoniously dumping Rhett Titus over the ropes so Haas could start the match. Miscommunications and aggressive tags got across the idea that Titus and Haas hate each other's guts.
All the bickering ensured that the Guardians of Truth controlled the entire match. Titus absorbed a vicious beating, but managed to surprise the Guardians with a jackknife pin for the victory.
Haas, of course, celebrated like he did all the work.
The match didn't have much ebb and flow, but it served its purpose. Haas and Titus advanced to the next round while setting the two on a course for something larger down the road.
This match did a nice job of highlighting their differences.
Thumbs Up: Stable Fight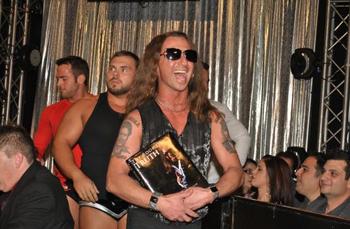 Photo courtesy of rohwrestling.com
After the match, Steve Corino and Jimmy Jacobs stormed the ring, assaulting the Guardians of Truth to end the show.
I love that the Steen vs. Rhino match has turned into Team SCUM vs. the House of Truth. It brings so many possibilities into play and introduces the key questions.
Can Kevin Steen win a match without cheating?
Can Steen win a fair fight?
Can Steen win an unfair fight, as the House of Truth outnumbers Team SCUM?
He almost certainly will, but I'm interested to see how it goes down.
The End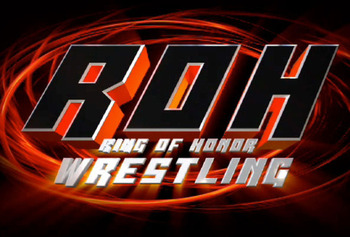 Photo courtesy of rohwrestling.com
With only one episode left before Death Before Dishonor X, Ring of Honor has done a magnificent job righting the ROH ship.
Months of disappointment are fading into memory as the build for Death Before Dishonor reaches its climax.
Next week's go-home show will hopefully complete the build, setting up Death Before Dishonor as the most anticipated pay-per-view since Border Wars in May.
Photos courtesy of rohwrestling.com
Keep Reading