Bills vs. Chiefs: Live Game Grades and Player Analysis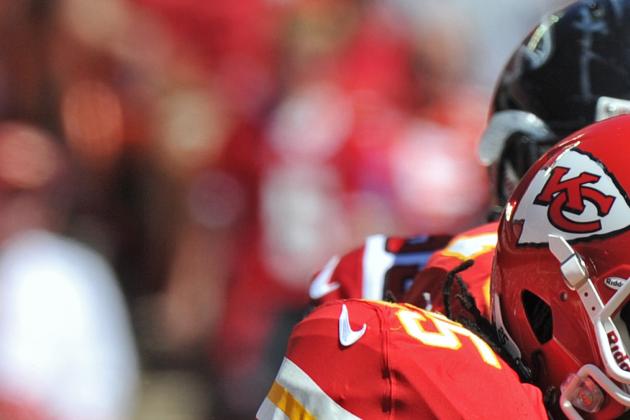 Peter Aiken/Getty Images

C.J. Spiller and the Buffalo Bills made sure the Chiefs stated out 2012 in the same fashion that they started last year, as the Bills cruised to an easy 35-17 victory today at Ralph Wilson Stadium.
Kansas City looked familiarly unprepared and an injury-depleted Bills team dominating the Chiefs yet again.
Spiller gashed the defense for 170 yards from scrimmage, and Chiefs head to Week 3 without a victory for the second consecutive season.
Begin Slideshow

»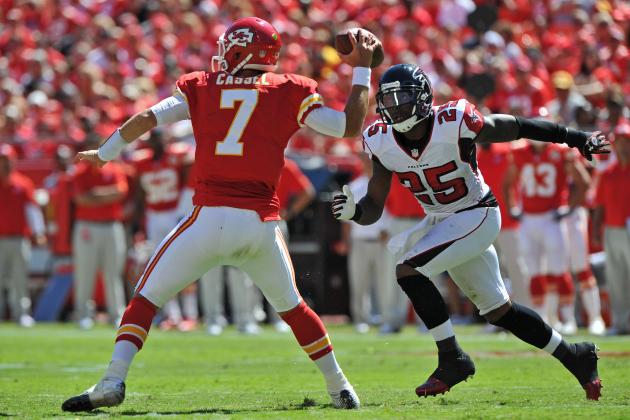 Peter Aiken/Getty Images

Final Grade: D -
The only reason Cassel gets this grade instead of a failing mark is because he stills looks better than he did last season. The bad news for fans remains that fact that Matt Cassel's improvement is not good enough.
Cassel is not an NFL quarterback, and the team needs to move away from him soon.
He finished the game 19-for-32 for 241 yards, but much of that was when Kansas City was far behind.
If you are looking for a glimmer of hope, maybe you can enjoy that fact that Cassel and receiver Dwayne Bowe seem to be finding their chemistry again, and Bowe scored two late touchdowns.
Quarter 3: F

Cassel has looked decent times and way more comfortable than last year, but still he has failed to deliver touchdowns.
Quarter 2: C-
Cassel has made a few nice throws, but he can't seem to create any sustained success. He also seems to be hesitant in his decision-making, much like he was last year.
The rushing attack started to pick up some steam midway through the second quarter, but a Cassel fumble put an end to that drive.
Cassel is looking sharper as the half approaches. He needs to build on that if the Chiefs are going to chip away at this lead.
Quarter 1: D
Cassel started out well and completed his two first passes. But an ill-conceived throw to Dwayne Bowe, on a play in which Bowe had slipped, put a damper on what was becoming a pretty successful first drive.
Once the Bills started to focus on stopping the running game, Cassel began to struggle. He finished the first quarter 5-of-7 for 35 yards.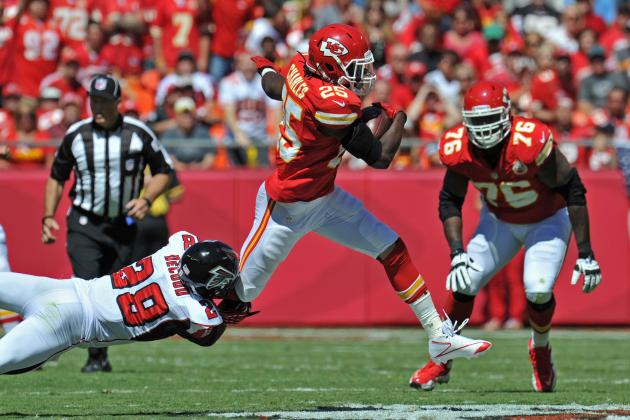 Peter Aiken/Getty Images

Final Grade: F
Outside of the first half of last weeks game against Atlanta, the Chiefs' offense has failed to sustain any sort of consistency.
The running game should be better, but its tough to establish a power running game when playing from behind like the Chiefs have been doing.
The offensive line has allowed too many sacks and far too much pressure on Cassel.
A failing grade is the only grade appropriate here.
Quarter 3: F

The offense mercifully puts points on the board midway through the third quarter, but it's only a field goal.
Matt Cassel looked poised on the drive, but the running game still looks a little stagnant. Running back Jamaal Charles looks like his previously injured knee is giving him some slight issues.
The offensive line has looked atrocious, and has allowed five sacks in the day.
Quarter 2: D-
Once again, it's hit and miss for the offense. Another costly turnover by Cassel stops another drive.
Anytime the Chiefs seem to be gaining any momentum, a penalty stops it. A 20-yard pass play to Kevin Boss was nullified by a chop block from running back Peyton Hillis.
The last drive of the quarter was inspiring until Hillis lost a fumble on the goal line.
Quarter 1: C
The Chiefs started out well, doing a great job of mixing the run and pass.
The Bills then started to key on the rushing attack, and the offense sputtered during the rest of the opening quarter.
Jamaal Charles looked hesitant on his carries. The Chiefs need find more creative ways to get him the ball.
Kansas City was hoping to be able to highlight receiver Jonathan Baldwin, but he has been invisible so far this season.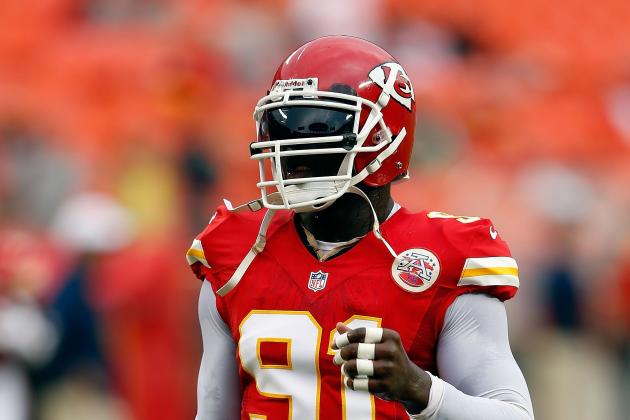 Jamie Squire/Getty Images

Final Grade: F
40 points last week. 35 this week. Not much to say here except the fact that this defense may be one of the worst in the league at this point.
Quarter 3: F

The Chiefs look better on their series of the second half. The lone bright spot remains rookie Dontari Poe. He continues to hold his own at the point of attack and has even deflected a few passes this year.
The Chiefs limit the Bills to two three-and-outs to start the quarter, but a long Stevie Johnson touchdown pass against a tired Chief's defense puts the Chiefs down 28-3.
Quarter 2: F
Romeo Crennel has seemed to calm his defensive unit somewhat, but C.J. Spiller is still finding way to much room to run.
Spiller took another screen pass deep into Kansas City territory, and Bills QB Ryan Fitzpatrick threw a touchdown pass to Scott Chandler.
The Chiefs defense looks to be the worst in the league thus far, allowing opponents to score at will.
Quarter 1: D
The Chiefs forced the Bill into a three-and-out on their first possession, aided by a horrible missed opportunity by Bills' quarterback Ryan Fitzpatrick.
Fitzpatrick's pass to tight end Scott Chandler, who was wide open with a lot of open field in front of him, missed the mark, negating what would have been a big gain..
Spiller then capped a six-minute Bills drive with a 16-yard touchdown run to put them up 7-0
Spiller is giving the Kansas City defense fits with his speed.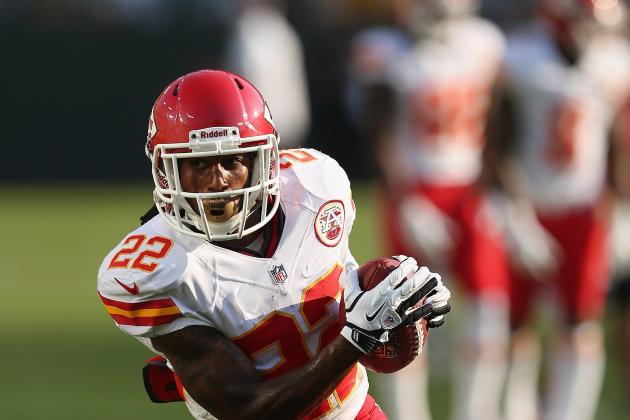 Jonathan Daniel/Getty Images

Final Grade: D-
The long punt return by McKelvin brings this grade down from average. Javier Arenas looked good in spots. The kicking game was average as well.
Quarter 3: D-

Javier Arenas took his first punt return of the half into Buffalo territory, and Ryan Succop converted his first field-goal attempt. Succop looked shaky last week against Atlanta.
After couple of quarters of solid play, the return unit allowed a 88- yard punt return from Bills cornerback Leodis Mckelvin.
Quarter 2: C
Once again, nothing newsworthy.
Quarter 1: C
Nothing much to speak of here. No notable returns or field-goal attempts.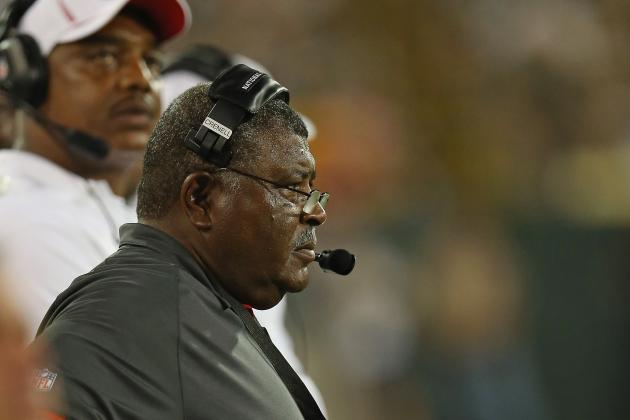 Jonathan Daniel/Getty Images

Final Grade: F
The team looks just as unprepared as they did when Todd Haley was in charge last season. For the second time in as many years, fans have no reason to be proud of this team after two games and the Chiefs are a joke.
Quarter 3: F
The Chiefs have been outclassed on all sides of the ball, and they showed up in Buffalo completely unprepared for an NFL football game. Everyone here is to blame here, from the top down.

Quarter 2: F
The coaching was horrible on both sides of the football. The Chiefs look as inept as they did at the beginning of last season.
The offensive play-calling improved during the final minutes, but an F is still the correct grade here.
Quarter 1: C
Offensive coordinator Brian Daboll called an excellent first drive, but he has failed to continue to build on that.
He needs let Matt Cassel throw on first down more frequently and let him find some rhythm.
Defensively, the Chiefs need to find some way to slow down C.J. Spiller.