Evgeni Malkin: NHL Players Should Copy Penguins Star and Play in Europe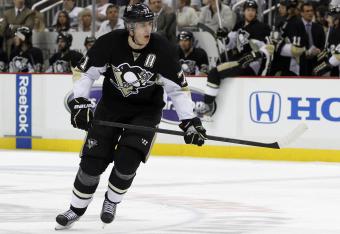 Justin K. Aller/Getty Images
In the wake of the NHL lockout, Evgeni Malkin has decided he'll play in Russia.
The rest of the NHL's players would be wise to follow his lead.
If you think the players have little leverage against the owners during the lockout, think again. There are plenty of leagues in Europe where NHL players can earn a paycheck if the lockout extends into the regular season.
Malkin, the star forward for the Pittsburgh Penguins and last year's MVP, is one of the first to announce he'll go, according to the Associated Press (via ESPN):
NHL stars Evgeni Malkin and Sergei Gonchar have signed with Mettalurg of the Kontinental Hockey League after the NHL imposed a lockout of its players.

Metallurg, based in the Russian industrial city of Magnitogorsk, said in a statement Sunday that it signed the two Russian players through the end of the 2012-13 season.
Unlike the NFL players—or even the NBA, to an extent—there are numerous leagues in Europe where NHL players can earn really good money and play very competitive hockey.
And it's hardly a new concept, as NHL players flocked to Europe in droves the last time there was a work stoppage. Chris Johnston of The Canadian Press recalls the migration to Europe (in a really informative piece you should check out):
Nearly 400 NHL players suited up in 19 different European leagues during the lockout that cancelled the entire 2004-05 season. It was a migration that came with a fair bit of controversy as the NHLers pushed others out of jobs.

The debate around that topic has already restarted again, but it's unlikely to deter many of the 750 locked-out members of the NHL Players' Association.
Bleacher Report's Nicholas Goss did a fantastic job rounding up some of the big names that are likely to head to Europe. And I would imagine even more than 400 players will find leagues to play in this time around.
There is danger for the NHL in this migration. For one, with so many players finding other leagues to play in, there is less incentive for the players to cave in to the owners' demands. The paycheck may be less lucrative, but it's better than nothing.
NFL players didn't want to lose game checks. NHL players have plenty of alternative leagues where they can earn some scratch.
Plus, there is the danger that some NHL players and even a few of the league's stars will simply decide to either remain in Europe or sign overseas once their NHL contracts expire. Malkin has just two years remaining on his contract with the Penguins. Will he decide to simply jump ship to Europe once this deal is up if another season is lost?
It's certainly possible.
Will there be a 2012-13 NHL season?
If I were an NHL player, I would be signing a contract overseas as soon as possible. Let the owners sweat over their losses while chunks of the season go unplayed. I would rather take a pay cut playing overseas for a year than simply caving to the owners' demands that my future earnings be reduced because I wasn't earning a paycheck.
If the big stars like Sidney Crosby decide to play overseas, it will be seen as a loud and clear message to the owners by the players.
We won't back down. We won't be pushed around. We're united from our stars down to our role players, and we'll wait you out until this CBA works for us, too. Bring it on.
Okay, so that was my interpretation of the message. But the point remains strong: The NHL players have options. During the lockout, they would be wise to utilize them.
Hit me up on Twitter—my tweets are still in the Heisman Race.
This article is
What is the duplicate article?
Why is this article offensive?
Where is this article plagiarized from?
Why is this article poorly edited?

Pittsburgh Penguins: Like this team?