Boise State Football: 5 Things We Learned from the Broncos' Win over Miami (OH)
Otto Kitsinger III/Getty Images

The Boise State Broncos found their winning ways once again. This time it was against the Miami (Ohio) RedHawks Saturday in Bronco Stadium.
The final score was 39-12, but the fact is that it should have been an even bigger difference.
Still, the win caused a huge sigh of relief around Bronco Nation, and it had to be a weight off the shoulders of the Boise State coaching staff and players.
The game wasn't perfect, but there were moments in the contest that the Broncos looked very good. Let's look at five things that stood out and what it means for the team in orange and blue.
Begin Slideshow

»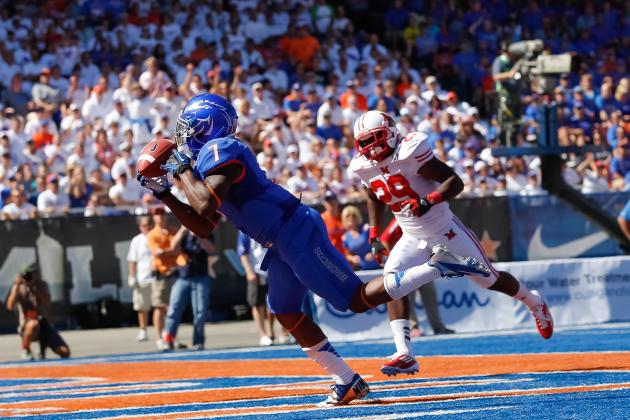 Otto Kitsinger III/Getty Images

Not that anyone really believed D.J. Harper had lost it, but for those who might have wondered—he hasn't.
The sixth-year senior lit up the stat sheet with 162 yards rushing on 16 carries and three touchdowns on the ground. He averaged an impressive 10.1 yards per carry, and looked fast, agile and strong Saturday against the RedHawks.
Running the ball was definitely a key to the Broncos' game plan, and to say it worked would be an understatement.
Harper also caught a 21-yard touchdown pass giving him a total of four TDs on the day.
Talk about redemption. After, a frustrating night against Michigan State in Week 1, this had to feel good for the talented running back.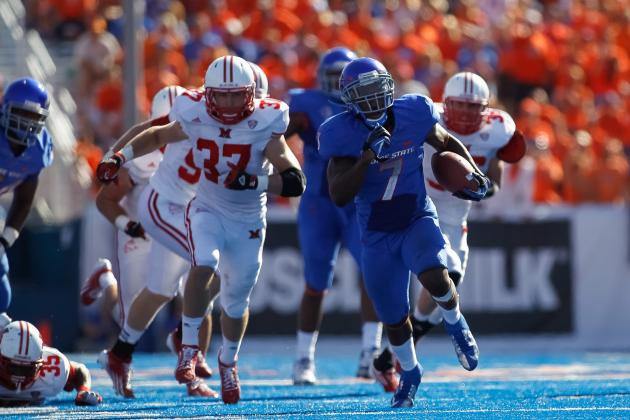 Otto Kitsinger III/Getty Images

Against Michigan State it is no secret that the offensive line of the Broncos struggled creating room for D.J. Harper and the rest of the running backs.
Saturday against Miami-Ohio they created holes big enough to drive a truck through.
Many times in the game you could see the blue sea part and a running back, usually Harper, leading the Broncos to solid yardage.
True freshman Jack Fields carried the ball 13 times for 49 yards, Drew Wright added 33 yards on seven carries and the true freshman dynamo Shane Williams-Rhodes had four carries for 23 yards of his own.
It was a great performance by the offensive line to open up the running lanes all day long, but it didn't stop there. Pass protection was solid as well; Southwick usually had the time he needed to locate an open receiver, and he wasn't sacked even once.
Overall, it was a great performance for the big guys up front on offense, and they deserve a lot of credit for rebounding they way they did.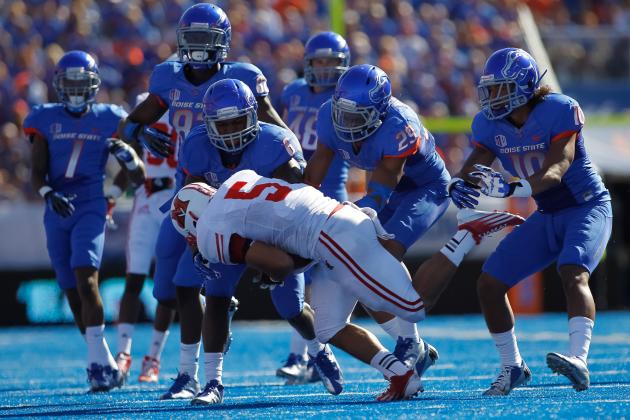 Otto Kitsinger III/Getty Images

One word to describe the defensive performance for the Broncos versus the RedHawks would have to be domination.
On the day, the RedHawks could only produce 227 total yards and a total of nine first downs. Miami's prolific quarterback Zac Dysert was chased all day long and only threw for 176 yards and no touchdowns.
If there was one negative thing to say about the defense it was that they didn't produce any turnovers this game. Two times Dysert delivered perfect interception balls that hit Bronco defenders in the numbers and could have easily been returned for touchdowns had they been caught.
Both of those possible interceptions would have been huge momentum changers, and coach Petersen will probably have the secondary guys catching a few more balls in practice as a result.
Up front was where the most improvement was seen. The secondary played well against the Spartans in Week 1, but the front of the Broncos defense struggled on that night. They didn't struggle against the RedHawks.
Sophomore and junior college transfer Demarcus Lawrence had a great game. He had seven tackles and two-and-a-half sacks.
Overall, the front of the Boise State defense looked much improved and that bodes well for the Broncos as the season progresses.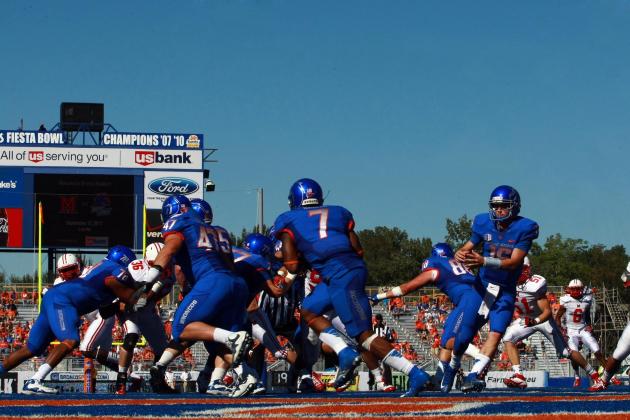 Brian Losness-US PRESSWIRE

Two dropped pick-sixes, one late hit out of bounds, a fumble inside the 10-yard line on the wrong side of the field and an interception in the end zone instead of a touchdown.
This sums up the best defensive and offensive plays for the Miami RedHawks, and none of them were the RedHawks' doing.
Boise State made some big mistakes on Saturday. If it weren't for those mistakes the score would have probably been something like 28 to 3 at halftime. Instead, the game was much closer than it should have been going into the break with the Broncos only ahead 15 to 9.
Coach Petersen had to be frustrated watching it all transpire. However, knowing how young this team is, the good news is they can only get better.
The second half was much better than the first, and the words Petersen uttered at halftime seemed to be effective.
The Broncos finished strong, but if they want to win the Mountain West title and be in contention for a very good bowl game they are going to have to overcome their own mistakes.
The same kind of mistakes doomed them in Week 1; in Week 3 they were only a hindrance.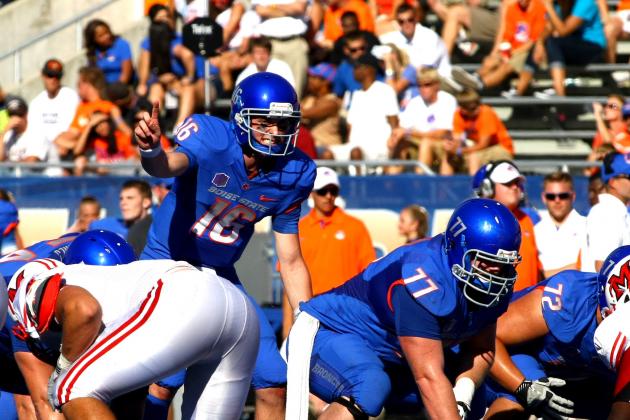 Brian Losness-US PRESSWIRE

Joe Southwick silenced many critics on Saturday, but he also proved he has some room to grow.
Two things stood out as the game progressed against Miami-Ohio. They are two of the same issues Southwick had against Michigan State.
First, when the Broncos are in the red zone it appears that Joe struggles with the soft touch. His mid-level and deep passes have serious velocity with accuracy, but down close he struggles to give it the right amount of finesse needed to drop the ball where his receiver needs it to be.
Against the RedHawks Southwick overthrew a wide-open receiver on what would have been a touchdown and then turned around the next play and threw an interception. He did the same thing against Michigan State.
Coach Petersen compensated for that by later using running plays close, which seemed to fix the problem. However, that can only be a temporary fix because teams will key on that.
The other issue that Southwick had actually seemed to get better as the game went on. Early in the contest it looked like the junior quarterback would lock on a single target without looking at his other options.
Later in the game however, especially the second half, Southwick was getting more comfortable and reading the defense much better. His performance just got better and better as the minutes rolled off the clock.
As the game progressed it was clear that Boise State's quarterback was proving why coach Petersen chose him to lead the offense, even if he doesn't know how to slide.
Watching his performance against Miami it's clear that Joe Southwick is the real deal and has the very real potential of being a great quarterback. If he can solve a couple of issues and gain even more confidence he is going to be something very special.
On the day Southwick threw for 304 yards, two touchdowns and one interception. He completed 24 passes on 31 attempts for a 77.4 percent completion rate and a 174.6 quarterback rating.
Folks, those are...ehem...Kellen Moore-type numbers. Uncomfortable hearing that? Well, if people are going to constantly keep him in Moore's shadow, then it is only fair to give him credit when credit is due.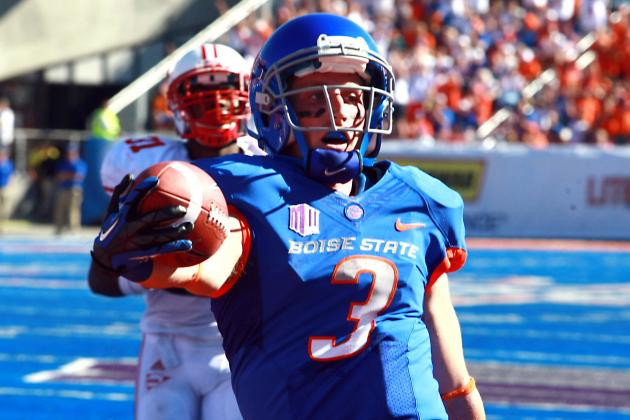 Brian Losness-US PRESSWIRE

In the end, a win is a win. However, this one was special for a lot of reasons.
Joe Southwick gets his first victory as the Broncos' starter, and you can expect many more this season and next.
D.J. Harper had the kind of game he has probably always wanted to have. Coming back from two knee injuries and now playing at this level has to be satisfying for him.
The Broncos proved once again that they have character, toughness and the ability to succeed in the face of adversity. They are not a team that gives up or gives in.
This win was just another example of why Chris Petersen is considered one of the best coaches in the country, and for those who have written the Broncos off you might want to get out your eraser.
Look for Boise State to continue its winning ways, and look for the entire team to get better as the season progresses. Which should be a scary thought for their competition.