Canelo Alvarez vs. Josesito Lopez Live Blog: Round-by-Round Scores, Reaction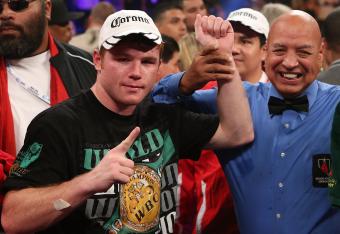 Josh Hedges/Getty Images
Six months I ago I doubt even Josesito Lopez would have imagined that on the biggest boxing weekend of the year—Mexican Independence Day—he would be headlining a premium cable card against one of the sport's hottest young stars.
But when Lopez (30-4, 18 KOs) broke Victor Ortiz's jaw last June 23, he earned the opportunity to challenge Saul Alvarez (40-0-1, 29 KOs) for his WBC junior middleweight belt, bumping Ortiz from the spot he had already been announced for.
They will meet tonight, at the MGM Grand in Las Vegas, Nevada. The fight will be broadcast live on Showtime.
Lopez will be a heavy underdog in the betting, but nobody doubts that he will show up tonight looking to make a fight of it. He is a pressure fighter with a solid chin and respectable power. Expect him to stay within range of Alvarez, looking to exchange up close.
But he will be facing a bigger man. His TKO of Ortiz was his first major fight at welterweight, after spending almost his entire career at 140.
Now he will step up in weight once again, to challenge Alvarez at 154.
A major star in Mexico since his teenage years, the 22-year-old Alvarez is viewed by many as a boxing prodigy, a young champion at the start of a legendary career.
Both men are aggressive, yet intelligent, brawler-boxers. I have to give Alvarez the advantages in strength, explosiveness and overall athleticism, but Lopez has a gritty, intangible aspect that keeps him in fights and in position to win.
I will be blogging with round-by-round scoring in the main event and highlights from the under card, starting at 9 p.m.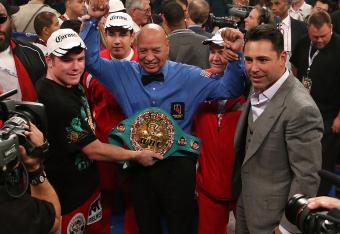 Canelo Alvarez was simply too much for Josesito tonight. He looks poised to challenge the big boys in the division for years to come, and would make a Mayweather battle a possible super-fight of the future.
<blockquote class="twitter-tweet">
And that's it! In his last fight as ref, Joe Cortez jumped in & stopped things in rd five as Canelo was taking it to Lopez on the ropes.
— SHOWTIME SPORTS (@SHOsports) September 16, 2012
It's all over. Joe Cortez jumps in to save a game but badly over-matched Saul Alvarez. Lopez came out for this round firing aggressively. He spent time along the ropes before launching an aggressive attack on Alvarez, scoring some legitimately good punches on Alvarez. Alvarez pretty much ate it and came back with more multi-punch flurries, backing Lopez back into the corner. The decisive two punches were a right upper cut, straight right, a wild, missed left hook, and then another brutal straight right. Lopez ate three of the four punches and was sagging against the ropes when Cortez jumped in and waved it off.
Canelo is scoring with both hands, to the body and head, and from all kinds of angle. He is pounding Lopez with counters, and pouncing forward aggressively the second Lopez stops punching or moving.
Lopez absorbs an accidental low blow. Tries to open up aggressively in the last minute of the round, but Alvarez fluries back and drops him against the ropes with a combination of body punches and a right hook/overhand to finish him.
10-8 Alvarez
Lopez has a ton of heart. He's just too small and not explosiveness to stay with Alvarez. Alvarez drops him wiith another body shot early in round. Lopez clearly hurt, stays in pocket and fights. Alvarez keeps pounding the body and then jacking upper cuts upstairs. Lopez is firing back, but gets trapped in corner.
Lopez is a warrior, but 10-8 Alvarez.
Alvarez is beating Lopez up now. Lopez is over matched. He came out firing hard at the start of the round. Alvarez backed into a corner, took some punches from Lopez, but then came back with brutal uppercuts at 2:20 and again about 2:05. Alvarez works the body hard and crushes a lead hook into Lopez's body, dropping him at the bell.
10-8 Alvarez.
Lopez came out and sat in range for Alvarez, but that largely sat back, almost looking to get a sense of Alavrez's power and strength. Alvarez landed some hard punches, Lopez tried to get back in the fight with lead hooks to body. Alvarez 10-9.
This was just announced as Joe Cortez's last fight as a ref.
Josesito Lopez came in at 153, nine pounds more than he was last June against Ortiz.
It looks like a huge, capacity crowd in the MGM Grand.
Crowd against Lopez as he comes out. He looks bigger than he did against Ortiz.
And here comes Canelo. The crowd is rejoicing.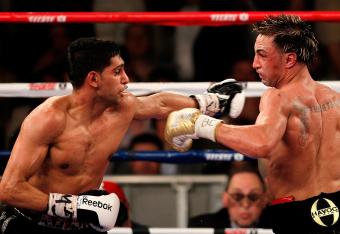 If Lopez loses tonight, why now Paul Malignaggi for his first fight when he returns to welterweight?
Paulie Mags giving a good breakdown of how the strength and physicality of a larger fighter like Alvarez can be a problem for a guy like Lopez.
Josesito looks like a guy who wants to fight.
They just showed Alvarez back stage. He looked nervous, but good, focused nervous. Alert nervous.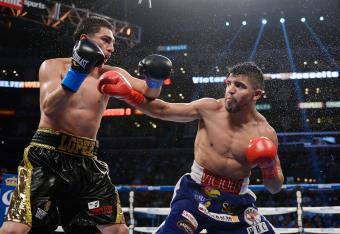 They are getting ready to walk out for the main event. They just showed the Lopez promo piece, condensed from their All Access footage.
He's a great story. I think he will bring every ounce of determination to the ring. So the fans should get what they want.
The judges had it much closer than I did. I thought some of the rounds that Ponce De Leon was throwing more punches, Gonzalez was still landing crisper counters. But he did impose his physicality and looked like he would be good down the stretch.
I said I'd put Mike Garcia one at 126, but I forgot Orlando Salido.
Make that, 76-75 Ponce De Leon
Round eight was going to Ponce De Leon on my card. On a clash of heads Gonzalez took a terrible cut to the eye and the fight has been stopped by the ringside doctor. \\
10-9 Ponce De Leon
It will go to the cards.
I end up 76-76 Ponce De Leon
Wow! Great round. Ponce De Leon starts out pushing around Gonzalez, landing some hard shots. Gonzalez answers the pace. At the end of round Gonzalez catches Ponce De Leon with a tough shot
10-9 Gonzalez.
In a close round that I had Gonzalez winning, Ponce De Leon explodes for a knock down almost at the bell.
10-8 Ponce De Leon. See if he can follow up on it.
Close round. Ponce De Leon keeps coming, sneaks in some good punches. Gonzalez landed nothing significant, but he avoids almost everything. De Leon just can't find range and Gonzalez is crisp on some counters.
10-9 Gonzalez.
Ponce De Leon landed a flush left hand early in the round. The action picks up this round, especially near the end of the round. They were trading up to the bell.
10-9 Ponce De Leon.
Both fighters bleeding from an accidental headbutt. De Leon bleeding all down his face. Gonzalez starting to land the straight right. Good action.
10-9 Gonzalez.
Gonzalez is keeping the fight on the outside, so there is less action than in the first two fights. Some fans boo. The fighters pick it up and De Leon lands a punch that moves Gonzalez backwards.
10-9 De Leon, close round.
This article is
What is the duplicate article?
Why is this article offensive?
Where is this article plagiarized from?
Why is this article poorly edited?