Nebraska Football: 10 Things We Learned from Huskers' Win vs. Arkansas State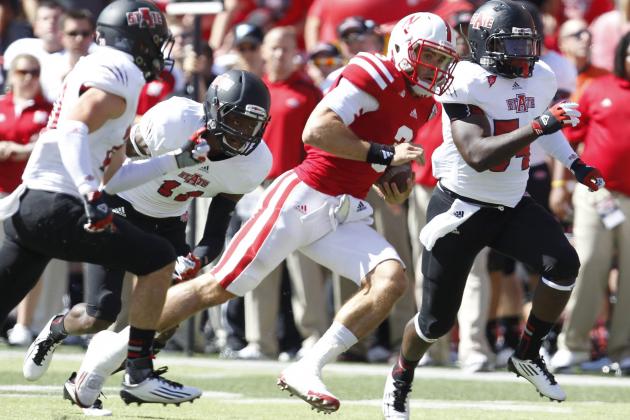 Bruce Thorson-US PRESSWIRE

Nebraska beat the Arkansas State Red Wolves, 42-13, in Lincoln, washing out some of the taste from NU's 36-30 loss to UCLA the previous week.
More importantly, though, head coach Bo Pelini was taken to the hospital at halftime after being seen getting his pulse checked by trainers on the sidelines in the first half. Defensive coordinator John Papuchis took over as head coach for the remainder of the game. Nebraska's official Twitter account (@Huskers) posted a tweet which read "Statement from Bo Pelini - Everything is fine, precautionary tests. Proud of our team and I'll be back at work tomorrow."
So while we wait for more details about Pelini's condition and what lead to his hospitalization, let's take a look at what we've learned from Nebraska's victory.
Begin Slideshow

»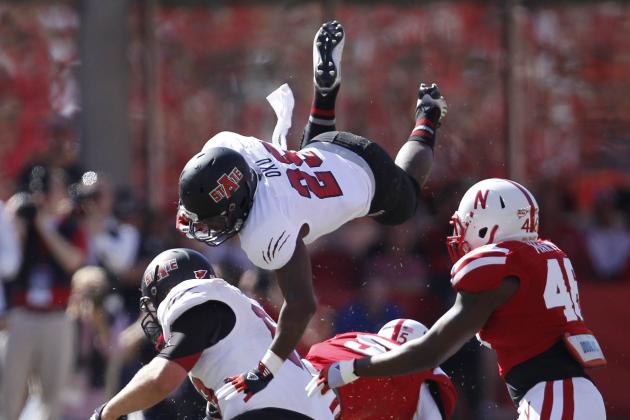 Bruce Thorson-US PRESSWIRE

After surrendering the second most yards in a game in school history, Nebraska fans were collectively beside themselves with worry about the status of the defense. Going up against a spread offense similar in some ways to UCLA's just added further fuel to the worries.
But the defense responded.
Arkansas State's first touchdown didn't come until the third quarter, and it was the Red Wolves' defense that scored it. Tackling technique looked significantly better (although, again, against different competition) and the Blackshirts seemed better able to pursue sideline-to-sideline and defend against the misdirection.
Nebraska ended up surrendering 285 total yards and no offensive touchdowns, which should provide a little comfort to the Children of the Corn moving forward.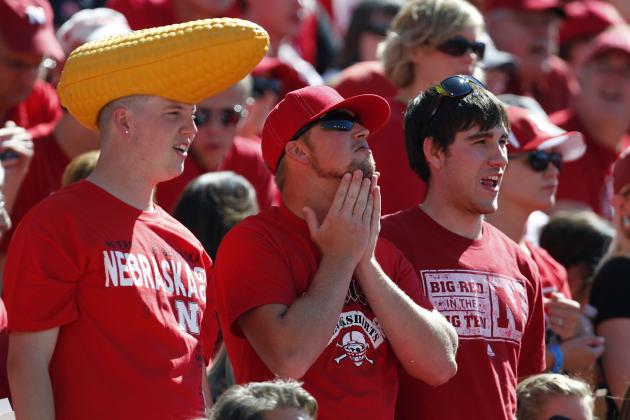 Bruce Thorson-US PRESSWIRE

In the second half, Nebraska got bit by the turnover bug. Taylor Martinez fumbled twice, once off a blind-side hit and once on what appeared to be a miscommunication with running back Braylon Heard on a zone read.
Ameer Abdullah let a punt bounce and graze his foot, giving Arkansas State the ball inside Nebraska's 20. And, at the end of the game, Mike Marrow coughed up the ball in what seemed to be the Football Gods not wanting Nebraska to run up the score.
Arkansas State scored 10 of its 13 points off those turnovers. If Nebraska is as wasteful with the ball in future games, it will pay a heavy price.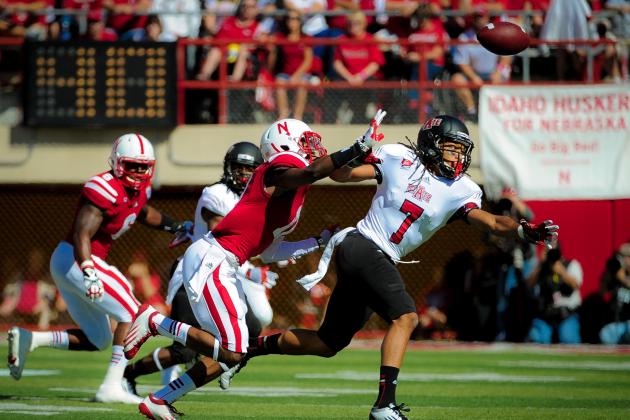 Eric Francis/Getty Images

Against a hurry-up offense like Arkansas State, making changes on the fly is a challenge for any defense. But Nebraska has struggled throughout the season getting defensive play calls in. In each half, Nebraska continued its trend of burning time outs on defense when it couldn't get properly lined up.
The Red Wolves may be one of the hardest teams to align properly for defensively, given the speed with which they play. And with the number of new players that saw the field on defense, some communication issues were to be expected. But it is an area Nebraska needs to clean up as the season goes on.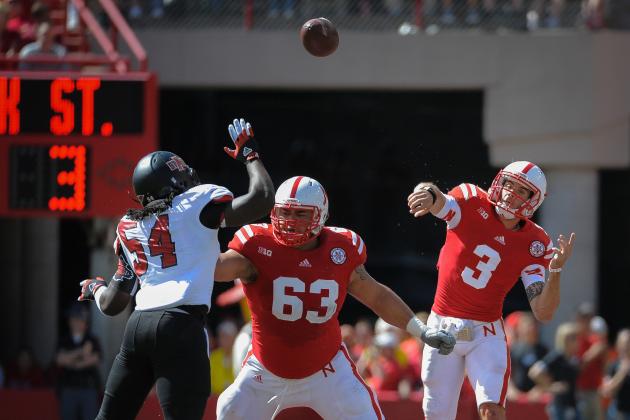 Eric Francis/Getty Images

In the first half against UCLA, Taylor Martinez was able to keep Nebraska's offense in rhythm and answer the Bruins' offense blow-for-blow. In the second half, as UCLA's defense put more pressure on Martinez, he broke down and struggled.
Against Arkansas State, Martinez ended the game 13-of-14 for 180 yards and two touchdowns. His two fumbles in the second half are certainly a cause for concern. But when the game was in doubt and his arm was needed, Martinez had time to set and throw, and his production improved accordingly.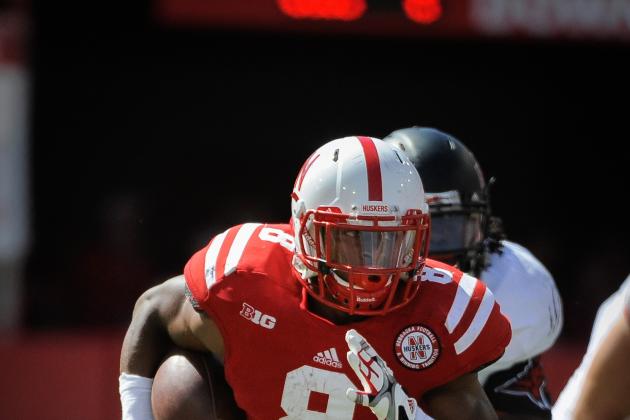 Eric Francis/Getty Images

Rex Burkhead once again was sidelined against Arkansas State, recovering from the MCL injury he received against Southern Miss. Rather than cycle in backs, Nebraska leaned heavily on Ameer Abdullah. He ended the game with 30 carries for 167 yards and two touchdowns. Couple that performance with Abdullah's ability in pass protection, and Nebraska finds itself with an every-down tailback even without Burkhead.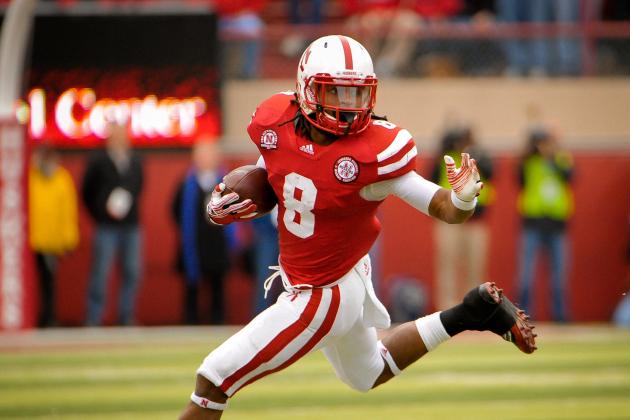 Eric Francis/Getty Images

On first downs, and on plays that Nebraska really needed to convert, NU frequently went with a toss to Ameer Abdullah. The play suits Abdullah's skill set well, giving him the opportunity to test a defense on the edge with his speed, and use his decisive, one-cut running style to cut upfield and gain yardage when the edge is taken away.
Particularly with Abdullah in the game, look for the toss in crunch time. And look for Tim Beck to add in a fake or misdirection off that play in the future to counter Nebraska's tendency.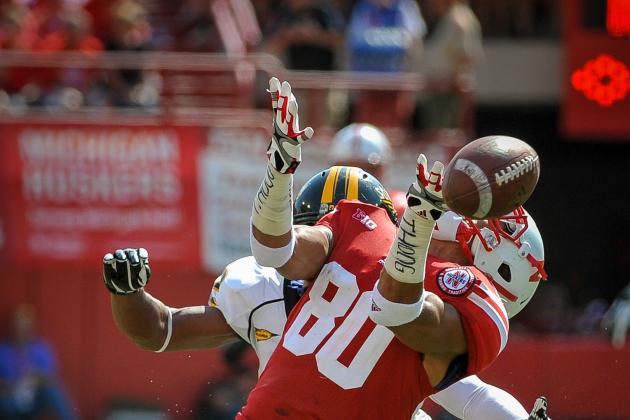 Eric Francis/Getty Images

By the end of 2011, it became apparent that Kenny Bell was one of Nebraska's most effective weapons. But against Arkansas State, Bell began to show that he can be an elite wide receiver. Bell ended the game with three catches for 71 yards and two touchdowns, plus two kick returns for 51 yards, and showed the speed, route running, and elusiveness that make him a prime target for opposing defensive coordinators.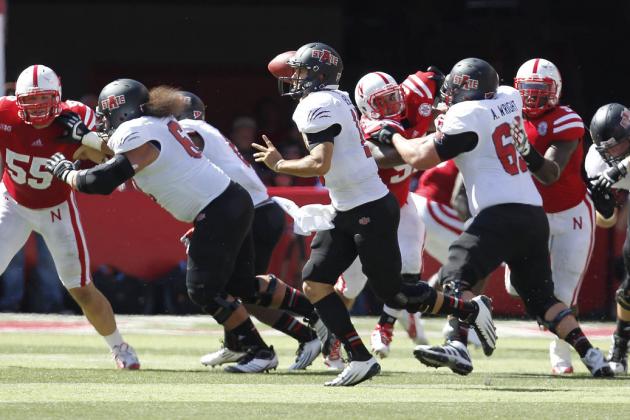 Bruce Thorson-US PRESSWIRE

In response to the struggles against UCLA, Bo Pelini made a number of personnel changes, giving time to players like Zaire Anderson, Mohammed Seisay and David Santos.
The changes seemed to pay dividends. Overall, the defense showed remarkable improvement from the week before. Of course, some of that had to do with playing Arkansas State at home instead of UCLA on the road.
But some of it had to do with the athletes on the field.
Perhaps the play that best showed the change was in the third quarter, when Zaire Anderson was able to beat Arkansas State quarterback Ryan Aplin to the corner and shut down a running play. It was Nebraska's inability to make those stops against UCLA that contributed to the Blackshirts' nightmare in Pasadena.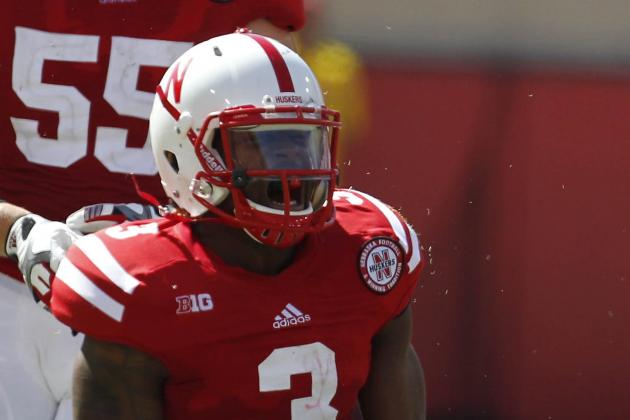 Bruce Thorson-US PRESSWIRE

Nebraska's defense as a whole answered the call against Arkansas State, but Daimion Stafford and Ciante Evans stood out with their performances. Stafford added to his reputation as an enforcer with a number of big hits in the first half, and Evans consistently provided solid coverage and good tackling in the open field.
Eric Martin earned a starting spot with his performance at the end of the UCLA game. He did not disappoint against Arkansas State, consistently providing pressure from the edge and disrupting the quarterback.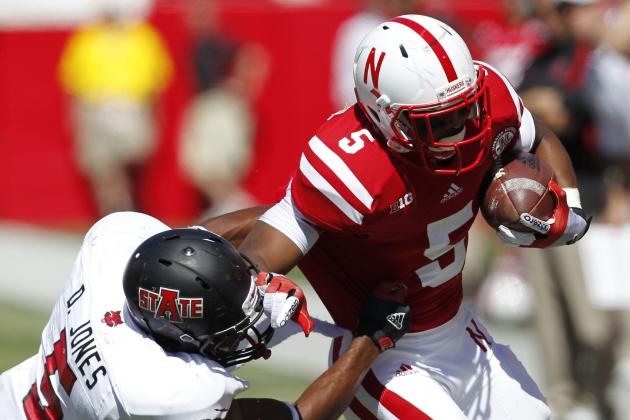 Bruce Thorson-US PRESSWIRE

One of the areas that Nebraska struggled with against UCLA was converting third downs, going 1-for-11. Against Arkansas State, Nebraska went 10-for-13 on third down, allowing the offense to stay on the field. More importantly, those conversions let the defense stay on the field and recover from the frantic pace of the Red Wolves.
CORRECTION: An earlier version of this article said Nebraska was 9-for-20 on third down against UCLA. It was even worse than first presented!
If you would like to contact Patrick directly to schedule an interview, ask a question or to get his recipe for a killer peach cobbler, send an email to patrickrunge@gmail.com. (DISCLAIMER: Peach cobbler recipe might not be all that killer.)
Or you could always...Follow @patrickrunge.