Alabama vs. Arkansas Football: Postgame Grades for Tide's Win vs. the Razorbacks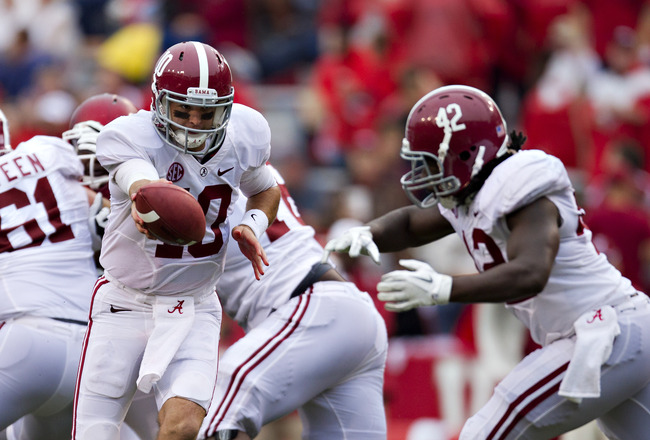 Wesley Hitt/Getty Images
From the Offensive Line to the 57th-string running back, it was difficult to find fault with an Alabama squad that shut the Arkansas Razorbacks at home for the first time since 1966.
Most of the errors occurred in the first half, with the majority of those coming in the first quarter. After Alabama got rolling, though, a repeat national champion began forming before our very eyes.
How did everybody do? In the next 10 slides, we will go over everyone from the quarterbacks to the coaches, dishing out grades that look too good to be true coming from a perfectionist like myself.
*Statistics from ESPN.com
Quarterbacks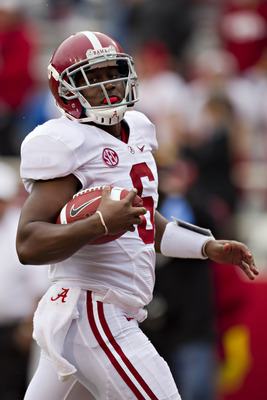 Wesley Hitt/Getty Images
Overall Grade for Quarterbacks: A
A.J. McCarron's Individual Grade: A
A.J. McCarron had a solid game, going 11/19 for 189 yards and 1 TD. The stats don't show you how in-control he was after he got past the first-quarter warmup period. Once that first quarter ended, McCarron looked really good. It was almost impossible to tell that the Tide was playing in the rain with a ridiculously slippery football. McCarron spread the ball out to nine different targets throughout the game, hitting only one target more than twice.
Phillip Ely's Individual Grade: A
Phillip Ely completed 2/3 for 15 yards and no touchdowns, and was quickly pulled in favor of Blake Sims.
Blake Sims's Individual Grade: A+
Blake Sims followed Ely's performance with only one pass for nine yards. However, Sims perfectly executed a zone-read quarterback keep for a touchdown that made the Hogs' defense look outright inept.
Running Backs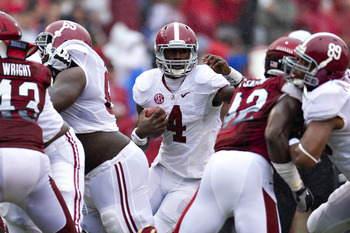 Wesley Hitt/Getty Images
Overall Grade for Running Backs: A+
Eddie Lacy gained 55 yards on 13 carries against Arkansas today, and scored three rushing touchdowns in one game for the first time in his career.
T.J. Yeldon joined Lacy at the 55-yard production mark, and he tacked on a touchdown of his own to the Tide's dominating 52-point shutout over the Razorbacks.
Dee Hart made an appearance that earned two first downs on just four carries. His effectiveness, though limited, was not to be overlooked.
Kenyan Drake earned the achievement of the Tide's leading rusher with 57 yards on only six carries. That alone earns him a spot on this report card. Rushing for more yards than Lacy or Yeldon is a huge accomplishment, even if it was against the Hogs' fatigued defense.
Wide Receivers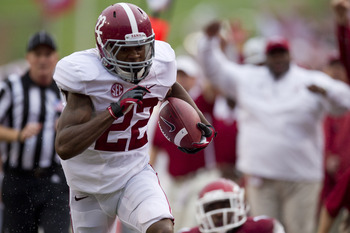 Wesley Hitt/Getty Images
Overall Grade for Wide Receivers: A+
Christion Jones had three receptions for 74 yards and no touchdowns. The zero-touchdown mark would be surprising if it weren't for the fact that Alabama only scored one touchdown through the air. Jones was the leading receiver for the Tide, and he was the only receiver with three catches.
Amari Cooper may have had only two receptions, but one of them was the Tide's only aerial score.
Kevin Norwood hauled in a 14-yard catch of his own to bring up an Alabama first down in the third quarter.
Tight Ends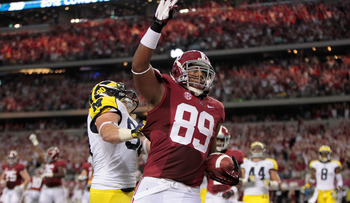 Leon Halip/Getty Images
Overall Grade for Tight Ends: A
Michael Williams was the only Tight End that caught passes. He hauled in two passes for 20 total yards. The Tight Ends picked up their blocking assignments well, and left no major issues in their wake.
If you can't tell who the Tight Ends are in a game, that means the rest of the offense is doing so well that they are mainly blocking and playing decoy. That's a great pair of guys.
Offensive Line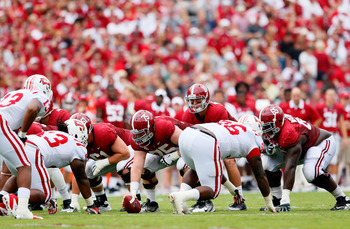 Kevin C. Cox/Getty Images
Overall Grade for Offensive Line: A-
The Offensive Line paved the way for one of the most balanced performances by the Crimson Tide in recent memory. Alabama ended the game with 225 yards rushing and 213 yards passing. While they did get off to a slow start with the rest of the Tide, the second half almost completely made up for any apparent lack of focus from the line.
The only real downsides were one holding call and a false start. Those were pretty big hits to the grade, though. On the plus side, the line allowed zero sacks on any quarterback in the game.
Defensive Line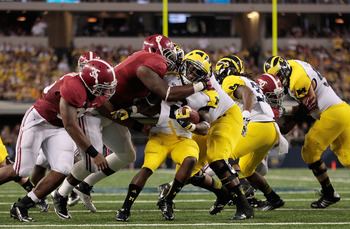 Leon Halip/Getty Images
Overall Grade for Defensive Line: A
The defensive line played so well that you couldn't recognize Arkansas as the team that had once been ranked No. 3 back in 2011. The defensive line owned Arkansas the entirety of the game, holding the Hogs to 58 yards on the ground. (That's right, Kenyan Drake was one yard shy of the opposition's total rushing yardage.)
Linebackers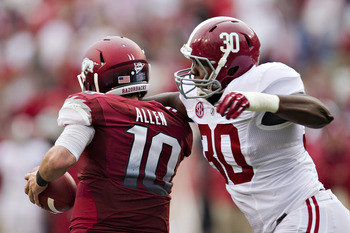 Wesley Hitt/Getty Images
Overall Grade for Linebackers: A-
The linebackers on the Tide side were phenomenal once they got going. They need to clean up penalties, just as the rest of the team does, and that's why you see some "A-" grades in this report card instead of straight "A's."
Adrian Hubbard, Denzel Devall and D.J. Pettaway all registered sacks in this game. That is how deep Alabama is at Linebacker. Now you can see why the grade awarded should be considered low; Alabama has that much potential.
Defensive Backs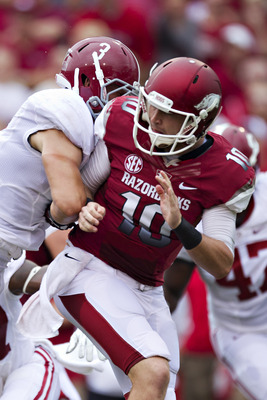 Wesley Hitt/Getty Images
Overall Grade for Defensive Backs: A
Vinnie Sunseri pulled down an interception to kill a sustained Arkansas drive that could have breathed life into the Hogs.
Ha'Sean Clinton-Dix continued his "I'm-just-as-good-as-Sunseri" campaign by reeling in an interception of his own. (For those keeping score, Dix's return was for 46 yards while Sunseri's was only for 13 yards.)
Sunseri's late hit on the quarterback may also alter your ranking of these two guys.
Special Teams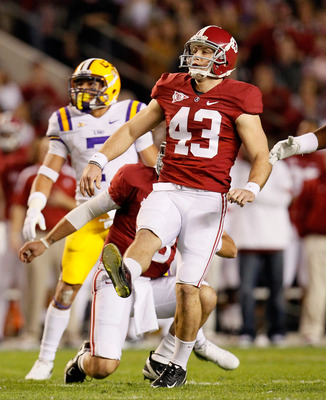 Kevin C. Cox/Getty Images
Overall Grade for Special Teams: A-
Cade Foster nailed a 51-yard field goal and bounced a 52-yarder off the right upright about halfway up the post. (It could have gone for 60-plus yards from the center of the hashes.) He also bounced the ball out of the end zone on kickoffs fairly consistently, so that's good news while we're all waiting for Griffith to put on about 50 pounds.
Jeremy Shelley was a perfect 7/7 on PAT's, and really saw no other action.
On the team side of the Special Teams unit, penalties need to be cleaned up as well. A 15-yard Illegal Block was called against the Tide in the second quarter. (I'm sure Saban mentioned that at halftime.)
Coaching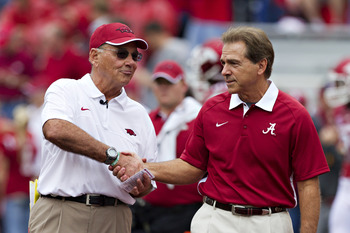 Wesley Hitt/Getty Images
Overall Grade for Coaches: A
Nick Saban, Doug Nussmeier and Kirby Smart must have said something to Alabama in the locker room, and I would love to have been in there to hear it myself. After halftime, the silly penalties were almost nowhere to be found, Alabama's offense was ridiculously efficient (covering 67 yards in six plays at one point) and the defense suddenly found a way to get backup defenders to sack the quarterback...twice in a row.
The only questionable call I saw by the coaches was the call to run a clock-eating play on a 4th-and-4 while on the 24 yardline. It would have been just as easy to kick a field goal and get Jeremy Shelley some practice in wet conditions.
What's up with that?

Keep Reading

Alabama Crimson Tide Football: Like this team?