Southampton manager Nigel Adkins has two options for the game tape of Saturday's 6-1 defeat to Arsenal.
Lock the team in the film room for two hours of hair-dryer treatment while reviewing the tape, or just immediately pitch it in the trash and forget it ever happened.
It was a day where little went right for the South Coast club, and the damage may be felt at the end of the season. Few Southampton fans expected to get three points out of their trip to the Emirates Stadium, but few would have expected a -5 hit to their goal differential.
Southampton could only manage 30 percent of possession and didn't create their first shot until the 39th minute after it was already 4-0 down. On the day, Arsenal would out-shoot the Saints 20-9.
Adkins named the same starting 11 as the Manchester United game, leaving new signings Gaston Ramirez and Maya Yoshida on the bench after just recently joining the team after international duty.
It didn't take long for things to go wrong. In the 11th minute, Lukas Podolski fought through the challenges of two Southampton midfielders and laid a through ball to Kieran Gibbs. From the left wing, Gibbs hit a forceful shot that goalkeeper Kelvin Davis managed to stop but not hold, and the ball trickled between his legs to Jos Hooiveld, who kept Gibbs onside in the first place and bundled the ball into his own net to give Arsenal a 1-0 lead.
In the 20th minute, Kelvin Davis was nearly punished for another error, just barely tipping an Arsenal corner to Francis Coquelin, who laid a floating cross to Per Mertesacker. The German defender got a head to it, but Davis was able to hold on to the ball this time after a diving save.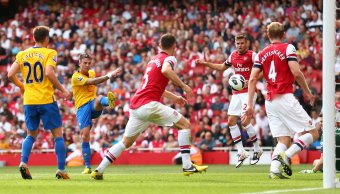 Clive Mason/Getty Images
The 28th minute saw an earlier-than-expected debut for Maya Yoshida. Yoshida was called upon after Hooiveld picked up a calf injury and could no longer continue.
Two minutes after Yoshida's debut, Southampton were put under the gun after a needless, late challenge by Steven Davis. The Northern Irishman rushed out of the penalty area to apply pressure to Coquelin, but was out-of-control and clattered into the Frenchman after he had played a harmless, cross-field ball. Southampton were made to pay as Podolski placed a curling effort over the Southampton wall and into the top of the net to make it 2-0 Arsenal in the 31st minute.
It didn't take much longer for Arsenal to make it 3-0. Yoshida was taught a harsh, early lesson by Gervinho. The Ivory Coast international drew his Japanese counterpart out of positon, then made a run to goal that left Yoshida in his wake. Mikel Arteta chipped the ball over the top and Gervinho powered it past Kelvin Davis at the near-post side from about nine yards out in the 35th minute.
"I think we needed to show a bit more steel and a bit more character after going three goals down and especially at a place like the Emirates because it's always going to be tough," Danny Fox told the Southampton website after the match.
In the 37th minute, misfortune found another member of the Southampton back four. This time it would be Nathaniel Clyne. Gervinho laid a ball out to the left wing for Gibbs, who tried to cross the ball back to Gervinho, but the ball clattered off Clyne and into the Southampton goal for the second Saints own goal of the game to make it 4-0.
Southampton would take advantage of an Arsenal mistake and get a goal before halftime. A good spell of possession in the Arsenal half was rewarded when Jason Puncheon's cross was fumbled by Wojciech Szczesny. Danny Fox had an open goal at his mercy and did well to finish on the half-volley. It was the first goal Arsenal had conceded in the Premier League this season.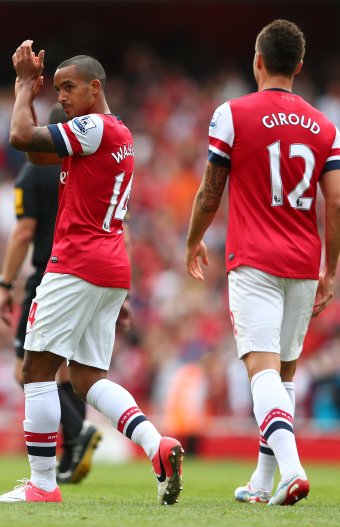 Clive Mason/Getty Images
"A scoreline of 4-1 at half time was not what we wanted, and we knew the game was probably beyond us in the respect of getting a result," Adkins told the Southampton website after the match.
After the halftime break, Adkins chose to give Gaston Ramirez his debut. Ramirez was lively and almost made an immediate impact. In the 57th minute, the Uruguayan took the ball on the left wing and found Rickie Lambert making a back post run. Lambert had to slide to make contact with the pass and ending up pulling the shot wide. That was the most threatening Southampton would be in the second half though.
"Gastón Ramírez came on having been in Uruguay and only trained with us for the first time last night, but you could see the players' eyes light up with the things he was doing in training." Adkins continued to tell the Southampton website. "That was really pleasing because he did ever-so-well. He's got undoubted ability and a wand of left foot—he can pick out a pass and has an eye for goal."
In the 71st minute, Aaron Ramsey managed to turn Clyne with a deft bit of control and raced into the penalty area. Ramsey tried to guide his shot with the outside of his right foot into the far corner, but it hit off the post with Gervinho there to tap in the rebound and make it 5-1.
Arsenal would add one more in the 88th minute. Santi Cazorla found Thomas Vermaelen, who had made a storming run from the back. Vermaelen hit a sharp strike with his left foot that was well saved by Kelvin Davis, but the rebound found its way to former Saint Theo Walcott. Walcott slotted it home to make the score 6-1, but showed class with minimal celebration against his former club.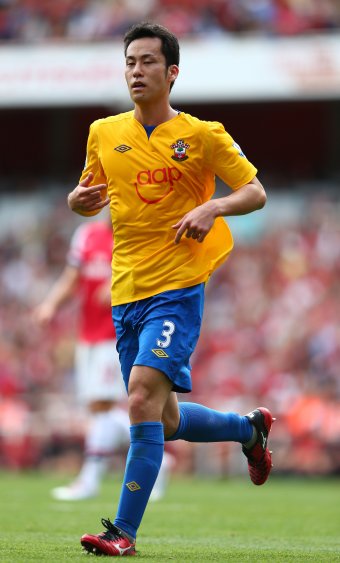 Clive Mason/Getty Images
"If you look at the goals they've had against us today then I think two of them were own goals, one was deflected in off the post and back to one of their players so it didn't seem to fall for us, but I think you make your own luck in this league as well," Fox lamented after the match.
"We need to show more character and believe that we can play at this level because we are good enough to be here," Fox added.
Next week's match against Aston Villa looms large as a must three points to get Southampton going in the right direction.
"We'll have a good week's training and get everyone together—there are no hiding places so we'll stand up and be counted," Adkins said after the match.
Adkins continued, "We believe that we're doing a lot of the right things, but it's about picking points up—so next week is a big three points that we've got to go and get."