LSU Football: Grading All 22 Starters from the Idaho Game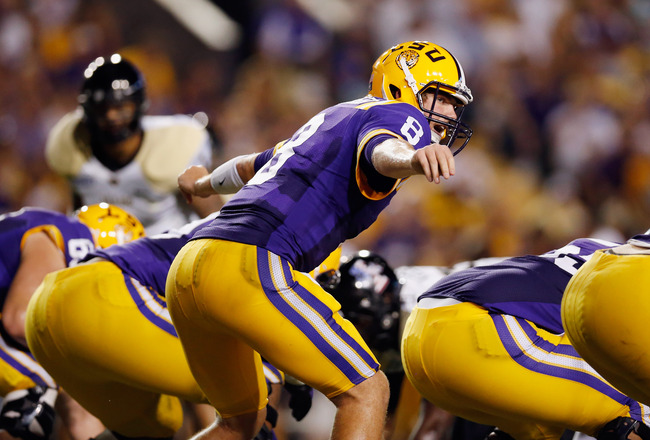 Chris Graythen/Getty Images
It wasn't pretty, but the LSU Tigers defeated the Idaho Vandals, 63-14.
The Tigers entered Tiger Stadium Saturday night as if they were in a daze. By not taking Idaho too seriously, LSU allowed two touchdowns in the first half against it, and Zach Mettenberger turned in his worst performance of his career.
Though the Tigers were resting some of their key starters, leading 28-14 at the half against Idaho is inexcusable. In fact, LSU had to rely on a few defensive touchdowns for separation in this game.
So before SEC play starts next week, the Tigers must get sharper on offense and defense. These are the grades for the starters after their victory against the Vandals.
QB: Zach Mettenberger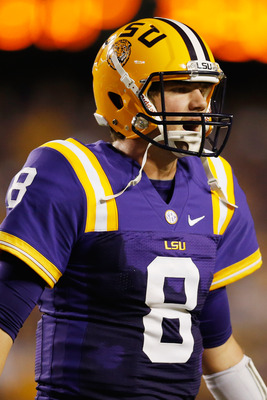 Chris Graythen/Getty Images
Mettenberger's performance against Idaho was disappointing.
Right when the Tigers were knocking on the door and fixing to make the game 21-0, he threw a horrid interception that set up a short scoring drive.
Simply put, Mettenberger was just off tonight. He wasn't climbing in the pocket, wasn't as accurate as he was against Washington and made some bad reads.
He finished the game with 222 yards passing, two touchdowns and an interception.
Grade: D+
HB: Alfred Blue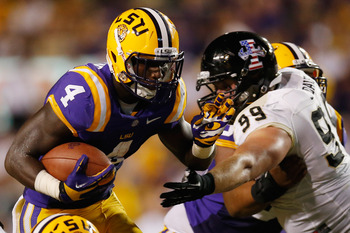 Chris Graythen/Getty Images
There's one thing you never have to worry about from LSU on any given Saturday, and that's the play from their running backs.
Alfred Blue was solid for the Tigers once again, as he rushed for 46 yards and a touchdown.
While it wasn't Blue's best night in Tiger Stadium, it was far from being considered a bad night. Blue was banged up in the second half, but Kenny Hilliard ran a 71-yard touchdown in his absence.
Grade: B+
FB: J.C. Copeland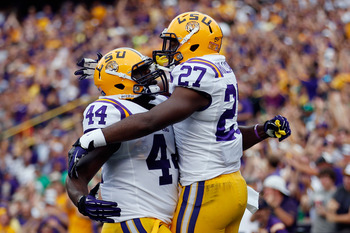 Chris Graythen/Getty Images
Another guy that always delivers the goods is J.C. Copeland.
Copeland trucks defenders and tramples over linebackers to clear paths for LSU's running back stable.
He opened up a beautiful hole for Blue on a rushing touchdown in the first half.
Grade: A
WR: Odell Beckham
Chris Graythen/Getty Images
Odell Beckham did little to make fans forget about his lackluster performance against Washington.
Beckham finished the game with 73 yards receiving, but the majority of those yards came on a long pass play from Mettenberger.
However, when the ball was thrown his way, he secured the catch and picked up some nice yardage. It was just a sub-par performance from the athletic receiver.
Grade: B
WR: Jarvis Landry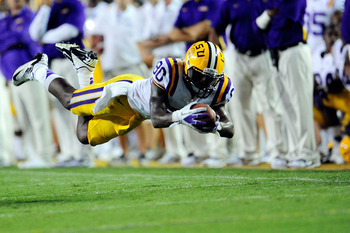 Stacy Revere/Getty Images
In a game that was riddled with mistakes and sloppy play, Jarvis Landry provided some nice stability to the offense.
He made some athletic receptions, including a leaping touchdown grab in the second quarter, and he delivered some licks on special teams.
Landry is poised for a breakout season in the SEC.
Grade: A
TE: Chase Clement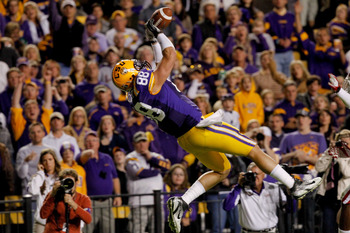 Derick E. Hingle-US PRESSWIRE
Chase Clement didn't stand out in this victory, but his blocking was solid once again.
Clement's blocking is the very reason why he holds the starting job, and you have to appreciate his attitude on the offensive line.
In a game that proved to have few bright spots, Clement served as one of them.
Grade: B+
LT: Josh Dworaczyk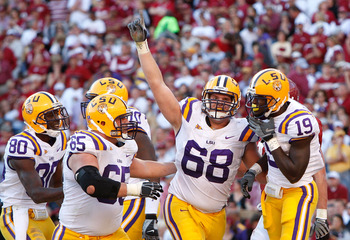 Kevin C. Cox/Getty Images
After having a great outing against Washington, Josh Dworaczyk turned in a lousy performance against Idaho.
Mettenberger was getting beat up from his blindside all game that Les Miles moved Alex Hurst to left tackle for the second half.
Dworaczyk better figure it out before the Tigers make the trip to Auburn next week.
Grade: D
LG: La'el Collins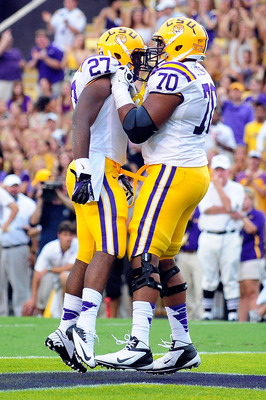 Stacy Revere/Getty Images
The blocking on the interior for the Tigers honestly wasn't that bad.
The running game was successful for the most part, but Miles and his staff wanted to establish a passing game against Idaho, which they were unable to do for the most part.
La'el Collins created some nice holes and blocked well on passing downs for Mettenberger.
Grade: B+
C: Elliot Porter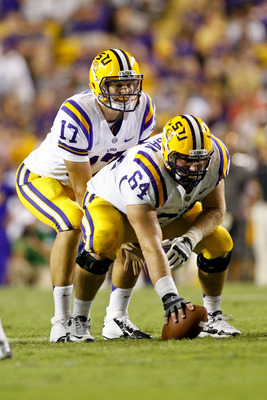 Derick E. Hingle-US PRESSWIRE
Elliot Porter made the start at center, but he would be relieved by P.J. Lonergan.
Porter didn't play terrible, but after the Tigers were struggling to blow Idaho away, Miles put his veteran center back into the game.
Lonergan was unable to get rest, but at least Porter was able to gain some valuable experience.
Grade: C
RG: Josh Williford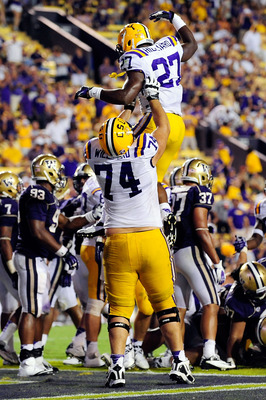 Stacy Revere/Getty Images
Josh Williford had a strong performance against the defense.
He used his big frame to drive defenders off the ball and keep men from reaching Mettenberger for the most part.
Solid game from the big guy.
Grade: B+
RT: Alex Hurst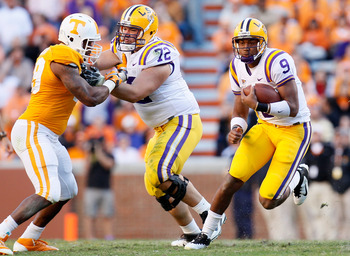 Kevin C. Cox/Getty Images
Hurst had cleanup duty for the Tigers in this game.
After he played well in the first half at right tackle, Hurst moved to left tackle and protected Mettenberger's blindside for the remainder of the game.
Hurst's leadership really played a big part in the victory.
Grade: A
DE: Barkevious Mingo
Stacy Revere/Getty Images
Barkevious Mingo's action was limited Saturday night.
In what limited action he saw, Mingo got pressure on the quarterback and was constantly wreaking havoc in the backfield.
Mingo dinged his ankle in the first half and failed to see the field much after.
Grade: B
DT: Anthony Johnson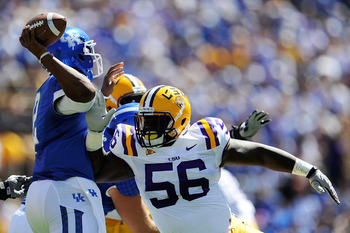 Stacy Revere/Getty Images
Anthony Johnson is an animal on the inside.
Johnson was a force all night long, and he came up big for the Tigers once again.
It's been said before, but Johnson deserves to be the starter over Josh Downs. His impact on the game is so valuable to this defense.
Grade: A
DT: Bennie Logan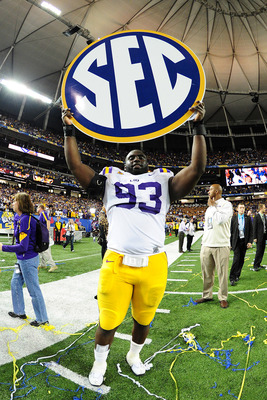 Scott Cunningham/Getty Images
Bennie Logan is consistently dominant on the defensive line.
Logan is LSU's immovable object. He sheds blocks and shuts down the opposing team's running game every week, and he did it once again against Idaho.
Logan and the defensive line played well all night.
Grade: A
DE: Sam Montgomery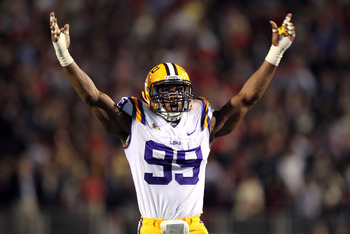 Joe Murphy/Getty Images
Like Mingo, Sam Montgomery saw limited action against Idaho.
It was clear that Miles wanted to get most of his players rest before Auburn next week, as he rotated in more young players throughout the game.
LSU showed off its depth at the position, as Lavar Edwards intercepted a pass and took it 30 yards for a score.
Grade: B
LB: Luke Muncie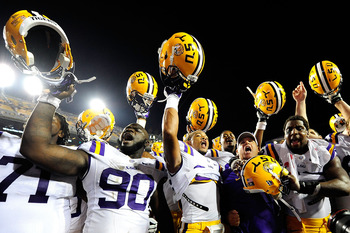 Stacy Revere/Getty Images
Luke Muncie struggled in coverage tonight.
In the first two games, Muncie was solid in pass coverage, but tonight was a different story.
LSU as a whole played soft coverage for most of the night, and Idaho was able to nickel and dime its way down the field. Adjustments must be made.
Grade: C
LB: Kevin Minter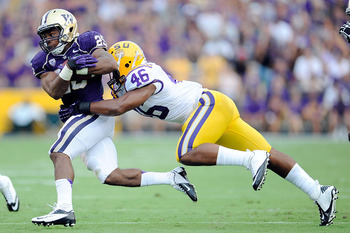 Stacy Revere/Getty Images
Kevin Minter continues to improve each and every week.
His pursuit is relentless, and he seems to always be in the picture every time the running back takes the handoff.
Minter is turning out to be one of the best linebackers in the league.
Grade: A
LB: Lamin Barrow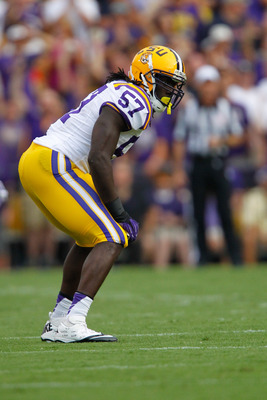 Derick E. Hingle-US PRESSWIRE
Lamin Barrow played well stopping the run.
As far as coverage goes, he, like Muncie, struggled.
Because of that, his performance was far from spectacular, but his closing speed didn't allow Idaho to make any big plays on him.
Grade: B
CB: Jalen Mills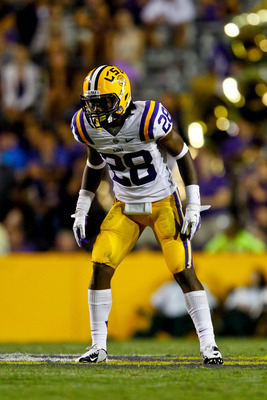 Derick E. Hingle-US PRESSWIRE
Jalen Mills continues to grow as a corner.
Though LSU's secondary allowed 174 yards against Idaho, Mills was the one of the few bright spots for the Tigers.
For the most part, he shut down his receivers and provided solid coverage all game, and he had an interception late in the game.
Grade: B+
S: Ronald Martin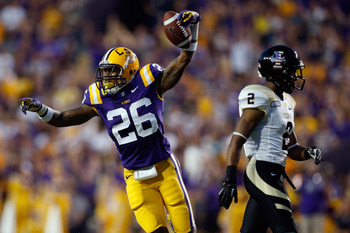 Chris Graythen/Getty Images
Ronald Martin made his first career start and had two interceptions to show for it.
Martin was getting picked on early, but after he made a spectacular interception, Idaho was quick to respect his athleticism.
Martin's second interception in the game was returned for a touchdown. You couldn't script a better start to your career.
Grade: A+
S: Eric Reid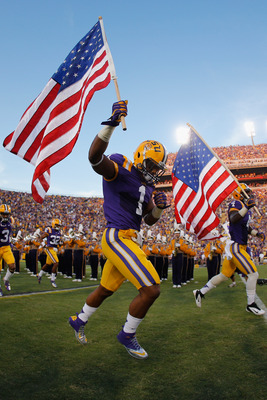 Chris Graythen/Getty Images
As far as stopping the run goes, Eric Reid was sensational, but as far as stopping the pass, Reid's seen better days.
This seemed to be the story of the night for the Tigers, as the secondary's finest hour was not against Idaho.
In order for Reid to be that All-American safety that LSU fans know he can be, he needs to tighten up his coverage.
Grade: B-
CB: Tharold Simon
Stacy Revere/Getty Images
This might have been Tharold Simon's worst game of his career.
Simon allowed a touchdown when he simply didn't respond to a wide receiver running behind him on a short route, and he missed a tackle on a short screen play.
Simon and the Tigers certainly didn't bring their "A" game in this performance. But hey, a victory's a victory.
Grade: C
Keep Reading

LSU Football: Like this team?