Friday night's game did not go according to plan for the Yankees.
Coming off a series where they took two out of three against the Boston Red Sox, the Bombers had their ace on the mound in CC Sabathia pitching against the Tampa Bay Rays.
The Yankees needed to get their homestand off on the right foot with the Baltimore Orioles, who they are tied with in the A.L. East for first place, off playing the Oakland A's.
Luckily for the Yankees, the Orioles lost, because they were no better, losing 6-4 in the opener.
As for Sabathia, he lost his third decision in a row, dropping his 2012 season record to 13-6.
The Yankees' ace has yet to get a win since the team beat the Cleveland Indians back on August 24. Since then, Sabathia is 0-3 and has hardly looked like his usual self.
Is it time to start worrying about the Yankees' ace heading into the final three weeks?
He's been on the disabled list twice this year, something very unusual for Sabathia during his career, considering he's always been very durable—usually making 30-plus starts and pitching over 200 innings.
If you notice how the Yankees have performed during the last two postseasons, Sabathia has struggled for the Yankees, posting a 6.30 ERA against the Texas Rangers in the 2010 ALCS and a 6.23 ERA in the 2011 ALDS against the Detroit Tigers.
When the Yankees won the 2009 World Series, Sabathia was a dominant force on the mound, posting a 3-1 record and even winning the 2009 ALCS MVP Award in the series against the Los Angeles Angels.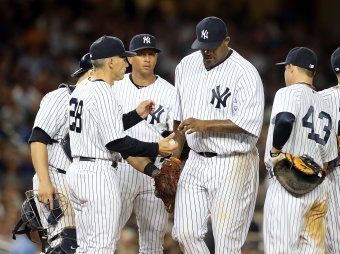 Jim McIsaac/Getty Images
The Yankees go as far as Sabathia goes. He sets the tone for the team by pitching like an ace on the mound. When he doesn't, the team falters.
Just look at the team on Friday night against the Rays. In a battle of the aces between Sabathia and David Price, Tampa's left-hander out-dueled the Yankees' left-hander in a game where the Yankees could have ended up with sole possession of first place again.
Those kinds of games are the reason why the Yankees are paying Sabathia $23 million this season, but lately, he hasn't been the ace that has carried the team into October baseball like he has in the past.
I think once Andy Pettitte returns from the DL on Tuesday, it'll help take some of the pressure off of Sabathia in the rotation, and off Hiroki Kuroda as well, who, at times, has had to pitch like an ace in certain games.
If the Yankees want to get by the Orioles and make it to October, they need their 32-year old ace to step up and pitch better than he has in recent times.
Otherwise, it could be another early end for the Yankees in October.
Stay tuned, Yankees Universe.