WWE Night of Champions 2012: Why Paul Heyman Will Rule the WWE After the PPV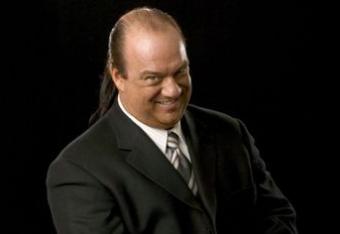 cagesideseats.com

Sometimes, the best ideas are the ones you don't want to admit to thinking of in the first place. That's the case when it comes to Paul Heyman and how he should be the one ruling over the WWE after Sunday night's Night of Champions pay-per-view.
Now that Heyman has "The Voice of the Voiceless" in CM Punk in his stable, along with the periodic appearance of Brock Lesnar, it is only a matter of time before more wrestlers join what could be a new formation of the "Dangerous Alliance."
It also means things are heating up again in the WWE.
Whether it was ECW or WCW or the WWE, Heyman has had his hand in the cookie jar, bringing in notable talent and titles to his little foundation. And right now, the WWE needs a takeover of sorts to shake the company up heading into the final three months of the year.
This should prove to be a very hot fall season in wrestling circles.
Heyman could also summon the likes of Big Show or Christian or even Antonio Cesaro to join his mass corruption. And each member makes sense with there own roles defined by the mastermind, himself.
It also adds more angles to Hell in a Cell and TLC, not to mention the Royal Rumble and Survivor Series.
Oh, I love it when an awful idea comes to fruition. The mad scientist just keeps coming up with more and more formulas for success.
The WWE has done a better job of building Night of Champions up as a "must see" event unlike the mediocre response we got and the fans gave back from SummerSlam. Heyman can be attributed to part of that build and success, as well as John Cena and Punk. The possibility of some other superstar signing on with Heyman makes the suspense that much better.
If Heyman were to walk out of NOC with Punk still clutching WWE gold and then reaches out to Cesaro as the United States champion and possibly someone like The Miz, or even Damien Sandow, this becomes one of the better factions to come along in wrestling since the days of the Nation of Domination or even Paul Jones Army in WCW.
And if we look toward the future and 2013, might it lead to a Dangerous Alliance versus DX clash at the Royal Rumble?
You have to love the possibilities.
But for right now, let's just concentrate on the here and now. Heyman has two wrestlers under his guide (Lesnar is still on board), and with this PPV set to make us forget SummerSlam, can we look toward Hell in a Cell and see a great opportunity for change (Lesnar versus Triple H, anyone?).
The WWE may have hit a snag or two or three this year and missed on SummerSlam, but Night of Champions and Heyman's potential boon (the one I have now created) could lead to us thinking the company had it right all along.
This article is
What is the duplicate article?
Why is this article offensive?
Where is this article plagiarized from?
Why is this article poorly edited?