John Cena vs. CM Punk: Why Epic Feud Must End After Night of Champions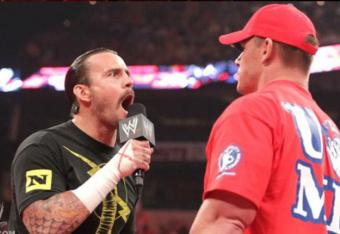 Photo Credit: WWE.com

With an epic showdown at WWE's Night of Champions pay-per-view coming up this Sunday, the main event between John Cena and CM Punk seems like the culmination of one of the greatest feuds in the company's history.
Obviously, we know this won't be the case.
The two men are arguably the top-billing draws the WWE has to offer, meaning we'll continue to get an endless stream of storylines until the Cena vs. Punk cow has been completely milked.
As a company that is trying to make money, that makes perfect sense. However, as a fan, it's become obvious that this feud has reached its endpoint.
From Andre the Giant vs. Hulk Hogan to D-Generation X vs. The Corporation, all wrestling feuds eventually run their course.
There comes a time when—no matter how many twists and turns the writers put into the storyline—fans simply lose interest in the implications of a match.
For Cena vs. Punk, that time has come.
Initially, this feud felt organic. It was wrestling's past, embodied by Cena's superhero-like persona, versus Punk, wrestling's catalyst of the Reality Era. It made punk the antihero superstar that he is today, while giving Cena a refreshing role as a pseudo-heel.
It also didn't hurt that these two are perfectly crafted for one another inside the squared-circle. Never afraid to put one another over to guide the storyline, any time Cena and Punk went toe-to-toe was must-watch television.
Do you think Sunday's match should lead to a long-term feud?
That is simply not the case anymore.
Punk's (aggressively foreshadowed) heel turn was supposed to bring much-needed resuscitation to his rivalry with Cena.
While it did reinvigorate Punk and he is once again the enigmatic antihero we all love to hate, it did not do the same for this feud.
Instead, it feels like a slightly altered retreading of the same storyline from 2011. Admittedly, that's almost the case with every WWE storyline. When you have no offseason to work with or summer to script a standard television season, repeats are bound to happen.
The reason this Cena-Punk feud seems so forced is that the first one was the rare case of wrestling originality. It was so marvelously crafted and meticulously planned that the rivalry felt like it was years in the making.
This does not feel the same. It was forced simply to move the ratings needle.
And, on the bright side, it seems to have done so. Pitting the two biggest stars in professional wrestling against each other will almost always bring the casual fan back in.
However, until the writers can come up with a more organic way to build a rivalry, Sunday's match is best left as a one-off reunion rather than a long-term feud.
This article is
What is the duplicate article?
Why is this article offensive?
Where is this article plagiarized from?
Why is this article poorly edited?