11 Reasons the Oakland A's Should Be AL Favorites in October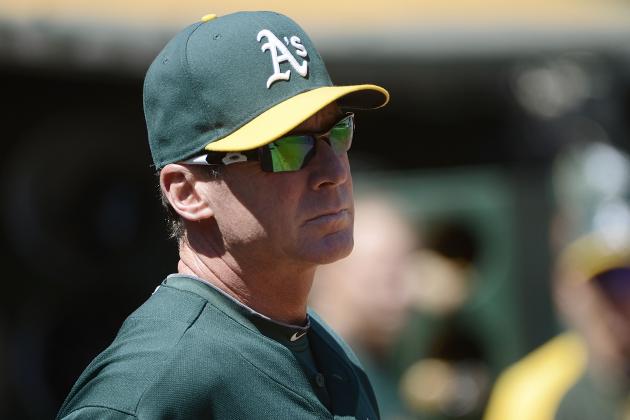 Thearon W. Henderson/Getty Images
Oh yes, BoMel is definitely on the list
With 16 games left in the regular season, nothing is for certain in baseball. Although we are pretty sure who's going to be invited to the Octoberfest known as MLB's postseason—there is still some room for movement.
That said, even as a few games essentially shake out the match-ups and home field advantage for the playoffs, it is safe to say bets are being lined up for who may survive the new postseason gauntlet.
For me, the more I look, the more I begin to think that the best team in the American League is being chalked up as a dark horse simply because of name value.
Yes, I am talking about the Oakland A's, a team that may not openly confound the critics like in say, July, but still are treated as more of a novelty than a full-fledged contender by many.
Even yours truly reasoned they might not have the staying power of your perennial baseball powers. But hey, once bitten, twice blasted by many of you. So lesson learned, we are keeping this a 2012-only zone.
And as the playoffs creep up, there are plenty of reasons why the A's may very well be the team that emerges from the American League in October and ends up in the Fall Classic. Here are my top 11 reasons that Oakland should be considered favorites in the AL.
Begin Slideshow

»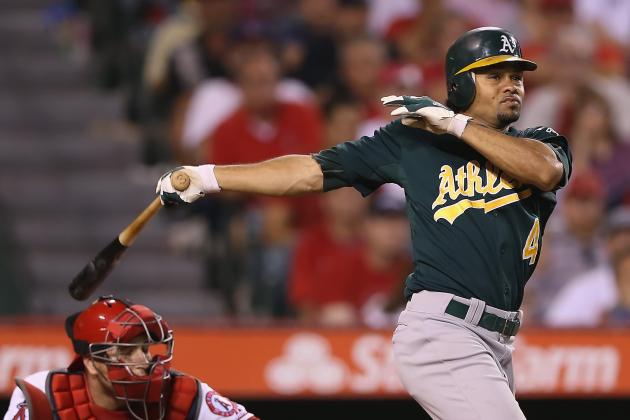 Jeff Gross/Getty Images
Every playoff team has one proven veteran in the postseason. Crisp represents that for Oakland
Production on offense starts at the top.
For the Oakland A's, that has meant Coco Crisp, who has risen from a horrific start to 2012 (not unlike many of his teammates) to hit .254 on the season. When you factor in that he's hit .274 and slugged over .500 since the All-Star break, that makes his improvements even more profound.
However, Crisp's inclusion on this list is for his abilities in the postseason.
One of the few A's with any playoff experience, he is a career .281 hitter in the postseason with a .349 on-base percentage in 20 games. Both of those numbers are upgrades from his career averages. Every contender needs a catalyst and that's Crisp. And anything you start, you must finish...which leads me to the number 10 reason on my list...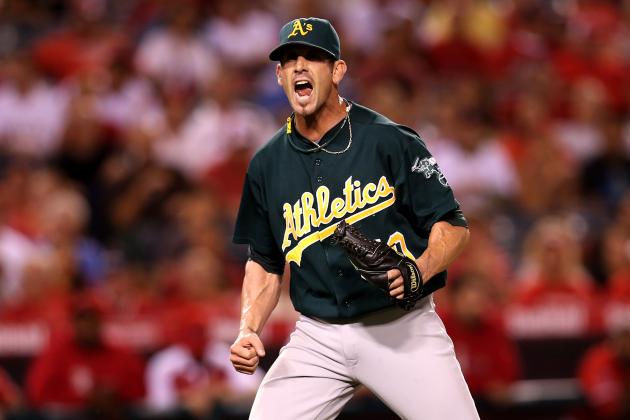 Stephen Dunn/Getty Images
The fiery Balfour will be Oakland's postseason stopper
Grant Balfour can be maddening at times. When it comes to pure stuff, Balfour can be filthy like Pigpen from Peanuts. But there are times when his intensity works against him and emotions burn you down instead of light you up when used improperly.
However, like Crisp, Balfour is a proven playoff performer.
In 15 postseason performances, Balfour has a 3.60 ERA out of the bullpen—all with the Tampa Bay Rays. A 3.60 ERA may seem a bit pedestrian, but consider, the majority of his runs were scored in one fateful appearance in 2008. Aside from that outing, Balfour allowed one run in 12 2/3 innings pitched.
Having seen Ryan Cook return to form is good insurance in case there are instances when Balfour may struggle, but with his previous pedigree, it is safer to say the A's have another proven veteran that knows what the playoffs bring.
Looking at other closers on contenders, the only one that has pitched on the biggest stage is...Grant Balfour. Rafael Soriano, Jim Johnson, Jose Valverde, Addison Reed, even Joe Nathan...none has been to the World Series.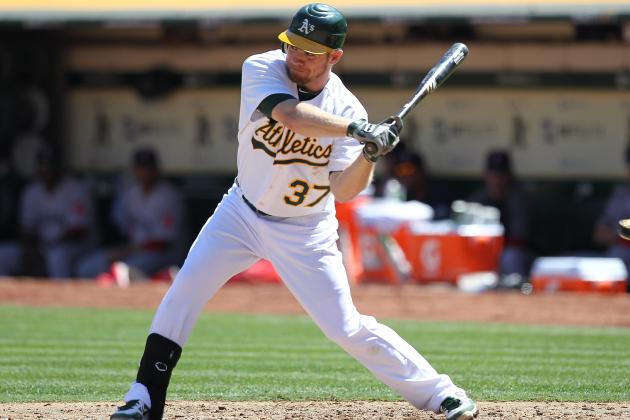 Tony Medina/Getty Images
Moss has led the surge as Oakland has mashed the ball since mid June
Before June 11th, the A's hit 46 home runs in 61 games. They were on pace for 122 home runs, another sure finish in the bottom 2-3 of the American League. But since then, they have smashed 125 home runs in 75 games. Not surprisingly, their record has gone from 26-35 to 84-62 as of this writing, a remarkable 30 game turnaround.
The most encouraging part is that the home runs have come from all parts of the lineup.
Brandon Moss and Chris Carter have combined for 32 home runs in 122 games played, giving the A's power from first base. Seth Smith and Jonny Gomes have been outstanding in their platoon roles, combining for 29 home runs of their own.
Even players like Coco Crisp (seven home runs since the All-Star break) and George Kottaras have contributed.
The reason this makes this list though is, besides the diversity, this surge has come while the A's best power hitter in 2012 has largely been silent. Josh Reddick has only hit four home runs since August 8th.
If Reddick regains some semblance of his early season swing before the season ends (and perhaps his home run in the Sunday finale vs. Baltimore is a start), the A's lineup becomes that much more potent.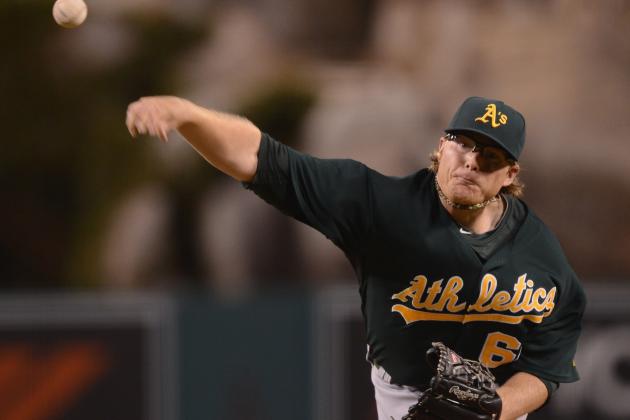 Harry How/Getty Images
A.J. Griffin: The Road Warrior
One of the sneakier numbers of recent years in baseball has been team road ERA.
The average rank of each World Series champion since 2005 in team road ERA has been 8.8 ('05 Chi Sox 1st, '06 StL 25th, '07 Bo Sox 1st, '08 Phillies 5th, '09 NYY 16th, '10 SF Giants 1st, '11 StL 13th). If you remove the 2006 St. Louis Cardinals, an anomaly if there ever was one, that average shrinks to 6.1.
What does this have to do with the A's?
Well, right now, they rank 7th in baseball and closing fast on Texas for the best in the American League. When you consider that those numbers are inflated by two pitchers who won't do much of any pitching for the A's down the stretch (Brian Fuentes and Tyson Ross who posted 6.43 and 7.40 ERA's respectively away from Oakland), it bodes well for the A's.
To move this even further, four regulars for the A's have ERA's under 2.29 on the road (Ryan Cook .85, A.J. Griffin 1.15, Jerry Blevins 1.88, and Brett Anderson 2.29). This makes it all the more likely that manager Bob Melvin could set his lineup to play to his rotation's strengths, particularly Jarrod Parker and Tom Milone who have both done much better at home.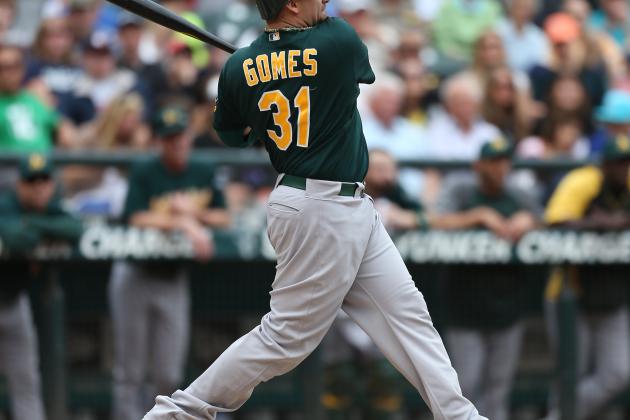 Otto Greule Jr/Getty Images
The Pride of Petaluma has mashed lefties all year long
I would argue that no team in baseball is as well rounded from both sides of the plate as the Oakland A's.
That is not to say they have the best everyday lineup in the league. That's not really a debate. But how many other AL contenders can matchup against lefties or righties the way Oakland does?
Not many I see.
The A's have three platoons, one at first base, another in left field and the last at designated hitter that allow them to have a quality left-handed or right-handed bat face a right-handed or left-handed pitcher.
Seth Smith, Jonny Gomes, Chris Carter, Brandon Moss, and Yoenis Cespedes allow Bob Melvin flexibility that other teams do not have.
For example, the Yankees have had to keep sending Nick Swisher out even though he is in the midst of a 7-for-49 slump in September. Even though Swisher is a switch hitter, he has shown himself to be a much more dangerous lefty than righty (15 HR's vs. 5).
In Oakland, the matchup wins out. And it has been successful to say the least.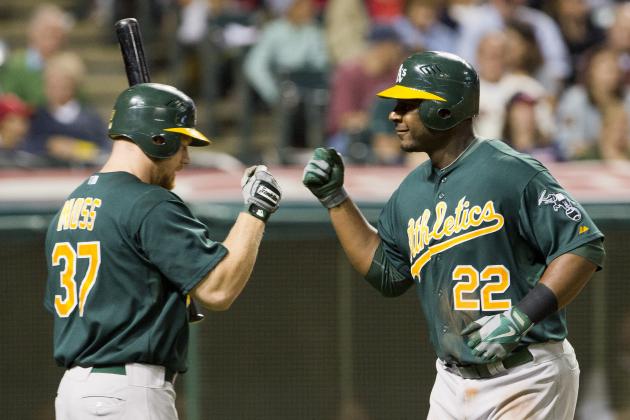 Jason Miller/Getty Images
Moss and Carter, the other Bash Brothers
Let's play a hypothetical game shall we? If a team like the Yankees, Giants, Red Sox or Phillies put up a record of 56-25 over 81 games, a pace of 112 wins, what do you think most baseball experts would say?
I'll speculate and say they would consider one of those teams in range to be considered a truly historic team. Probably because none of them typically goes 26-35 in a stretch before that.
But let's just lay it out on the carpet for the world to see: Since June 11th, the Oakland A's have been the best team in baseball. End of story.
Before that date, the A's had guys like Brandon Allen, Daric Barton, Kila Ka'aihue, Graham Godfrey, Tyson Ross, Brian Fuentes and the scuffling Kurt Suzuki playing. Since, Brandon Moss, Chris Carter, Josh Donaldson, the injured Brandon Inge, A.J. Griffin, Dan Straily and Brett Anderson have infused talent and power to a team that was lacking in both.
The results have spoken for themselves. No one goes 56-25 by mistake. You can't fluke your way through half of a season at that large of a winning clip (.691 for you non-math majors). From June 11th, the closest team to the A's record wise has been the Washington Nationals at 53-31. They're only the best team record wise, in baseball overall. Not bad.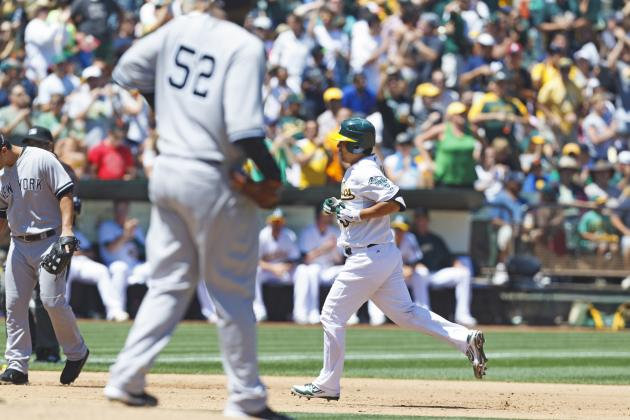 Jason O. Watson/Getty Images
The A's have held their own against everyone, Yankees included
Quickly, name the only team the A's have a losing record against in the American League? Give up? It would be the Kansas City Royals. Yeah, I had to look that one up too. Believe it or not, the A's have played at least .500 or better against every contending team in the AL in 2012.
Against Texas, Oakland is 6-6 with seven huge games looming at the end of the schedule. The White Sox and Tigers have gone 3-3 and 2-2 respectively against the A's, with a set at Detroit still on the docket.
Oakland beat Baltimore 5-4 after taking two of three in their final series last weekend. And with that improbable four-game sweep of the big, bad Yankees, the A's lead the season series 4-3 with the final three games to be played in the Bronx in about two weeks.
What does this mean?
In a short series, the A's have proven to be competitive against every body. No other team can make that distinction. Not one.
The Rangers have lost six of nine against the White Sox. Chicago has struggled against Baltimore, going 2-6. Detroit has losing records against the Yankees and Rangers. Baltimore has lost five of seven to Texas and the Yankees have losing records against the A's and White Sox.
In other words, no team is equipped to play against any other team quite like the A's. At least, that's what the numbers keep saying.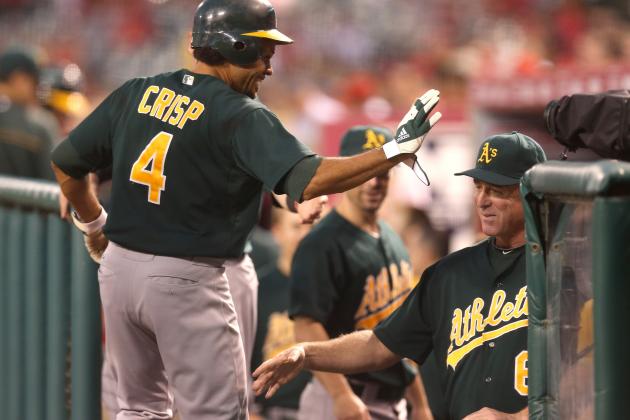 Stephen Dunn/Getty Images
The skipper (on right) has pushed all the right buttons in 2012
With all due respect to Art Howe and Ken Macha, the last two playoff managers of the Oakland A's, they don't hold a candle to Bob Melvin.
If you stop to compare the talent of Howe's Moneyball A's and even Macha's 2006 squad to this team, it isn't even close. See, that's the thing about paper though...it never has been able to factor intangible values into the equation.
And Bob Melvin has been a walking intangible since he replaced the inept Bob Geren on June 9th, 2011. From 2007-mid 2011, Geren's A's were 334-376, a .470 winning percentage. Melvin has led the A's to a 129-113 record since his arrival, a percentage of .533 (as of 9/12/12). But it is not just the numbers, though they are apparent.
What makes Melvin so good for Oakland is that he has managed to lead under the presence of Billy Beane while firmly establishing his own identity as leader of this ball club.
There is no push button managing here. Melvin is a leader, unafraid to make decisions and fiery enough to get his players to play for him. As Jonny Gomes told the San Jose Mercury News' Tim Kawakami simply, "The manager is reee-aally important."
From my vantage point, that means having someone that won't let Gil Heredia get shelled for six runs in 1/3 of an inning in an elimination game without as much as a visit from the dugout (Game 5 2000).
That means probably pinch running for a slow as molasses catcher in a one run game when you've got the tying run on base against a guy who can be run on (Game 3 2001...Greg Myers left in game vs. Yankees in bottom of 8th inning). In other words, the little things won't be as elusive this go round.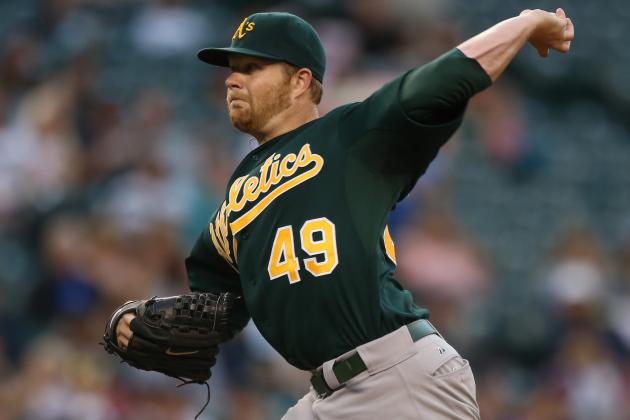 Otto Greule Jr/Getty Images
Brett Anderson very well may be the A's X-Factor (sorry Fox)
What makes the number three reason all the more remarkable is the status of the A's rotation when the season began. If you remember, the A's debuted with the following five starters:
Brandon McCarthy
Bartolo Colon
Tom Milone
Tyson Ross
Graham Godfrey
By June, Godfrey and Ross were demoted to Triple-A Sacramento, replaced by A.J. Griffin and Jarrod Parker. After McCarthy's injuries (the last and most serious being the head injury suffered September 5th) and Colon's season-ending suspension, the A's added touted prospect Dan Straily and got Brett Anderson back.
As of this writing here is the A's rotation:
Brett Anderson
Tom Milone
Jarrod Parker
Dan Straily
A.J. Griffin
All five starters have ERA's under four, with Straily, Griffin, and Anderson obviously having truncated seasons. But unlike other teams, the A's possess four guys with top end stuff and can throw a combination of lefties and righties against teams in the playoffs.
If the postseason started right now, I could see the A's starting Griffin, who has been lights out so far, or Anderson, who as been all but as well.
The depth makes Oakland so dangerous because there is less of a concern about trying to stack the rotation for the playoffs. Other than Milone (and he's got 12 wins himself), all four of the other pitchers are capable of riding 93+ MPH stuff in a one game setting.
Because of this, it is much more likely the A's could have a favorable matchup against Baltimore or even the Yankees in a one-game play in wild card game.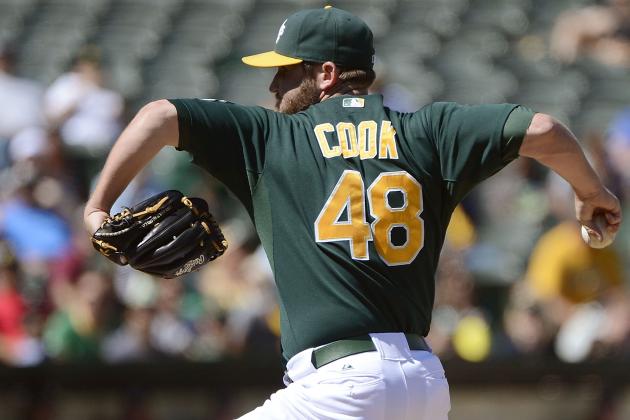 Thearon W. Henderson/Getty Images
Cook-ing up success: The 2012 Oakland A's bullpen
Heading into their three game series against Baltimore, the A's bullpen boasted a 2.86 ERA. That is good for best in the American League along with the Tampa Bay Rays. Oakland has accumulated that figure in 19 1/3 more innings than the Rays though.
In addition, the A's pen has held opponents to a .206 batting average. That is best in baseball. While many were wringing their hands over the spotty ninth inning work of Balfour, Brian Fuentes, and for a while, Cook, that turned out to be a blip on what has been a spectacular job of pitching by many anonymous relievers.
Guys like Evan Scribner (2.55 ERA), Jim Miller (2.19 ERA), Jordan Norberto (2.77 ERA) and especially Travis Blackley (1.59 bullpen ERA) have done yeoman's work for the A's in various roles and situations.
But the heart of the bullpen has been three very good pitchers: Balfour, Jerry Blevins, and Cook. Combined they have amassed 32 saves and all have ERA's at 2.97 or less with at least 57 1/3 innings pitched.
And we haven't even gotten to the bullpen wild card. That would be flame throwing, converted outfielder Sean Doolittle. Belying his last name, Doolittle has done much to alleviate the strain on the A's top three relievers and has been very solid as a hard throwing (upwards of 97 MPH) lefty. This gives the A's another situational weapon to use in a short series.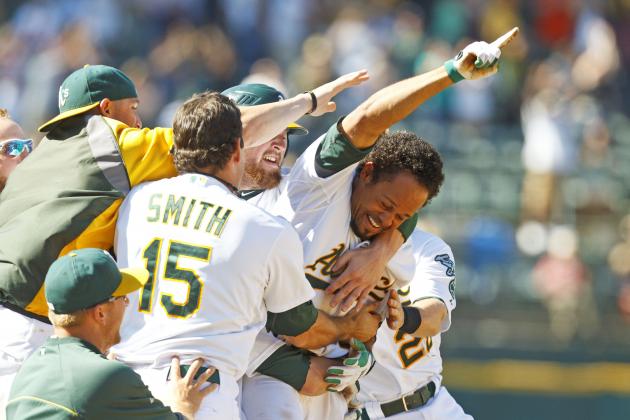 Jason O. Watson/Getty Images
When the world expects you to lose, winning is that much more sweet
The number one reason is not something I can quantify with stats or data or other merit-based information. No, I can only go by what I have seen all year long.
Even when the A's were losing, this was a loose, fun-filled, but hard-working bunch that played hard for nine innings. Yes, that sounds very movie cliche, but the truth is, there has not been a magic formula for how the A's have turned around. They have won because the hard work began to pay off.
When it comes to October, often times, the weight of expectation can be just as daunting as a dominant opponent.
Over the last six years, we have seen teams fall under the weight of that expectation. Whether it was any Yankees team other than 2009, the 2010 Phillies (whose tension against the Giants was palpable on screen), or the 2011 Rangers, the teams expected to win have often come up short.
This is where I would point you to Game Five of the 2011 ALDS in the Bronx between the Yankees and the Tigers where it wasn't Doug Fister's pitching as much as Yankee burden that sank the Bronx Bombers.
But since MLB doesn't think much of archived footage, you'll just have to take my word for it. The point is, some of the World Series champions of recent vintage won without much in the way of expectation and thrived in a relatively insulated bubble.
The 2005 White Sox (criminally underrated), 2006 Cardinals, 2010 Giants, and 2011 Cardinals came out of nowhere to win championships as other teams were expected to be the ones anointed.
You can bet your last money that if the A's make the postseason, they will be underdogs against virtually every opponent. Which is just fine. Because no one remembers how much your spread was when you win the gold trophy. The A's will have no pressure because they're not supposed to be here. Some still expect them to collapse and let another team with pedigree like the Angels usurp their position.
Well pundits, you might have to wait until 2013 for that. And I'm not talking about that.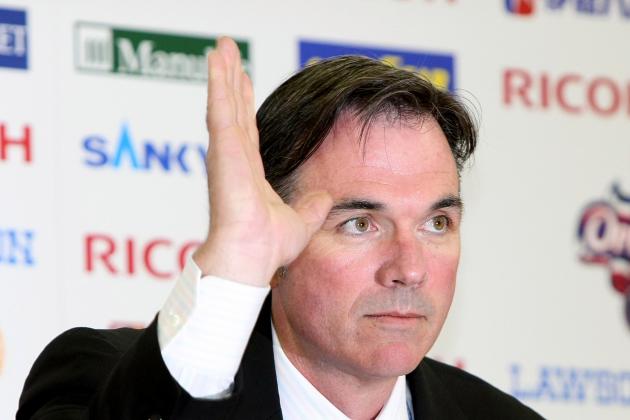 Junko Kimura/Getty Images
The year's best executive may win that elusive final game this year
Just remember, no matter what happens, this has been a fun ride. As an A's fan, I can only really compare this to 1999 when the A's won 87 games with guys like John Jaha, Tony Phillips, Kenny Rogers, and some young call up named Tim Hudson.
Even though this team has the tools to make a run, this shouldn't be treated like a year that 'should be'. This is all found money.
So ultimately, September will be stressful on a flock of faithful fans who have waited for six years for meaningful late season baseball. But I have serious doubts the guys between the white lines will start panicking now. They've come too far and quite frankly, they're too good to let the show end before the brightest lights come on. See you in October...