What's going to happen with the New York Yankees if they don't make the playoffs?
That's not a question that has to be answered yet, of course. It might not have to be answered at all. The Yankees are tied for first place in the AL East with the Baltimore Orioles. Consequently, they're also tied for one of the AL wild-card playoff spots.
However, that cluster atop the AL East and wild-card standings also means that the Yankees could get squeezed out of the postseason picture. That's not a universe we're accustomed to living in. The Yankees have been part of the AL playoff field for 16 of the past 17 seasons.
The last time the Yanks didn't make the playoffs was 2008. As the New York Post's Joel Sherman reminds us, the Yankees reacted to that failure in much the way most in and around baseball would expect. They opened up the vault and let the cash flow out.
CC Sabathia committed to seven years in pinstripes for $161 million. Mark Teixeira received an eight-year, $180 million contract. And A.J. Burnett got a five-year, $82.5 million deal. (Snicker at that if you will, but Burnett was coming off a season in which he led the AL with 231 strikeouts.)
That's how the Yankees reacted the last time they didn't qualify for the postseason. No playoffs? The Yankees and their fans feel that October baseball is the team's birthright. And since 1996, it essentially has been.
Anything else is unacceptable.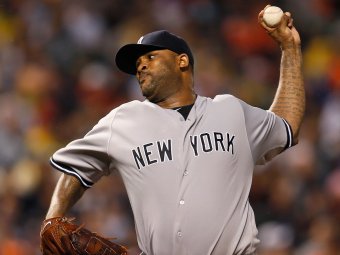 Rob Carr/Getty Images
So the Yanks shelled out $432.5 million in free-agent contracts to ensure that missing the playoffs was a one-year anomaly. It was the blank check offseason. That spending spree yielded immediate dividends when the Yankees went on to win the 2009 World Series.
Fast-forward to 2012 and the Yankees have become an organization talking about keeping its payroll under the $189 million luxury tax threshold. "Luxury tax" used to be two words that the Yankees sneered at and dismissed during the George Steinbrenner reign.
Yet with son Hal now in charge, avoiding the luxury tax appears to be an organizational mandate.
"I'm looking at it as a goal, but my goals are normally considered a requirement," Hal Steinbrenner said to reporters during spring training, including The New York Times' David Waldstein.
"Is it a requirement with baseball that we be at 189? No, it's not a requirement. But that is going to be the luxury tax threshold, and that's where I want to be."
Waldstein went on to explain in his article that Yankees general manager Brian Cashman had to ask Steinbrenner if the payroll could be expanded to allow for Hiroki Kuroda's one-year, $10 million contract.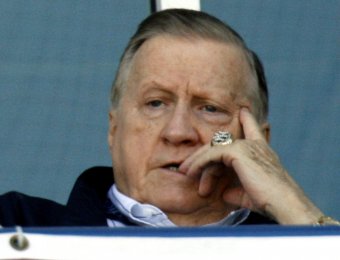 Eliot J. Schechter/Getty Images
How often do you think that kind of conversation took place between Cashman and George Steinbrenner? And how long do you think those chats lasted?
Hal Steinbrenner refers to himself as a "finance geek" who cares about budgets and balance sheets. He believes in player development and building a farm system, and if both of those things are done well, the Yankees shouldn't need to carry a $200 million payroll.
Cashman likely feels the same way, given his opposition to Hank Steinbrenner going over him and signing Rafael Soriano to a three-year, $35 million contract in January 2011.
That philosophy sounds good when the Yankees are making the playoffs every year and competing for World Series championships. But will the Yankees put that plan in the shredder if they don't make the playoffs?
Sherman believes the team would do exactly that.
As team president Randy Levine said after the Soriano signing, the Yankees are a $5 billion business that has a "sacred obligation" to its fans. That belief system doesn't mesh with not putting the best team on the field to avoid a $14 million luxury tax.
So let's get back to our original question: What happens if the Yankees fail to make the playoffs?
Should Josh Hamilton's agent expect a phone call from Cashman this winter? Will the Yankees change their feelings that Zack Greinke's personality wouldn't fit well in New York, as the New York Post's Ken Davidoff reported in mid-July?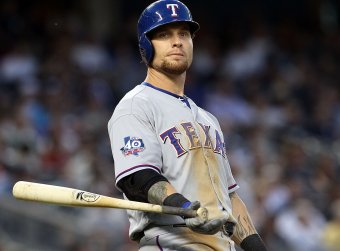 Jim McIsaac/Getty Images
The 2013 free-agent class, listed by MLB Trade Rumors isn't as plentiful as the 2009 one was. So the Yankees will have to be a bit more creative than simply handing out big contracts.
Cashman will probably have to make some trades to get someone like Justin Upton. Phillies fans won't like Cliff Lee being mentioned here, but his name will surely come up in offseason rumors if Ruben Amaro Jr. is interested in shedding the possible $100 million remaining on his contract.
The Yankees might have to take the Dodgers' approach of turning its payroll into a money-absorbing sponge that will take on the bloated contracts teams don't want anymore. The only problem is that the Dodgers may have already claimed that market.
MLB has a different landscape than it did in in 2009, as well. It's not just the Yankees and Red Sox swinging the big payrolls now. (Well, it wasn't back then either. The Cubs and Mets were big spenders too.)
Massive TV broadcast deals have made the Dodgers, Los Angeles Angels and Texas Rangers major financial players that can go toe-to-toe with the Yankees in a battle for top talent.
It will certainly be intriguing to see whether the Yankees abruptly walk back from their professed intention to avoid the 2014 luxury tax if they blow what looked like an assured playoff spot. Will they once again become a free-spending juggernaut?
However, the better question might be whether or not the Yankees can still overwhelm the competition with money. Their financial muscles aren't the biggest on the MLB campus anymore.
Follow @iancass on Twitter