WWE Night of Champions: 5 Fun Facts About the Pay-Per-View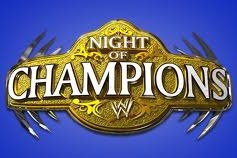 smacktalks.org
The Night of Champions Pay-Per-View has the potential to be the best minor (non-"Big Four") event of the year.
The concept pits every champion mandated to defend his/her championship against one or more opponents.
During the previous five editions of the PPV, there have been some interesting facts compiled to put in the record books.
Let's go into the relatively young, but relevant, vault and see what statistics have been discovered so far.
Begin Slideshow

»
There have been a total of nine winners of titles that are now defunct.
Cade/Murdoch d. Hardys - World Tag Team Championship (2007)
Chavo Guerrero d. Jimmy Wang Yang - Cruiserweight Championship (2007)
John (Johnny Nitro) Morrison d. CM Punk - ECW Championship (2007)
Candice Michelle d. Melina - Women's Championship (2007)
Mark Henry d. Kane, Big Show - ECW Championship (2008)
Ted DiBiase and Cody Rhodes d. Hardcore Holly - World Tag Team Championship (2008)
Mickie James d. Katie Lea Burchill - Women's Championship (2008)
Christian d. Tommy Dreamer - ECW Championship (2009)
Michelle McCool d. Melina - Women's Championship (2009)
There have been a combination of 12 wrestlers and tag teams who won a match at Night of Champions, but are no longer with the company.
Cade/Murdoch (2007)
Chavo Guerrero (2007)
John Morrison (2007) (2008)
MVP (2007)
Deuce n' Domino (2007)
Edge (2007) (2008)
Candice Michelle (2007)
Matt Hardy (2008)
Mickie James (2008) (2009)
Chris Jericho (2009)
Michelle McCool (2009) (2010)
Jeff Hardy (2009)
Unfortunately, there have been two former or current world champions that have competed in two or more Night of Champions PPVs, but is winless.
These two people are—surprisingly—CM Punk and Batista.
CM Punk has the worst record of anyone who has been a world champion, being 0-4 at the event. His losses are to John Morrison for the ECW Championship in 2007, Jeff Hardy for the World Heavyweight Championship in 2009, Big Show in 2010 and Triple H at last year's main event match.
Batista comes in second, being 0-2, losing against Edge both in 2007 and 2008.
Both the Intercontinental and United States Championships have resulted in different winners every year.
Only two superstars—Kofi Kingston and Dolph Ziggler—have left as Intercontinental Champion one year, and the following year left as United States Champion.
Intercontinental Championship
2007 - Santino Marella
2008 - Kofi Kingston
2009 - Rey Mysterio
2010 - Dolph Ziggler
2011 - Cody Rhodes
United States Championship
2007 - MVP
2008 - Matt Hardy
2009 - Kofi Kingston
2010 - Daniel Bryan
2011 - Dolph Ziggler
From what we are seeing this year, the stat will remain. The US Title battle royal would have to be won by either Kingston, Bryan or Ziggler; all three of them already involved in a match.
The IC Title streak has a better chance of ending due to Cody Rhodes' probable involvement in this year's match. If he wins, not only would he be to first person two win the title twice, but he will be the first (and only) person to do it consecutively.
Only two people have ever won consecutive world title matches at Night of Champions—Edge and Randy Orton
Edge defeated Batista in 2007 and 2008 in the World Heavyweight Championship match, whilst Randy Orton defeated Triple H and John Cena in 2009 as well as winning the Six-Pack Elimination Challenge Match in 2010—also including Chris Jericho, Edge, John Cena, Wade Barrett and Sheamus—for the WWE Championship.
John Cena has the opportunity to be the third person on this list if he defeats CM Punk this Sunday. He is coming off a 2011 WWE Championship win against Alberto Del Rio.
A Cena win will also set another record—the only person to win three world championship matches at the PPV.
With these statistics, we shall see if anything from this year's event will break or add to them.
Call in with your Night of Champions thought next Tuesday on the Pancakes and Powerslams wrestling talk show on Blog Talk Radio. The number is 347.884.8452 and the show airs live at 11pm ET.