Oregon Ducks: Why They Are Ready for the Pac-12 Season to Begin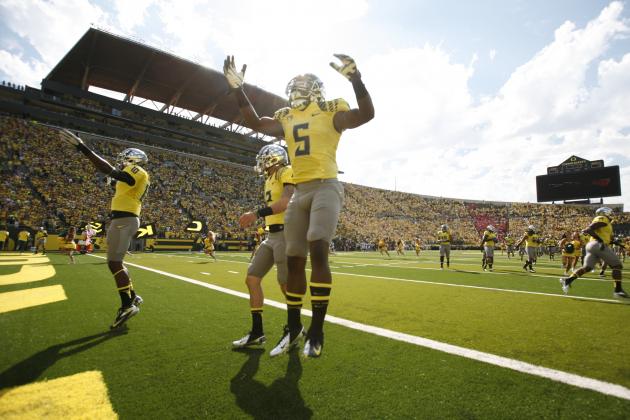 Kevin Casey/Getty Images

Oregon flags on your Duck-mobile? Check.
Yellow and green pom-poms flying out of your trunk? Check.
Favorite beverage in the trunk? Check.
You are ready to start the trek down I-5 or across town to Autzen Stadium for Saturday's game with the Golden Eagles of Tennessee Tech with an early start time of noon. Don't be late.
But if you're like me, your heart's not really in this one. While it's important that the team shows up and performs at its best—see Arkansas vs. UL-Monroe on Sept. 8 for what can happen if it doesn't—this boring non-conference schedule is getting old.
We all know the reasons for it: Quality teams don't want to risk a season-opening non-conference embarrassment in Autzen Stadium. So the schedule is what it is.
The team doesn't dare look ahead beyond tomorrow's matchup, but we can. After last weekend's Pac-12 smackdown, the remaining schedule suddenly looks much more interesting.
Here's what I mean.
Begin Slideshow

»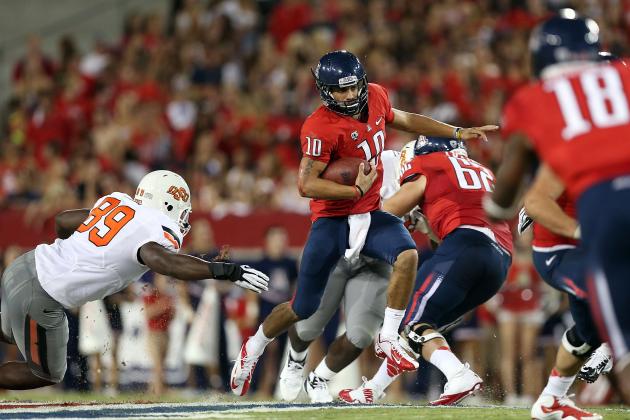 Christian Petersen/Getty Images

Way back in June, I predicted that Arizona would give Oklahoma State a good game on Sept. 8. But I'm not sure I really believed it.
Rich Rodriguez is a good college football coach, but you still must have players who can compete. Apparently, the 'Cats have a few guys who are ready to rock 'n roll this season.
Next week's first Pac-12 Conference game for Oregon will tell us a great deal about how good the Ducks really are. Clearly, Arizona has some game if it beat the Cowboys in solid fashion, 59-38.
However, questions remain. Was Oklahoma State overrated preseason like some other teams we can name, but won't? Is Arizona's offense that good, or is Oklahoma State a poor defensive team? Does Rich Rod walk on water?
It will be interesting to watch how Arizona responds Saturday after its huge win last weekend. The Wildcats host South Carolina State at Arizona Stadium at 7:30 p.m. PT on the Pac-12 Network. My prediction is the 'Cats come out strong, fueled by left-over adrenalin, go up big in the first half and hang on for a big win.
That will make them 3-0 to start their season. Walk on water, indeed. Sadly, for all my Arizona friends, that gaudy 3-0 record will come to a crashing end—at least, the 0 part—on Sept. 22.
An exciting night game in no-place-you'd-rather-be Autzen Stadium, with a team ready to four-peat as conference champions...good luck to the 'Cats.
Prediction: Oregon 49, Arizona 24.
William Mancebo/Getty Images

After four straight weekends of hitting I-5, we'll watch this one from the comfort of our sofa with beer and pizza in hand.
It's tempting to make the trek north to Seattle on I-5 instead of south to watch the Ducks take on Mike Leach's reborn Washington State Cougars. But sometimes you just have to get the laundry done and the yard mowed.
Many of us felt threatened by the addition of Leach to the Pac-12's head coaching ranks. But the Cougs' pathetic performance in Week 1 against BYU proved that even the best coaches still need time and recruiting success to win the big ones.
Although Wazzu showed improvement in Week 2 against a solid Eastern Washington team, it has far to go. I like the Cougars' chances on Saturday against UNLV in Las Vegas, but the they aren't ready yet for primetime.
Prediction: Oregon 46, WSU 14.
Stacy Revere/Getty Images

In this tender season so far, only the Washington Huskies have embarrassed the Pac-12.
Yeah, we know going into Death Valley and Baton Rouge are not for the faint of heart. But come on, man. Quarterback Keith Price was supposed to be the real deal. Coach Steve Sarkisian was supposed to reap the benefits of good recruiting. The Huskies had a live tiger at practice, for goodness' sake.
Not even one touchdown? Are you kidding me?
Yes, the Dawgs will beat up on Portland State this weekend—or maybe not. In any event, like their cross-state rival, they are not yet ready to take on the nation's elite programs.
That includes the Ducks, especially back in the friendly confines of Autzen.
Prediction: Oregon 43, Washington 17.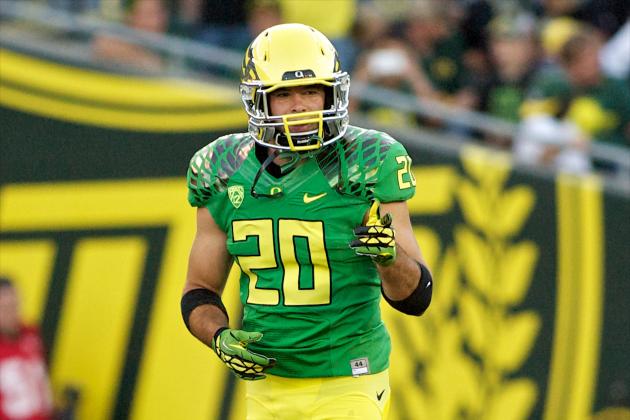 Craig Mitchelldyer/Getty Images

We will look ahead at the rest of the Ducks' season in another article soon, but for now, it's important to acknowledge the losses of seniors John Boyett and Carson York to season-ending knee injuries.
Boyett was the best safety in the nation. Sorry, USC fans: T.J. McDonald is good, but he doesn't have the stats, the leadership qualities or the heart of Boyett.
York was an absolute rock on the offensive line. His intelligence, leadership and expert play is, in great part, responsible for much of the Ducks' stunning offensive success for the past few years.
Avery Patterson and Nick Cody are ready and competent to replace Boyett and York, respectively, but there is no way to soft peddle the hole in our heart seeing these two stalwarts on the sidelines instead of the field Saturday at noon.
The first TD is for you, John, and the second one for you, Carson.
Prediction: Oregon 63, Tennessee Tech 7.