"I don't think you can take the vacation part from it away. We're going to go swimming. We're going to have a luau. We're going to go to Pearl Harbor. I'm excited about that. We don't play until Saturday night. We're going to enjoy it, but we realize what we have to do."—Lamar head coach Ray Woodward in anticipation of his team's trip to Hawaii [as quoted in The Record on TheRecordLive.com]
The Lamar Cardinals may have enjoyed their "vacation" in Hawaii, right up until Saturday night.
Norm Chow's Warriors, beaten badly in their first game by USC, returned home after a bye week and took out their frustrations on the Cardinals, who appeared outmatched in every phase of the game.
"We needed to get that losing taste out of our mouths," admitted DL Paipai Falemalu, [reported by Oskar Garcia of the Associated Press on Statesman.com] whose performance on defense with a sack and five tackles led the Warriors.
The Warriors held Lamar to just six first downs and 44 yards rushing on 28 attempts, forcing three Cardinals turnovers in the game.
"We're not going to beat anybody playing like we did tonight," offered Lamar head coach Ray Woodward [as quoted in the Cardinals game summary on LamarCardinals.com], "but I think they had a lot to do with that. Our effort was good, our execution wasn't."
Warriors QB Sean Schroeder (15-of-23, 150 yards) threw three touchdowns in the game to complement Hawaii's 222 yards rushing, as Norm Chow's team controlled the ball for more than 34 minutes in the game. The Warriors even had a kickoff return for a touchdown.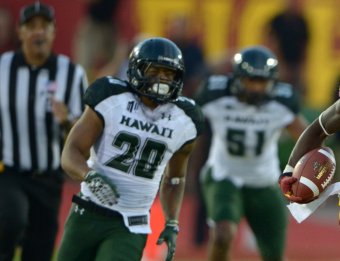 Kirby Lee-US PRESSWIRE
"It was nice to play well in all three phases of the game,"
Chow said
[as quoted by
Oskar
Garcia of the
Associated Press
on Statesman.com].
Schroeder spread the ball around to nine different receivers, which, in addition to 48 rushing attempts by seven different Hawaii players, kept the Cardinals defense guessing all night.
"We are going to play every play as hard as we can," declared Chow after the game [as quoted by Oskar Garcia of the Associated Press on Statesman.com]. "We're not going to look up at the scoreboard, we're going to keep playing, and I think the kids did a good job of that."
With the victory, the Warriors improved to 1-1 this season and will host the Nevada Wolf Pack (2-1) on September 22.