Clemson Football: 5 Keys to the Game vs. Furman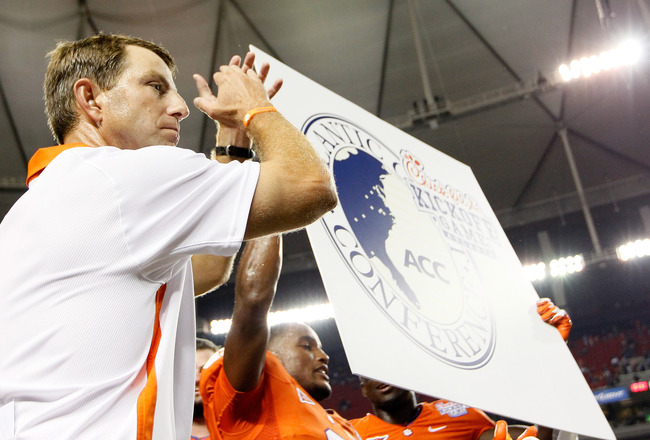 Even though Clemson is highly favored to beat Furman, last week's game between Arkansas and Louisiana-Monroe showed teams you can never take chances.
Kevin C. Cox/Getty Images
The Clemson Tigers learned a valuable lesson last week during Arkansas' game with Louisiana-Monroe—never underestimate your opponents, no matter what their history is.
The Tigers play Furman on Saturday, a team they last played in 2007 to the tune of a 38-10 win.
After wins over Auburn (26-19) and Ball State (52-27), the Tigers come into the game rolling. However, as the college football world learned last week from Arkansas, you can never take any team lightly.
Here are five keys for the Tigers against Furman.
Defensive Stops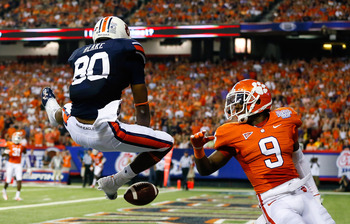 Defensive stops will be key for Clemson early as Furman is coming off a 45-point performance last week.
Kevin C. Cox/Getty Images
The Paladins put up 45 points in a two-point loss to Coastal Carolina last week.
While it was only Coastal Carolina, 45 points is nothing to sneeze at. The Paladins put up 439 yards of total offense and had no problem moving the ball.
With a quick-strike offense, you're never out of a game, which is why stops early in this matchup will be important for the Tigers.
Take the quick-strike out of the Paladins and there should be no problem coming out with a win.
Keep on Running Andre Ellington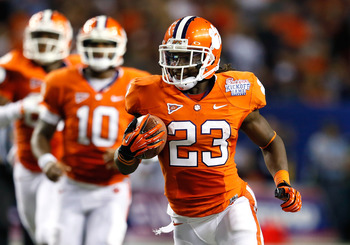 Andre Ellington has 269 yards rushing this season.
Kevin C. Cox/Getty Images
As goes Andre Ellington, so go the Tigers.
Ellington has 269 yards rushing and two touchdowns this year.
For the Tigers to continue their success in 2012, Ellington has to continue doing what he does in the running game.
If Ellington gets the running game going, quarterback Tajh Boyd will be able to get comfortable in the passing game.
Continue to Spread the Ball Around
Tajh Boyd had at least six completions to three different receivers last week against Ball State.
Kevin C. Cox/Getty Images
The one thing I've liked about Tajh Boyd this year is his ability to spread the ball around to different receivers.
Last week, he hit six different receivers while he was in the game. In doing so, Boyd was able to keep the Ball State defense off-balance, not knowing where he would go next.
If Boyd can continue to spread the ball around this week, he'll have success again. Furman doesn't have enough players in the secondary to cover all areas of the field.
Let Them Know Who You Are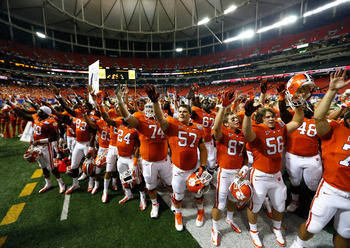 Kevin C. Cox/Getty Images
Swagger is a good thing to have in college football, especially if you know you're the better team.
Last week, Arkansas lost its swagger against Louisiana-Monroe, and it showed in the second half.
This week, the Tigers must let Furman know who they are from the opening kickoff to the final whistle. No doubt should be left about who the better team is.
By getting into the Furman players' heads early and often, this team can place doubt in the Paladins and give itself the ultimate advantage.
Put the Nail in the Coffin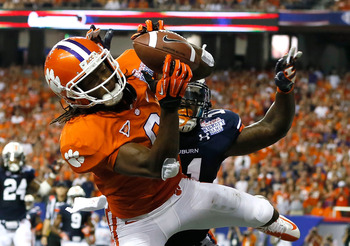 If Clemson has a good lead at halftime, they have to put the nail in the coffin and leave no doubt about the outcome.
Kevin C. Cox/Getty Images
Top-level teams must put the nail in the coffin when the opportunity presents itself.
With 9:42 to go in the third quarter and a 28-7 lead, Arkansas had that chance last week. However, they couldn't hold onto it.
If Clemson gets a good lead over Furman, the Tigers have to put the game away when they can. They simply cannot allow Furman to get a glimmer of hope, which could spark a comeback.
While nobody expects this to even be a contest by the time the second half rolls around, you always have to be prepared for the unexpected.
Arkansas didn't think it would have to worry about Louisiana-Monroe, and we all saw how that turned out.
Keep Reading

Clemson Football: Like this team?