10 Steps to Returning the Cleveland Indians to Relevance in 2013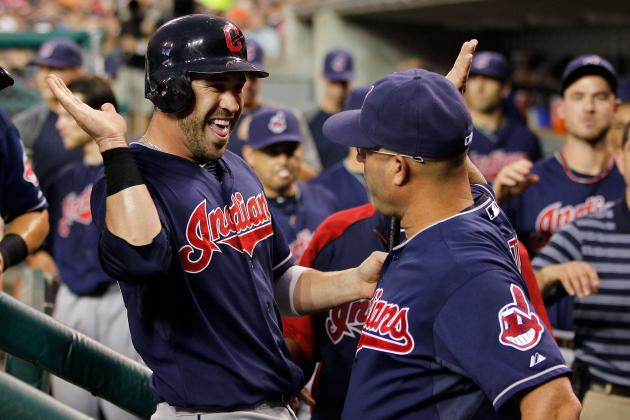 Gregory Shamus/Getty Images

By now, we all know that this season is over. A 59-84 record (heading into Thursday night), 17.5 games out in the AL Central, 21.5 games out in the Wild Card, 15-43 record since the All-Star break and 22-51 since June 23, the last day that the Cleveland Indians were in first place in 2012.
With a minus-175 run differential, the Indians rank 29th in MLB, with only the Astros, who are 45-98 this season, behind them. Tied with the Minnesota Twins for the worst record in the American League heading into Thursday, what once looked like a promising season is now completely lost.
Where do the Cleveland Indians go from here? This is the pretend general manager job that nearly every Cleveland Indians fan would love to have right now.
As the 2012 season winds down and Tribe fans look forward to next year, like so many years before, you look for ways to improve the current makeup of the team and the organization.
So, what steps can be taken to help make the Indians relevant in 2013?
Begin Slideshow

»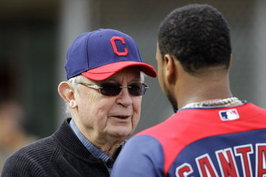 Courtesy: bleacherreport.com
Some of you have voiced your displeasure with ownership...oh, who are we kidding? Nearly 90 percent of comments on my articles are voicing displeasure with ownership. Larry Dolan is not going anywhere, folks.
He could sell the team and make much more than the $325 million that he bought the team for in 2000, but what would be his legacy? No one really cares about the fact that he made a lot of money as an attorney, and that he created a cable network, Sports Time Ohio, for the franchise that he purchased. He will always be remembered as the guy who ruined what the Jacobs family had built in the 1990's for the Indians and their fans.
What can he do to change that? He can commit to winning by hiring a respected manager, opening up his wallet to compete with the Chicago White Sox and Detroit Tigers, and create a profitable product that the citizens of Cleveland and the surrounding area would be willing to pay to see.
While the Indians are more than a few players away from contending (look at their record), a meaningful push to contend would go a long way. Due to the fact that the minor league system is so weak, the only way to make that happen is to buy talent. While they won't compete with the New York Yankees or Boston Red Sox this coming offseason, there are still talented players to sign.
With an affordable product, as attending professional sports is concerned, at Progressive Field, the Dolan family needs to pony-up to win back fans. Continuing with the "if you show up, we could improve the team" lingo is an extremely poor public relations effort, and with the terrible results from the 2012 roster, the family needs to ask themselves what they can do to change it, at this point.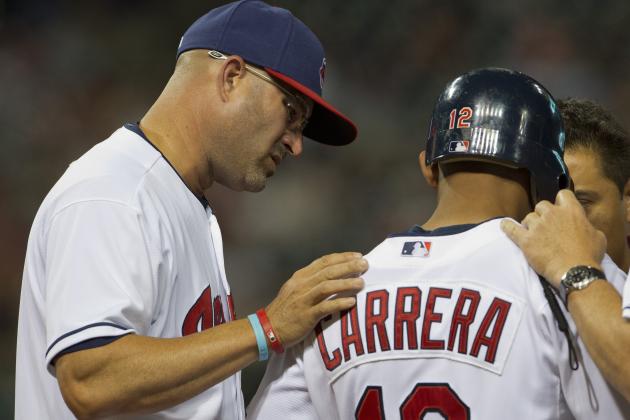 Jason Miller/Getty Images

Manny Acta is a good manager. Quote the fact that he is 366-511 (.417) in his managerial career and just 208-259 (.445) with the Indians all you want.
Acta is a player's manager. He relates well to the team, he has a lot of experience working with Latin players, he is young (just 43) and he has had, arguably, very little to work with and has kept the Indians competitive for the last two seasons.
Sure, the teams fell apart, but with very little to no depth on the roster, a poorly constructed pitching staff and bullpen and very little to nothing of value coming from the minor league system, Acta's hands have been tied.
Regardless of what he has been given, Acta has not been able to motivate his club. A 22-51 record since June 23 is awful for anyone. If Acta was able to light a fire under his club, push the players to play to their greatest ability or coach the team up to a higher level, the dramatic level of this year's collapse would not be as severe. A .301 winning percentage is Bad News Bears level.
Sandy Alomar, Jr. keeps coming up from fans as a name that could easily replace Acta in the managerial role. Alomar has 20 years of major league experience, he was a six-time All-Star, a Gold Glove calibur catcher (who only one won due to Ivan Rodriguez coming around) and fans love him due to his 11-year career in Cleveland.
He certainly seems like a good fit, but keep in mind that Alomar is the current bench coach, second in charge in the dugout. If Acta has not provided that spark and Alomar is his bench coach, is Alomar any better?
Either way, someone new should be in the dugout next season to show the players what it takes, mentally, to stand up and contend for a full season.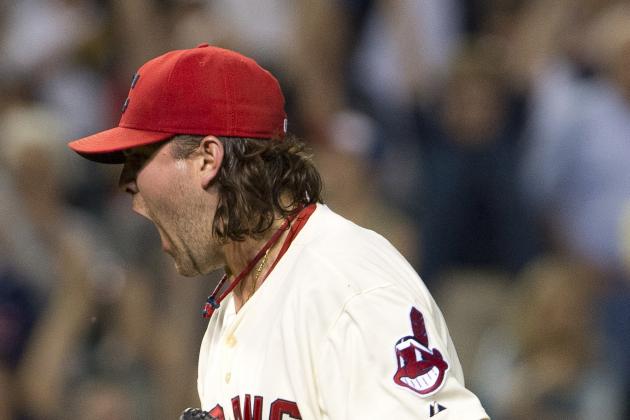 Jason Miller/Getty Images

Chris Perez is a powerful voice in the clubhouse. He will tell you exactly how he feels, whether it is ripping the fans or ripping the ownership. Good for him.
However, Chris Perez is a negative voice in a situation that is very negative. Sure, the team is losing. Sure, things did not go the way that he would have hoped, but he is not a fan, he is a player. He is part of the problem.
Chris Perez is not an elite closer. Those are few and far between, as I would consider Aroldis Chapman, Mariano Rivera, Craig Kimbrel and Fernando Rodney (at least this year) in that role. Perez is solid, having closed out 35 games for the Indians with a 57:11 K:BB in 50.2 innings in 2012. However, that 3.55 ERA is not good, especially the 3.93 ERA since the All-Star break.
Chris Perez is going to be a rich man in coming seasons. He made $4.5 million in 2012 and is arbitration-eligible in both 2013 and 2014. With those raises, Perez could make close to $10 million or more. It is time to trade him.
A team looking to shore up their bullpen, whether at closer or in a setup role, will be an excellent fit. If Rafael Soriano opts-out of his contract with the Yankees in search of a multi-year deal, New York could be a fit. If Cincinnati really wants to try Aroldis Chapman as a starter, they may want another arm in case Sean Marshall falters, as he did earlier this season in the closer role.
Perez is a voice and a negative one, at that. For a team that is going to need to pinch pennies and build from within in coming years, paying a closer the money that Perez is going to earn through arbitration is nothing short of idiotic.
With Vinnie Pestano around, Perez is expendable. Don't let a fan find you in an alley on your way out of town.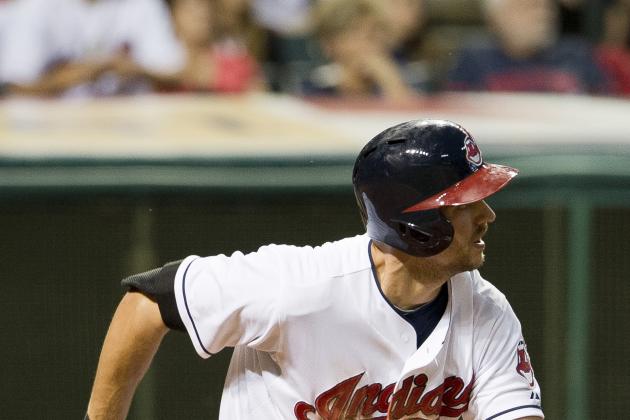 Jason Miller/Getty Images

If you are going to let Lonnie Chisenhall start the 2013 season, you need to have a serviceable backup. Jack Hannahan is NOT that serviceable backup.
Hannahan has hit .212/.273/.300 since May 1. His fielding percentage, .954, is lower than Detroit third baseman Miguel Cabrera's .962. He can't hit right-handed pitching, posting a .688 OPS, and he really can't hit left-handed pitching, posting a .427 OPS. Why was he even on the roster this year!?
Whoever the Indians do get to fill in at third base in 2013, they need to find someone who is not going to play very often, as Chisenhall deserves a long, long look.
Chisenhall turns 24 years old in October and he has a 162-game average of 26 doubles, two triples, 19 home runs and 56 RBI, based on his production in 291 career at-bats. While those numbers aren't going to match up with Miguel Cabrera, David Wright or Ryan Zimmerman, they are solid, respectable numbers.
So, who could the Indians sign to fit with Chisenhall at third base?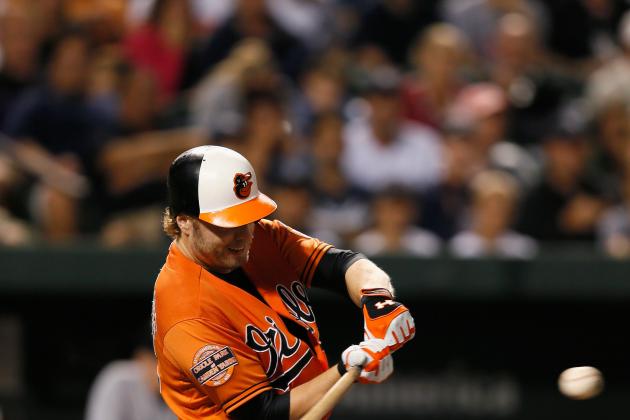 Rob Carr/Getty Images

Mark Reynolds will turn 30 years old next August. He has mashed 179 home runs in his six-year career, playing for the Arizona Diamondbacks and, most recently, the Baltimore Orioles. His 162-game averages would fit nicely into the Indians order with 28 doubles, two triples, 35 home runs and 95 RBI.
However, that power comes with some slight disadvantages. Reynolds is a career .236/.334/.480 hitter. While he does walk (11.9 percent walk-rate for his career), he has struck out a disturbing 32.8 percent in his career. The low contact rates could be very frustrating in the middle of the order.
Reynolds is a right-handed bat, a need for the Indians. Reynolds can provide a lot of power for the Indians, another need. Reynolds can play first base and third base, he is a perfect fit for the Indians.
Reynolds can play first base most days, slide over to third to spell Lonnie Chisenhall against tough left-handed starters to allow Carlos Santana to play first base and he can DH if the Indians want to get a bench player a few at-bats.
Signing Mark Reynolds is the first step in rebuilding the Cleveland Indians lineup. He not only provides power, he will provide flexibility to the lineup, something any new manager would love to have at their disposal.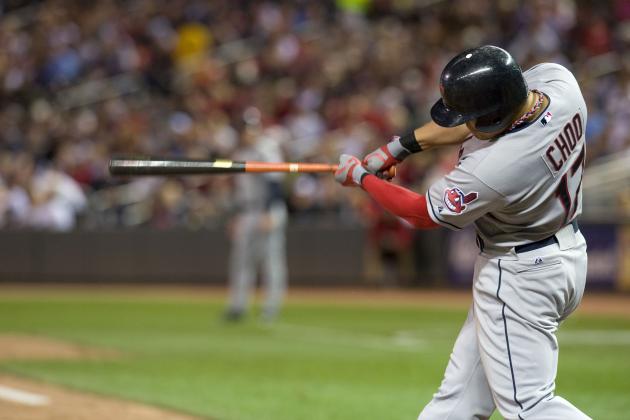 Marilyn Indahl/Getty Images

Shin-Soo Choo provided a great spark to the Indians lineup in mid-May when Manny Acta moved him to the leadoff spot. For the 2012 season, Choo is hitting .313/.391/.511, with 27 doubles, two triples, 11 home runs and 29 RBI in 323 at-bats out of the leadoff spot. Choo is hitting .228/.341/.340, with 10 doubles, four home runs and 25 RBI in 197 at-bats elsewhere.
Choo may have found his niche in the leadoff role, but he also found himself a nuisance as an agent in Scott Boras. Choo has not talked to the Indians about an extension and he is just buying time before being shipped out of town.
While the Indians are better with him, they can't gamble on being good and losing all of Choo's value by holding onto him until the 2013 trade deadline. They must deal the right fielder this offseason.
Choo is 30 years old and has a career .848 OPS. He had a miserable 2011 season, but he has hopped right back to his career norms this season, ensuring the Indians and other clubs of the player that he is.
Shin-Soo Choo could be solid for the Indians in 2013, but he would provide much more for the franchise by being traded for a near-ready starting pitching prospect or some minor league depth for the lackluster Tribe system.
While helping the Indians return to relevance would typically include Shin-Soo Choo, you have to remember that Choo is arbitration-eligible, he has an agent that isn't easy to work with and if the Indians keep him, every day that passes, Choo will lose value.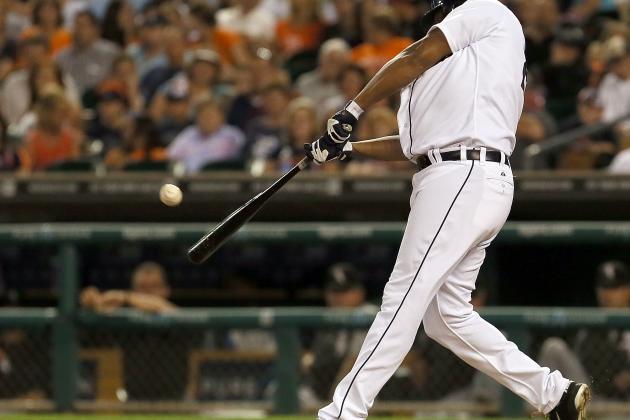 Dave Reginek/Getty Images

Delmon Young does not seem like an intelligent man. In 2006, Young was suspended for hitting an umpire when he threw his bat, which led to a 50-game suspension. Earlier in 2012, Young was charged with a hate crime when he screamed an anti-Sementic slur while intoxicated in New York City.
Outside of his own stupidity, Delmon Young is going to only be 27 years old when he hits free agency this offseason. He is a 6'3", 240 pound outfielder with a very good arm. He could take over in right field if the Indians were to trade Shin-Soo Choo.
Young is a career .285/.318/.427 hitter. He does not take many walks, 4.1 percent for his career, but he doesn't strike out too much, either, just 17.4 percent in his career. His right-handed bat would be useful in the order for the Indians, as the team needs to figure out a way to even-out the lineup after hitting .224 against left-handed pitchers as a team in 2012.
Delmon Young could be highly sought after due to his age and potential. The Indians could grab the young free agent and hope that his potential and his off-the-field turmoils turn him into the second coming of Albert Belle in Cleveland.
Again, this would require spending money and being aggressive in the free agent market, but plugging Young and Reynolds into the middle of the order is a nice upgrade.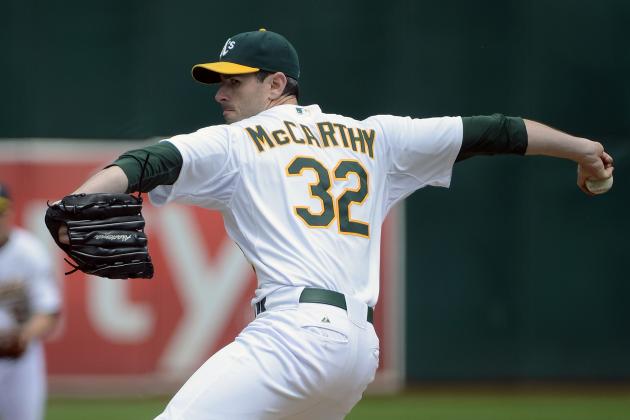 Thearon W. Henderson/Getty Images

I wrote an article on why the Indians needed to sign Brandon McCarthy elsewhere, but that was prior to this scary injury. I still feel like he would be an excellent fit, if he is recovered and healthy for the start of next season. While it is sad to say, his injury could be a blessing to a team who needs to find affordable pitching depth, as teams will be scared off due to the trauma he suffered, and an incentive-laden deal will probably be necessary.
I am a huge fan of McCarthy's and I jumped on board with him when he developed his two-seam fastball and became a completely different pitcher, just like Roy Halladay several years before him in Toronto. He has had great success, when healthy, since arriving in Oakland.
While he would be an excellent fit as the Brandon McCarthy we knew before the September 5 injury, who knows what will happen if or when he returns.
Right now, the major focus for McCarthy needs to be basic things, like living a normal life and spending time with his wife and dog. They are hilarious together and if you aren't following them on Twitter, you need to look them up. Prayers go out to both of them for his quick recovery and, hopefully, a quick return to the mound, where he can continue to whet the appetite of sabermetric nerds.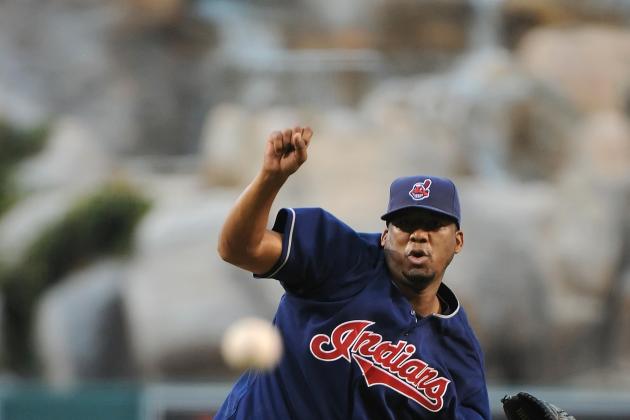 Lisa Blumenfeld/Getty Images

Roberto Hernandez was a whole lot cooler when he was 23 and winning 19 games in 2007 as Fausto Carmona. Then, he gained three years in age and has gone 33-51 since the start of the 2008 season with a 5.06 ERA in 104 starts.
With a $9 million team option in 2013 and a $12 million team option in 2014, neither of which have a buyout, it is time to let the name-changer leave.
With Ubaldo Jimenez capitalizing on one good season, which was really on the first half of the 2010 season (when he went 15-1), there isn't much room left for another sinker ball pitcher who can't seem to keep the ball down.
Roberto Hernandez will only be 32 years old next year, and while he has value as an innings eater, he isn't worth anywhere near $9 million. If the Indians can restructure his contract, bringing him back makes sense, but to be able to improve elsewhere, they need to get as far away from this contract as possible.
The money that the Indians save on Hernandez, Travis Hafner, Shin-Soo Choo and Chris Perez could go a long way in stabilizing the lineup and ensuring a return to contending.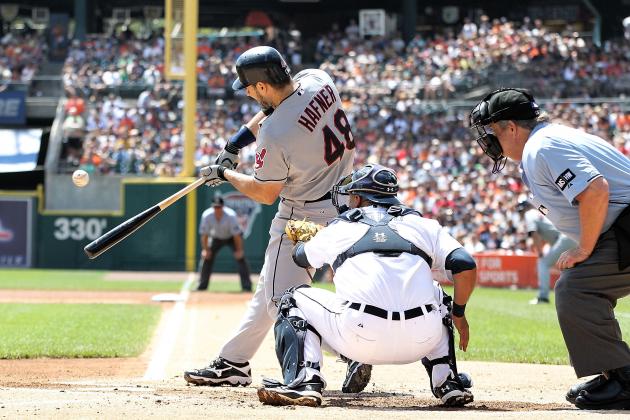 Leon Halip/Getty Images

Casey Kotchman, Jack Hannahan, Derek Lowe, Jose Lopez and Dan Wheeler. Grady Sizemore and Travis Hafner. Injuries, age and bad contracts, those are three things that work together to cripple a team, and counting on veterans who haven't produced in several years to be large producers on your team is the reason why the Indians are so awful this season.
I'll admit, I'd be fine with the Indians bringing Travis Hafner and Grady Sizemore back on minor league, non-guaranteed contracts, which would mean that they would earn about $500,000 if they made the team, without incentives. However, you can't count on them, so you have to have alternatives.
The names of washed up players like Scott Rolen, Miguel Cairo, Andruw Jones, Eric Chavez, Brandon Inge and Lyle Overbay could leave Chris Antonetti and company drooling, but they have to do their best to not give any of these guys a shot.
Matt LaPorta, Russ Canzler, Thomas Neal, Lonnie Chisenhall and whoever that bat boy was last week could still post better numbers, they will cost less and they need to have their opportunity.
While veteran starting pitchers like Jeremy Guthrie, Kevin Correia, Aaron Cook and Kevin Millwood can provide depth to your rotation, you should not sign one as anything more than your number four or number five starter.
Depth is important, but you have to be careful of who you sign. If an injury strikes your starter, these are the players who have to step in and play every single day. If you have someone who can't hit a lick as your next-in-line player, you have Jack Hannahan on your team for a full season at third base.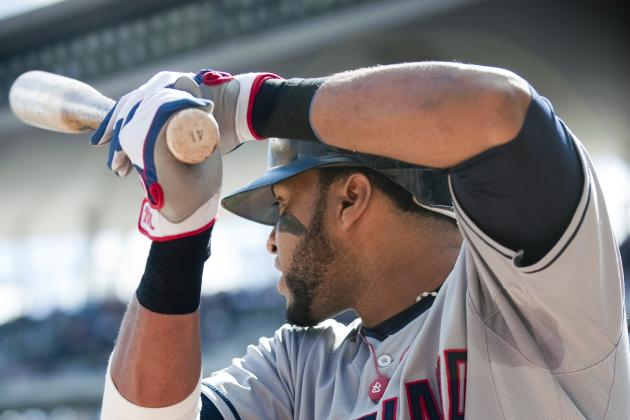 Marilyn Indahl/Getty Images

When you play as poorly as the Indians have since June 23, there really aren't steps. The rebuilding of this team and franchise will ultimately be done in phases. It could take several years to rebuild the minor league system, and you have to wonder if the management in charge right now is capable of doing so.
These steps would drastically improve the 2013 Indians. While they will still be a work in progress, they would be more capable offensively and the trades of Choo and Perez could help provide the club with very close minor league talent, something the system is greatly lacking today.
Unfortunately, there will be a lot of other teams knocking on the doors of the free agents mentioned here. The change must start at the top. If the Dolan's want a winner, they will need to be proactive. That all begins with spending, which may never happen.