Ultimate WrestleMania 29: The Greatest Wrestling Card in WWE History?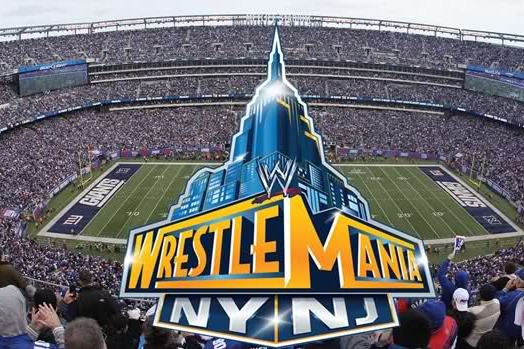 http://1.bp.blogspot.com/-L3c4l_aS4Wg/UCAe0DJudzI/AAAAAAAAEMA/90_vzXnEUPc/s1600/WM29.jpg
As the dust settles on another Night of Champions, we now begin to slowly focus on what is arguably the biggest period in the WWE calendar. Small feuds are settled, new bigger ones are developed and ideas are formulated for the three-month period that leads to WrestleMania.
Every year the event gets bigger, brighter and better.
Well, not always better, but that is certainly the aim for Vince McMahon's empire of the north.
And so as a means of looking forward to that one day of the year where the unexpected can be expected, this slideshow is presented as one fan's ideal card that is realistic for WrestleMania 29.
Not all will agree, but then the Internet Wrestling Community is a diverse group, so be sure to leave your suggestions, comments and hate mail below.
Enjoy!
Begin Slideshow

»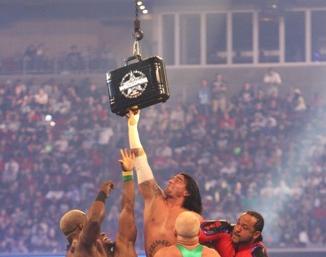 http://collarandelbow.com/wp-content/uploads/2012/07/wwe-money-in-the-bank+wallpapers+stills+images-654.jpg
Its probably unlikely that Money in the Bank will return at the granddaddy of them all, but this is my WrestleMania dream card, so I have reinstalled it.
Thank you.
But as was seen in WrestleMania XXV, a strong start to an event can liven up a crowd, and with this particular match or something similar, perhaps a Hell in a Cell match, the action begins with real energy.
The added bonus of this particular match however is that it is often used to crown the next big thing and certainly with these competitors, the year could be a very good one if they prove victorious.
Big men like Kane or even Mark Henry would add weight, but they would ultimately be cannon fodder.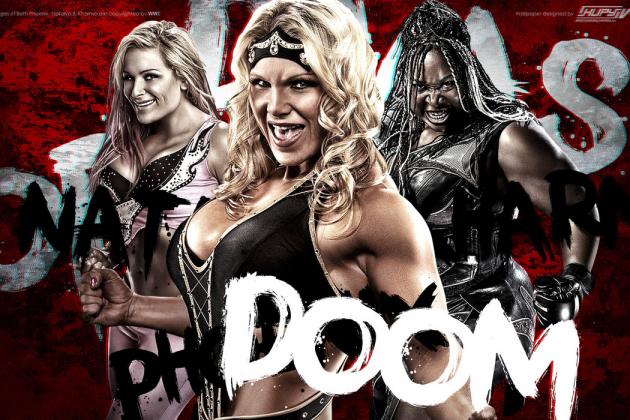 http://www.kupywrestlingwallpapers.info/wallpapers/wwe-divas-of-doom-3d-wallpaper.jpg
If the biggest event of the year has to have a Divas match, please let it at least be a good one. My fast forward button is starting to get tired of making their matches end that little bit quicker. Awkward moves, botches and unconvincing action has made the Divas department almost redundant in recent years.
The days of there being no division may once again be at hand.
However, if the WWE does indeed want to showcase its Divas, then a dream match of the four biggest names could be one way of injecting some interest back in the division.
The action would at least be well done, with all four being able to execute their movesets without the slow pace of other so called superstars.
And the fact that the four would be involved in a fatal four-way match could set up an interesting program for 2013 between those involved.
The Women's Division, sorry...the Divas title could once again be relevant!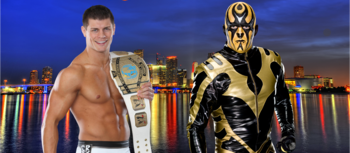 http://cdn.bleacherreport.net/images_root/slides/photos/001/903/476/Picture7_display_image_display_image.png?1328936513
There is something special when a match goes beyond the simple good vs. evil contest that modern wrestling is founded upon. When something extra is at hand, something more than merely two characters in the ring.
The Bret and Owen Hart matches are now legendary, as was the 1992 encounter between Bret and the British Bulldog.
And so what if at the greatest wrestling night of the year, Cody Rhodes started his quest for the WWE crown by beating his half-brother, Goldust?
The latter is an excellent and under-appreciated superstar who could more than easily put Rhodes over. The nature of their contest would be such that the young pretender could be pushed into the top bracket and with some concerted effort challenge the likes of Orton, Cena and Punk.
Their chemistry in the ring would be much more than a simple midcard match and it would give the event some much-needed energy compared to last year, when the divas stunk up the card simply to promote Maria Menounos.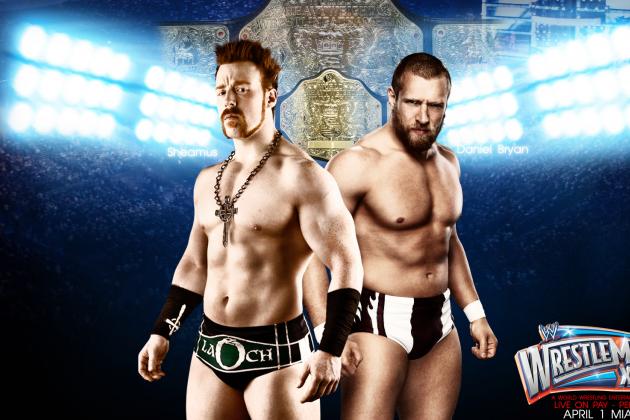 http://ourwweviews.files.wordpress.com/2012/03/wrestlemania_xx_sheamus_vs__daniel_bryan_wallpaper_by_mr_enjoy-d4tahlb.jpg
Last year's match was of course a travesty. The WWE has often used this kind of shock tactic in its biggest events including JBL's retirement at WrestleMania XXV. However, for it to be used against one of the best wrestlers remains a pointless waste.
Having the two together again on the same stage flirts with the idea that it may happen again, and when Sheamus goes for it and misses, we finally get the match we were waiting for.
The two could easily have a great match and with enough energy and drive, the match could be one of the best on the card in terms of actual wrestling action.
This one won't finish in 18 seconds.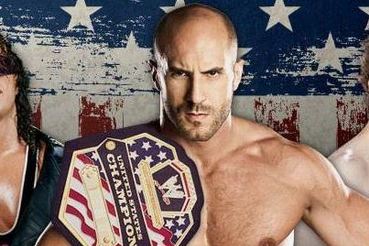 http://sphotos-a.xx.fbcdn.net/hphotos-ash3/c122.0.403.403/p403x403/553946_10151050265211443_981962445_n.jpg
No better way to put a guy over in the WWE than to allow him to beat a bigger guy clean. And yet in the three competitors here, Cesaro has got three wrestlers who know how to job.
That is not to say that they are themselves jobbers but their careers have floundered for a while, albeit with bright sparks now and again.
Whether the WWE sees Antonio Cesaro as the next best thing remains uncertain; however, a big clean victory over one of the cannon-fodder big men is a good way of promoting him.
He is still too young to have his WrestleMania moment, but Cesaro needs to keep his momentum, and a win at the biggest show of the year allows him fresh energy to begin his 2013 campaign.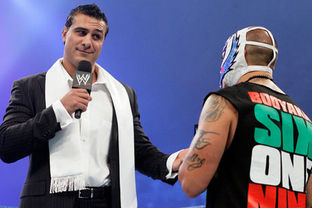 http://www.delrio-source.com/images/albums/uploads/digitals/smackdown/2010/August/82010/normal_7-_Del_Rio_responds_by_calling_the_masked_Superstar_a_peasant.jpg
A bad guy getting his comeuppance is always good TV at WrestleMania. The sight of Vince McMahon losing his locks remains an iconic moment, though some might argue it really should have been Donald Trump.
However, in this ultimate match the stipulation adds intrigue as to whether we see an unmasking or Alberto gets a trip to the barber's chair.
The fact that these three wrestlers are classically trained luchadors will provide a strong match if they are allowed enough time to prepare and practice. Certainly, Sin Cara needs some energy or his career will go like so many others after WrestleMania with a thank you and see-you-later slip.
The loser in this match really has to be Alberto, although recent WWE teases of Sin Cara without his mask might be alluding to something interesting happening.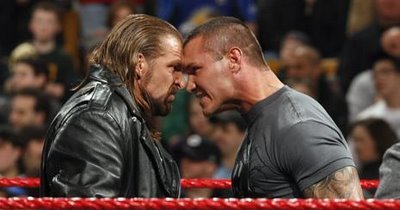 http://www.allwrestlingsuperstars.com/wp-content/uploads/2011/07/WWE-Superstars-Triple-H-and-Randy-Orton.jpg
Randy Orton wants to be a heel. He also needs his WrestleMania moment. And so beating Triple H mercilessly with his own sledgehammer to secure a victory could be a nice way of doing it.
As some will know, I am not the biggest Triple H fan, but I do at least acknowledge that he has rolled over for some in recent times.
Maybe that is just his way of justifying what he did before.
However, his ability to give Randy Orton his moment in the sun could be a good setup for the rest of the year for the Viper who could be catapulted back into the Championship picture.
The match would be chaotic and perhaps even bloody. The action would be in and out of the ring. The weapons used could be a who's who of Mick Foley's tool box.
And in the end, a savage beat down to end the match akin to that of Steve Austin passing out at WrestleMania XIII, could help create Orton's reincarnation.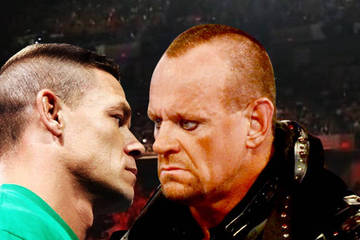 http://hostinga.imagecross.com/image-hosting-20/6394Undertaker_Cena1.jpg
The Undertaker's streak has become more than simply a good match. Owing to the need for building suspense, there has to be scenarios and action that will make people actually watch. The Undertaker facing some midcard wrestler in a casket match, for instance, will not be sufficient anymore.
The need to make the audience believe that this is indeed the year that the streak ends means that the WWE has pulled out the stops in the last few years with WrestleMania XXV being considered one of the best matches of all time.
And so to WrestleMania XXIX.
As the Undertaker has made no comment on retiring and indeed returned at the 1000th Raw, it is fair to say that he will wrestle at least one more time.
The candidates are lining up already with Sheamus an early candidate to throw his hat into the ring.
However, I just don't think that he has that certain quality to make the match special like his friend Triple H. With the latter, there was a genuine fear that he may use his backstage power to end the streak.
And so to Cena.
The ultimate battle between good and bad fought in a match that neither could possibly lose.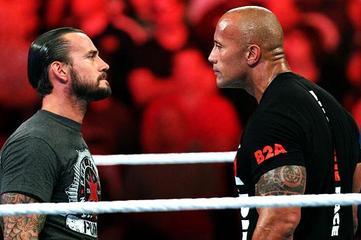 http://www.wwe.com/f/styles/ep_trending/public/article/thumb/2012/07/20120730_EP_LIGHT_Rock-Punk_C_homepage.jpg
There are few matches in wrestling today that could generate more interest than last year's epic between John Cena and The Rock. The Hollywood appeal of the latter against the wrestling poster boy. And yet is it arguable that CM Punk is slightly more mainstream?
In his pursuit of WWE power, CM Punk has been pretty vocal including his callout of Chris Brown. His popular appeal, grassroots appeal and his now TMZ presence, could have given rise to something that has eclipsed John Cena in non-wrestling eyes.
And so at WrestleMania, the archetypical clash of good against bad is once again at hand.
CM Punk, who has marveled as a heel, against the biggest name in wrestling today (even after retiring several years ago). The appeal of the Rock remains that he is as dominant with fans now than he ever was. And so in order to put people in seats and to make it interesting...
Let us make it for the WWE Championship.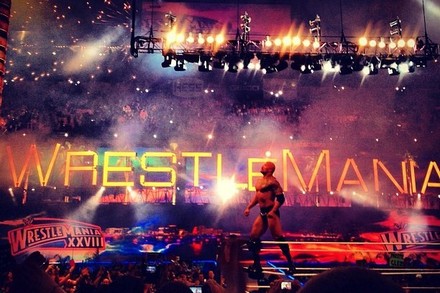 http://upload.wikimedia.org/wikipedia/commons/d/d1/The_Rock_celebrating_Wrestlemania_28.jpg
And so ladies and gents, that was my WrestleMania dream card.
There are always surprises and superstars that return and liven it up. The question of Brock Lesnar, Steve Austin and even Mick Foley remain, but this is what I would like to see.
The Internet Wrestling Community is of course very diverse so by all means leave your comments and suggestions below as to what you think would make for a great PPV at the biggest night of the year.
As always, this was MG.
Thank you for reading.