Florida Football: Examining the Gators' Linebackers Without Jelani Jenkins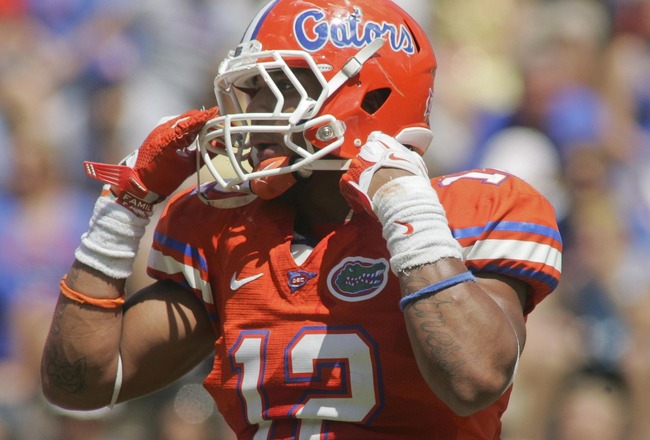 Freshman Antonio Morrison will replace Jelani Jenkins in the lineup.
Phil Sears-US PRESSWIRE
With Jelani Jenkins sidelined four weeks by a fractured thumb, Florida's linebacking corps will feature a new face on the weak side (via the Orlando Sentinel).
Although losing Jenkins is a big blow to the Gators defense, there's a lot of buzz surrounding his replacement.
Freshman Antonio Morrison may be undersized and inexperienced, but the 6'1", 218-pounder is one of the team's most physical tacklers and should fit in well at weak-side linebacker.
Morrison won't totally be on his own—the unit is still anchored by senior Jon Bostic.
UF's top tackler is a leader both on and off the field, providing stout run defense from his middle linebacker spot.
Now that Jenkins is out for the next month or so, let's take a look at the how the rest of Florida's linebackers stack up.
Jon Bostic (Senior)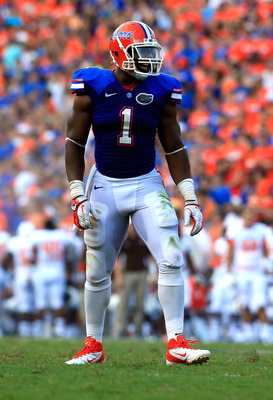 Jon Bostic is a force in the middle of the Gators defense.
Sam Greenwood/Getty Images
I'm not a fan of Jon Bostic switching to No. 1, but there's no doubt he's the most accomplished linebacker on the team.
While his slim new jersey number may lead you to wonder what happened to No. 52, his play on the field has only improved.
The 6'1", 246-pounder is rock solid in the middle of UF's defense. Through two games, the NFL-bound Bostic has racked up 13 tackles and a sack.
Although he doesn't have elite speed or quickness, Bostic is a sure tackler and an emotional leader on the field.
With Jenkins out, Bostic will have to assume an even bigger role and set the tone for UF's young defense.
Lerentee McCray (Redshirt Senior)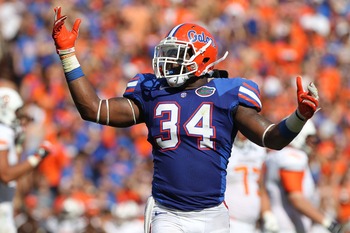 Lerentee McCray needs to be a consistent pass-rusher for the Gators.
Kim Klement-US PRESSWIRE
Lerentee McCray didn't come to UF with tremendous hype like Ronald Powell, but the fifth-year senior has actually been a more productive player than the man he replaced.
The 6'3", 249-pounder was named the starter at the Buck linebacker spot after Powell tore his ACL, and the 22-year-old is rewarding his coaches for that decision.
Utilizing his length and quickness, McCray has already racked up seven tackles and a sack. His ability to set the edge and provide sound containment on Texas A&M quarterback Johnny Manziel was the difference in UF's comeback victory against the Aggies.
As the only other upperclassman linebacker with significant experience, there's even more pressure on McCray to produce.
Antonio Morrison (Freshman)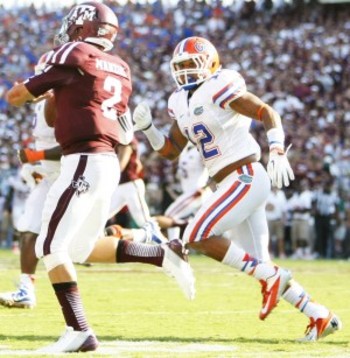 Photo courtesy of David Carr of The Independent Florida Alligator.
Despite losing one of his stars to injury, Florida defensive coordinator Dan Quinn hasn't been able to contain his excitement about Antonio Morrison (via ESPN).
After watching Morrison's high school tape, it's easy to see why.
Even though he checks in at a rather pedestrian 6'1", 218 pounds, Morrison hits like a Mack truck and can run with the best of them.
Anyone questioning Morrison's strength need look no further than this clip of him squatting 600 pounds in high school.
There's no doubt the Gators will miss Jenkins' experience and pass-coverage skills, but Morrison's physicality should fit right in as the youngster steps into the starting lineup.
Michael Taylor (Sophomore)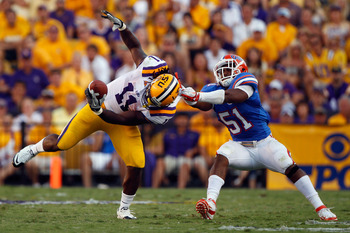 Michael Taylor is an intense, versatile piece of the puzzle.
Chris Graythen/Getty Images
Like Antonio Morrison, sophomore Michael Taylor doesn't boast NFL size.

However, the kid who dons Brandon Spikes' old number plays with the same physicality as the current New England Patriot.
As a freshman, Taylor saw plenty of action, recording 24 tackles, including 4.5 for loss.
The former 4-star prospect has played multiple linebacker spots, and that versatility should earn him more playing time as the Gators try and fill the void left by Jenkins.
Taylor—who checks in at 6'0", 226 pounds—put together a solid effort in UF's 20-17 win over Texas A&M, recording six tackles and a sack.
He might not start, but the Atlanta native should see plenty of action going forward.
Neiron Ball (Redshirt Sophomore)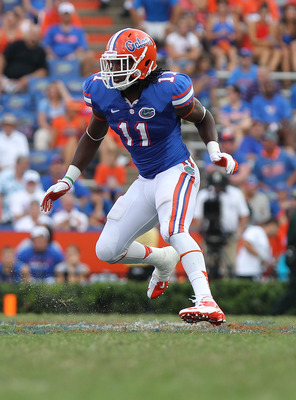 Neiron Ball was forced to sit out last season with a medical condition.
Kim Klement-US PRESSWIRE
As a freshman, Neiron Ball appeared well on his way to establishing a role on the team as a special teams demon and backup linebacker.
However, after recording 10 tackles in 2010, the 6'3", 231-pounder was forced to redshirt the 2011 season after doctors discovered he was suffering from a rare condition called arteriovenous malformation.
As highlighted by Eric Adelson of Yahoo! Sports, Ball is no stranger to adversity; he lost both his parents by age 9.
The high-spirited, energetic linebacker has come a long way from last year's medical scare to earn a spot in the defensive rotation.
Ball brings a compelling package of speed and athleticism, which could be harnessed in pass coverage.
Darrin Kitchens (Junior)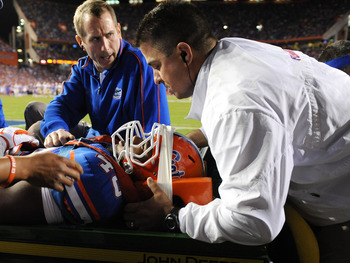 Darrin Kitchens avoided a serious injury on a kick coverage play last season.
Al Messerschmidt/Getty Images
Most Gators fans remember Darrin Kitchens for his scary kickoff collision last season, but the Homestead (Fla.) native is out to make a name for himself this season.
Relatively light for the position at just 6'1", 229 pounds, Kitchens' calling card is his contributions on special teams.
His speed and tackling ability make him an integral part of the kickoff team, and he's managed to chip in on defense, too.
Last season, he recorded 21 tackles, including 2.5 for loss.
Although he's managed just a single tackle in UF's first two games, Kitchens remains a valuable member of the unit because of his special teams prowess.
Keep Reading

Florida Gators Football: Like this team?