UCLA Football: 3 Keys to Beat Houston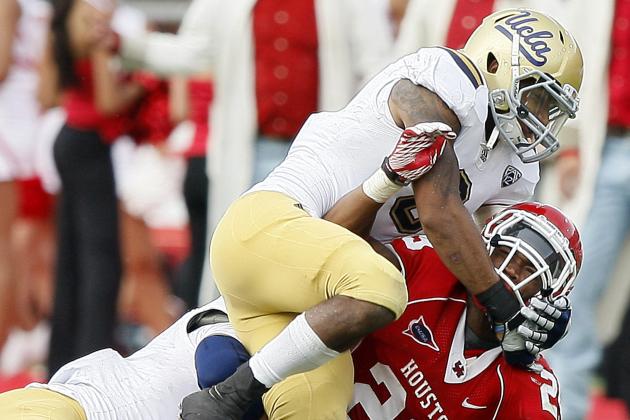 Bob Levey/Getty Images
The Bruins hope to have more tackles like this
On Saturday at 7:30 p.m PT, the UCLA Bruins will welcome the Houston Cougars to Pasadena.
Simply put, the Cougars are in a state of transition.
Gone from a year ago is stellar quarterback Case Keenum, along with the team's top three receivers and two best defenders. Houston was upset by Texas State in week one and was beaten in a shootout last week against Louisiana Tech.
Currently at 0-2, they definitely aren't the same team that the nation has seen the past few years.
On the contrary, the Bruins are firing on all cylinders right now. After winning handily against Rice in week one, they came back in week two and won a thriller against Nebraska at home.
This is a contest that the Bruins should win based on talent and momentum. However, recent history suggests that no game is a gimme with UCLA, and often, they've been prone to underachieving against teams that they should beat.
Here are three keys to beating the Houston Cougars on Saturday in the Rose Bowl.
Begin Slideshow

»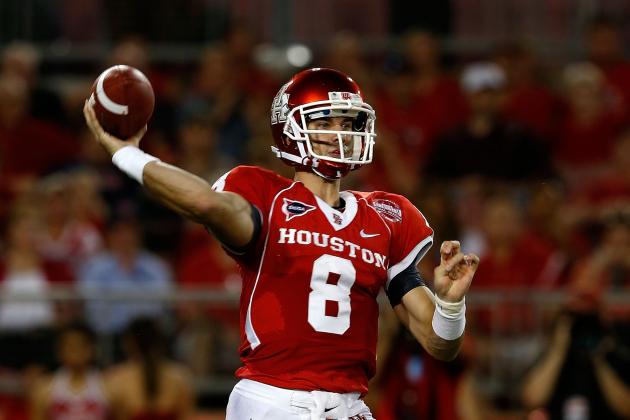 Scott Halleran/Getty Images
QB David Piland has been putting up big numbers
In a 56-49 loss against Louisiana Tech last week, Houston quarterback David Piland went 53/77 for 580 yards and four touchdowns.
Yes, people, he threw the ball an astounding 77 times in one contest.
Similar to UCLA, Houston likes to employ a high-octane, fast-tempo offense. It's predicated upon rhythm and picking up yards in chunks. What's one aspect to combat that high tempo?
Pressure from the defensive line and outside linebackers.
In UCLA's first two contests, the defensive front has been a bright spot. Led by Datone Jones and Anthony Barr, the 'backers and defensive linemen, have been quite effective at pressuring the opposition's quarterback.
In two games, the team has nine sacks. They had 14 all of last season.
By getting pressure up front, it allows defensive coordinator Lou Spanos to not blitz as often.
The Bruins have utilized both the nickel and dime packages frequently, and it allows for the defensive backs to drop in coverage. It also immensely helps to use these packages against a team that throws a lot—like Houston.
UCLA should have a considerable advantage, with their defensive line against the beleaguered Houston offensive line. It was announced earlier this week that starters Ralph Oragwu and Kevin Forsch will be out due to injury.
That won't help matters from a pass-protection standpoint, and it won't help in terms of opening up holes for "bell cow" back Charles Sims.
If the pressure continues, it'll negate the time Piland needs to operate the offense. It'll cut down the windows that Piland will have to throw, and the expected pressure will also keep the Houston offense from getting in a rhythm.
Stephen Dunn/Getty Images
Johnathan Franklin and Joe Fauria celebrating after a TD
The game plan this week should be simple: Run the ball effectively, make timely throws, don't turn the ball over and don't commit careless penalties.
In essence, one doesn't need to reinvent the wheel against a weaker opponent.
On paper, UCLA far surpassed Houston in talent. Houston doesn't possess great depth, and both lines for the Bruins should have pretty good success in this contest.
The Bruins need to play a clean, smart game. If they can, they should win handily.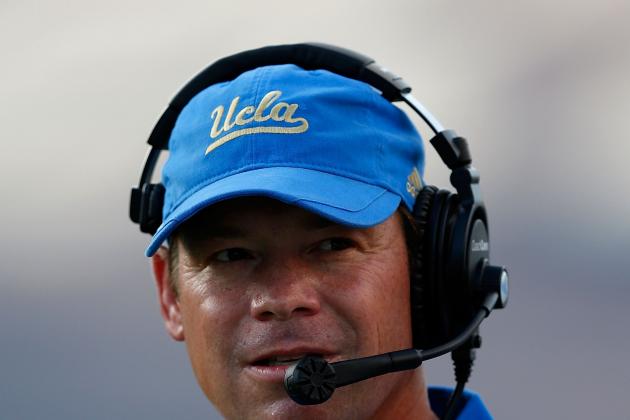 Scott Halleran/Getty Images
Head coach Jim L. Mora
This truly is the quintessential trap game for UCLA.
The Bruins are coming off of an incredibly emotional and exciting win. A question of a possible emotional hangover could persist in this ballgame, and it would not be a surprise to see the team get off to a somewhat slow start.
Houston is not the Houston of old.
They lost a ton of talent from a year ago and are relying upon a considerable amount of inexperienced players. In addition, they have a new head coach in Tony Levine.
Levine was the in-house choice, but he still brings his own nuances and idiosyncrasies to the table. In only the third game of the season, it's conceivable to believe that the team is still getting acclimated to Levine's style of coaching.
Based on talent alone, this shouldn't be a close contest. However, Houston really does have nothing to lose in this instance. They can play freely with the expectation to try and upset the newly ranked Bruins.
Fortunately for the Bruins, they have the angle of revenge to use.
Last season, the Bruins lost to Houston 38-34 in the season opener. That loss set the tone for the rest of the season—ultimately costing Rick Neuheisel his job.
Regardless, UCLA teams recently have the penchant of winning a big game one week, and coming back and losing in spectacular fashion the next.
Jim Mora hopes that trend doesn't continue in his regime. Based on the way that he's operated thus far, it doesn't seem as if the team will revert back to that pattern.
Ultimately, it's still a question mark until this team can win with consistency.