Pacquiao vs. Marquez 4: 5 Reasons Marquez Should Be the Favorite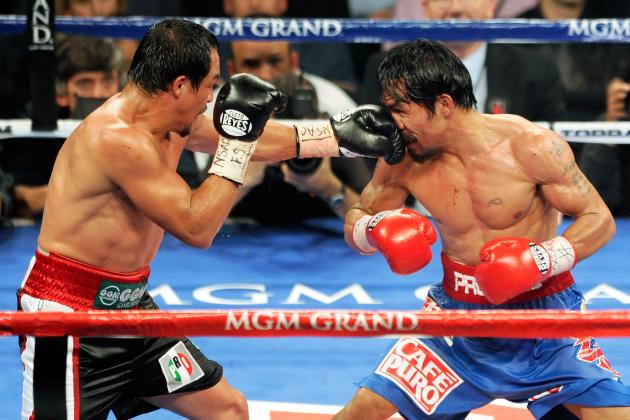 Ethan Miller/Getty Images

It appears the long wait to find out Manny Pacquiao's next opponent may finally be at an end. Earlier today ESPN's Dan Rafael reported that Top Rank promoter Bob Arum has all but declared a fourth fight with rival Juan Manuel Marquez a done deal.
From Rafael's story, Arum said:
We're having a meeting about Manny's next fight and to get everything finalized. My goal is to finalize the Marquez fight, but I have to meet with (Koncz).
I'll admit it, I've had my fingers crossed for this one. These are two of the greatest pound-for-pound fighters of their generation, perfectly matched in terms of style to provide close, thrilling wars.
Their first three fights were classics. There's no reason not to expect the fourth to be the same.
The official record between these two stands at two wins for Pacquiao and a draw. The second fight in 2008 was a split decision. Last November's tilt was a majority decision.
These two have been razor close over the course of 36 rounds.
And I'm pretty sure I'm not in a minority among boxing writers when I declare that the record should really read the other way around. By my scoring, it should be two wins for Marquez, and a draw.
I had Marquez winning in 2008 and again last November.
And I'm picking him again this time around.
Begin Slideshow

»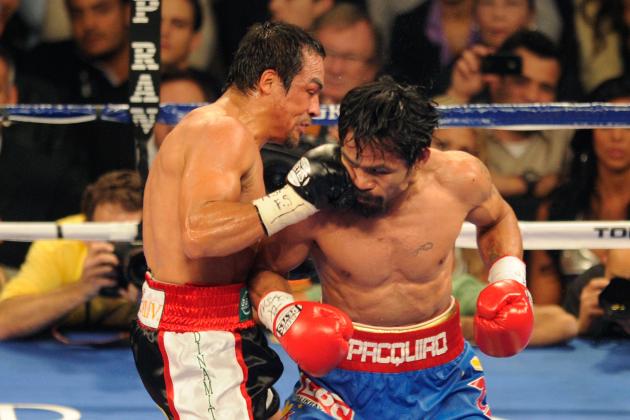 Ethan Miller/Getty Images

In the first round of their first fight in 2004, Manny Pacquiao gave a stunning demonstration of why a left-handed fighter can be so dangerous. About halfway through the opening frame he maneuvered his own lead foot outside Marquez's and caught him with a straight left down the middle.
Marquez went down, badly rocked. Before the round was over, Pacquiao had dropped him twice more. Their historic rivalry almost never got started.
But instead, Marquez made one of the great comebacks of all time. He adjusted with his own footwork and dominated most of the rest of the fight.
In the 35 rounds the two men have fought since, Marquez has run a clinic on how to employ proper footwork against a dangerous left-handed slugger.
As soon as an orthodox fighter can manage to get his own lead foot positioned outside his southpaw opponent's lead foot, his own straight crosses and overhands become dangerous in exactly the same way a lefty's usually are.
I don't care what the CompuBox stats say about last November's fight. I had Marquez winning because the power punches he was landing were consistently more effective.
Pacquiao landed hooks and uppercuts from odd angles, with his feet often poorly set. These were not effective punches.
Most of Marquez's big shots were straight line punches, delivered from an ideal position. That kind of "ring generalship" is the result of expert footwork.
Hand speed and lightning reflexes are critical in boxing. But they mean nothing compared to timing.
The ability to punch quicker than an opponent is an advantage, but if that opponent sees openings and reacts with efficient precision, no one will even be able to tell who is quicker. Catlike reflexes can block a lot of punches, but not the ones thrown with exquisite timing.
Aside from Floyd Mayweather, Juan Manuel Marquez has the best timing of anybody in the sport. It's one of the primary reasons he continues to excel in the sport at an age when most fighters have long since seen their best days.
Timing is not a physical gift that comes with youth; it's a skill that is developed with experience. Against Pacquiao, Marquez's timing has been uncanny.
Pacquiao's ability to deliver explosive attacks from a dizzying array of angles has made him one of the most dominant and popular fighters of all time.
The reason Marquez has survived and thrived in this cauldron is because, rather than being overwhelmed, he more often sees the attacks developing and disrupts them before Pacquiao has the chance to unleash them.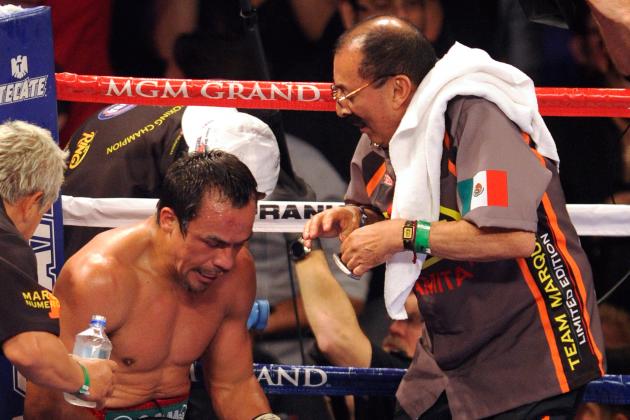 Ethan Miller/Getty Images

Even though I scored last November's fight for Marquez, I have been careful not to call it a robbery. Most of the rounds were very close.
And ultimately, Marquez must accept a big part of the responsibility for this loss. Down the stretch he let up his pace, perhaps encouraged by his Hall of Fame trainer Nacho Beristain, who was inexplicably assuring him that he was way ahead, even as Freddy Roach was urging Pacquiao to pick up the pace.
The result was that in a very close fight, Marquez allowed Pacquiao to pile up rounds late.
I have to think it's a mistake Marquez won't make twice.
Then again, I'm surprised Marquez made it once. During the 24/7 series leading up to the fight, Marquez even said that he felt he would have to win every round to get a decision from the judges.
So out of all five slides in this article, this is the one I would put an asterisk next to. Perhaps at 38, Marquez couldn't keep that same pace going.
But this will be Marquez's last shot at vindication. He won't slow up this time, at least not by choice.
Before the Pacquiao-Bradley fight, I participated in a media call with Bob Arum, Freddy Roach and Manny Pacquiao. Arum gushed to the assembled writers about Pacquiao's "religious awakening." Roach spoke about how great the training camp had been, one of the best ever. Manny, he assured us, had been one hundred percent focused.
Of course, we had heard pretty much the exact same things leading up to the Marquez fight.
But on the media call before the Bradley fight, Pacquiao revealed he had actually been affected by "a personal problem" before the Marquez fight.
A story shortly afterward by Yahoo's Kevin Iole revealed that Pacquiao was late to the arena the night of the Marquez fight, because he was delayed by his irate wife Jinkee, who refused to leave the hotel and travel to the fight with him.
The story that emerged in the build up to the Bradley fight, as highlighted by 24/7, was that the marital strife had prompted Pacquiao to recommit to his religious beliefs. Of course, Pacquiao's devout religious faith had always been a prominent part of his personal story.
But now he was supposed to be serious about it. Gone was the late-night carousing with the boys, replaced by nightly prayer meetings. Gone were the distractions.
And the Pacquiao we were going to see against Bradley was supposed to be the locked-in, no distractions Pacman.
But then fight night came and the main event got delayed so that Pacquiao could watch a Boston Celtic's playoff game. Against an opponent with two badly injured legs, Pacquiao turned in his least inspired performance in years.
It's hard not to view this latest, long, drawn-out process to pick an opponent as one more indication that Pacquiao's heart may no longer be completely in boxing.
He is, after all, an elected Congressman in the Philippines. And now he also believes it's his mission to bring the masses to Jesus. That's a lot of responsibility to pile on top of a boxing career.
As far as I can tell, Marquez has no such outside distractions. He does have a burgeoning career as a boxing analyst. But that's just more of Dinamito's bread and butter, if you ask me.
Marquez has one last shot at his rival, a chance to avenge two losses he feels he never deserved. He'll be focused all camp long and come into the fight ready to right the history books.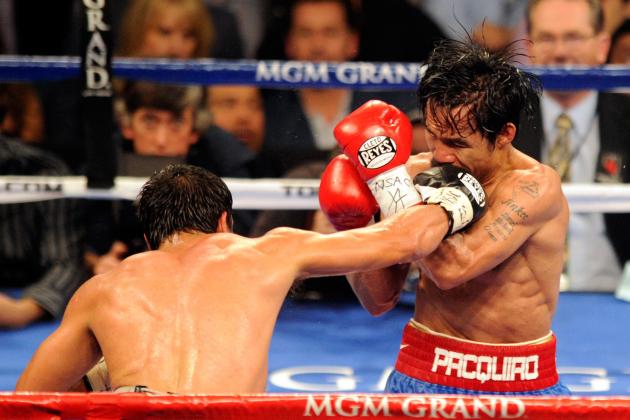 Ethan Miller/Getty Images

Manny Pacquiao's victories over Juan Manuel Marquez in their second and third fights are two of the most criticized decisions of the past five years. Pretty much everybody agrees that they were extremely close, competitive fights.
But a majority of the serious fans and writers I talk to or correspond with online feel that Marquez deserved to win them.
That's going to be on the judges' minds going into the fourth installment. I think they will remember this time to give Marquez credit for his work to the body, and for the quality of his punches versus the volume of Pacquiao's.
Ironically, Pacquiao's raw deal against Timothy Bradley last June might work somewhat to his advantage against Marquez. As much as I feel Marquez deserved to win last November, Bradley's split-decision victory over Pacquiao in the spring was nothing short of a travesty.
Ultimately, nothing should matter but what happens between the ropes during each three-minute frame. But in 2008 and 2011, the judges got it wrong, in my opinion.
I have to believe they will make sure to get it right this time. And that will be all the advantage Marquez will need.