The upcoming Montreal Canadiens season has so much promise, and even if an NHL lockout interferes with it, at least the team's fans can take comfort in the fact that new general manager Marc Bergevin has done a great job thus far in building a strong future for the franchise.
Let's look at why Bergevin has done well this offseason.
NHL Draft
At the 2012 NHL Draft in Pittsburgh, Bergevin began his tenure in fine fashion. His selection of Sarnia Sting center Alex Galchenyuk with the third overall pick was a brilliant addition to the Canadiens. Galchenyuk could compete for a spot on the Canadiens' roster this fall, and it's likely that he challenges for the Art Ross Trophy throughout his career.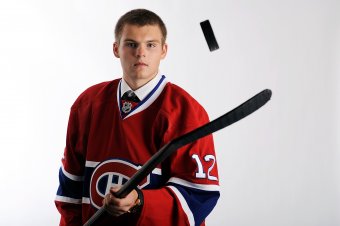 Jamie Sabau/Getty Images
While the Galchenyuk pick was great, the two finest selections that Bergevin made came in the second round of the draft.
With the third pick in the second round, the Canadiens drafted Swedish winger Sebastian Collberg. He will add some needed speed to the Montreal lineup, and he has raw offensive talent that the fans should be excited about.
The next Canadiens selection was at No. 51 overall, where they selected Saskatoon Blades defenseman Dalton Thrower. The 18-year-old blueliner plays an impressive two-way game, and he already plays very physical in each zone, even though he will continue to get stronger in the next few years. In 66 games for the Blades last season, Thrower scored 18 goals and added 36 assists.
Adding two superb offensive players, in addition to a potential top-pairing defenseman, was an important step in the right direction for the Canadiens.
Free Agency

Without making any major free-agent signings of players from other teams, the Canadiens will end up as one of the winners of free agency.
How would you grade Bergevin's offseason?
Bergevin was able to lock up young forward Max Pacioretty for six years at a salary cap hit of just $4.5 million. If Pacioretty continues to improve at his current pace, this contract will be a steal for the Canadiens. Re-signing star goaltender Carey Price to a long-term deal, while at the same time not overpaying, was also a positive move by Bergevin.
The signing of Brandon Prust was also smart because he will bring more grit to the fourth line, and drop the gloves to protect his teammates when necessary.
Signing former Toronto Maple Leafs forward Colby Armstrong will also add leadership and depth to the Canadiens' roster.
Progress Is Being Made
Bergevin is moving the Canadiens forward with some intelligent decisions in the draft and free agency. I wrote last month about why he has the toughest job in hockey, but right now, Bergevin isn't making the job look difficult at all.
This is a great sign for Canadiens fans, who not too long ago weren't that optimistic about the team's future.
Nicholas Goss is an NHL lead writer at Bleacher Report. He was also the organization's on-site reporter for the 2011 Stanley Cup Final in Boston. Follow him on Twitter.