WWE Night of Champions 2012 Preview: 10 Storylines That Need to Be Addressed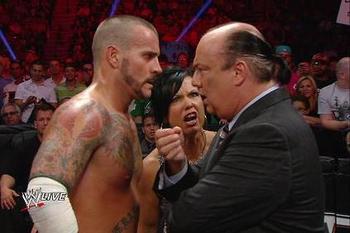 Photo courtesy of WWE.com
The WWE did its best to tie up any loose ends and prepare for Night of Champions under difficult circumstances on Monday, but Sunday night is when many storylines will either come to an end or be kicked up another notch as they continue.
Aside from CM Punk vs. John Cena and Sheamus vs. Alberto Del Rio the writers haven't put a ton of time into most of the feuds, but they have an opportunity to turn up the heat at Night of Champions. Although most fans enjoy Night of Champions traditionally, it isn't a main pay-per-view, so most angles figure to be furthered rather than terminated.
I have high hopes for the WWE over the next couple months leading up to Survivor Series, as there is potential for several intriguing storylines, but it all depends on how things go at Night of Champions. If everything is executed perfectly, then I'm very excited about some of the feuds we might see.
Here are the top 10 storylines that need to be addressed at Night of Champions on Sunday in order to ensure the WWE's success moving forward.
What's Behind the CM Punk and Paul Heyman Partnership?
When CM Punk jumped into a car driven by Paul Heyman last week, the wrestling world was abuzz and wondering what the motivation was behind the pairing. Heyman talked to Punk during his tag-team match this week and eventually walked off with the WWE Champion, but he wasn't a focal point and their relationship wasn't discussed much.
Punk told Matt Striker that he's a "Heyman guy," but that was the extent of the conversation. Heyman is going to have a part in what happens at Night of Champions, but it's a question of what he'll do. I don't believe that Heyman will initially accompany Punk to the ring, but at some point during the match, he'll come out and distract the referee.
At that point, Big Show will appear, hit Cena with a WMD and help Punk get the win. Punk, Big Show and Heyman will then celebrate the formation of a new heel stable at the close of the show. Heyman could explain himself in detail the following night, but that situation would suffice at Night of Champions.
Continue the Feud Between CM Punk and John Cena
I understand that CM Punk and John Cena feuded last summer and that they already had a match at RAW 1000 and a triple threat at SummerSlam, but I certainly hope that Night of Champions isn't the last we see of their rivalry. Say what you will about it being repetitive, but I don't see anything boring about the top two guys in the company matching wits and going at it blow for blow.
When you think about it, there aren't really that many top faces worthy of challenging for the WWE Championship other than Cena. Sheamus has the World Heavyweight Championship and Randy Orton is set to begin filming 12 Rounds: Reloaded soon, so the options are fairly limited.
With that in mind, Punk vs. Cena has to last through Hell in a Cell, at the very least.
Ending the match in the fashion I suggested with Big Show and Paul Heyman helping Punk win would create a reason for a rematch to happen. As much as I would like to see a heel Punk win clean, it would kill the feud and that wouldn't bode well for the WWE moving forward.
Sheamus vs. Alberto Del Rio Must Come to an End
I said at SummerSlam that Sheamus and Alberto Del Rio should have been having their last match together, and I said it several times before that and since as well, yet Sheamus and Del Rio are doing battle for the World Heavyweight Championship again at Night of Champions. This honestly has to be the last time, however.
I haven't spoken to or heard from a single wrestling fan, myself included, who has enjoyed this feud. I wasn't even a fan of it when it started months ago, so the fact that it is still going on today is absolutely mind-boggling. This angle was doomed from the beginning because Del Rio was never made to look like a credible challenger and even though he has been built better as of late, it's too late.
Nobody wants to see Del Rio as champion, so Sheamus has to win this match clean. He won controversially at SummerSlam, and that opened the door for another match, but there can be no doubt this time. Have Sheamus win the match with his new Texas Cloverleaf submission and have both men finally move on to greener pastures.
Sheamus vs. Wade Barrett Must Begin
Wade Barrett returned to action somewhat surprisingly on SmackDown last week, as he defeated Yoshi Tatsu in a squash match. I actually expected him to come back at SummerSlam to attack Sheamus after his match, but I may have been about a month early on that prediction. It won't be as shocking since he already had a return match, but I believe that Barrett attacking Sheamus at Night of Champions would be a great setup for a feud.
Sheamus needs a new opponent to breathe some life into his stagnant title reign, and Barrett could be just what the doctor ordered. Barrett has been out for several months, so anything he does would feel fresh, and I believe he is the perfect challenger for Sheamus. Both are tough, no-nonsense guys who would put on some vicious and entertaining matches.
Barrett has never won a world title, but he is unquestionably a future world champion, as he has all the requisite tools. SmackDown has been a wasteland lately thanks to Sheamus and Del Rio plodding along, but Sheamus vs. Barrett is something that should get the fans interested again.
Begin a Feud Between The Miz and Cody Rhodes
Since winning the Intercontinental Championship, The Miz has been booked very poorly with non-title losses to Rey Mysterio, Kane and John Cena. I had hoped that he would help bolster the title and that it would do the same for him, but Miz hasn't been able to gain any momentum, so he needs something drastic to happen in order to become relevant again.
Miz interfered in a match between Mysterio and Cody Rhodes on Monday, as he distracted Mysterio and helped Rhodes pick up the win. Miz was then about to give Mysterio a Skull Crushing Finale, but Rhodes hit Miz with Cross Rhodes instead. It suddenly thrust Rhodes back into the Intercontinental Championship scene as he, Mysterio, Miz and likely Sin Cara figure to compete in a fatal four way at Night of Champions.
Rhodes has been lost without the belt, so I would give him the win on Sunday, with Miz teasing a face turn. I love Miz as a heel, but I don't feel like the creative team gives him proper respect, so he could use a change. Miz and Rhodes could then start a heel vs. heel feud that eventually turns into Miz becoming the face and moving on to bigger and better things.
Make Sin Cara and Rey Mysterio an Official Tag Team
Rey Mysterio and Sin Cara have been working together as a tag team quite a bit lately, but their respective feuds with Cody Rhodes has kept it from becoming anything more substantial. Both men will compete against Rhodes and The Miz for the Intercontinental Championship on Sunday, but I don't believe that Mysterio or Sin Cara stand a real chance at winning.
That is fine with me, though, because I think they will be most valuable as a tag team moving forward.
The tag division is starting to gain a bit of traction after two years of mediocrity, and throwing Mysterio and Sin Cara into the mix would provide a major boost. They are an exciting team, and it makes sense for them to be together, so I'm hoping that the creative team takes that idea and runs with it.
Have Mysterio and Sin Cara help each other throughout the match on Sunday, but ultimately, both will come up short. Mysterio and Sin Cara can then work their way up the tag-team ranks and have excellent matches with underrated teams such as Primo and Epico or The Usos. I would eventually have them win the titles and hopefully that will lead to a new golden age of tag-team wrestling in the WWE.
Put Ryback and Antonio Cesaro in a Real Feud
I really appreciate what the WWE has been trying to do with new stars such as Brodus Clay, Damien Sandow, Antonio Cesaro and Ryback lately in terms of building them up and making them look strong, but a guy can only compete in squash matches for so long before the fans get tired of it. That is the case for Cesaro and Ryback in particular right now, as both of them need a little more substance.
Cesaro beat Santino Marella for the United States Championship at SummerSlam and defended it against him last week, but he has yet to engage in an actual feud.
Ryback has been squashing jobbers for months, and although the fans seem to like him, his act is wearing thin. With that said, why not put them against each other at Night of Champions.
The winner of the pre-show battle royal will face Cesaro later in the night for his title, so I would have Ryback decimate everyone and win that match. He and Cesaro could then have a solid match that ends in either a disqualification or countout victory for Ryback. This way Ryback's streak would continue, neither guy would look weak and their feud could continue for the foreseeable future.
Solidify Kane and Daniel Bryan as a Tag Team
I have absolutely loved the idea of a Kane and Daniel Bryan tag team since their feud began ahead of SummerSlam, and I'm now ecstatic that the pairing has finally become official.
Kane and Bryan were forced to team by general manager A.J. Lee and Dr. Shelby on RAW. They then defeated The Prime Time Players to become the new No. 1 contenders for the Tag Team Championships.
Kane and Bryan will face Kofi Kingston and R-Truth for the belts on Sunday, and there is no doubt that they need to come out on top. Kofi and Truth have been very boring as champions and feel like placeholders, so it's finally time for someone to assume their place. Kane and Bryan are more entertaining than anything in the tag division for a very long time, so they would be excellent champions.
Not only would the titles be featured prominently since Kane and Bryan are a big part of RAW every week, but they could have matches with all of the other teams and help the division by virtue of that since both Kane and Bryan are among the WWE's top workers.
Whatever happens on Sunday, I hope it results in Kane and Bryan becoming a permanent tandem.
Let Dolph Ziggler End His Feud with Randy Orton with a Win
Dolph Ziggler and Randy Orton have been involved in an entertaining mini-feud over the past few weeks, but with Orton preparing to film 12 Rounds: Reloaded and their series tied at 1-1, it looks like Sunday will probably be the rubber match and ending to their feud. Orton got the better of Ziggler on SmackDown a couple weeks ago, but Ziggler evened the score on RAW, so there is a lot riding on the bout at Night of Champions.
It is the only match on the main card without a title on the line, and I doubt Ziggler's Money in the Bank contract will be put on the line between now and then, but it will be a huge contest for Ziggler. From Orton's point of view, it doesn't really matter since he is taking a break soon, is an established main-event guy and has been world champion several times over, but Ziggler is still trying to reach that point and needs every win he can get.
I haven't been happy with the booking of Ziggler thus far, as he senselessly lost to Chris Jericho at SummerSlam, but the writers can still make things right. Beating Orton on a pay-per-view would really help solidify Ziggler as a future world champion, so hopefully that is the case. I anticipate Ziggler hitting Orton with the briefcase, scoring the win and continuing to gain momentum.
Get to the Root of Eve's Motivations
Whether you're a fan of the divas or not, there is a Divas Championship match on the Night of Champions card and it's worth talking about, because the writers have a chance to do something interesting.
Layla will defend the belt against her friend, Kaitlyn, but Eve has been heavily involved lately as well and figures to play a role of some kind.
Eve is a heel, but she has been very friendly with Layla and Kaitlyn, so she obviously has ulterior motives. With Eve winning Stars and Stripes on NBC and being featured so prominently on WWE programming, it appears as though she is the next top diva, so everything that happens on Sunday will be done to position her for success.
That is why Layla will lose to Kaitlyn and then turn heel as she and Eve will beat down the new champion.
The divas division needs to be shaken up, so I would really enjoy a Layla heel turn and partnership with Eve that would be similar to what Laycool was. Layla would eventually lose her rematch, but she would then support Eve in her quest to win the title, which she ultimately would accomplish at either Hell in a Cell or Night of Champions.
Follow @MikeChiari on Twitter and listen to him on Ring Rust Radio.
Keep Reading