UFC 152: Jon Jones vs. Vitor Belfort Is Making the Best of a Bad Situation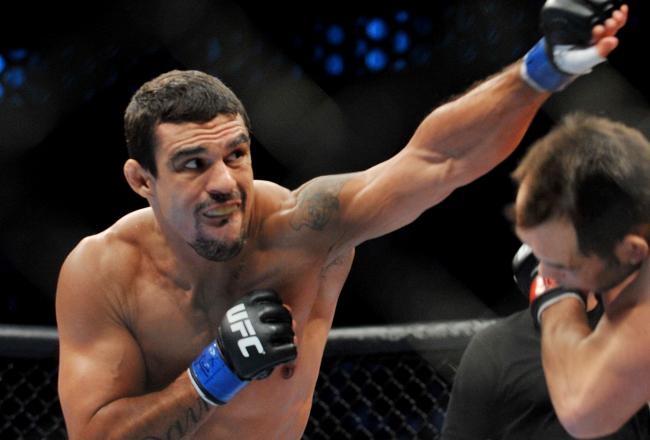 Jon Kopaloff/Getty Images
You know what's interesting? People are still complaining about the cancellation of UFC 151. They're trying to point fingers and cast blame, finding arguments anywhere they can about what went wrong and why it did.
Some of that is due to the fact that Jon Jones, one of the more at-fault parties in the whole mess, just doesn't know when to shut up.
Some of it is because Dan Henderson and Chael Sonnen are so popular that people are simply loath to miss them getting a shot at gold.
Some of it is because people just love to complain and will take any chance they can to enjoy a protracted campaign of hating on anyone or anything that opens up the opportunity.
But you know what most people don't seem to be complaining about? The fact that Vitor Belfort, an aging middleweight who hasn't seen 205-pound action since 2007, randomly jumped the queue for a crack at Jones in a couple of weeks at UFC 152.
Why is that? Because the matchup is oddly compelling.
In Belfort the UFC is promoting the last generation's version of Jones. He was the best fighter in the world at 19, a former tournament champion from days of yore. Now, he's a grizzled veteran, a top-5 middleweight who still shows flashes of the old Vitor—which is, ironically, the young Vitor—and who can put guys away in a flash with his flurries and killer instinct.
Jones is the new breed. He's a guy that most would argue is largely indestructible. Not only does he not lose, he never looks challenged. He hulks over his 205-pound adversaries with a freakish build and dominates them with absurd athleticism. He's no joy to listen to, but he's a joy to watch.
Are you interested in Jones/Belfort?
The one issue he has though, is that he's not a fighter. He's said so much in any one of his insufferable interviews.
He's an athlete and a businessman. He fights because he's good at it, fights so he can get his own line of Nike apparel, buy Bentleys, and generally live a life of leisure. The thing about athletes and businessmen, though, is that they rarely like to get punched in the face.
Jones is no different.
The only time he's ever really been ruffled was against Lyoto Machida, who worked angles and distance to pepper the champ and actually take a round from him. That fight obviously ended up in Jones' favour, but he definitely didn't have the easy enjoyment of fight night that he's accustomed to. Even his statements in the press conference that he found out he "could take a hit" were uttered with decidedly less confidence than a man who believed what he was saying would normally exude.
With Belfort, there's a very good chance he'll be hit again. Probably harder than Machida hit him too, given how The Phenom tends to blitz and swing for the fences. How well Jones is equipped to handle that is still a relative mystery, because he's never dealt with someone so quick and so powerful.
Make no mistake, this is not to say that you should go bet your house on Vitor Belfort come September 22. You shouldn't.
Jones has been a dominant light heavyweight champion; Belfort has been a solid middleweight contender at the same time.
That said, there's a lot more to this scrap than meets the eye. The absurd Vegas odds are insulting to a man who was winning titles when his opponent was finking on pot smokers behind the school gym. If Belfort comes with his head on straight and a commitment to trying to knock Jones out or die trying, this game gets a whole lot more interesting.
At the end of the day, isn't that what it's all about? Interesting fights?
Controversy be damned, that's what people want to see. Who cares how we got here? Jones-Belfort is the ultimate in making the best of a bad situation.
This article is
What is the duplicate article?
Why is this article offensive?
Where is this article plagiarized from?
Why is this article poorly edited?