My colleague, NFC East lead writer Brad Gagnon, put it best: "The reality is that [stats] rarely tell the whole story, but I also find that they almost always tell part of the story."
Ultimately, the "whole story" will only be written when the season is over, when we have an idea of how these stats look in the end. For now, let's just take a look at the stats that had an impact on Sunday's game between the New England Patriots and Tennessee Titans.
1.25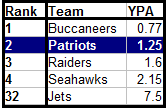 That is the yards per carry allowed to the Titans on Sunday. Specifically, running back Chris Johnson gained 0.36
YPA
—that's not a typo.
"CJ2K" has steadily declined in recent years; he averaged 5.6 yards per carry in 2009, while becoming one of just six backs in NFL history to rush for over 2,000 yards. He averaged 4.32 YPA in 2010 and just 3.99 YPA in 2011, but is still regarded as a big-play threat every time he touches the ball.
This matters because while the pass defense took up much of the attention this offseason, the Patriots defense gave up an average of 4.63 YPA in 2011 (24th in the NFL), so clearly, that was also an area needing improvement.
It's also important because Johnson and the running game were likely the focal point of the defensive game plan, and the fact that they were so successful in limiting his production indicates they did what they set out to do.
15.5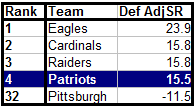 That's New England's defensive opponent-adjusted success rate, according to
Advanced NFL Stats
, which is described as "[the] proportion of plays in which a player was directly involved that would typically be considered successful." This is a broad definition, but reflects how often the Patriots were directly involved in preventing successful output from the Titans offense.
Their success rate on defense ranked fourth in the NFL in Week 1.
That's important because the Patriots finished dead-last in defensive success rate last year. The Patriots defense has come under fire for years for its inability to stop anyone from moving the ball—some would say it "can't stop a nosebleed."
If performances like this week's continue, those days could be gone.
35.71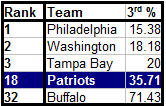 That's the conversion rate allowed by New England on third down, according to
Team Rankings
. That's hardly a world-beating number, but it's a drastic improvement over its third-down defense from a year ago, which gave up conversions on 43.55 percent of third downs for the fifth-worst conversion rate in the NFL.
Third-down defense has been an area of struggle for the Patriots for years, finishing 27th in 2008 (44.4 percent), 19th in 2009 (35.1 percent), 32nd in 2010 (47.1 percent) and 28th last year (43.6 percent).
This is important because of the "bend-don't-break" mantra the Patriots defense operates under. To put it plainly, the more "bending" the Patriots defense does on third downs, the more likely it is to ultimately "break" by allowing an opponent to drive the length of the field.
3.9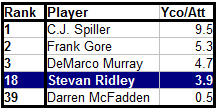 That's the number of yards after contact per attempt for running back
Stevan
Ridley
, according to
Pro Football Focus
.
The number ranks him fifth among all running backs for Week 1, and fourth among backs with 10 or more attempts.
This number is important because, as Jeremy Lundblad of ESPN points out, the Patriots haven't been able to get big plays in the running game for a long time, and part of that was because of their inability to get yards after contact.
Former Patriots running back BenJarvus Green-Ellis, for all of his redeeming qualities, averaged just 2.1 yards after contact per attempt.
Ridley also upstaged his predecessor by causing five missed tackles on Sunday—that's over a quarter of Green-Ellis' total missed tackles all of last season on 181 attempts.
It's only one week, but the Patriots may not be as one-dimensional an offense this year as they've been in years past if Ridley is able to keep this up.