WWE Night of Champions 2012: 5 Reasons Why CM Punk Will Destroy John Cena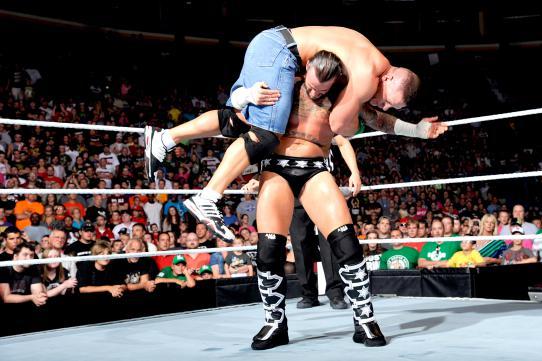 Photo courtesy of WWE
At Night of Champions, the main event that everyone is waiting to see is John Cena vs. CM Punk. Can the Doctor of Thuganomics reclaim his spinner belt, or will CM Punk finally get the respect he craves?
While Punk has been on a bit of a tirade as of late, rambling about respect and seemingly walking out on matches, he is still one of the best wrestlers in the WWE.
Something John Cena may have forgotten.
Sure, they can both run their mouths on RAW, but at the end of the day, Punk may be too much for Cena to handle.
Let's not forget Punk did beat Cena last year for the WWE title. He has only improved as a wrestler since then, while John Cena has remained the same.
Punk is the WWE champion, and has remained champion for over 300 days because of his skills. He might be acting like a typical heel now, but he still has what it takes to beat John Cena at Night of Champions.
Here are five reasons why CM Punk will destroy John Cena.
Begin Slideshow

»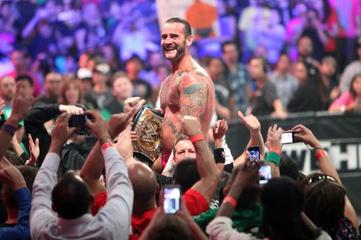 Photo courtesy of WWE
CM Punk was able to beat John Cena twice last year, once to capture the WWE title and once to retain it.
Since then, CM Punk has been on a roll. He was able to defeat Chris Jericho multiple times, and was also able to beat both Daniel Bryan and Kane to keep his championship.
Cena, on the other hand, has simply survived. He managed to survive the beating from Lesnar, and managed to outlast John Laurinaitis and everything he threw at him. Unlike Punk, Cena has simply survived through the year.
Punk meanwhile, has only improved as a wrestler. No matter what test has been thrown at him, he has managed to overcome it.
He has gone from a loudmouth with an open mic, to a champion worthy of the long title run he currently has.
If John Cena struggled with Punk when these two clashed over a year ago, how will he be able to handle him now?
Punk was a fantastic wrestler when these two first went head-to-head for the title. Now, with over a year of even more experience reigning as the champion, Punk is on a whole other level.
With his gained experience, look for Punk to be the one with his hand raised in the end.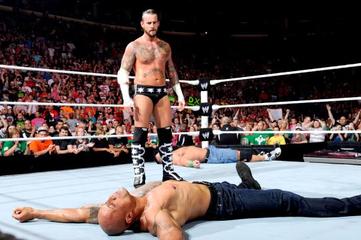 Photo courtesy of WWE
With recently being rated No. 1 in PWI's 500 list, Punk can say he is the best in the world with confidence.
John Cena might be considered a good wrestler by some, but without a doubt, this year has been the year of CM Punk.
He had indeed proven what he said on RAW this past Monday. He is the best wrestler, the best talker, the best technician and the best brawler.
One of the benefits that came along with CM Punk and the experience he gained, are his overall improvements as a wrestler.
Yes, Cena is good enough to be a main eventer, but he can still be boring and predictable in his matches.
With his usual array of moves, and the question of just how healthy John Cena is, from a wrestling perspective it's hard to deny CM Punk's advantage.
Punk has been a dominant champion for more than 300 days, and while Cena might be Punk's hardest challenge yet, Cena might be underestimating the WWE champ.
Yes, his rants of respect, and how he walked out of his match with Sheamus a couple of weeks back might make Punk seem like a coward.
But Punk has some of the best wrestling abilities in the WWE, and he has proven it throughout the year. Punk proved a point when he attacked The Rock and left him in the ring during the 1000th episode of RAW.
Something John Cena couldn't get done at WrestleMania 28.
Punk will beat Cena at Night of Champions and show everyone that he is the best in the world.
Photo courtesy of WWE
While Night of Champions might be in Cena's hometown of Boston, but it by no means gives him any sort of advantage over Punk. Most wrestlers who end up in a match in their hometown would get cheered, and backed by a lot of the fans, but in Cena's case it's different.
Cena was quoted over at WWE.com as saying:
"I've been cheered there, and I've been booed there, but that's the Boston fans."
Is it just Boston fans, though? Cena seems to get booed everywhere he goes, and the one place where it might seem like he would be met with cheers and almost no chants of Cena Sucks, would be his hometown of Boston.
Yet, the leader of the Cenation will have no advantage over Punk as they step into Boston this Sunday. While Punk himself might be met with boos because of his recent heel turn, Cena will be booed for other reasons.
When people in his hometown boo him and he's supposed to be the good guy, how much of an advantage could Cena really have?
One of the biggest factors of CM Punk's win over Cena at last year's Money in The Bank was the pay-per-view being in Punk's hometown of Chicago.
Unfortunately for John Cena, without hometown advantage, Punk will have an even greater chance to leave the WWE Champion.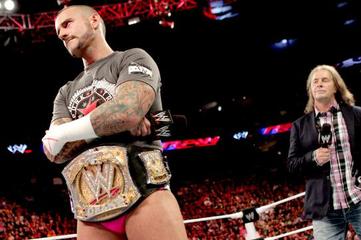 Photo courtesy of WWE
CM Punk might sound crazy when he constantly rambles on about respect.
What's even more crazy is how John Cena says he has to earn it.
Hasn't Punk had a huge majority of the fans behind him since the beginning of his title run last year? Yet, even with the respect of fans, Punk was never put into the main event spotlight of pay-per-views.
CM Punk has more riding on the line during this match than Cena has. If Cena loses this match, he simply wont hold the title.
He's still going to main event, he's still going to be in the spotlight. Punk on the other hand, has to shine at Night of Champions. He has to prove to Cena, and to everyone else that he is the best in the world, and that he does deserve respect.
Punk also has his title reign on the line. He has gone over 300 days so far as the champion, and if he hopes to continue his reign and go down in the record books as one of the longer title reigns in WWE history, he needs to outlast John Cena at Night of Champions.
Can Punk make it all the way to The Rock at the Royal Rumble? We will have to wait and see, but clearly Punk has to beat Cena to make that a reality.
With so much at stake, Punk will destroy Cena and prove that he in fact, does deserve respect.
Photo courtesy of WWE
Without a doubt, the biggest reason why CM Punk will destroy John Cena lies with Paul Heyman.
Expect Heyman to get involved somehow in the match this Sunday. With a wild card like Heyman by his side, how can Punk lose?
It won't stop at Night of Champions, though. In fact, look for this to be the starting point of an alliance between Punk and Heyman.
How will Cena be able to handle the numbers game of Paul Heyman and CM Punk? Will Brock Lesnar end up getting involved in this new alliance as well?
Everything might not be revealed at Night of Champions, but it's a good place to start the Heyman-Punk era. What better way to start a heel stable than by causing the top face in the company his chance at the title?
At Night of Champions, Paul Heyman will get involved in the CM Punk-John Cena match. Look for him to play a big role in why CM Punk destroys John Cena.