John Axford: Why Milwaukee Brewers Closer Won't Give Up His Job Rest of Season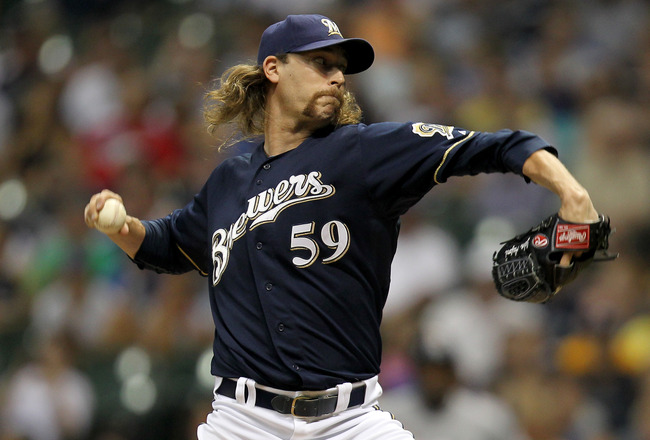 John Axford (No. 59) doesn't fail to impress with that hair.
Mike McGinnis/Getty Images
Nearly a month ago to the day, John Axford's future as the Milwaukee Brewers closer was tenuous at best.
If you had asked Brewers fans whether Axford still deserved his job, they would not have answered in the affirmative.
Axford's job was very much in jeopardy after a brutal June (1-3, 9.00 ERA) and shaky month of July (three blown saves). He did not help his cause by allowing three runs (two earned) and two walks in just one-third of an inning during his first August appearance.
As of September 12, however, the collective sentiment regarding the eccentric Canadian has reversed a complete 180 degrees. There isn't any doubting his role as the No. 1 guy at the end of ball games anymore.
His sixth consecutive save in as many appearances on Monday revealed as much.
Moving forward, then, lets describe the three reasons why Axford won't give up his closer job the rest of the season.
Perfect September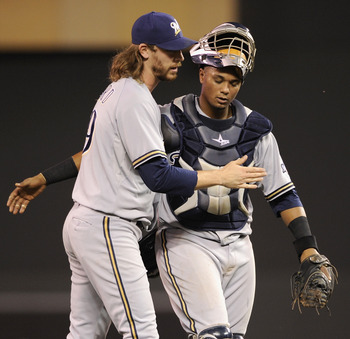 Hannah Foslien/Getty Images
The title of this slide is actually a bit misleading; Axford's game log has been blemish-free since late August.
From August 28 until today (nine appearances), Axford did not allow a run and gave up just one hit in 8.1 innings of work. He totaled eight saves and was the winning pitcher in one of those outings.
His strikeout-to-walk ratio of eight to six isn't anything spectacular. Yet, the drop in his ERA from 5.26 to 4.62 certainly is. More importantly, Axford hasn't blown a save opportunity for over a month.
These accomplishments amount to a measure of consistency needed out of a team's closer. Axford is indeed the man for that job for the Milwaukee Brewers.
Only Man for the Job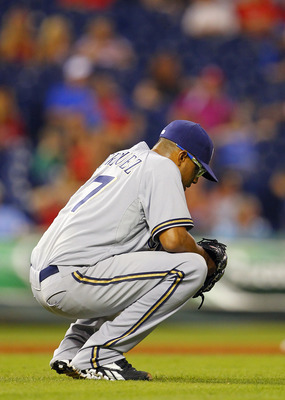 The look of a dejected man after blowing consecutive saves.
Rich Schultz/Getty Images
So, if manager Ron Roenicke removed Axford from the closer role, who would serve as his replacement?
The first candidate would be Francisco Rodriguez, the former phenom that owns 294 career saves.
Since Rodriguez last recorded a save on July 18, he's blown his three other opportunities in grand fashion. He blew back-to-back chances in Philadelphia that resulted in two loses. After allowing six runs in those 1.1 innings, he imploded against the hapless Cubs in late August, surrendering three more runs, while recording just one out.
Rodriguez's seventh blown save was the final straw. Roenicke dropped him down to the setup role once and for all because the pitcher clearly doesn't have the mental composure anymore to fulfill those duties.
Next, Jim Henderson's 3.92 ERA is the best out of any reliever on the squad, but the rookie is far from ready to assume the closing job. His three blown slaves negate the positives of his three conversions.
Jose Veras' 73 strikeouts in 59.1 innings are fairly intriguing. The career vagabond, though, walks far too many hitters and has never closed before. Kameron Loe also has decent strikeout stuff, but his five blown saves in seven opportunities do not lend credence to closing capabilities.
That leaves John Axford as the most qualified man in the 'pen. He has done it before—and done it well—evidenced by his 46 saves and 1.95 ERA last year. His latest successful run is indicative of that track record and what he's capable of moving forward.
"It Factor"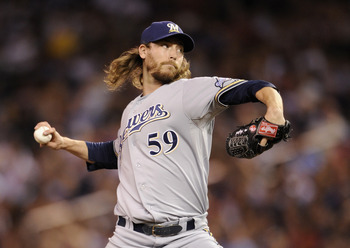 Hannah Foslien/Getty Images
Sometimes merely looking the part is essentially sufficient for taking care of certain duties.
Just like Axford's unique hairstyle—facial hair included—having a particular aura is one of those odd, unquantifiable characteristics that qualify someone for the closer role.
Axford carries himself as an authoritative closer when on the mound. He stands unafraid, stares hitters down and utilizes nasty stuff to put hitters away.
He, unlike Rodriguez, has the poise and adaptability to move beyond the bad outings and create a long-running streak of good ones. He acts as if he has been there before—and successfully at that. It's the idea of intangible factors transforming into tangible victories.
The Milwaukee Brewers must keep the National League saves leader in 2011 in that same position moving forward. They have wild card aspirations for October baseball in 2012, and Axford is a man that will help them get there.
Follow on Twitter @jlevitt16
Keep Reading

Milwaukee Brewers: Like this team?