New York Yankees: 6 Changes Joe Girardi Must Make to Win the AL East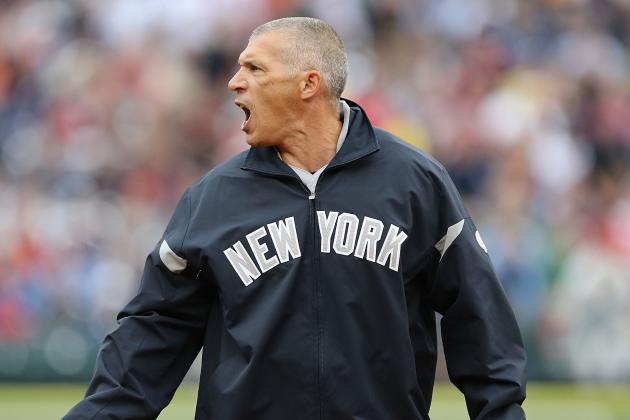 Leon Halip/Getty Images

While it was their hated rivals to the north—the Boston Red Sox—who set the standard for late-season collapses by blowing a nine-game lead and missing the playoffs in 2011, the New York Yankees have seen a 10-game lead in mid-July disappear.
They head into Wednesday night's game with the Red Sox at Fenway Park tied with the Baltimore Orioles for the lead in the American League East for the third time in a week.
The good news is that every time the Orioles have caught the Yankees, the Yankees have bounced right back to reclaim the division lead the following day. The bad news is that after holding a 10-game lead, New York shouldn't even be in the position of having to fight off the O's and the Tampa Bay Rays at this point in the season.
So while manager Joe Girardi has been screaming at fans in Chicago and screaming at New York Post columnists after games, there might be some things he can do in the dugout to help maximize the Yankees' chances of holding off the pesky Orioles and Rays and winning the division.
Those suggestions are as follows...
Begin Slideshow

»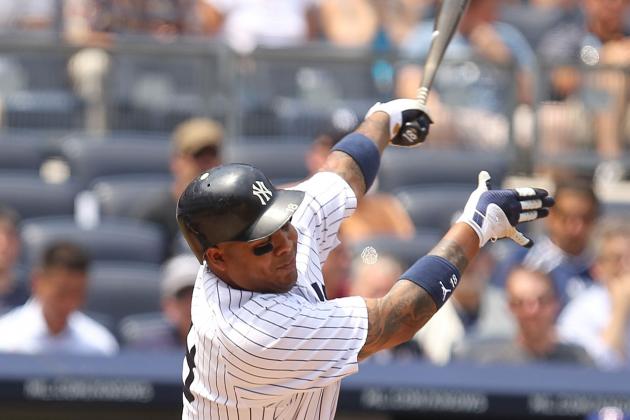 Al Bello/Getty Images

Jones hasn't hit his weight since the All-Star break. He was only hitting .244 but swatted 11 home runs in the first half of the season working mostly against left-handers.
But since the break in July, Jones has disappeared at the plate.
He's hitting .151 in 93 at-bats with just two home runs, nine RBI and 28 strikeouts. That adds up to a hideous triple slash post-All-Star Game of .151/.245/.247.
I get that Girardi likes to lean on veterans, particularly down the stretch. But when that veteran is essentially an empty out virtually every time he goes to the plate, Girardi might want to think about playing someone—anyone—else.
Even Jayson Nix and his .250 average would be an upgrade at this point, or perhaps some DH at-bats against left-handers could go to Eduardo Nunez.
Nunez can't field, but he can hit. So let him.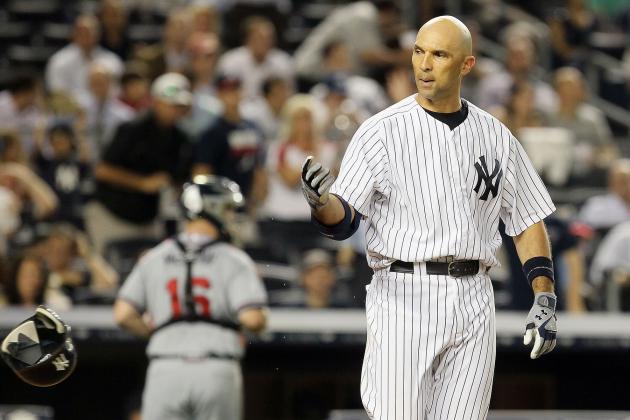 Jim McIsaac/Getty Images

Continuing the theme of veterans who are coming up absolutely empty down the stretch, Ibanez has been a .202/.291/.361 hitter in the second half with four home runs and 17 RBI. That came after a .240/.298/.457 first half during which he hit 11 homers and drove in 36 runs.
Ibanez turned 40 in early June and was acquired because he hits right-handers so well. For his career, he's a .283 hitter against right-handers.
This season? Not so much. He's at .236/.308/.458.
For my money, Chris Dickerson and Eric Chavez are far better left-handed hitting options than Ibanez, who might very well be at the end of the line.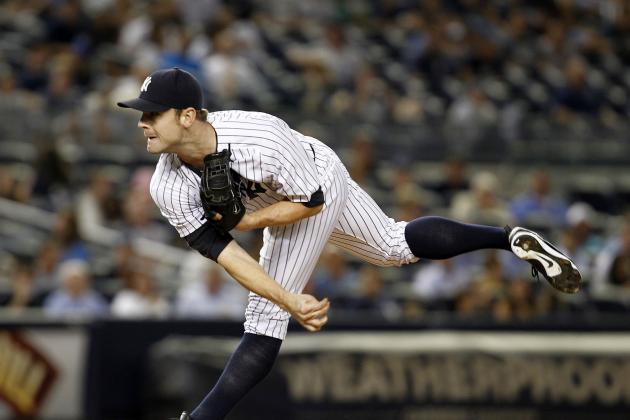 Jeff Zelevansky/Getty Images

Robertson lost his third straight decision in September Tuesday night, getting roughed up for a run and three hits in the ninth inning after striking out the side in the eighth.
Robertson also took a loss at Baltimore last Thursday, giving up two homers and three runs while facing only three hitters, and he was the loser on Sept. 3 in Tampa, surrendering a run on three hits.
Robertson's overall numbers are still pretty solid: 2.84 ERA, 1.22 WHIP and 67 strikeouts in 50.2 innings.
But since the break his ERA is up to 3.12, and he's given up five runs, all earned, in just 5.1 innings this month (an 8.44 ERA) and has allowed 10 hits, including two homers. He surrendered three home runs total in April through August, so it's got to be a concern.
So perhaps Girardi could break out of his routine a bit and use Robertson earlier until he can get himself right—and maybe shift someone else to the eighth inning for a while (more on that in a moment).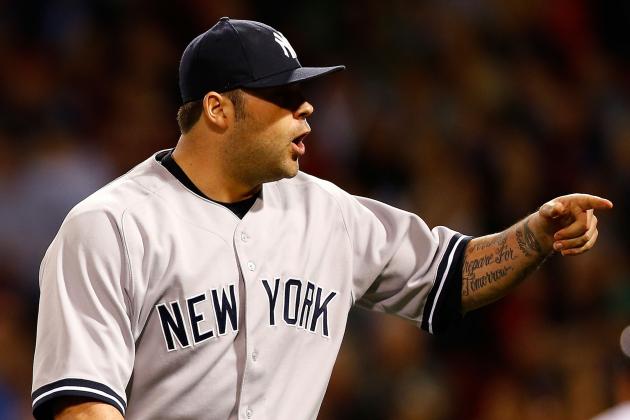 Jared Wickerham/Getty Images

Chamberlain returned from the disabled list at the end of July after having elbow surgery in May 2011 and suffering a setback in spring training because of a freak ankle injury.
He was almost uniformly awful upon returning and his numbers are still quite ugly (7.11 ERA, 1.89 WHIP in 13 appearances and 12.2 innings).
But he was sharp in earning his first win in more than a year on Sunday in Baltimore, retiring five of the six hitters he faced and striking out four. He was also solid in getting a couple of outs Tuesday night to get Hiroki Kuroda off the hook in the seventh inning.
Given Robertson's recent struggles and the inexperience of every other right-hander in the pen, perhaps Girardi could trust Chamberlain with the ball in the eighth inning to help take some of the pressure off Robertson as he tries to right himself.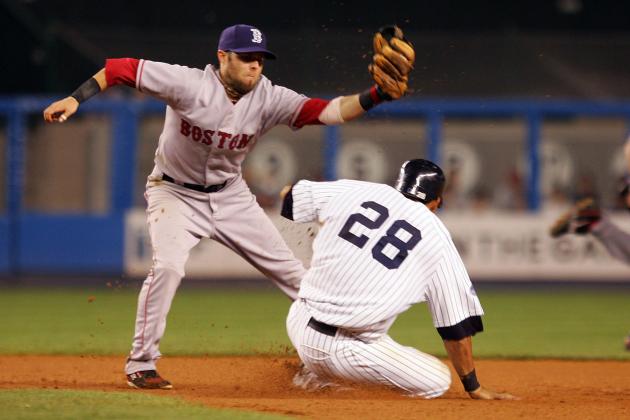 Jim McIsaac/Getty Images

Only the Detroit Tigers and the Orioles have fewer stolen bases in the American League than the Yankees' 71. Alex Rodriguez is the only Yankee in double figures, with 11.
Curtis Granderson, who swiped 25 bags a year ago, has only attempted 11 steals this season and has been successful eight times. Derek Jeter is 9-for-13 on the basepaths. Eduardo Nunez has seven steals in very limited duty.
I'm not advocating the Yankees suddenly start trying to play like the 1982 St. Louis Cardinals. But given the team's offensive struggles of late, maybe it wouldn't be the worst idea in the world to put a little pressure on the defense by putting runners in motion to open up some holes.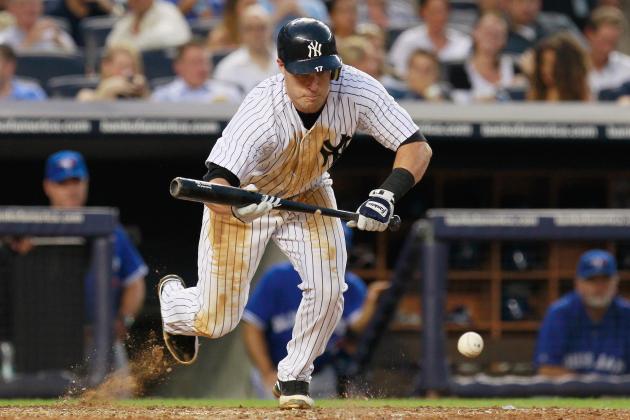 Mike Stobe/Getty Images

It was the Hall of Famer Weaver, during his long career managing the Orioles, who said, "The key to winning baseball games is pitching, fundamentals and three-run homers."
By comparison, Girardi sometimes makes it look like Weaver was over-managing with his reluctance to put on plays.
With the club's top long-ball threat Mark Teixeira back on the shelf for another 10 to 14 days because of his troublesome calf injury, Nick Swisher mired in a 4-for-48 slump, Curtis Granderson stuck in a 5-for-25 funk and Alex Rodriguez still finding his power stroke since returning from a six-week disabled-list stint because of a broken hand, the Yankees need to manufacture some offense.
So come on, Joe. I'm sure you've got the signs somewhere. Bunt (like you did with Jayson Nix Tuesday night) once in a while. Maybe put a hit-and-run on.
With the team undergoing a nearly universal power outage, it's incumbent upon Girardi to help the team find ways to manufacture runs.
You know—the way teams that don't have $200 million payrolls have to do sometimes.