Penn State Football: Predicting Each Game for Rest of Nittany Lions' Season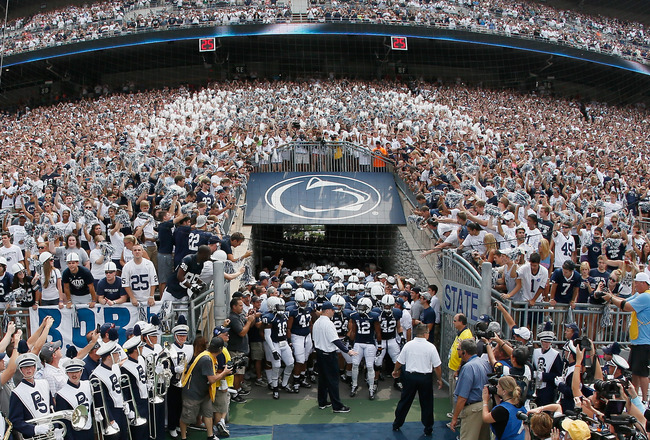 Rob Carr/Getty Images
Penn State's first two games in the Bill O'Brien Era haven't been easy.
After a loss to Ohio in their home opener, the Nittany Lions traveled south to Virginia searching for a win.
Although the Lions lost to Virginia, there were visible improvements to O'Brien's team on both sides of the ball (minus Sam Ficken).
Now heading into their third week under O'Brien, the future for Penn State is looking bleak.
A tough Big Ten schedule is only two games away, and the next two non-conference games for the Nittany Lions won't exactly be a walk in the park.
So when will O'Brien get his first win as Penn State's head coach?
It may be sooner than you think Nittany Lion Nation.
How many games will Penn State win this season though is an entirely different question.
Navy at Penn State (Sept. 15)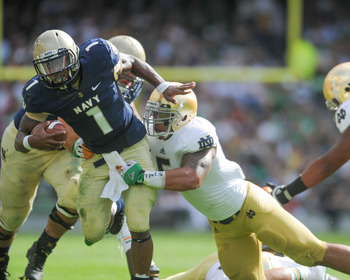 Miller (above) leads the Navy option offense.
Barry Cronin/Getty Images
With the Lions returning to Happy Valley fresh off of a bitter-tasting loss to Virginia, O'Brien will have his team ready for Navy.
The Midshipmen were dominated two weeks ago in Ireland against Notre Dame, and Penn State is hungry for their first win with a new head coach.
After losing their two leading rushers in quarterback Kriss Proctor and fullback Alex Teich, Navy's offense will be leaning on back Gee Gee Greene and quarterback Trey Miller
Miller is a good athlete, but Beaver Stadium is an unforgiving place for most visiting quarterbacks.
To win, Penn State will need to prevent Navy from making big plays on play-action passes from their option offense.
The Lions will rebound from a painful loss to Virginia and ride their defense led by Michael Mauti to beat Navy.
PREDICTION: Penn State 28, Navy 14
Temple at Penn State (Sept. 22)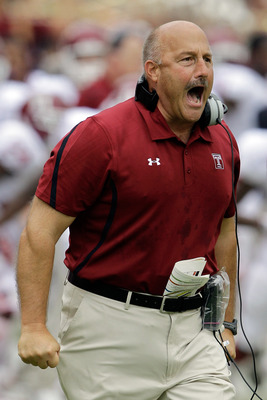 Steve Addazio is a fearless leader for the Temple Owls.
Rob Carr/Getty Images
When the Temple Owls come to town on September 22nd, there will be upset written all over it.
Over the past two years Temple has given Penn State multiple scares, especially with last year's win coming on a touchdown late in the fourth quarter.
The Owls are returning to the Big East, and Temple is undoubtedly a program on the rise.
But Temple's star running back Bernard Pierce has gone to the NFL, along with their top two receivers Evan Rodriguez and Rod Streater.
After beating Villanova in their opener, Temple lost an ugly game to a young Maryland team.
Although this is Steve Addazio's second season implementing his spread offense, the Owls are visibly weaker without Pierce.
So far this season, opponents have averaged more than 150 yards per game against Temple.
Running back Bill Belton should be coming back off of his sprained ankle by this game, and will have a chance to run all over Temple.
Penn State will get its second win of the O'Brien Era against Temple in a close one.
PREDICTION: Penn State 17, Temple 14
Penn State at Illinois (Sept. 29)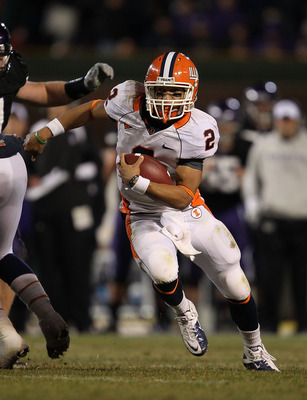 Scheelhasse is a great athlete, and is a threat on the ground and through the air.
Jonathan Daniel/Getty Images
When Penn State travels to Illinois it will be the start of a tough Big Ten schedule for the Nittany Lions.
The Fighting Illini are led by junior quarterback Nathan Scheelhaase, and have a balanced attack of running and passing.
Although Scheelhaase is currently nursing an ankle injury and didn't start last weekend against Arizona State, he should be back for this game.
Last season the Illinois quarterback threw for over 2,000 yards and rushed for over 900 yards.
Even though the Illini defense gave up over 300 yards through the air to Arizona State, Penn State will have trouble stopping the dual-threat quarterback.
The Nittany Lions will travel to Champaign, only to come home with a loss.
PREDICTION: Illinios 24, Penn State 7
Northwestern at Penn State (Oct. 6)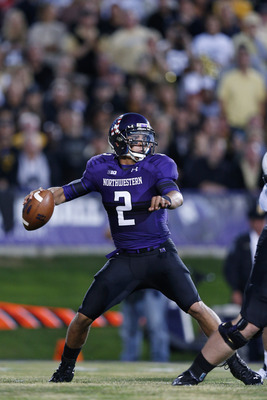 Colter is another dual-threat quarterback the Lions will face.
Joe Robbins/Getty Images
Penn State's game against Northwestern is going to be one of their few conference games that can go either way.
Although the Wildcats lost their quarterback Dan Persa and leading receiver Jeremy Ebert, they still have won two games already.
Junior Kain Colter has stepped in and leads an athletic spread-out offense for Northwestern.
Penn State is strong up the middle with Michael Mauti at linebacker and Jordan Hill on the line, but the Nittany Lion secondary isn't deep.
If Penn State is going to win this game, Matt McGloin and the Penn State offense will have to capitalize on opportunities.
But that hasn't happen yet this year, and the Northwestern offense will exploit Penn State's weak secondary.
Wildcats will come in to spoil Penn State's homecoming, and do just that.
PREDICTION: Northwestern 21, Penn State 14
Penn State at Iowa (Oct. 20)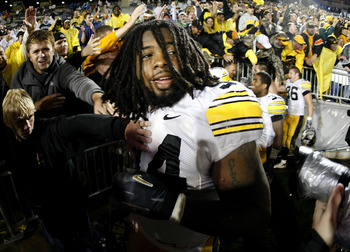 Penn State has lost to Iowa in three of the last four years.
Gregory Shamus/Getty Images
The Nittany Lions have struggled against the Iowa Hawkeyes over the past four years, dropping three out of the last four games they have played against them.
Even though the Hawkeyes are only 1-1 this year, they have a strong passing attack with senior quarterback James Vandenberg.
Again, this sounds like the same story, different chapter talking about the Penn State secondary.
Sophomore cornerback Adrian Amos is a good athlete, but he was moved this season to corner away from his true position as a safety.
The Nittany Lions have already shown their weaknesses in the pass defense, giving up over 580 yards through the air in just two games this season.
Also, backing up Amos and his counterpart senior Stephon Morris is a true freshman Da'Quan Davis, who has yet to prove he can make a big play.
Recent history is not on Penn State's side when traveling to Iowa City.
PREDICTION: Iowa 24, Penn State 14
Ohio State at Penn State (Oct. 27)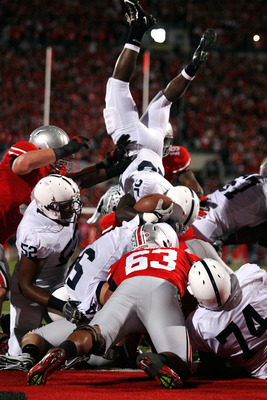 Penn State doesn't have Silas Redd this season to score touchdowns like he did last year.
Kirk Irwin/Getty Images
If you forgot that Urban Meyer is back coaching college football, Ohio State's win over UCF last weekend will remind you.
Sophomore quarterback Braxton Miller rushed for 141-yards, scoring three touchdowns on the ground and one through the air in their win last Saturday.
The Buckeyes have a high-powered offense behind Miller and emerging sophomore receiver Devin Smith.
Meyer knows how to spread the field and put up points, and has a dynamic athletes all over the field.
This will be a big game for the Nittany Lions, and their fourth time this season playing against a dual-threat quarterback.
If (and this is a huge if) Penn State's secondary steps up, and they are able to contain Miller the game can be closer than expected.
But the most likely won't happen.
Although Ohio State's defense has been strong against the run this season, it has been very susceptible to an aerial attack giving up 562 yards passing in only two games.
McGloin would need to have a big game for Penn State and make smart decisions with the ball, but he hasn't proved that he can step up in big games.
PREDICTION: Ohio State 31, Penn State 7
Penn State at Purdue (Nov. 3)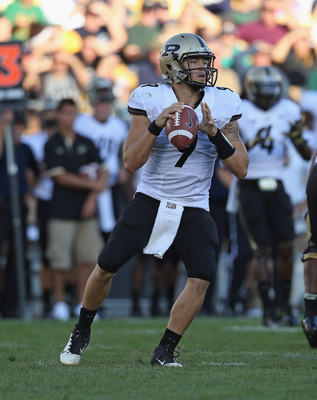 Jonathan Daniel/Getty Images
Last weekend Purdue gave Notre Dame a run for their money, with the Irish kicking a last second field goal to go up by three.
When Penn State travels to West Lafayette to take on the Boilermakers, it will be a different story.
This game is midway through the Nittany Lions' Big Ten schedule and they will be in desperate need of a win.
By this point in the season, O'Brien's young team will have the experience it needs to go out and get their first road win.
Purdue gives up and average 204.5 yards per game through the air, and McGloin should be able to sit in the pocket and pick apart the Boilermaker defense.
Penn State's defense will be able to bottle up running back Akeem Shavers, and stop the Purdue offense.
PREDICTION: Penn State 35, Purdue 14
Penn State at Nebraska (Nov. 10)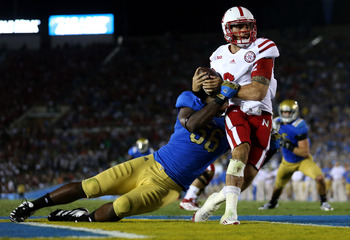 Martinez leads a dynamic rushing attack this season for the Cornhuskers.
Stephen Dunn/Getty Images
Last year, Nebraska ventured to Happy Valley in one of Penn State's darkest hours.
The Cornhuskers came in and ran all over the Nittany Lions, led by interim coach Tom Bradley.
This season with both Rex Burkhead and Taylor Martinez back, the Nebraska offense will continue to evolve.
Martinez has already thrown for over 500 yards in only two games this season and is the team's second leading rusher.
The Penn State defense is strong up the middle, but struggles with outside speed on the corners.
Even if McGloin and Belton can rally the young offense to play together, Nebraska has already shown that they can put points up on the board.
This game can turn into a shootout with Martinez runnin' and gunnin' while McGloin slings that ball around the field.
But, with the personnel the Nittany Lions have right now, they won't be able to hang in a high-scoring game.
Cornhuskers will win it for the second year in a row against Penn State.
PREDICTION: Nebraska 42, Penn State 28
Indiana at Penn State (Nov. 17)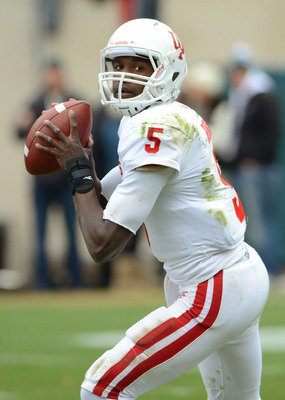 Roberson leads an offense that's on the rise in Indiana.
Mark A. Cunningham/Getty Images
After a 1-11 season, the Indiana Hoosiers have the potential to win six games this season riding the back of their young quarterback Tre Roberson.
Roberson, like many of the quarterbacks Penn State that will be playing in the Big Ten, can both run and throw.
By now though, O'Brien's team will be ready to bottle up whatever Indiana will try to do with Roberson.
Indiana has started off strong so far this season with two wins, averaging 34.5 points per game.
But the Penn State defense won't struggle in this game. This will be Mauti's second-to-last home game and his leadership and emotion will help carry the team.
Indiana hasn't beaten Penn State in the past 10 years, and I don't see it happening this year.
PREDICTION: Penn State 35, Indiana 7
Wisconsin at Penn State (Nov. 24)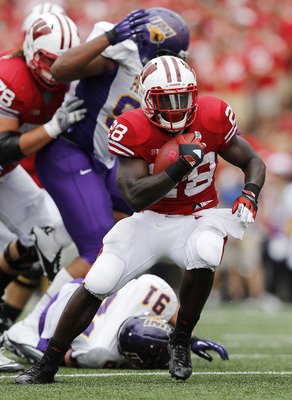 Ball leads a strong offense for the Badgers.
Tom Lynn/Getty Images
Last season at Camp Randall, Montee Ball and Co. ran all over the Penn State defense, scorching them for over 250 yards on the ground in a blowout 45-7 win.
With Ball back and transfer Danny O'Brien under center, coach Bret Bielema has yet another solid offense.
Former walk-on Jared Abbrederis emerged last season as a strong target on the outside, and was a consensus All-Big Ten returner.
On the other side of the ball, senior Mike Taylor leads a defense that has only given up 15.5 points per game so far.
Although the Badgers were upset by Oregon State last weekend, they will rebound.
This game will be Penn State's last of the season. Many of the senior leaders will be leading an emotional team out onto the field.
The Nittany Lions will come out playing hard, but Ball and O'Brien will be too much for the Penn State defense.
PREDICTION: Wisconsin 42, Penn State 14
Keep Reading

Penn State Football: Like this team?