Highlighting the Baltimore Ravens' New-Look Offensive Arsenal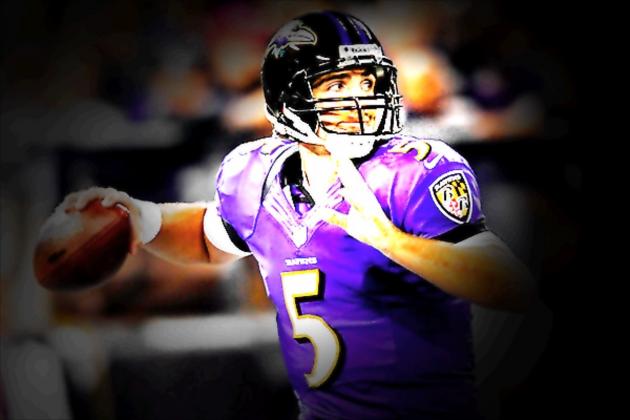 The spotlight is shining on Joe Flacco and it's not proven too hot yet (Photo: Gail Burton/AP).
In the shadows they sat, lurking, waiting for their chance. They were written off as mediocre while the defense mauled opponent after opponent. But now, there are signs the Baltimore Ravens' offense has finally become a powerhouse.
The Ravens bested division rivals the Cincinnati Bengals in Week 1 of the regular season, 44-13, with only one of Baltimore's scores coming directly from the defense.
They put up 430 yards of total offense on 58 plays—averaging an impressive 7.4 yards per play—spread the ball around among a number of receivers, and looked both more complex and effective than they have in the previous four years Joe Flacco has been their quarterback.
Though this kind of yardage is nothing new to this team, the way they amassed them was a change of pace. The yards didn't come from Flacco checking down to Ray Rice; instead, he was given more leeway, not just to make more throws but to change plays himself, and the results appear to be a Ravens offense that looks just as sharp as their vaunted defense.
Who are these Ravens, anyway, and where did they come from? Let's take a look at the Ravens' biggest offensive contributors; get familiar with them now, because 2012 just might be a big season for each man.
Begin Slideshow

»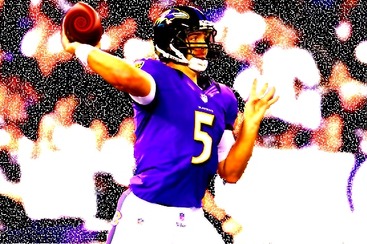 (Photo: BaltimoreRavens.com)
Joe Flacco has one of the strongest arms in the NFL, but we've irregularly seen him display it. In 2011, he had four games with 300 or more yards and seven with 200 or less—certainly, his arm strength wasn't being used to its full potential.
For the past three seasons in a row, Flacco has thrown for just over 3,600 yards, for 20 to 25 touchdowns and 10 to 12 interceptions. This gave Flacco the reputation of being predictable and mediocre, though not ineffective.
Part of the reason why Flacco's numbers seemed to plateau had to do with the playcalling of offensive coordinator Cam Cameron. His pass plays never seemed to maximize Flacco's talents. It didn't help Flacco, either, that his receivers weren't the kind of playmakers his strong arm demanded.
This year, however, things have changed. The Ravens offense is running more no-huddle and Flacco is being relied upon to call plays, make changes and spread the ball out to more receivers. The result? In Week 1, he threw 29 passes—21 of them complete—for 299 yards, two touchdowns and no interceptions.
Flacco and his cannon arm have been unleashed—finally.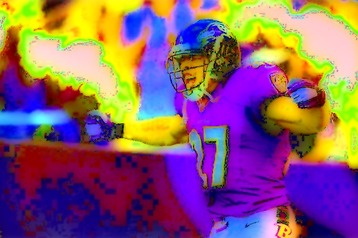 (Photo: Patrick Smith/Getty Images)
For the past three seasons, running back Ray Rice hasn't had fewer than 1,800 combined rushing and receiving yards. He led the league in total yards from scrimmage in 2011 and has been long thought of as the face of the Ravens offense.
Rice is a huge threat to break out long runs both up the middle and outside the tackles, is an adept pass catcher anywhere on the field and doesn't have a problem when asked to block. He's the best all-around running back in the league, which is why the Ravens wisely locked him up to a five-year, $40 million deal this summer.
With 68 yards rushing and two touchdowns on 10 carries and three receptions for 25 yards against the Bengals last week, Rice has shown no indication that a big payday will reduce the effort he puts in on the field.
Though this offense is quickly becoming Joe Flacco's, Flacco may not even be a starter in Baltimore right now if it wasn't for what Rice has done to help him over the previous three seasons. He's a quarterback's best friend.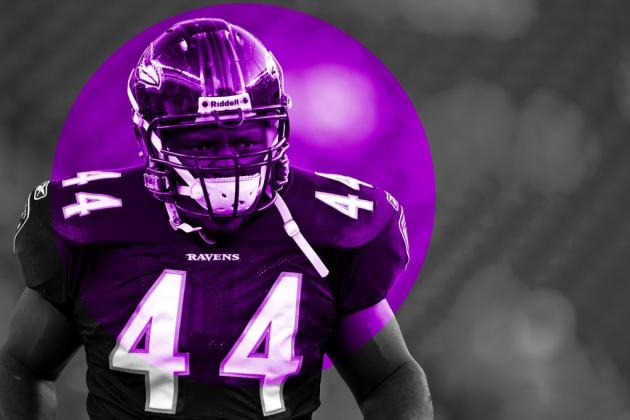 (Photo: VontaLeach.com)
In today's NFL, offenses are all about passing the ball, which makes keeping a fullback on the roster somewhat of an anachronism. But for the Ravens, who rely on Ray Rice to provide them with a lot of offensive yardage, a fullback is a necessary part of the arsenal.
Even better for the Ravens is that they employ the best fullback in the NFL, Vonta Leach.
Rice is an effective running back on his own, to be sure, but with Leach lead blocking for him, he's become a true force in the league. No fullback plays more snaps than Leach, who works not just as a blocker in the run game but as a pass protector and a running and receiving threat as well.
A high-profile fullback, in 2012? It's certainly possible, when talking about the Ravens and Vonta Leach.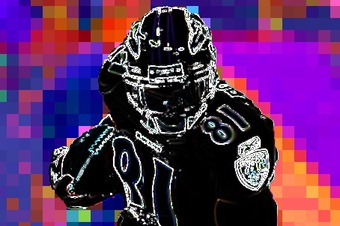 (Photo: Mitch Stringer/US PRESSWIRE)
When it comes to the receivers on the Baltimore Ravens' roster, most of them are quite young, with just a season or two of experience to their names.
A veteran's experience can never be underestimated—beyond simply having better knowledge of taking on defenses around the league, the leadership he brings to the rest of the receiving corps helps keep players grounded and better disciplined.
It's possible that on any other team in the NFL, Anquan Boldin would be lost in the shuffle, but in Baltimore he's a favored target of Joe Flacco. He was the Ravens' most productive receiver in 2011, with 57 catches for 887 yards and three scores.
Though Boldin may take a back seat this year to Torrey Smith, his four receptions on five targets, for 63 yards and a touchdown in Week 1 surely prove that he's still a major part of this offense. With Flacco throwing more, Boldin should actually have a better year even though there are more players seeking the quarterback's attention.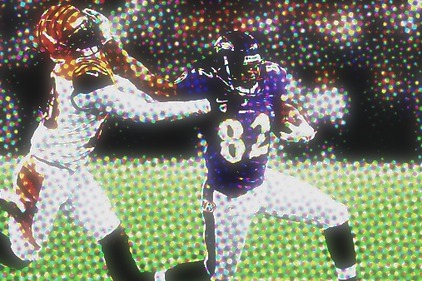 (Photo: Baltimore Sun/Gene Sweeney Jr.)
Wide receiver Torrey Smith was the Baltimore Ravens' 2011 second-round draft pick, and the hope is that he'd become Joe Flacco's most favorite target.
It took him some time to warm up, considering that he came to the team with no offseason program thanks to the lockout, and the hernia he suffered early last season slowed his production somewhat.
Still, Smith pulled down 50 passes in his rookie season, for 841 yards and seven touchdowns. Now that he's 100 percent recovered from the hernia and subsequent surgery, expect to see more explosiveness in his second season.
Smith is the prototypical deep threat, with the perfect combination of height, speed and reliable hands. His plan for 2012 is to top 1,000 receiving yards; with Flacco throwing the way he did on Monday night, it's quite possible.
Though Smith draws the most defensive coverage, and thus had just three targets and two receptions against Cincinnati, he had 57 total yards, with 52 of them coming in the game-opening play. When he's open, Smith is clearly the most dangerous weapon in the Ravens' receiving corps.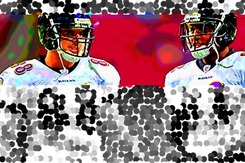 In today's NFL, if you want a good passing game, you need a dynamic tight end. If you have two, that's even more of an advantage. The Ravens stocked up in the 2010 draft, picking up both Dennis Pitta and Ed Dickson, and now the two play an integral part in Baltimore's offense.
Last year, Dickson had the better year, with 54 receptions for 528 yards and five touchdowns, but Pitta was no shrinking violet as a result, with 40 catches for 405 yards and three scores of his own. This year it appears that Pitta will be the more heavily-targeted of the two—he had five catches on nine targets against the Bengals, for 73 yards and a score. Dickson had just three targets, with two receptions and 22 yards.
Think of it this way: If the Ravens have both Dickson and Pitta on the field, along with Rice, Smith and Boldin, then Flacco is presented with many options and opposing defenses are left to make their best guesses as to what Baltimore will do.
The element of surprise is the biggest asset a passing game can have and now that the Ravens can utilize it, this makes their offense that much more dangerous. The Ravens offense has caught up with the times.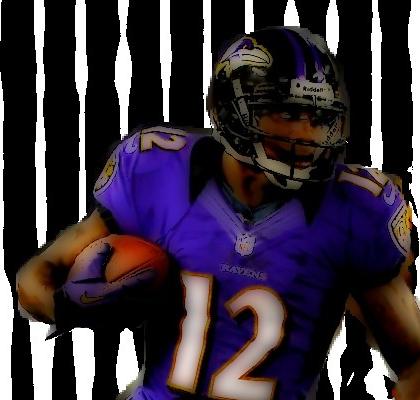 (Photo: Patrick Smith/Getty Images)
When Jacoby Jones came to the Ravens from the Houston Texans, it seemed like a mistake. Ravens fans in particular are well aware of Jones' issues with ball security, both as a receiver and as a punt and kick returner, and when given more responsibility in the Texans' offense last season, he failed to meet expectations.
However, so far, things are going well in Baltimore, though Jones' role is limited. He ran back one punt against the Bengals, for nine yards, but the most impressive thing is that he caught all three passes thrown his way and added 46 yards to the Ravens' total.
As a No. 1 or even No. 2 receiver, Jones falters. But as the Ravens' No. 3 wideout in an offense that diverse, he won't be asked to do too much. He'll be there as an outlet for Flacco's passes and could finally provide Baltimore with a viable No. 3 receiving option for the first time since Flacco has been the starter.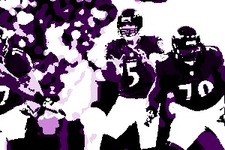 (Photo: Evan Habeeb/US Preswire)
After the preseason, it looked like the offensive line was the most glaring weakness on the entire Ravens team. Nothing seemed secure beyond Marshal Yanda at right guard and Matt Birk at center. Left tackle Bryant McKinnie reported to camp late and overweight, and spent time with the second team, forcing Michael Oher to move to first-team left tackle while rookie Kelechi Osemele worked at the right.
Then there was the left guard situation. Bobbie Williams came in as a free agent from Cincinnati, but he struggled to catch onto the Ravens' system, forcing them to bring back Ramon Harewood, a 2010 draft pick who spent the last two seasons on injured reserve.
The starting offensive line for the season opener was a bit surprising: Instead of McKinnie at left tackle, there was Oher. Harewood started at left guard, Birk was at center, Yanda at right guard and the rookie Osemele at right guard. It seemed like this would prove disastrous particularly for Flacco against the Bengals' stout defensive front seven.
To mitigate this weakness, however, the Ravens operated out of the no-huddle and shotgun with frequency, which didn't allow the Bengals to make substitutions and also relieved the pressure on the offensive line. The result was just three sacks on Flacco and four hits (impressive, considering the circumstances) and only four tackles for a loss.
An offense is only as good as its line, and though this one appears slapped together, it got the job done for the Ravens on Monday night and should probably be their starting lineup as the season continues.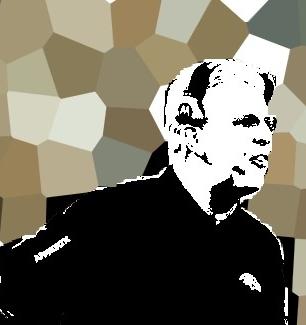 (Photo: Ravens24x7)
Finally, it appears that Ravens offensive coordinator, Cam Cameron, is doing something right. Year after year, he called a conservative game plan that failed to make full use of Joe Flacco's best assets, didn't ask his receiving corps to run many routes and didn't care much about a No. 3 receiver, instead preferring short passes to running back Ray Rice.
But now that Flacco is in a contract year and his fifth season in the league, it appears Cameron has been successfully convinced to open up his offense a bit and the results, as we saw on Monday, were incredibly impressive.
Flacco is now given the leeway to make and alter calls at the line, his receivers are running more complex routes, two tight ends and a third wide receiver are getting significant targets and Rice will likely see fewer passes thrown his way.
Quarterbacks often get an inordinate amount of credit and blame for a team's wins, but in Baltimore, that credit generally fell to the defense, with blame saved not for Flacco, but for Cameron and his simplistic philosophy.
Now, Flacco is finally being given the chance to take control and to finally be worthy of both credit and blame, like a true starting, franchise quarterback should. But the design is still Cameron's—he, more than anyone, decided it's time for this to be Flacco's team. He's probably saving his job in the process.