Fred Jackson Injury: What to Now Expect from C.J. Spiller, Bills Offense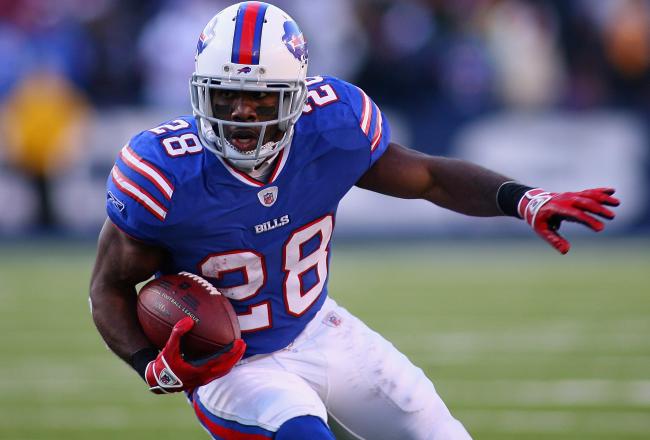 Rick Stewart/Getty Images
The Buffalo Bills are going to be without Fred Jackson for a little while.
The Buffalo Bills not only got blown out Sunday but top running back Fred Jackson is out at least three weeks and receiver David Nelson is gone for the rest of the 2012 season.

Coach Chan Gailey gave the injury updates at his weekly news conference Monday, confirming an earlier report by ESPN NFL Insider Adam Schefter.
So, C.J. Spiller now has a brief opportunity to carry the load, and get Buffalo's offense back on par. Provided that the Bills can win while Jackson is out, they'll only be stronger if/when he returns. So, here's how Spiller and Co. need to adjust in the meantime.
Pro-Spread Single Back Sets
C.J. Spiller is a complete and every down back. We just haven't seen his utmost potential since he's backed Fred Jackson the past two seasons.
The Bills need to keep Spiller on the field each down and get him into open space. Well, the best way to do this is by spreading the defense. Whether it's three receivers and a tight end or four receiver sets, Spiller has to be the lone backfield presence.
These formations force a defense to widen linebackers and use nickel/dime backs instead of true rushers in the front seven. Buffalo has an advantage here because Spiller's athleticism can beat any defender in single coverage, and his quickness bodes well against defensive backs.
Ryan Fitzpatrick doesn't need to orchestrate a traditional ground-and-pound/play-action offense here. Spiller's ability allows for more direct drop backs under center and shotgun because a defense blitzing just loses an extra defender.
And courtesy of that blitz, Spiller then has even more open space to work with. As a back who can get impressive yards after the catch and explode through the interior line, spreading a defense simply keeps an opponent from stacking the box to slow him down.
Altered Passing Attack
There's no need here to take obvious shots downfield.
What Buffalo can do, however, is constantly get Spiller involved, and create man coverage mismatches elsewhere. Steve Johnson and Donald Jones possess the acceleration to quickly get downfield and burn against one-on-one.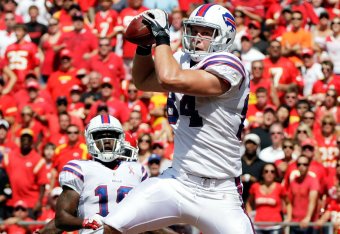 Jamie Squire/Getty Images
But neither present size advantage should a safety be helping over the top in Cover 1 or 3. So, Spiller must get targeted often on checkdowns, flats and screens. Fitzpatrick's second primary can then be tight end Scott Chandler who is rather underrated.
In short, all this is to lull that deep safety to sleep, or catch one rolling down into the box and hitting between the zones. With Jackson, play-action is more relevant simply because he is the more well-established back.
Utilizing the spread, however, and Buffalo becomes faster across the board. So, instead of forcing a defense on its heels, taking advantage of the closer mismatches on Spiller and Chandler will chip away at an opponent's coverage shield.
This ultimately leads us to the faster play calls.
Is Buffalo's 2012 season still alive?
Quicker Developing Plays
The sooner Spiller and Co. get the rock the better.
If the Bills are to utilize Johnson and Jones aside from trying deep, motioning inside to a quick slant and pressing deep before breaking off to the outside will make Fitzpatrick's release immediate.
Still, Buffalo has to keep a defense widened because another quick hit is just the tight end pop-pass to Chandler over a linebackers' head. Chandler has the size to go up and make plays, so exposing that advantage will continue to force a defense from keying on Spiller.
And when running with Spiller, traps and cutbacks work well in single back. A trap is basically a faster developing play than a counter, and the cutback will give Spiller a two-lane option when slamming inside.
He's also a viable target on swing passes and down the seam when Fitzpatrick recognizes Cover 2, should the Bills want to send Spiller downfield.
Fitzpatrick may not have been sacked against the New York Jets, but he was pressured often and threw three picks. So, limiting his reads and utilizing the playmakers faster will reduce the odds of turnovers against any defense.
Follow John Rozum on Twitter.

This article is
What is the duplicate article?
Why is this article offensive?
Where is this article plagiarized from?
Why is this article poorly edited?

Buffalo Bills: Like this team?