Philadelphia Eagles: Stats That Matter from Philly's Victory in Cleveland
US PRESSWIRE
About 75 percent of people know that you can use stats to skew perspectives. The reality is that they rarely tell the whole story, but I also find that they almost always tell part of the story.
Let's look at a few stats from Philadelphia's season-opening embarrassment in Cleveland and add context to draw some broader conclusions from there.
-0.84
OK, I'll have to explain this advanced stat from—fittingly—Advanced NFL Stats, but it's indicative of how well the Eagles defense played against the Browns. That two-decimal-placed negative figure above is the defensive win probability added (DWPA) score posted by Philadelphia Sunday.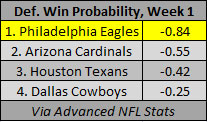 Essentially, they take a look at every play to determine how much it helps or hurts a team's chance of winning. For a full game's total, they just add them all together.
In this case, it's like golf—the lower the score the better. And in Cleveland, Philly's DWPA was lower than every team that took the field in Week 1, 53 percent better than second-place Arizona (-0.55). Cleveland was the only team that posted a negative DWPA number in Week 1 and still lost, but that also goes to show how good this defense was. They were compensating for a terrible, mistake-prone offense all afternoon.
Yeah, it helped that Brandon Weeden and Trent Richardson struggled, but the coverage was superb and the tackling was crisp as the Eagles continually stuffed the Browns despite Michael Vick and Co.'s habit for handing them fantastic field position. Cleveland's average starting spot was at the Philly 40-yard line, and they began three drives at or beyond midfield.
-1.8
That's how many adjusted yards per pass attempt the Eagles' pass defense gave up against Weeden and the Browns, a number that was far and away the lowest of the week. That figure, which comes from Pro Football Reference, docks teams for yards lost on interceptions. Essentially, PFR has concluded that, when all was said and done, the average pass attempt actually cost the Browns more yards than they gained.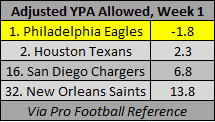 I honestly don't know that I've ever seen this number being negative before. In other metrics,
PFR
breaks down net yards per attempt by docking offenses for sacks allowed, and in that case the Browns are still dead last by a wide margin at 3.0
The difficulty is determining how much of this had to do with Weeden, whose debut was historically bad, and how much credit has to go to the Eagles defense. As I wrote above, they put up these numbers despite having to work with a small field all day, and Pro Football Focus concluded that only the Browns had better coverage in Week 1 (in other words, pass coverage was insanely good in that game).
3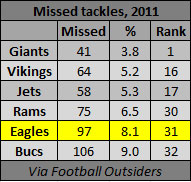 That's how many missed tackles the Eagles defense had against the Browns (per
PFF
), which represents a stark improvement from last year. Philadelphia missed 108 tackles last season, which was the second-highest total in the league. That works out to 6.8 per game, which means this is more than a 100-percent improvement in this field.
Most notably, new linebackers DeMeco Ryans and Mychal Kendricks were 10-for-10 on their tackle attempts, according to PFF, and no one in the front seven missed a tackle.
Again, the Browns didn't bring a lot to the table offensively, but this indicates the Eagles are moving in the right direction.
31.8
Should the Eagles be concerned about Michael Vick?
That was Michael Vick's completion percentage while under pressure, according to
PFF
. Only three quarterbacks were worse, and one was
Weeden
. Vick threw three of his four interceptions under those circumstances. Last year, that number was 42.4, and in 2010 it was 42.9. He had only 12 interceptions in his previous 26 starts while facing pressure.
It's not as though he was facing any more pressure than usual, either. In 2010, he faced it on 42 percent of drop-backs, in 2011, that number was 40, and on Sunday it was 41.
The PFF pass-blocking efficiency rating yesterday was 79.9, ranking 20th. In 2011, it was 81.0, ranking 15th. Vick just failed to deliver.
This article is
What is the duplicate article?
Why is this article offensive?
Where is this article plagiarized from?
Why is this article poorly edited?