Texas Longhorns Fans: Welcome to The Grove at Ole Miss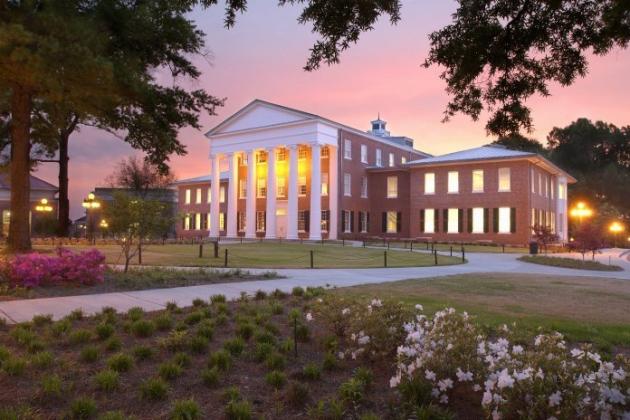 The Lyceum (courtesy of the University of Mississippi)
For the Texas Longhorns fans making their first trip over to Oxford, MS this weekend for the Texas-Ole Miss game, let me extend a warm Mississippi welcome! We should have done this a long time ago.
Accept this as my travel primer to you, the faithful fans, willing to spend your time and money to follow the Longhorns. You will be rewarded on this trip.
First, understand that Oxford, MS is a special place in the hearts of many Mississippians. It is fertile literary and artistic ground, from William Faulkner to Barry Hannah, Glennray Tutor, Willie Morris and Larry Brown. (We don't consider John Grisham "academic," but we claim him as a part-time resident too.)
It is the athletic center of the state, producing such greats as Bruiser Kinard, Charlie Conerly, Kayo Dottley, Deuce McAllister, current gold medalist Brittney Reese and the patriarch of the first family of football Archie Manning (and don't forget Eli).
It is the storehouse of American music: The Blues Archive at the University of Mississippi is one of the largest collections of blues recordings, publications and memorabilia anywhere in the world, currently housing over 60,000 recordings.
And more importantly, perhaps, for you visiting fans, Oxford is home to the best tailgating experience in all of college football. The Grove is ranked as the No. 1 tailgate location in the nation by Sports Illustrated, described as "the Holy Grail of tailgating" by Sporting News and called "the mother and mistress of outdoor ritual mayhem" by the New York Times.
So, let me give you a few quick tips on things to do while in and around The Grove and Oxford this weekend.
Begin Slideshow

»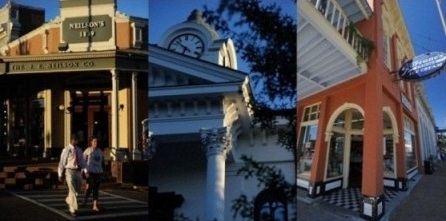 Scenes of the square (via collegetrad.blogspot.com)
Friday or Saturday (or both) you must do brunch on the square in Oxford. For a quiet college town, there is an endless array of restaurants. Some sure bets include City Grocery, Boure and Proud Larry's. For a real Mississippi Blue Plate, try Ajax diner or seafood at Irie.
Relax and spend time watching the traffic spin around the Lafayette County Courthouse in an endless parade of yielding cars and eager fans on foot.
I tend to go from brunch to evening drinks all in one sitting when I am on the square, and there is no shortage of establishments that will accommodate you. Some of my favorites are Rooster's Blues House, the huge sports bar called "The Library" or just have fun popping in all of the cool and eclectic spots around the square.
Spend some time walking around and exploring the square; there are lots of shopping, book stores and fine art to be seen.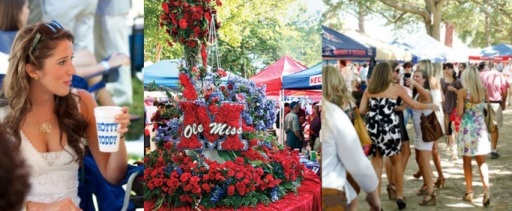 The Grove at Ole Miss (via TaylorTakesATaste.com)
First of all let me explain, we don't "tailgate" in Oxford. I know all this is building up to what a great tailgate tradition we have at Ole Miss, but I would more accurately describe it as a family reunion for 80,000 people (rivals are always welcome).
The Grove is a 10-acre park in the middle of the university campus. Spots are reserved at midnight the night before on a first come, first serve basis, but don't worry if you don't have a good tailgate spot. Bring your coolers, chairs and snacks and find a nice group of Ole Miss fans and enjoy their set up.
(But hey, we don't allow obvious partaking of alcoholic beverages, this is a college campus…put it in a cup!)
No cars or grills are allowed in The Grove, so think of a potluck Sunday dinner picnic at your church, with alcohol and flat screen TVs. Some of the best family recipes of the heavy hors d'oeuvre variety will be available to you.
Don't be shy, we bring plenty to share.
We dress with respect at Ole Miss. Respect to the players, respect to the alumni, our fraternities and sororities and respect to ourselves. You will not see blue jean cut off shorts and a lot of football jerseys. You will see a lot of sundresses and heels, loafers and chinos.
Visitors are not required to follow our dress code, just understand things are different at Ole Miss.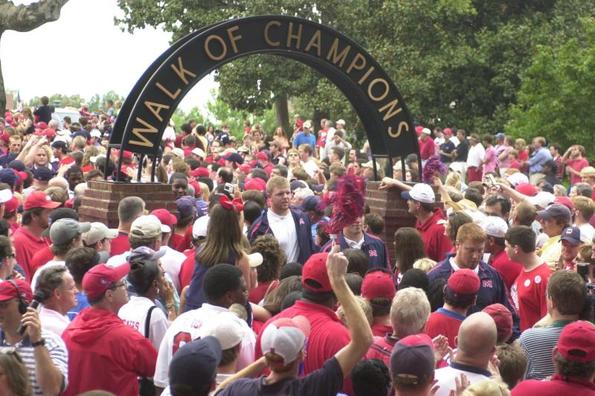 OlemissSports.com
There is a central brick-lined pathway that bisects The Grove north to south: This is the "Walk of Champions."
Around two-and-a-half hours before kickoff, the Ole Miss players will descend upon the Stadium to begin warm-ups for the game, passing through The Grove. Most all Ole Miss fans will line this walkway to offer encouragement, high fives and scream the cheer "Hotty Toddy" that you will no doubt hear countless times:
"ARE YOU READY?
HELL YES!
DAMN RIGHT!
HOTTY TODDY, GOSH ALMIGHTY,
WHO THE HELL ARE WE? HEY!
FLIM FLAM, BIM BAM,
OLE MISS BY DAMN!"
One of my favorite game-day traditions is to watch the Ole Miss band, "The Pride of the South," lead the fans through all the fight songs in The Grove. This occurs right after the "Walk of Champions" on the west side of The Grove and always brings a tear to my eye and gets the fans ready to cheer on the Red and Blue.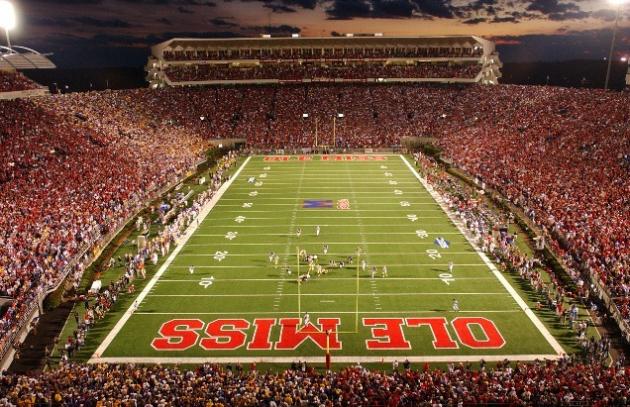 Olemiss.edu
After the band heads to the field, the fans will not be far behind, and everyone will be excited about the rare chance to see Texas play in Oxford, as this will mark the first time in the history of the two schools that this has happened.
Continue due south through the different avenues and pathways till you cross Fraternity Row and enter the Stadium.
Vaught Hemingway Stadium at Hollingsworth Field has been the site of Ole Miss football games since 1915. Current seating capacity is 60,580. The stadium is named for the late judge William Hemingway, professor of law and longtime chairman of the university's Committee on Athletics. The field is named in honor of Dr. Jerry Hollingsworth for his continuing generous support of Ole Miss athletics.
Enjoy yourself in Oxford and at Ole Miss. Don't forget to make friends and memories during your short time here and let's do this again soon.
See you in The Grove and HOTTY TODDY!