L.A. Dodgers Players Most Responsible for Post-Deadline Struggles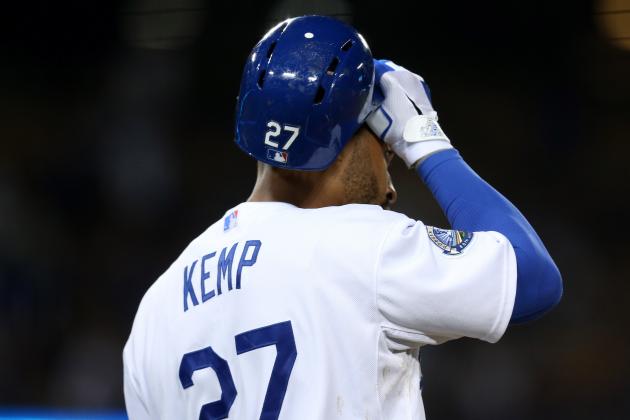 Stephen Dunn/Getty Images

They say it's a team game. That it takes everyone coming together to win or lose a game. Teamwork matters. And all these things are true.
But that doesn't mean assigning blame to individual people is wrong. There is always someone who is in a slump that you point to as the culprit for a lost game. And while I do believe it's a team win or loss in most cases, it's fun to have a scapegoat. If I could, I'd put one slide titled "Juan Uribe" and call it a day.
I won't do that.
I will do this: Since the Dodgers traded for half of the Red Sox roster a couple weeks ago, the picture in L.A. has not been as pretty as we expected.
So who's to blame for the post-deadline Dodger struggles? Read on.
Begin Slideshow

»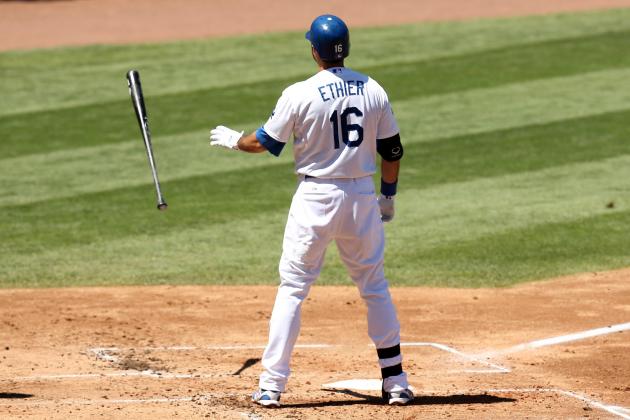 Stephen Dunn/Getty Images

I like to call Ethier "Captain Clutch" because of his penchant for coming through in big moments late in the game. And even through this rough patch, he's continued to step up in those situations.
But until the big lefty learns how to hit his pitching counterparts, I will always assign a share of the blame to him for Dodgers losing streaks.
If the starting pitcher is right-handed, Ethier might have a good game. If it's a southpaw, you can forget about it. And regardless, the opposing team can play a matchup game every single time with him after the starter is knocked out. Chances are Ethier has at least one, usually two at-bats versus left-handed pitchers in a close game.
And considering the Dodgers are allowing four runs per game and scoring three over the last few weeks, it's safe to say that all the games have been "close."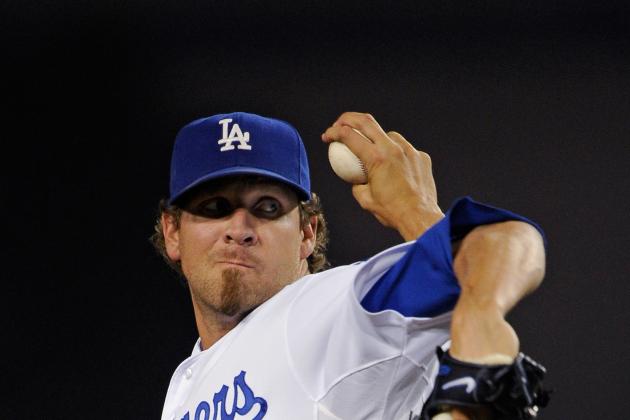 Kevork Djansezian/Getty Images

Okay, this one isn't the fairest considering Guerrier just came off the DL and got his first game action since mid-April a week ago.
He has looked fantastic at certain points, and awful at others. Naturally, I chose to be a pessimist and focus on the awful. In crucial games with a ton of momentum on the line, Guerrier came in and gave up big home runs against the Diamondbacks and Padres in his first and third appearances, respectively.
At this point, the Dodgers need every break to go their way and Guerrier certainly didn't help by serving up taters in divisional matchups the Dodgers were on track to win.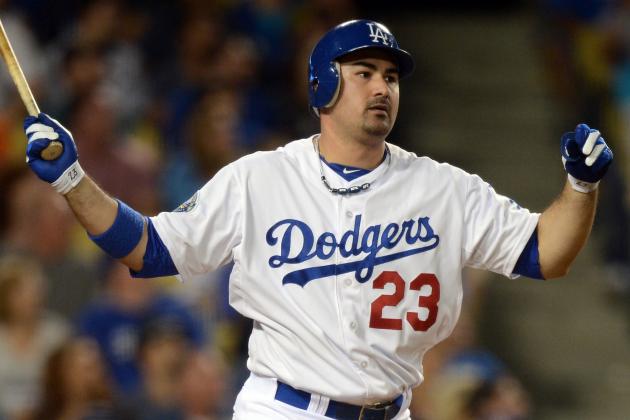 Harry How/Getty Images

Let's just say Gonzo hasn't really made his imprint as a Dodger quite yet. Don't get me wrong, he's had his huge moments. A big three-run homer in his first at-bat with the new team. A walk-off double. The triple in San Francisco.
But aside from a few clutch swings, A-Gon has been relatively anonymous hitting in the third or fourth spot in the lineup.
I understand it's a new team and new clubhouse to adjust to, but Gonzalez has faced all this National League pitching before, so I expected a smoother transition back to his old division.
When you see a hitter of that caliber join your team's roster, it's only fair to expect him to pay big dividends. It will happen, it's just taking too long. We need Gonzalez to step up and be one of those top-tier hitters right now. Especially with...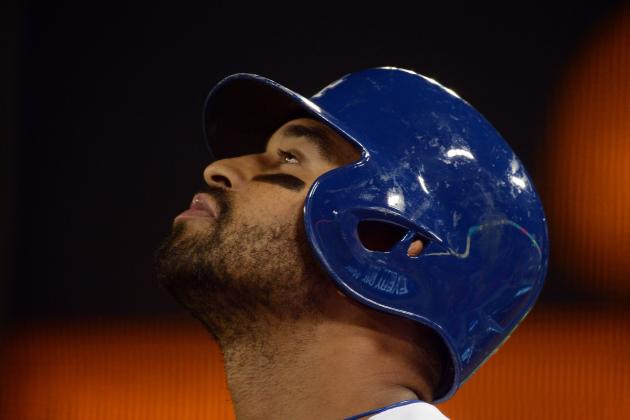 Harry How/Getty Images

...Matt Kemp struggling. And "struggling" is putting it nicely.
At least we know it was because of his injured...everything. I was worried Kemp was in a slump because he'd lost that fire, or his ridiculous skills just evaporated overnight.
I admit, that may have been a bit of an extreme view on the situation. But now that Kemp has sat out a couple games, received treatment on his injured shoulder and will return to the lineup tonight, I'm very excited to see how he bounces back.
But, since September started, Kemp has hit well under .200 (just three hits in nearly 25 at-bats). It was obvious that something was bothering him as he'd assumed the unlikely role of rally killer over the past two weeks.
With a healthy Kemp back in the lineup, the Dodgers should start showing significant improvements. Because despite all the big names brought in via trade, Kemp is the heart and soul of this team.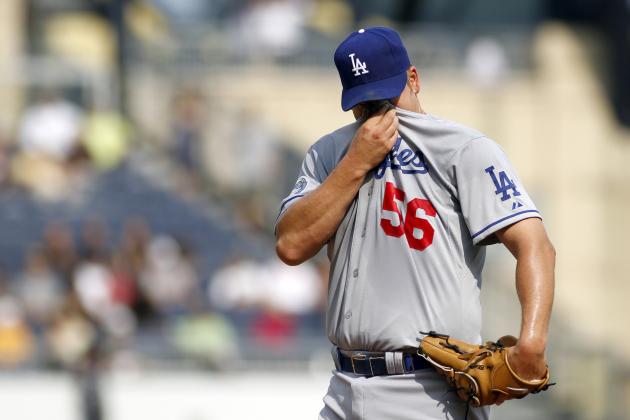 Justin K. Aller/Getty Images

Has there been a more criticized player on the Dodgers since the trade deadline? Blanton has proved to be a waste of a waiver pickup so far, stringing together bad start after bad start in a time when the Dodgers desperately need good ones.
The cherry on top was Sunday's finale against the Giants, in which Blanton was a last-minute replacement for ace Clayton Kershaw. Though he actually pitched alright, we got beat handily, 4-0.
When Kershaw is back healthy, Blanton will be relegated to the bullpen. Even though Dodger fans knew it was a risky acquisition, we had visions of 2008 in our head (when Blanton was traded to the Phillies at the deadline and was a huge part of getting them to the World Series, which they eventually won).
Let's see if Blanton can bounce back in the last three weeks of the season here.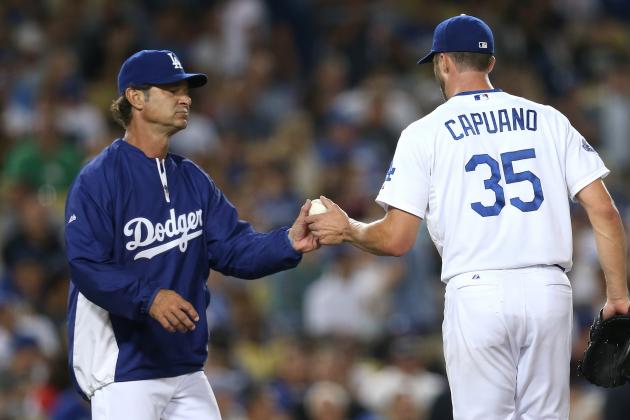 Stephen Dunn/Getty Images

I love Cappy—he was thrilling to watch in the first half, not to mention our most consistent pitcher. But I also knew he would crash back down to Earth.
Capuano's first half numbers were insanely impressive, especially when considered against his own career averages. Since the break, he has been downright dreadful, save for the win this past weekend against the Giants in which he finally looked dominant again.
Before that, he had been getting shelled. After having a sub-3.00 ERA in the first half of the year, it ballooned all the way to 3.59 and his record from 9-3 to 11-10. Cappy embodies all that was right about the Dodgers in the first half—an underdog story to a tee.
Unfortunately, he also embodies what is wrong with the Dodgers in the second half. Failure after failure after bad pitch after blown opportunity.
He may be a fan favorite, but if the Dodgers really want to contend for the Wild Card, let alone the division title, they need Capuano to return to his first-half form.