WWE Power Rankings: Breaking Down WWE's Top 25 Superstars for Week of Sept. 9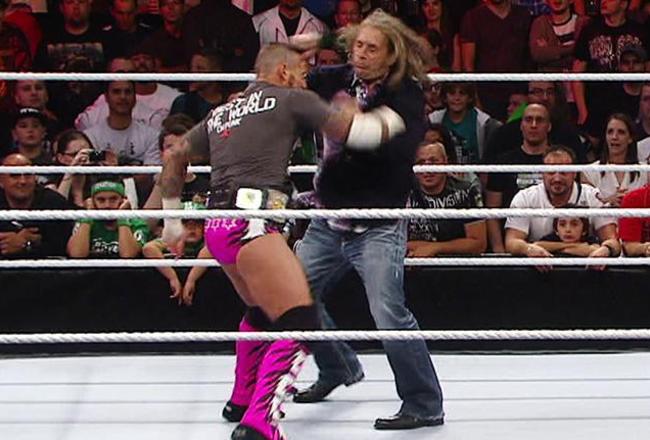 Photo courtesy of WWE.com

With Jerry "The King" Lawler's shocking heart attack still first and foremost in the minds of most wrestling fans, it may seem somewhat difficult to focus on the entertainment aspect of the WWE right now. But Raw went on as scheduled without commentary and Night of Champions will still take place on Sunday.
The news regarding Lawler's condition last night was positive, so hopefully the WWE Hall of Famer can make a full and speedy recovery. As for Raw itself, there were a lot of important things that took place and were ultimately overshadowed due to the unfortunate situation.
This week's power rankings remain largely unchanged near the top, but there was plenty of movement in the middle part of the list over the past week as some superstars have begun to stand out from the crowd. Night of Champions will be the true measuring stick.
Remember, these rankings are based purely on entertainment value and not kayfabe factors such as wins and losses. So here are my top 25 WWE superstars for the past week as Night of Champions quickly approaches.
25. Big Show
Last Week's Ranking: 16
Big Show hasn't been seen on WWE programming since the night after losing to CM Punk and John Cena at SummerSlam, so he slips all the way down to the No. 25 spot this week. It's really a shame since Big Show's dominant heel character made him more entertaining than he had been in years.
I'm guessing there are secret plans for Big Show and the WWE is hoping people forget about him, so that is why he has been off television. Perhaps he will join forces with Punk and Paul Heyman at Night of Champions by helping Punk retain against Cena.
24. Kofi Kingston & R-Truth
Last Week's Ranking: NR
Kofi Kingston and R-Truth may be the most boring Tag Team Champions in WWE history, but at least they have been visible over the past week so they find their way back onto the list. They defeated the makeshift team of The Miz and Antonio Cesaro on Raw and will now defend their titles against Daniel Bryan and Kane on Sunday.
It seems obvious to me that Kofi and Truth's fruitless title reign is about to come to an end. Even though the tag division is weak overall, they may be better off going their separate ways and beefing up the midcard a bit.
23. Tyson Kidd
Last Week's Ranking: NR
Tyson Kidd has been teaming with Justin Gabriel recently, but he got an opportunity to showcase his individual skills in his home country of Canada on Monday. Kidd lost the match to Alberto Del Rio, but he looked fairly strong as he had Del Rio locked into the Sharpshooter for a significant amount of time.
Kidd is one of the best in-ring workers in the company, but he doesn't receive nearly enough air time. He doesn't have the charisma or mic skills to be a world champion, but he is definitely a guy who should be putting on awesome matches while challenging for the United States or Intercontinental Championship.
22. Brodus Clay
Last Week's Ranking: 22
With Funkadactyl Cameron suspended due to a DUI charge, Brodus Clay hasn't been used much over the past two weeks. He was one of the possible choices to face WWE Champion CM Punk in a match on Monday and while he wasn't chosen, he did have a bit of a run-in with Punk in the backstage area.
It's a shame how Clay's push has been derailed to some degree because he has a gimmick that fans enjoy and is underrated in terms of his mic skills and even his wrestling ability for a man his size. The WWE simply went too long with the jobber squashing phase and it feels like the same thing may happen to Ryback eventually.
21. Santino Marella
Last Week's Ranking: 20
Not only did Santino Marella lose the United States Championship to Antonio Cesaro at SummerSlam, but he lost his rematch last Monday, hasn't been seen on RAW or SmackDown in a week and even was usurped by William Regal as an announcer on Saturday Morning Slam. Because of all that, Santino falls a spot in the rankings this week.
While Santino does have his moments as a comedic character, I'm glad that he seems to be out of the U.S. title picture. It is possible that he'll regain the No. 1 contendership by winning the pre-show battle royal on Sunday, but he's much better as a midcard comedy act than a contender.
20. David Otunga
Last Week's Ranking: 24
David Otunga is a horrible wrestler. He's quite honestly one of the worst I've seen in a long time when it comes to in-ring skills, but when it comes to being an annoying, weasel-like lawyer character, he certainly excels. That is why I have actually really enjoyed Otunga over the past week as he has served as Ricardo Rodriguez's legal counsel.
The segment where he and Ricardo sat down with Sheamus and his lawyer on Monday was hit and miss. But Otunga is much better when used in a backstage or auxiliary role than as a wrestler, so I decided to move him up several spots this week for his solid work.
19. Prime Time Players
Last Week's Ranking: 23
The Prime Time Players aren't great, but at least they're a real team in a tag division that has been struggling for quite some time. They became No. 1 contenders on SmackDown by beating Primo and Epico, but general manager A.J. Lee forced them to defend their No. 1 contendership against Kane and Daniel Bryan, which they ultimately lost.
The match itself wasn't great and it was marred by the scary situation with Jerry Lawler, but Titus O'Neil and Darren Young's interaction with A.J. was pretty good. I don't necessarily want to see The Prime Time Players as champions, but they can be an important part of the tag-team division for the foreseeable future.
18. Antonio Cesaro
Last Week's Ranking: 18
Antonio Cesaro may be the United States Champion, but he hasn't really done anything since winning the title at SummerSlam to move up or down this list. He retained against Santino last week and competed in a tag match against Kofi Kingston and R-Truth this week, but Cesaro is basically just another guy with a title right now.
I thought that he and the belt might be built properly when he won it, but he doesn't even have a feud heading into Night of Champions. Instead he will face the winner of a battle royal. Also, I'm not overly impressed with the shtick where he says something in five different languages, so hopefully he receives some sort of boost soon.
17. Heath Slater
Last Week's Ranking: 17
Heath Slater may only be a jobber, but he has proven that you don't necessarily have to win a lot of matches to be entertaining. His goofy, over-the-top persona is fun and I enjoy his enthusiasm despite the fact that he has won about two matches over the past year. He wasn't even above showboating against Ryback on Monday.
The monster defeated Slater, but I was more entertained by the One Man Band than Ryback in the match. I know that Slater is only being used as enhancement talent right now, but he has good in-ring skills and a great personality, so I can see him being a midcard title contender at some point.
16. Zack Ryder
Last Week's Ranking: 15
Zack Ryder only made a brief appearance on this week's edition of Raw, but he scored wins over Heath Slater and David Otunga in the two weeks prior so I'm hopeful he is finally back on track. Whether you like him or not, Ryder is still one of the most over faces on the roster. He has a ton of personality, he's underrated in the ring and he goes the extra mile to remain relevant.
Ryder had the United States Championship taken from him for no apparent reason several months ago and I would like to see him back in the midcard title hunt. Ryder is the one who should have been in Santino's spot prior to him losing the United States Championship to Antonio Cesaro, but perhaps Ryder will regain it at Night of Champions.
15. Sin Cara
Last Week's Ranking: 12
Sin Cara is obviously very limited as a character when you consider that he is incapable of speaking. But he has become much more acclimated to the WWE way of doing things since returning from injury. Sin Cara has been interesting as of late because of his feud with Cody Rhodes and partnership with Rey Mysterio, so I have liked him much more than I did prior to his extended absence.
Sin Cara wasn't featured on Raw, but Rhodes, Mysterio and The Miz had a scuffle that leads me to believe that the Intercontinental Championship match at Night of Champions will either be a triple threat or a fatal four way with Sin Cara. I'm not sure why he didn't get involved on Monday, but hopefully he winds up in the match.
14. Ryback
Last Week's Ranking: 14
Ryback is a physical specimen to behold and has a lot of potential in the WWE, but I'm not a fan of the way he is being used currently. Ryback has been squashing the likes of Heath Slater and Jinder Mahal for months and he did it yet again on Raw as he defeated Slater. The fans are still behind Ryback to some degree, but that won't last long if he doesn't enter into an actual feud.
A guy like Tensai makes a lot of sense considering he is barely even utilized anymore. He has lost all of his momentum, but he's a big, physical guy who would look like a threat to Ryback's dominance. I have been pushing for this feud for weeks, but it still hasn't come to fruition. Hopefully the creative team has some better plans for Ryback in the future.
13. Cody Rhodes
Last Week's Ranking: 19
Cody Rhodes has been lost in the shuffle since losing the Intercontinental Championship, but over the past couple weeks it appears he has gotten his groove back. Rhodes has been feuding with Sin Cara and Rey Mysterio over their use of masks and although it hasn't really led to anywhere yet, it has kept him in the spotlight.
Rhodes took a major step Monday as he defeated Mysterio thanks to interference from The Miz, and he then hit The Miz with Cross Rhodes. He then lifted up the Intercontinental Championship that was once his. Rhodes is obviously going to be in a triple threat or fatal four way match for the title on Sunday and I hope he regains it and revitalizes his character.
12. Sheamus
Last Week's Ranking: 9
Sheamus is a guy who I like for many reasons as I feel he is very good in the ring for a man his size and capable on the mic as well. But I have been thoroughly bored with him as of late. That probably has everything to do with his stale feud with Alberto Del Rio. The banned Brogue Kick storyline isn't doing anything for me and it certainly doesn't make me believe that Sheamus is going to lose at Night of Champions.
The fact is that Sheamus needs to move on and feud with somebody, almost anybody else at this point. He is too talented to be scuffling along as he is and the writers aren't making things any better by having him act like a big, pasty John Cena who sings Jewish songs for no apparent reason.
11. Alberto Del Rio
Last Week's Ranking: 7
The WWE could have very easily made Alberto Del Rio a credible challenger for the World Heavyweight Championship from the get-go, but it decided to have him lose to Sheamus on several occasions before finally given him wins over Randy Orton and John Cena for whatever reasons. All of that is too little, too late for the Mexican Aristocrat, however.
Booker T can take away the Brogue Kick, make Sunday's match a submission match, make Sheamus wrestle with his hands tied behind his back or whatever else he wants to do, but nobody expects Del Rio to win at Night of Champions. Sheamus will obviously beat him with the Texas Cloverleaf and then hopefully we can move on from a feud that should have ended two months ago.
10. Rey Mysterio
Last Week's Ranking: 11
Say what you will about Rey Mysterio losing a step, gaining weight or whatever else, but he continues to go out there night in and night out, and he has excellent matches with everyone. I'm not the biggest Mysterio fan, but I respect his ability to step in the ring with almost anyone in any situation and perform well no matter what.
I really like the idea of he and Sin Cara forming a tag team, and while he figures to be in the Intercontinental Championship match at Night of Champions, I'm hoping his future is as Sin Cara's partner. Mysterio has done everything there is to do in the wrestling business, so why not team with Sin Cara to groom his future replacement and help breathe some life into a stagnant division in the process?
9. Damien Sandow
Last Week's Ranking: 8
He hasn't been in the picture for very long, but Damien Sandow is already one of the best heels in the WWE. His character is fantastic and really seems to get under the fans' skin and he truly plays the role of WWE's intellectual savior extremely well. He has yet to be involved in a meaningful feud, but with matches against Sheamus and Randy Orton the past couple weeks, obviously the company's big wigs believe in him.
I would like to see him feud with a guy like Orton in the near future because he is somewhat of a floater right now. He has been condescending to many of the top faces and has stuck his nose in everyone's business. But he needs to take part in an actual program to take that next step.
8. Randy Orton
Last Week's Ranking: 10
Randy Orton still hasn't been put back in the main-event scene since returning from suspension, but he has done some great work as of late and is firmly in the middle of an entertaining feud with Dolph Ziggler. Orton is very limited on the mic and his character could use some tweaking since it has been largely unchanged since his last face turn, but his in-ring work continues to be excellent as he holds down the upper midcard.
Orton has been getting the better of Ziggler a little too often for my liking, but hopefully that leads to a Ziggler victory at Night of Champions. Orton is supposed to begin filming 12 Rounds 2 soon anyway, so he would do everyone a great service by putting over Mr. Money in the Bank on Sunday.
7. The Miz
Last Week's Ranking: 6
The Miz is unquestionably one of the best heels in the WWE and is a guy who should be in the main-event scene. But he has been relegated to putting over the likes of Rey Mysterio, Kane and John Cena in singles matches and he has constantly been losing in tag-team affairs. I thought Miz would bring some prestige back to the Intercontinental Championship when he won it, but he has been booked like absolute garbage.
Miz is going to be involved in a multi-man match of some sort at Night of Champions against Mysterio, Cody Rhodes and perhaps Sin Cara and I honestly hope he loses the title to Rhodes. The IC title is doing nothing other than holding Miz back and relegating him to the midcard. Miz is great on the mic and improved in the ring, and he deserves better.
6. Wade Barrett
Last Week's Ranking: NR
After several months on the shelf due to a dislocated elbow, Wade Barrett finally made his televised return as he defeated Yoshi Tatsu on SmackDown. The match itself wasn't anything to write home about as it was your standard squash, but Barrett had a menacing new look and attitude, and was quite aggressive in the ring.
I immediately put Barrett in this spot based on his promo following the contest as he said he didn't want anything to do with such irrelevant matchups and he expected to be thrust into the world title scene immediately. Considering that Sheamus is likely to retain on Sunday, I am very excited about the prospects of a Barrett vs. Sheamus feud as it would be a huge step up for the World Heavyweight Championship after what it has endured the past few months.
5. Dolph Ziggler
Last Week's Ranking: 3
The guys who show up every single night and steal the show are generally considered future world champions in the wrestling business and Dolph Ziggler fits that description perfectly. Ziggler has always been that way, but since winning the Money in the Bank contract, he has been on both Raw and SmackDown every week and he is wrestling on a nightly basis.
I don't like the way Ziggler has been booked to look largely inferior to Randy Orton thus far, but I am optimistic that he will beat The Viper on Sunday and give the Money in the Bank contract the boost it so desperately needs. The writers have no clue how to book a Money in the Bank winner as Ziggler has lost more matches than he has won since securing the briefcase, but there is still time to turn things around.
4. Kane
Last Week's Ranking: 4
Kane's much-hyped return last year fell flat as his feud with John Cena was a joke, but the Big Red Monster has been at his most entertaining in a long time over the past several weeks. Kane and Daniel Bryan were initially embroiled in a serious feud, but things have become much funnier and more light-hearted as they have been attending anger management classes together.
I had a feeling it was going to lead to a partnership and my suspicions were proven right on Monday as they defeated The Prime Time Players to become No. 1 contenders for the Tag Team Championships. I'm normally against thrown-together teams, but it makes sense from a storyline perspective and the tag division desperately needs some over guys like Kane and D-Bry to liven things up.
3. John Cena
Last Week's Ranking: 5
John Cena has been the main man in WWE for the past several years and while he has plenty of supporters, he has an almost equal amount of detractors as well. The biggest problem that I and many others have had with him is that he hasn't really given anyone else an opportunity to share the spotlight. Since the start of CM Punk's heel turn, however, he has suddenly become the focal point of Raw while Cena has settled into the No. 2 spot.
Cena is still challenging for the WWE Championship and will be in the main event at Night of Champions, but Punk is unquestionably the guy. Cena was involved in just one segment on Monday as he cut a solid promo and set up Night of Champions very well. Cena in smaller doses is certainly much more tolerable than what we have gotten in recent years.
2. Daniel Bryan
Last Week's Ranking: 2
He isn't a part of the main event or even the midcard at this point, but Daniel Bryan is undoubtedly one of the WWE's most entertaining performers and perhaps the funniest person on the roster. I always knew that Bryan was a great wrestler, but over the past few weeks with Kane, he has shown an incredible amount of range as a character based on his ability to be serious or even hilarious at the drop of a hat.
If the WWE is serious about rebuilding the tag-team division, then it made a great decision pairing Bryan with Kane. Aside from John Cena and CM Punk, Bryan and Kane are probably the two most popular guys in the company right now, so they're going to bring some much-needed attention to the Tag Team Championships if they win on Sunday.
1. CM Punk
Last Week's Ranking: 1
No matter how you slice it, CM Punk is the best superstar in the WWE right now. I realize that calling himself the best in the world is part of a storyline, but in terms of the total package, including mic work and in-ring ability, Punk truly is the best. His face run had admittedly become stale and I was ready for him to drop the WWE Championship, but he has been revitalized in a big way since the 1,000th episode of Raw and has been the highlight of the show every week.
His promos against John Cena and Bret Hart on Monday were excellent and his interaction with Paul Heyman still has everyone wondering what is next for them. It used to be the people tuned into WWE programming to see Cena, but I feel like Punk is the reason why everyone is watching now, and he deserves the top spot because of that.
Follow @MikeChiari on Twitter and listen to him on Ring Rust Radio.
Keep Reading