5 Los Angeles Dodgers Who Have to Step Up Immediately to Save the Season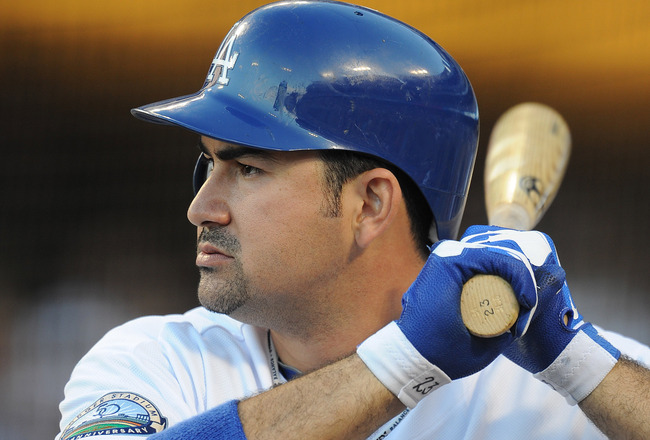 Adrian Gonzalez is hitting .242 with the Dodgers.
Jayne Kamin-Oncea-US PRESSWIRE
After losing two of three to the San Francisco Giants over the weekend, the Los Angeles Dodgers are five games out of first place in the NL West as of Sept. 10.
Catching the Giants, let alone overtaking them for the top spot in the division, is looking increasingly unlikely. A more realistic goal at this point might be trying to beat out the St. Louis Cardinals for one of the NL's two Wild Card spots. The Dodgers are only one game behind the Cards in the NL Wild Card standings.
But for the Dodgers to qualify for the postseason, they obviously have to play better than they have in recent weeks. Since their blockbuster trade with the Boston Red Sox, the Dodgers have a 6-9 record and are in danger of falling out of contention rather than surging into competition for a postseason bid.
However, for the Dodgers to play better, they need several players to produce more than they have. In particular, two of the three hitters the team acquired at the non-waiver and waiver trade deadlines need to provide the sort of run production that was expected of them when they were acquired. But it's not just the new guys that need to come through either.
If the Dodgers are going to make the playoffs, they need the following five players to step up their games through the remaining three weeks of the regular season.
Adrian Gonzalez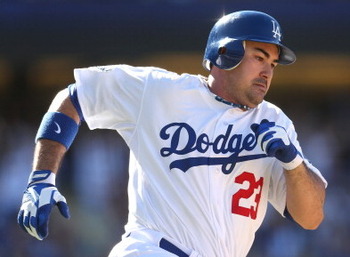 Stephen Dunn/Getty Images
Really, this list should begin and end right here.
Adrian Gonzalez has not given the Dodgers the boost expected when he was acquired from Boston to be the slugging first baseman the team sought all season.
Since coming to Los Angeles, Gonzalez has compiled a triple-slash average of .242/.304/.371 with one home run and 10 RBI. It's pretty much been all downhill since he debuted in a Dodgers uniform with a three-run homer on Aug. 25.
Gonzalez's struggles have been even more glaring with Matt Kemp's shoulder injury. Someone in the Dodgers lineup has to carry the offensive load. But Gonzalez has buckled underneath that responsibility.
The Dodgers scored only five runs in three games versus the Giants over the weekend (Sept. 7-9). Scoring 10 runs while losing two of three to the San Diego Padres in their previous series (Sept. 3-5) wasn't much better.
This team isn't losing games because of its pitching, though Joe Blanton's four-run, six-hit performance on Sunday (Sept. 9) could be seen as an exception to that. Yet regardless of how many runs Blanton allowed, it wouldn't have mattered because the Dodgers lineup was shut out by Barry Zito and five relievers.
Shane Victorino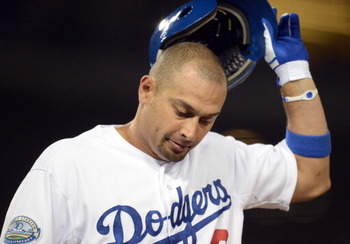 Harry How/Getty Images
While Gonzalez is the most notable of batters who needs to step up his game, one of the Dodgers' other trade-deadline acquisitions has to provide more offense down the stretch as well.
Shane Victorino has batted .245/.314/.329 with one home run and 11 RBI since joining the Dodgers. In August, he compiled a .643 OPS. So far in September, he's been even worse with a .637 mark.
Victorino is doing a decent job getting on base, as his .314 OBP demonstrates. Giving Kemp, Gonzalez and Andre Ethier someone to drive in was something that the Dodgers offense needed to score some runs.
But with the middle of the order struggling, Victorino needs to generate some more run production by himself. A .245 batting average and .329 slugging percentage just isn't providing the pop that the Dodgers need to put more runs on the scoreboard.
Andre Ethier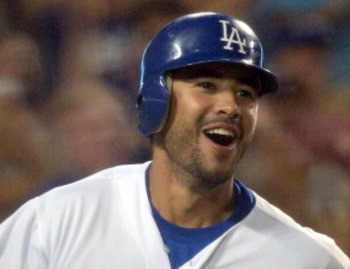 Harry How/Getty Images
After a huge May, during which he batted .366/.422/.594 with four home runs and 20 RBI, Andre Ethier has steadily declined through the rest of the season, failing to give the Dodgers the middle-of-the-order run production the team needed in Matt Kemp's absence.
With Kemp's continued struggles with injuries and Adrian Gonzalez's inability to put together some sustained success at the plate, the Dodgers could really use the production that Ethier provided in May. But he just hasn't come through with that kind of offense.
Could it be that Ethier is trying too hard these days, knowing that the lineup needs him to step up his production? Perhaps. He alluded to the possibility when talking to ESPN Los Angeles' Mark Saxon after Sunday's (Sept. 9) 4-0 loss to the Giants:
I don't know if it's pressing too hard or not caring enough or what. You try to go out there and relax; it doesn't work. You try to go out there and care, and nothing works. Maybe somebody needs to come on and give us all a good shake or something. I don't know.
In a supplementary article, Saxon described a lineup that was consistently over-swinging, as if each batter was trying to crank out a home run in each at-bat. As a result, no one is getting on base and moving runners along to create offense.
Ethier obviously isn't the only Dodgers hitter guilty of this. But he already has more strikeouts (106) this year than he did all of last season (103). That's a good indication that he may be trying too hard at the plate.
Clayton Kershaw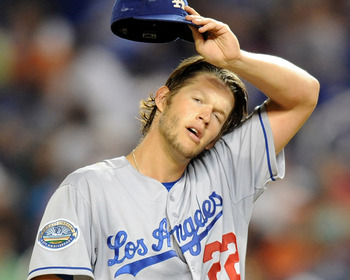 Steve Mitchell-US PRESSWIRE
Putting Clayton Kershaw on this list doesn't really seem fair.
What more can the Dodgers' No. 1 starter do? He's allowed two runs or fewer in his past four starts. He's given up as many as three runs only once in his last eight appearances. He's been the ace the Dodgers have needed, pitching well enough to earn heavy consideration for a second consecutive NL Cy Young award.
But it was a huge blow to the team to not have him available for Sunday's (Sept. 9) series finale against the Giants. Kershaw made it clear, as quoted by the Los Angeles Times' Steve Dilbeck, that scratching him from Sunday's start was not his decision. He felt like he could pitch.
Dodgers manager Don Mattingly likely did the right thing by pushing Kershaw's turn back two days to give his sore right hip and left foot some additional rest. The Dodgers obviously hope he can come back healthier on Tuesday (Sept. 11) versus the Arizona Diamondbacks.
Kershaw shouldn't pitch if he's not healthy, of course. But if he can't go every five days, the Dodgers don't have much chance of qualifying for the postseason.
Matt Kemp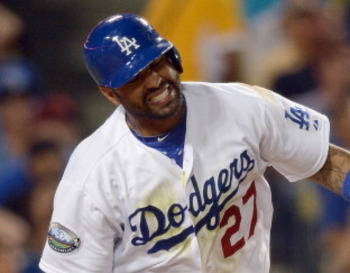 Harry How/Getty Images
If it's not fair to put Clayton Kershaw on this list because he's batting injuries, it's most certainly unfair to list Matt Kemp here as well.
But where would the Dodgers be this season if Kemp hadn't missed 56 games due to hamstring and shoulder injuries?
The Dodgers center fielder looked like the unquestioned NL MVP in April, after putting up a .417/.490/.893 average with 12 home runs and 25 RBI. Of course, he wouldn't have sustained that level of production throughout the season even if he had been healthy. But would the Dodgers be struggling to score runs if Kemp posed a threat in the middle of the lineup?
Instead, Kemp's availability for the remainder of the season is in doubt after he took a cortisone shot in the left shoulder he injured while running into the outfield wall in Colorado on Aug. 28.
Maybe the shot and three days of rest will allow Kemp to rejoin the Dodgers lineup on Tuesday (Sept. 11). But the Dodgers need him to do more than simply take the field. He needs to produce some runs.
If his injuries have rendered him incapable of doing so, then the Dodgers and Kemp can't try to force the issue. But as with Kershaw, if Kemp isn't able to provide the offense that the team's best offensive player should, then the Dodgers' chance of beating out the Cardinals in the NL Wild Card race—let alone the Giants in the NL West—will be a near-impossible task.
Follow @iancass on Twitter
Keep Reading

Los Angeles Dodgers: Like this team?