Ohio State Basketball: Buckeyes Who Must Step Up Besides Thomas or Craft
Jamie Squire/Getty Images
To those who follow Ohio State basketball (or college basketball in general) it comes as no surprise that the two unquestioned leaders of the Buckeye team this season will be Aaron Craft and Deshaun Thomas.
Craft, who basically is the embodiment of every fundamental-loving high school coach's dream, plays better defense than anyone in the nation, and Thomas can score at will from almost anywhere on the floor.
However, if Ohio State has any hope of returning to the Final Four or contending in the incredibly deep Big Ten, it is going to need contributions from more than just its two stars.
While Thad Matta is going to need career efforts from his top seven or eight players to continue posting the win totals Ohio State fans have become accustomed to, here are four Buckeyes in particular that need to step up in 2012-13.
Amir Williams
Elsa/Getty Images
For the past two seasons, Matta could basically write in 15 to 20 points and 10 to 12 rebounds from the center slot before every game.
That is because two-time All-American Jared Sullinger was filling the lane for the Buckeyes.
With Sullinger now donning Celtic green, it will be up to Amir Williams to fill this role. While not even the most optimistic of Ohio State supporters are expecting Williams to duplicate Sullinger's contributions, the scarlet and gray are still going to need him to step up.
The intriguing thing about Williams, however, is the fact that he brings a different dimension to the game than Sullinger did. Williams is probably the more athletic of the two and is certainly the better shot blocker. After all, he basically mirrored Sullinger's per game block totals last season in only six minutes of action per contest.
He doesn't have to score 20 points a night, but Ohio State needs the 6'11" Williams to be a force on the glass and defense this season.
Evan Ravenel
Jared Wickerham/Getty Images
If Amir Williams becomes the dynamic shot-blocking athlete that Ohio State fans are hoping he does, they may not even notice Evan Ravenel.
But that doesn't mean he won't be helping the Buckeyes win by doing the so called "dirty work" that is required in the gritty Big Ten.
While Ravenel is never going to be confused for a LeBron James-type athlete, he is more important to Ohio State's chances of success than the casual fan may think.
The scarlet and gray are noticeably thin in the paint. Now that Sullinger is gone, it is basically Williams, Ravenel and Deshaun Thomas. Thad Matta is going to need Ravenel to provide solid minutes every night and clean up on the glass.
However, the most important services Ravenel can provide come on the defensive side of the ball. Sure, he may not be a shot blocker (nothing Ravenel does is flashy like that) but he is fundamentally sound and constantly frustrates opponents with his physical approach.
In fact, without Ravenel's defense down the stretch on Draymond Green in East Lansing last season, the Buckeyes would not have won that game and a share of the Big Ten championship.
Shannon Scott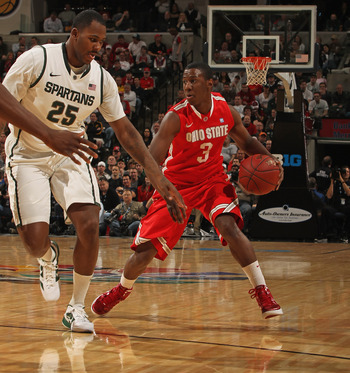 Jonathan Daniel/Getty Images
Shannon Scott wasn't exactly a bust last season, but he didn't exactly live up to his McDonald's All-American hype either.
Until Scott proves his worth on the court, he will be forever known among some circles as the point guard Thad Matta chose to recruit instead of Columbus-native Trey Burke. I'm not faulting Matta (after all, Scott was the more highly-regarded recruit), but it certainly seems like Burke would have been the better move as of now.
However, Scott has the opportunity this season to make a name for himself, especially now that William Buford is gone. Matta experimented with an Aaron Craft and Scott backcourt near the end of last season, and it worked fairly well.
The Craft and Scott combination brings much more speed to the floor and allows Matta to utilize full court presses and an up-tempo approach on offense. In the grind it out Big Ten, this could really catch some teams off guard.
I wouldn't go as far as calling 2012-13 a make or break season for Scott, but it is still extremely important. If he doesn't step up, there are other wing players that will.
LaQuinton Ross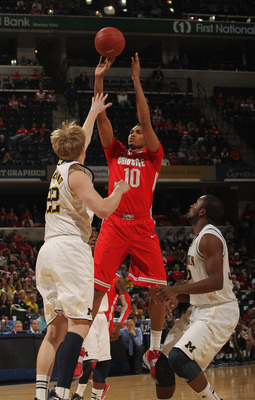 Jonathan Daniel/Getty Images
LaQuinton Ross will step up this season simply because there is nowhere else to go but up.
Last season Ross was suspended for the first month due to academic issues. However, he was seemingly in Thad Matta's doghouse for the rest of the year because he rarely saw the court.
Nevertheless, there is a reason Ross was such a highly-regarded recruit in the class of 2011. He is a 6'8" swingman who has solid ball-handling skills, the ability to slash the lane and a deadly three-point shot.
The Buckeyes need Ross to step up because there is a sizeable talent gap between him and the other small forward, Sam Thompson. While Thompson provides solid defense and incredible athleticism (witness his high-flying dunks), Ross just brings more to the table.
Ross needs to step up for Ohio State this season, and I ultimately think he will.
Keep Reading

Ohio State Basketball: Like this team?