Can Boston Red Sox's Ben Cherington Become Even More Beloved Than Theo Epstein?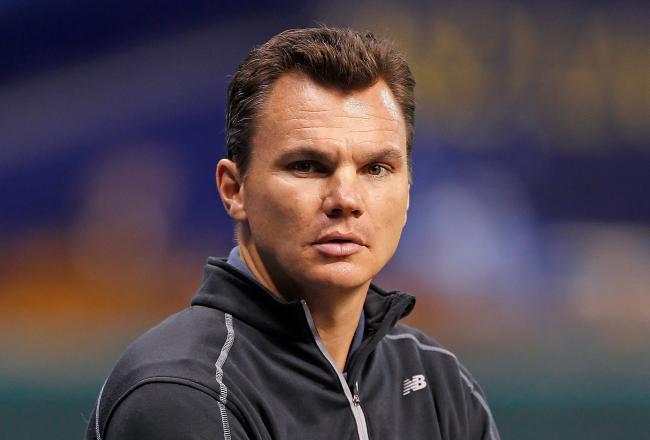 Ben Cherington has a lot of work to do to fix the Red Sox.
J. Meric/Getty Images
In his first season as the general manager for the Boston Red Sox, Ben Cherington has made quite possibly the most fan-friendly trade in team history.
However, can Cherington ever surpass Theo Epstein as the most beloved general manager in Red Sox history?
My short answer is absolutely.
There are several hurdles that Cherington needs to overcome in order to do so, but it is not as impossible as people think.
Epstein Set the Bar High
During Epstein's nine-year tenure with the Red Sox, the team averaged 93 wins per season, and they won 95 or more games in six of those seasons.
In addition to the regular-season success, the Red Sox broke the curse and won two World Series titles under Epstein.
The bar has been set, but just as records are meant to be broken by players, Cherington can overtake Epstein as the most beloved GM in Red Sox history.
Epstein Left a Bad Taste in Fans' Mouths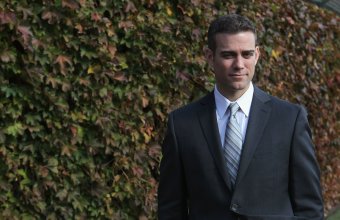 Theo Epstein created a mess in Boston.
Jonathan Daniel/Getty Images
For all the success that Epstein sustained, the end of his tenure was a complete mess.
The last two seasons were utter disappointments, and the 2011 collapse will be remembered forever.
Rather than sticking it out and trying to be part of the group that turned things around in Boston, Epstein decided to jump ship and take a job with the Chicago Cubs.
Three years ago, Epstein was the golden boy that couldn't do anything wrong. If I were asked in 2009 after the team went 95-67 if another GM could be more beloved, the answer would have been a resounding NO.
However, thanks to the collapse, numerous bad signings and locker-room meltdowns, Cherington has a chance to be the GM that fixed the Red Sox.
Epstein was a good GM, and no one can take that away from him. However, he did inherit a team that had just won 93 games and was one win away from a trip to the World Series.
While he did make bold moves, such as trading away fan-favorite Nomar Garciaparra and taking a flier on David Ortiz, he didn't exactly start with nothing.
The Cherington Era
What should Cherington do?
Cherington, on the other hand, was left with a mess. The locker room was divided, and he didn't even get to hire the manager he preferred.
In his first offseason, he made minor moves to fill holes left by the departed Jonathan Papelbon and J.D. Drew.
With a limited budget and unwilling to trade the team's top prospects, Cherington patched together what many thought was a playoff-caliber team.
Though it took longer than it should have, Cherington made one of the biggest trades in Red Sox history by trading clubhouse-cancer and regular underachiever Josh Beckett, the overpaid and out-of-place Carl Crawford and the powerless Adrian Gonzalez to the Dodgers for prospects and a rental player.
The trade allowed Cherington to hit the proverbial reset button in his first season.
This was the first step towards fixing the mess.
What Next?
Now, the hard part begins. Cherington needs to make smart and strategic signings and trades in order to fix the rotation, the lineup and the clubhouse.
The biggest need is a top-of-the-line starting pitcher, and unless the Red Sox can trade for one, this is not the best offseason for that to be their biggest need.
Also, while many think that the Red Sox hitters have done well, there is still much to be desired. The team lacks the plate discipline of past years, and they go through stretches were they struggle to score more than two or three runs in a game.
The lineup, once left-hand heavy, could use a power bat who bats from the left side.
The biggest challenge for Cherington is going to be developing what has become a fairly deep farm system.
Similar to Epstein, who developed players like Kevin Youkilis, Jon Lester, Dustin Pedroia, Jacoby Ellsbury, Clay Buchholz and Jonathan Papelbon, all of which were crucial pieces on World Series-winning teams, Cherington must do the same.
Right off the bat, Will Middlebrooks has shown star power, but if the team is going to succeed over the next few years, Cherington will need more players to succeed when they get called up.
Two of the players the Red Sox received from the Dodgers have a chance to help the big club within the next year. Ruby de la Rosa and Allen Webster, both starting pitchers, have the stuff needed to be middle- to top-of-the-rotation pitchers.
Other players that could help over the next few seasons are OF Bryce Brentz, P Matt Barnes, OF Jackie Bradley Jr., SS Jose Iglesias and SS Xander Bogaerts.
If Cherington is able to fix the mess that he was left with and turn the Red Sox back into what they were from 2003 to 2009 and win a World Series or two, then there will at least be an argument to who is the most beloved GM in team history.
It's a tall order, but anything is possible.
This article is
What is the duplicate article?
Why is this article offensive?
Where is this article plagiarized from?
Why is this article poorly edited?

Boston Red Sox: Like this team?