The 15 Greatest England Players of All-Time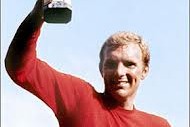 England may not be the most successful footballing nation of all time, but they have produced many memorable players throughout the years.
In the history of the English national team, there have been many highs and many lows but in between all of them, some great players have put on the colors of the Three Lions.
From David Beckham to Stuart Pearce and many more, here are the 15 best players England has ever seen.
Begin Slideshow

»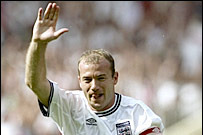 Alan Shearer was a prolific goal scorer at club level, and that eye for goal did not leave the striker when he played for England.
Shearer only earned 63 caps for England, but when he played for the Three Lions, he was an impact player.
In those 63 appearances, the former Newcastle and Blackburn Rovers star scored 30 goals for his country, which is an average of just above one goal every two games.
Shearer retired from international football in 2000 but went on to play at club level for six more seasons.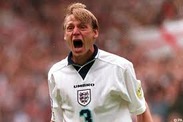 The man they call "Psycho" easily makes this list as one of England's best defenders.
Pearce is best known for his two penalty kicks, a discipline in football that has always haunted the English.
The defender missed a penalty during the 1990 World Cup against West Germany in a quarterfinal match.
Six years later during the Euro 1996 tournament, Pearce redeemed himself in front of his home fans at Wembley by scoring in the shootout against Spain in the quarterfinals of that tournament.
In his career, Pearce earned 78 caps in 12 years and is now part of the English coaching staff as he is in charge of the England U-21 squad.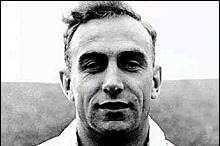 Only five players have appeared for England over 100 times, Billy Wright was the first player to achieve that feat.
Wright played during a time when World War II affected all international play and when teams did not play as many fixtures as they do now.
Despite all those factors, Wright stayed in the Three Lions lineup for 13 years and if it was not for the second World War, he may have been England's all-time leader in appearances.
Wright played even longer with his club, Wolverhampton Wanderers, playing in 490 matches during his 20 years with the club.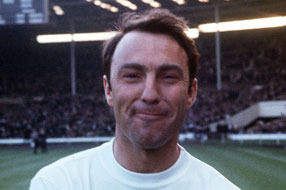 Jimmy Greaves was one of the most prolific English strikers of all time.
Not only is Greaves still the record-holder for most goals at Tottenham, he still has the most goals scored in the English top flight as well.
On the England scoring list, Greaves only ranks third behind Bobby Charlton and Gary Lineker.
Greaves scored 44 goals for his country but what is more impressive is that he scored those goals in only 57 appearances.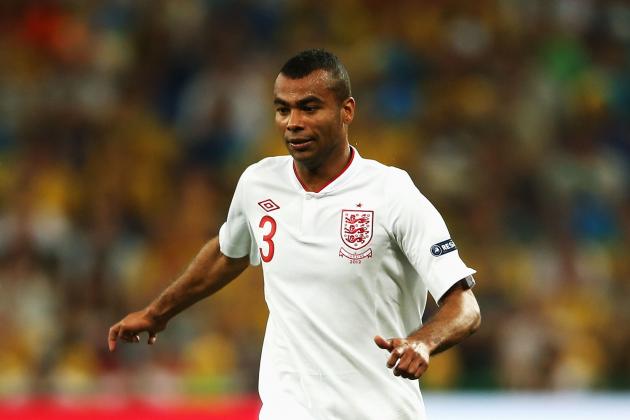 Scott Heavey/Getty Images

Ashley Cole has been a consistent force in the England defense ever since his international debut in 2001.
The current Chelsea left-back is now only two appearances away from reaching the century mark for the Three Lions.
Cole may not be the best player of his generation as he has appeared alongside the likes of Frank Lampard, Steven Gerrard, John Terry and Wayne Rooney, but he has been a stabilizing force at his position whenever he steps out on the pitch for his country.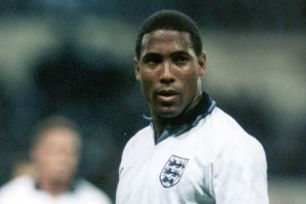 John Barnes roamed the pitch for England from 1983 until 1995.
The Jamaican-born winger played on the left wing for the Three Lions and made 79 appearances in that 12-year span.
Barnes started off his England career with a great moment against Brazil in Rio de Janeiro in 1984 as his goal on the road gave the English a 1-0 win in a friendly over the Brazilians.
Just like many former English players, Barnes did not live up to his full potential with the national team, and he saw his national team appearances decrease steadily as he got older.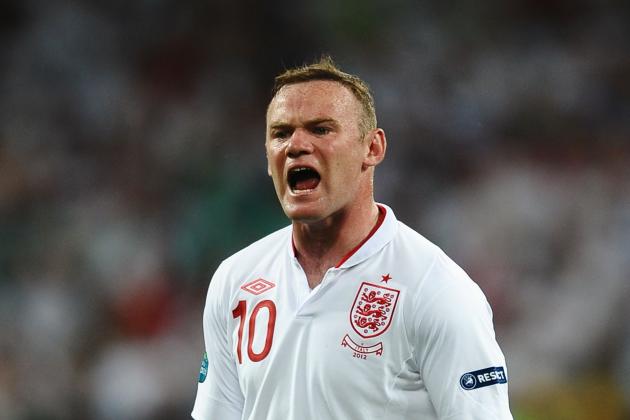 Laurence Griffiths/Getty Images

Wayne Rooney is one player from the current generation of English footballers that will go down as one of the country's best.
Rooney broke out on to the international stage at Euro 2004 with his two-goal performance against Switzerland.
At only 26, Rooney is going to surely reach the century mark of appearances for the Three Lions, as he is just about 20 away.
However, Rooney has not been a very prolific goal scorer for his country as he only has 29 international goals in 76 matches.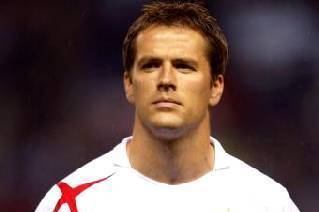 While Michael Owen's club situation has always been in question since he left Liverpool, his national team status never was.
Owen rose to stardom in England while he was playing with Liverpool, and he made his English debut in 1998.
The forward, who is now employed by Stoke City, played for a decade with the Three Lions and made 89 appearances and scored 40 goals.
His 40 goals rank him fourth highest of all time on the scoring list for England.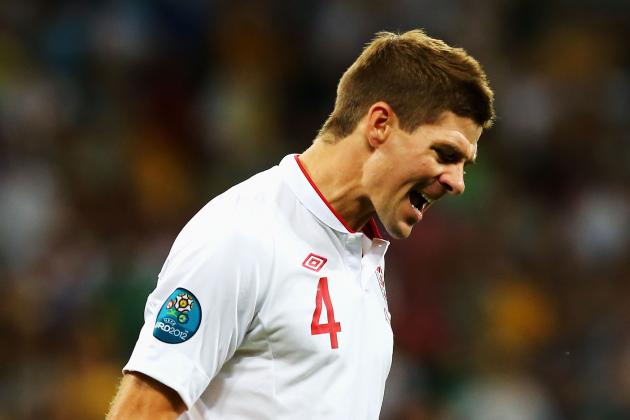 Martin Rose/Getty Images

Steven Gerrard has been a fixture in the English lineup since 2000 and is close to becoming the seventh player to earn 100 caps for the Three Lions.
Gerrard is one of the few English players today who has only played for a single club—Liverpool.
The midfield maestro only has 19 goals for this country, but he has been the provider of many more English goals throughout his 12-year international career.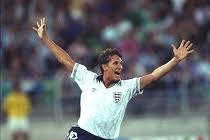 If there is one English forward who knew how to score in the World Cup, it was Gary Lineker.
Lineker won the Golden Boot at the 1986 World Cup as he scored six goals in that tournament before scoring four more at the 1990 edition of the tournament.
Lineker scored 38 other goals in his England career to end with 48 overall, which landed him second on the all-time scoring list.
There is no doubt in anyone's mind that if Lineker had played a few more matches for his country, his name would have been on top of the all-time scoring list forever.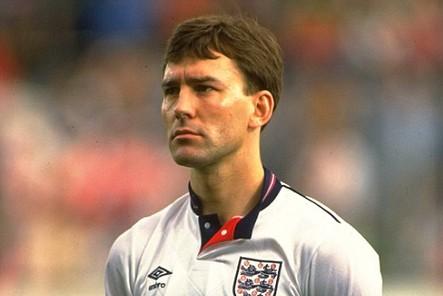 Bryan Robson may have been one of the best players of his time.
Robson is considered by most to be the top English player of his time.
The midfielder played in between the generation that won the World Cup and the current one that stars for England today.
From 1980 to 1991, Robson played in 90 matches for the Three Lions and was always a dominant figure out on the pitch.
After his playing days were over, Robson took his shot at managing, which has not been as successful as his playing career.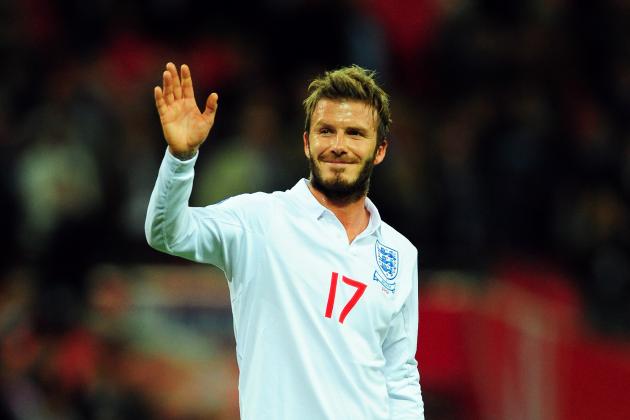 Mike Hewitt/Getty Images

David Beckham has to be considered as the best player of the current generation of English footballers.
Beckham burst on to the international scene in 1996 and earned 115 caps during his illustrious career with the national team, the second highest number of caps in English history.
Over the past few years, Beckham has been in the public eye not for his playing time with England but for his attempts to extend his career with the Three Lions as long as possible.
Beckham's last official English game was in 2009, as he missed out on the 2010 World Cup due to injury and failed to make the Euro 2012 squad.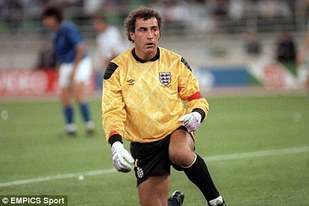 Peter Shilton is the most capped English player of all time with 125 total caps for the Three Lions.
Shilton was chosen as the first-choice keeper for England after Gordon Banks was forced to retire in 1972.
After Shilton was instilled as England's No. 1 keeper in 1972, he did not relinquish that position until 1990.
Shilton never won a major trophy with his country, but he did at club level with Nottingham Forest during the Brian Clough era as he won two straight European cups in 1979 and 1980.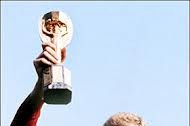 Bobby Moore was one of the main parts of the 1966 World Cup-winning squad for England.
Moore captained England to their first and only World Cup title on home soil under the direction of manager Alf Ramsey.
Many people consider Moore to be one of the best defenders of all time, if not the best.
Moore earned 108 caps in 11 years, and his only two goals came in that magical year of 1966 in two friendly matches.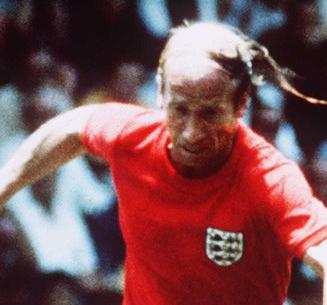 Bobby Charlton was another member of the golden generation of English football.
Charlton was a member of the 1966 World Cup-winning team and is also England's all-time leading goal scorer with 49 goals.
Charlton almost never got a chance to play for his country as he survived one of the worst football tragedies of all time, the Munich air disaster in 1958.
The Manchester United legend made his debut in the same year and the rest was history as he became not only one of Manchester United's best ever players, but one of England's best as well.