Miami Football: Winners and Losers from the Week 2 Game vs. the Wildcats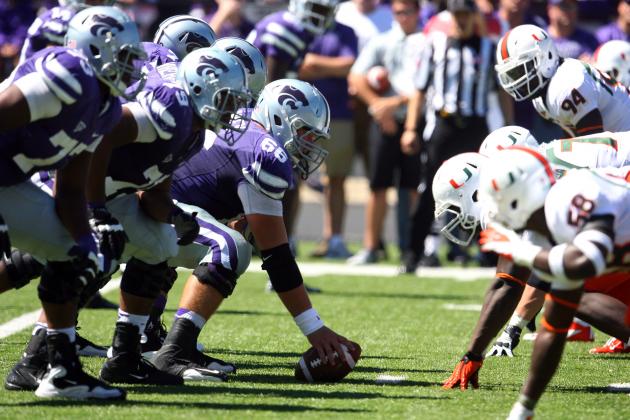 Scott Sewell-US PRESSWIRE

The Miami Hurricanes were completely outplayed and outclassed in last week's game against the Kansas State Wildcats, losing 13-52. They were down early and often in the blowout loss.
It was completely obvious that Miami's defense is less than stellar, and if they don't improve soon, there will be many lopsided losses like they had on Saturday.
So much went wrong and very little went right for the Hurricanes; here are the winners and losers of last week's game against the Wildcats.
Disclaimer: If you are a Hurricanes fan, you may want to skip this article.

Begin Slideshow

»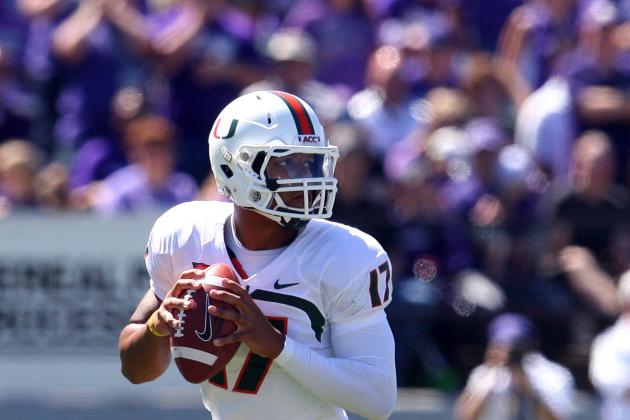 Scott Sewell-US PRESSWIRE

If there is one player I felt sorry for on Saturday it was Stephen Morris. Morris was great out there and never gave up, completing 19 of 26 passes for 215 yards.
He was accurate all game long, and if he was given more opportunities to throw downfield, he might have been even better.
The Wildcat defensive backs played soft all game long, and I honestly believe if the coaching staff at Miami would have let him throw it more downfield, the score wouldn't have been so bad.
Morris has a tremendous arm and is more comfortable in the pocket this season. He just needs to get more opportunities to shine.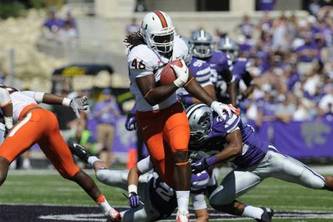 Good things happen when you throw to the tight ends, especially in a pro-style offense like the Hurricanes have.
Hurricane tight end Clive Walford proved that he has the hands and physical ability to become a factor in the Hurricanes offense by catching three balls for 61 yards and a touchdown.
Although a majority of the yards came on one play—56-yarder—he still showed why getting the ball to the tight ends is so important.
After Saturday's game, Walford needs to get more touches. It's obvious that he has the ability to become another weapon for the Hurricanes.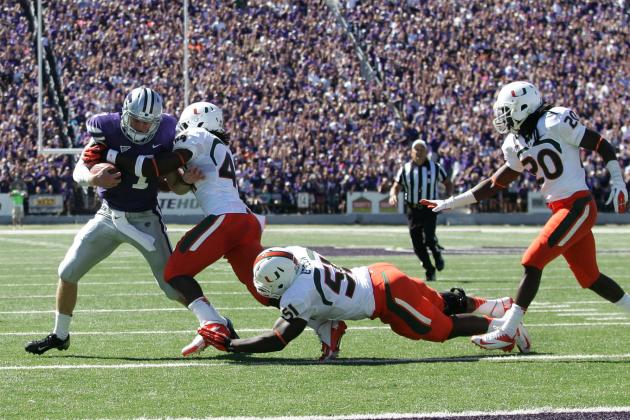 Scott Sewell-US PRESSWIRE

Before the season started, I honestly didn't believe linebacker Eddie Johnson would be able to get much playing time. I was wrong, as it turns out he is one of the Hurricanes' best linebackers.
Johnson continued to dazzle and make plays all over the field, finishing with seven tackles, including one for a two-yard loss.
Johnson has great speed and can hit like a truck, much like Denzel Perryman. The 6'1", 238-pound redshirt freshman is one of a very few defensive players that has been consistent.
With Ramon Buchanan out for the season, the Hurricanes must rely on Johnson to keep up the great work.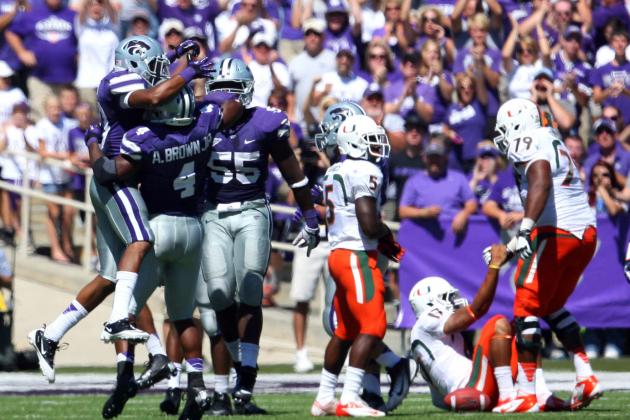 Scott Sewell-US PRESSWIRE

For all the years that I have watched Hurricane football, I don't believe I have ever seen a defensive line get pushed around like this one. Miami gave up 288 yards rushing to the Wildcats, but that doesn't even scratch the surface on how bad this line really is.
I will give credit because Kansas State does have a potent offense, but it's not that great.
I watched Kansas State play Missouri State just a week earlier and not even the Bears looked as bad as the Canes' front four.
I am not sure if it's because of the coaches' decision on who to play, or if the defensive coordinator—more on Mark D'Onofrio on the next slide—has no idea what he is doing. Either way, they have one week to try to figure something out.
Not only can the defensive line not stop the run, they are getting no pressure on any quarterback they have faced this year. Wildcat quarterback Collin Klein had all day to throw and did, completing nine of 11 passes for 210 yards (23 yards per completion).
The Hurricanes defense has given up 1,035 yards of total offense in two games, and the defensive line is the main reason why.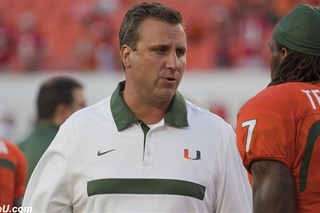 I was actually excited to get defensive coordinator Mark D'Onofrio in 2010. He drastically improved the Temple defense, and I thought the Hurricanes could use his coaching.
Problem is, Miami is in the big leagues and his defensive style isn't working whatsoever.
Kansas State attacked his defense with precision and nothing he called was working. After the half, I figured D'Onofrio would make some changes and finally slow down the Wildcat offense—the changes never came.
I understand the Hurricanes losing to Kansas State—they are a heck of a team—but to lose the way did is unacceptable. D'Onofrio really needs to be evaluated as the defensive coordinator, because if he can't stop Boston College and Kansas State, what is he going to do against teams like Georgia Tech, Virginia Tech and Florida State?
D'Onofrio's job is on the line; what he was able to do at Temple is now irrelevant.
Scott Sewell-US PRESSWIRE

As bad as the defensive line is, I still couldn't put all the blame on them; the defensive backs need to get some of the heat as well.
Now, I completely understand that this unit is filled with freshmen and a lot of inexperienced players, but there is no excuse to give up 23 yards per reception to the Wildcats.
There were far too many plays in which the cornerbacks seemed lost. Even more frustrating is the fact that when they did have an opportunity to make a play, they completely whiffed.
Again, I know this unit is young, but they must play tighter and start making some plays.
Kudos to Brandon McGee, who made a beautiful interception on a Collin Klein pass.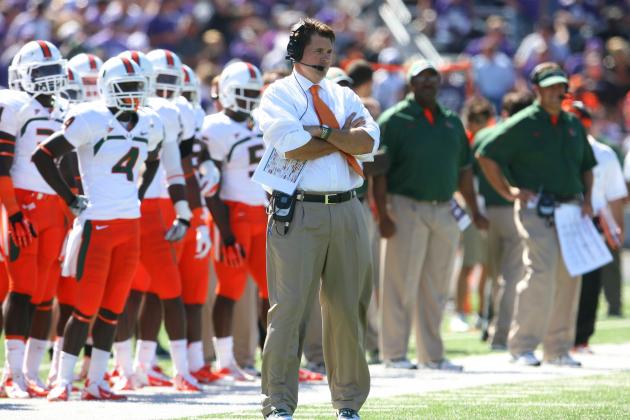 Scott Sewell-US PRESSWIRE

Question of the day—how many times do you throw a wide receiver a swing pass before you realize it doesn't work?
According to offensive coordinator Jedd Fisch, that answer must be around 20? Never have I seen a team call the same play over and over again. My 17-year-old niece who has never watched a football game could have figured out what Miami was going to do on every play.
Yes, it has worked a few times, but 10 out of 50, in two games, is not impressive, Fisch.
It's time to get rid of that play and start looking at adding deeper pass plays. I would rather see more passes thrown deep and incomplete than see another swing pass go for minus-two yards.
There are so many weapons on offense, and when quarterback Stephen Morris did throw downfield, it was impressive. Receivers were making great catches all game long—notice I said receivers; Duke Johnson's three drops don't count.
Speaking of Duke—get him the damn ball! The coaches need to understand that Duke is the most dynamic player on the team. Every time he touches the ball you can just sense that he could take it for six.
Overall, Fisch and head coach Al Golden need to dig deeper into the playbook and start taking some chances. It worked last year when Jacory Harris started to throw bombs to Tommy Streeter, and it could work again this season.
So this is a plea to Fisch and Golden—please stop with the swing passes and start throwing downfield, or give it to Duke and let him work his magic.