Top 5 Most Amazing Dunkers in Atlanta Hawks History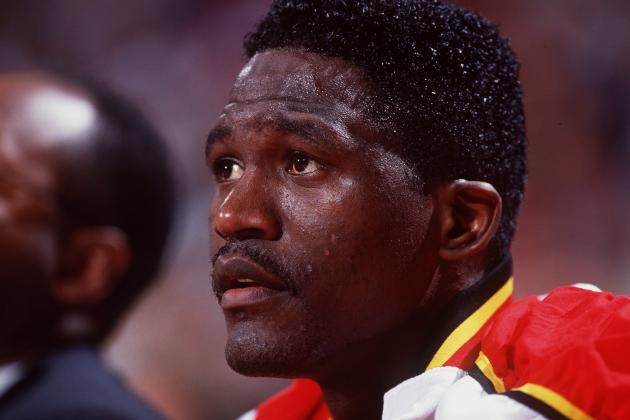 Tim DeFrisco/Getty Images
Nique, a Hawk among Hawks
The Hawks may have a long storied history of mediocrity, but in the shadows of the banner-less rafters, some high flying dunkers have come through Atlanta. For a team with so few true team accomplishments, so few deep runs into the playoffs, the Hawks have certainly had their share of highlights.
The obvious one that comes to mind is Dominique, but there have been a multitude of great dunkers who spent some brief time in Atlanta. Let's take a look at five of them along with some honorable mentions.
Begin Slideshow

»
Augmon had a nice lefty power jam. He got up pretty high and was a very good athlete who spent his best years in a Hawks uniform. "Plastic Man" played for 15 NBA seasons but was at his best during his five seasons in Hotlanta.
Dominique's running mate, Kevin Willis, didn't do much fancy, but he threw it down with power. The other reason to include him above my honorable mentions is the sheer number of jams he recorded with the Hawks. What Willis lacked in creativity he made up for in power and sample size.
Willis was very explosive at getting towards the rim and finished hard.
Spud will always go down as a true legend. He was the shortest player ever to win a Slam Dunk Contest, since Nate Robinson insists he is 5'9."
Webb was so high above the rim that there was never any doubt that his diminutive body would reach the basket. Everyone loves to see a small man dunker. Nate has been the most recent, but Spud was the original.
Josh Smith paid homage to the man that embodies Hawks basketball during his participation in the Slam Dunk Contest. Smith's windmills 12 feet away from the basket were impressive, not to mention the fact that his 6'10" lanky frame made it look ever so easy.
"J Smoove" is just that, and his fluidity and power make awesome things look effortless. His tomahawks are powerful and he's also an awesome defender, but his dunking is what makes the few Hawks fans that do show up cheer so loud.
When you hear the moniker "human highlight reel," can you think of a better and more appropriate phrase for Dominique Wilkins?
When ESPN aired their top dunks, Wilkins made it just about every night. He was always doing something incredible, and the 1988 dunk contest which was heavily disputed against Michael Jordan goes down as one of the greatest showdowns in modern sports history.
Many will say Nique never received the respect he deserved as a player, and that might be true, but no one disputes his status as a top all-time dunker...
Connie Hawkins
"The Hawk" only played his last career season in Atlanta, and wasn't quite the same high flyer he was during his days in Phoenix and LA. But he remained legendary, and even if the dunks weren't quite as spectacular during his Hawks days, he was still Connie Hawkins.
Bob Sura
Sura was a very exciting dunker and put on a great show in the 2001 Slam Dunk Contest, tying for fifth, but he entertained the audience with several exciting dunks. He played hard and occasionally threw down a monster. The 6'5" shooting guard from Florida State only played 27 games for the Hawks.
Kenny Smith
Smith only played 33 games in a Hawks uniform, but did so in 1989-90, when he was still a pretty exciting dunker.
J.R. Rider
Rider was past his prime by the time he was with the Hawks, but his name bears mentioning.
Darvin Ham
Ham played long past his prime into the D-League, but was a high flyer in his prime. He was always good for a thunderous tomahawk dunk or two.
Reggie Theus
Theus was more of a high scorer than a high flyer, but had a nice rim rocker from time to time.
Dikembe Mutombo
How can you not mention the 7'2" Dikembe Mutombo's awesome array of power stuffs?