Can Brian McCann Have a Comeback Player of the Year Season in 2013?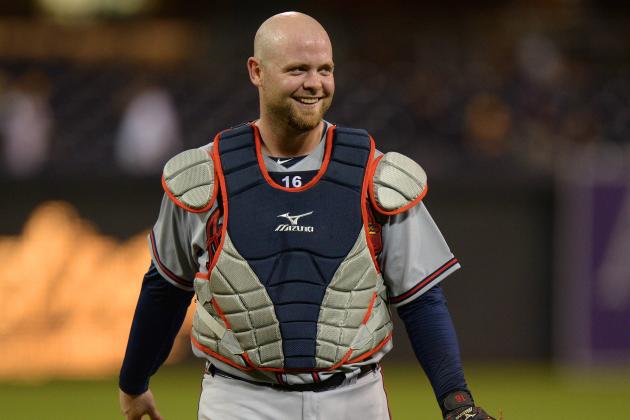 Jake Roth-US PRESSWIRE
Brian McCann is in the middle of the worst season of his career.
Heading into this season, Atlanta Braves catcher Brian McCann had been selected to the All-Star team in each of the six full seasons he spent in the big leagues. During that time, he averaged 22 home runs and 86 RBI while never hitting below .269 in a season.
This year it has all fallen apart for McCann, who is hitting just .231 with 19 homers and 62 RBI. Shoulder and ribcage injuries are likely causes for the major drop in production, as well as a flu that sidelined him for four days in May.
McCann will have a chance to rebound next season and get back to the All-Star Game, but with his recent injury history and drop in production over the last few seasons, there are some questions that will need to be answered regarding the veteran catcher. This article will take a look at his chances of bouncing back in a big way next season.
Begin Slideshow

»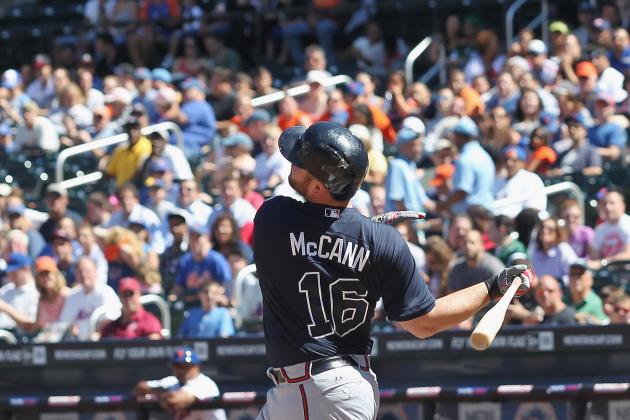 Andy Marlin/Getty Images
Brian McCann is young enough to rebound from his down year.
One thing on Brian McCann's side is the fact that the former All-Star catcher is still in the middle of his prime. McCann will only turn 29 years old at the start of spring training, meaning he likely has at least a few strong seasons left in the tank.
Being young also means that he should be able to heal this winter. There is a chance that he will need surgery to correct his shoulder issues, but he will have the whole offseason to rest and rehab.
The other thing in McCann's favor is that he hasn't been awful. While he may not be having his best season, his numbers aren't bad for the catcher position. His 19 homers and 62 RBI are in the middle of the pack when compared to the rest of the league, and he still has a chance to get to his standard of 20 homers and 70 RBI.
Jeff Zelevansky/Getty Images
Brian McCann has seen his body take plenty of abuse as a catcher.
Brian McCann may still be young, but his career has headed in the wrong direction over the last few seasons. Aside from dealing with shoulder issues this year, McCann has also had to play through an oblique injury from last season and has continued experiencing problems with his eyes. This doesn't even get into the minor injuries he has dealt with due to the wear and tear of the catcher position.
That may be why McCann's production has declined over the past three seasons. After having a career-low of 87 RBI following the 2009 season, McCann hasn't compiled more than 77 RBI since then. The same thing happened to his batting average, as he hit a career-worst .269 in 2010 followed by .270 last year.
Even his doubles are down, as he had just 44 between 2010 and 2011 as compared to the 77 he posted during the previous two seasons.
It looks like injuries and the daily grind of being a catcher could be taking its toll on McCann's body. The possibility of shoulder surgery this offseason could further complicate things. McCann could be another in a long line of young Braves stars to see his career reach an early decline, just like Andruw Jones and Steve Avery.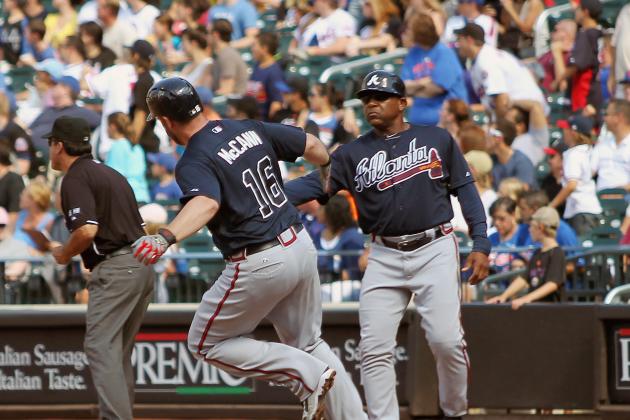 Andy Marlin/Getty Images
I'm feeling positive about a Brian McCann rebound season in 2013.
Taking everything into consideration, I believe that 2013 will be a big bounce-back season for Brian McCann. His power numbers are basically in the neighborhood of where they should be, and he has a strong history of putting up a quality batting average.
McCann will hopefully either get surgery or heal on his own, but either way should be at or near full strength when the season starts. This is great because his shoulder issues are keeping him from swinging the bat well, and he has said that the pain really bothers him when he follows through on his swing.
When McCann is able to swing pain free again, there shouldn't be anything keeping him from being his old self and leading the Braves offense again.