Pittsburgh Pirates: What Has Caused the Bucs' September Swoon?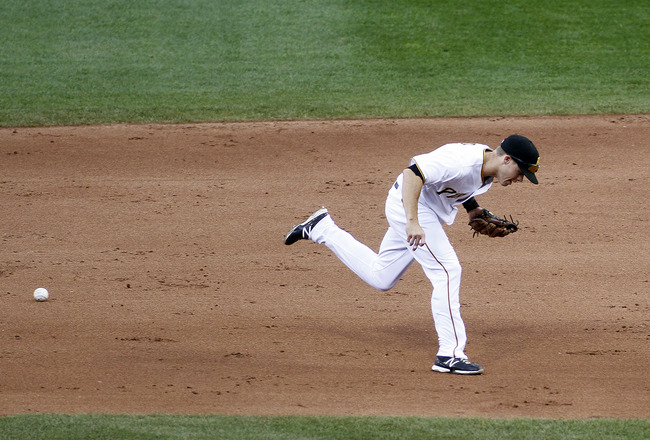 Justin K. Aller/Getty Images
The Pittsburgh Pirates are sputtering to the finish line as they try to maintain their most successful season since 1992.
While the Pirates somehow find themselves only two-and-a-half games back of the St. Louis Cardinals even after this weekend's sweep at the hands of the Cubs, the Bucs have fallen to five games over .500 and are in danger of failing to record the club's first winning season in 20 years.
Unlike a year ago, the Pirates' fall from grace has been gradual this season. They are by no means out of the playoff race, but they are playing their worst baseball of the year at the worst possible time.
There are several drivers behind the Pirates' poor September play. They are all fixable, but the Pirates need to right the ship quickly if they are going to accomplish their goals this year.
The Lack of Offensive Depth Is Showing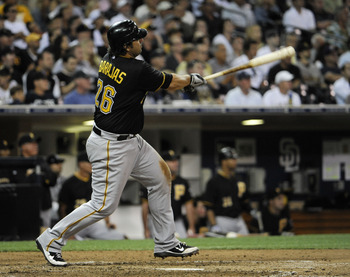 Denis Poroy/Getty Images
The Pirate offense has been streaky all season, and they have entered one of their bad streaks at a particularly ill-advised time.
It is not a surprise that the Pittsburgh offense is streaky, though: The team has relied upon the top six in its batting order for offensive production all season, increasing the likelihood that a few cold bats will bring the entire offense down.
Even when the Pirate bats were clicking on all cylinders, Rod Barajas and Clint Barmes weren't really joining the party. Instead, good offensive weeks for the Pirates were driven either by home run binges from Pedro Alvarez and Garrett Jones or by all-around dominance from Andrew McCutchen.
Of the Pittsburgh stars, only Jones is really performing at his peak level right now. His production has not been enough to overcome the team's lack of depth.
The Rotation Is Wearing Down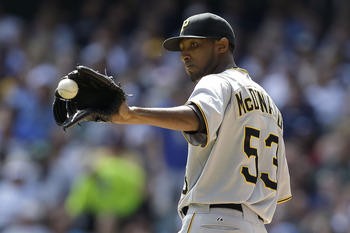 Mike McGinnis/Getty Images
It was not a given that the Pittsburgh rotation would wear down this year.
Unlike in 2011, when the Bucs' staff was mostly a pitch-to-contact unit that benefited from a few consecutive months of good luck, the success of the 2012 Pirates' starting pitching was sustainable due to their superior strikeout numbers.
Yet the Pirate rotation has faded nonetheless. Workhorses A.J. Burnett and James McDonald have each seen control problems resurface, while the bottom of the rotation is similarly inconsistent.
Only Wandy Rodriguez has performed well as of late, showing that perhaps experience is a more valuable element of September pitching than Pirate fans had previously realized. The Pirates have the talent to pitch well during the season's closing three weeks, but they have not indicated that they will do so.
The Bullpen Is Starting to Regress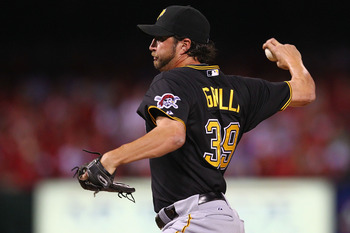 Dilip Vishwanat/Getty Images
The Pirates could have easily won each of their last two games against the Cubs, but their once-automatic bullpen blew both of them in the later innings.
Surprisingly, the culprit in each game was Jason Grilli, who was the Pittsburgh reliever least due for a significant regression. Grilli's homer issues are not a welcome sign, but he still remains a reliable reliever for the Bucs over the long haul.
The same cannot be said for too many other members of the Pittsburgh bullpen. Aside from Grilli and Joel Hanrahan, there are no real late-inning relievers on the Bucs' roster right now. The best course of action for Clint Hurdle to take may be to provide on-the-job training to someone like Justin Wilson.
The Injury Bug Has Struck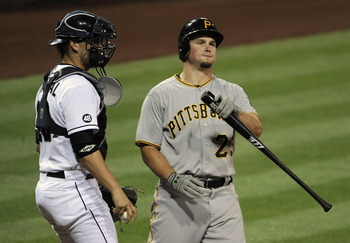 Denis Poroy/Getty Images
When it rains, it pours.
The Pirates had remained mostly healthy through August, but they have faced a growing mountain of injuries over the past three weeks. Starling Marte, Travis Snider, Neil Walker, Jose Tabata and Jeff Karstens have all missed time during that span.
The Pittsburgh outfield was hit particularly hard, with a team strength turning into a weakness almost overnight. While Brock Holt and Kevin Correia have filled in adequately for Walker and Karstens, they are not reliable solutions at either position.
Marte has recently returned to the lineup, and it is possible that both Snider and Walker will be back this week as well. Their return would give the Pirates a huge boost.
Roster Management Has Been Suboptimal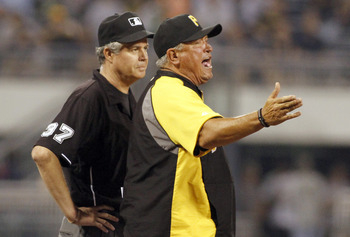 Justin K. Aller/Getty Images
Neither Clint Hurdle nor Neal Huntington has acquitted themselves well during this pennant race.
Huntington took too long to promote many of the Pirates internal fixes, as the Pirates have often failed to employ their best possible bullpen over the past few weeks. Kyle McPherson, Justin Wilson and Chris Leroux are finally all available, but it simply took too long.
The same could be said for the Brock Holt promotion, as Josh Harrison wasted several games' worth of at-bats as Walker's initial replacement.
For Hurdle's part, his bullpen management remains poor despite the new toys he has to play with. There is no reason for a pitcher like Hisanori Takahashi to see any meaningful innings while the Pirates are in a pennant race.
Hurdle deserves even greater blame for his inexplicable decision to play Rod Barajas over Michael McKenry in the majority of games. McKenry sports an OPS that is more than 250 points higher than Barajas' this season and is also the better defensive catcher.
Hurdle's decision cannot be justified and sums up Pirate management's unwillingness to be creative even when the Bucs' season is on the brink.
Keep Reading

Pittsburgh Pirates: Like this team?